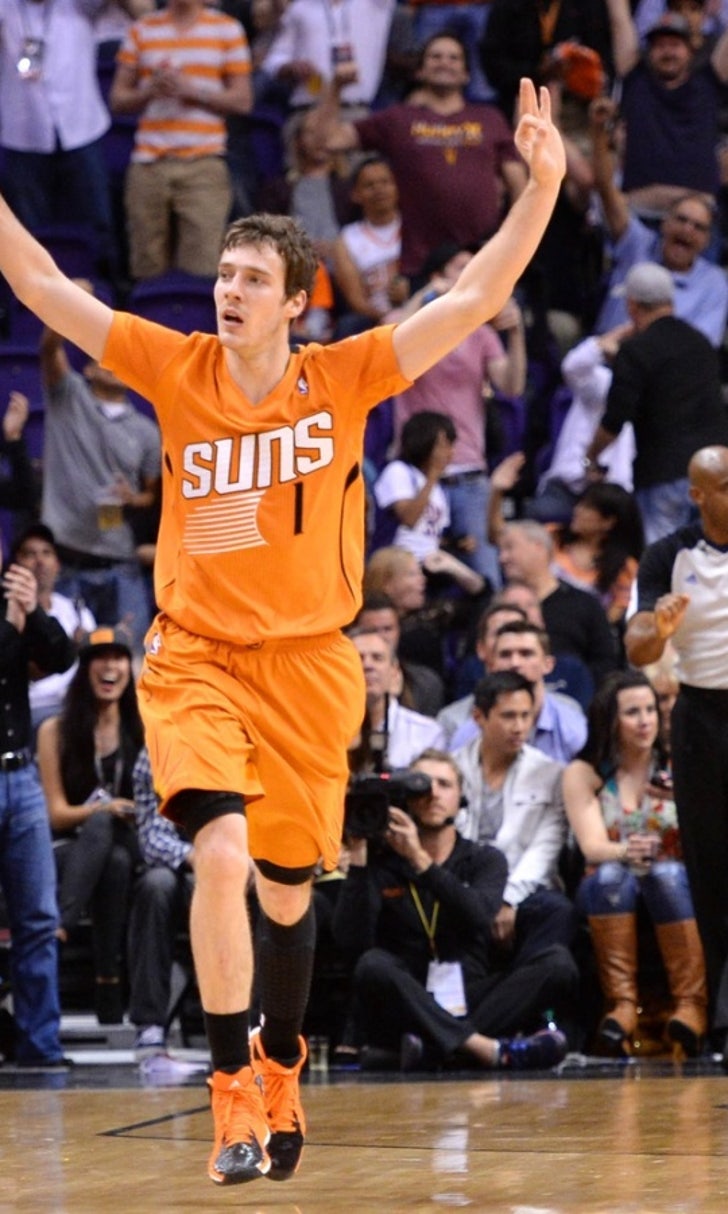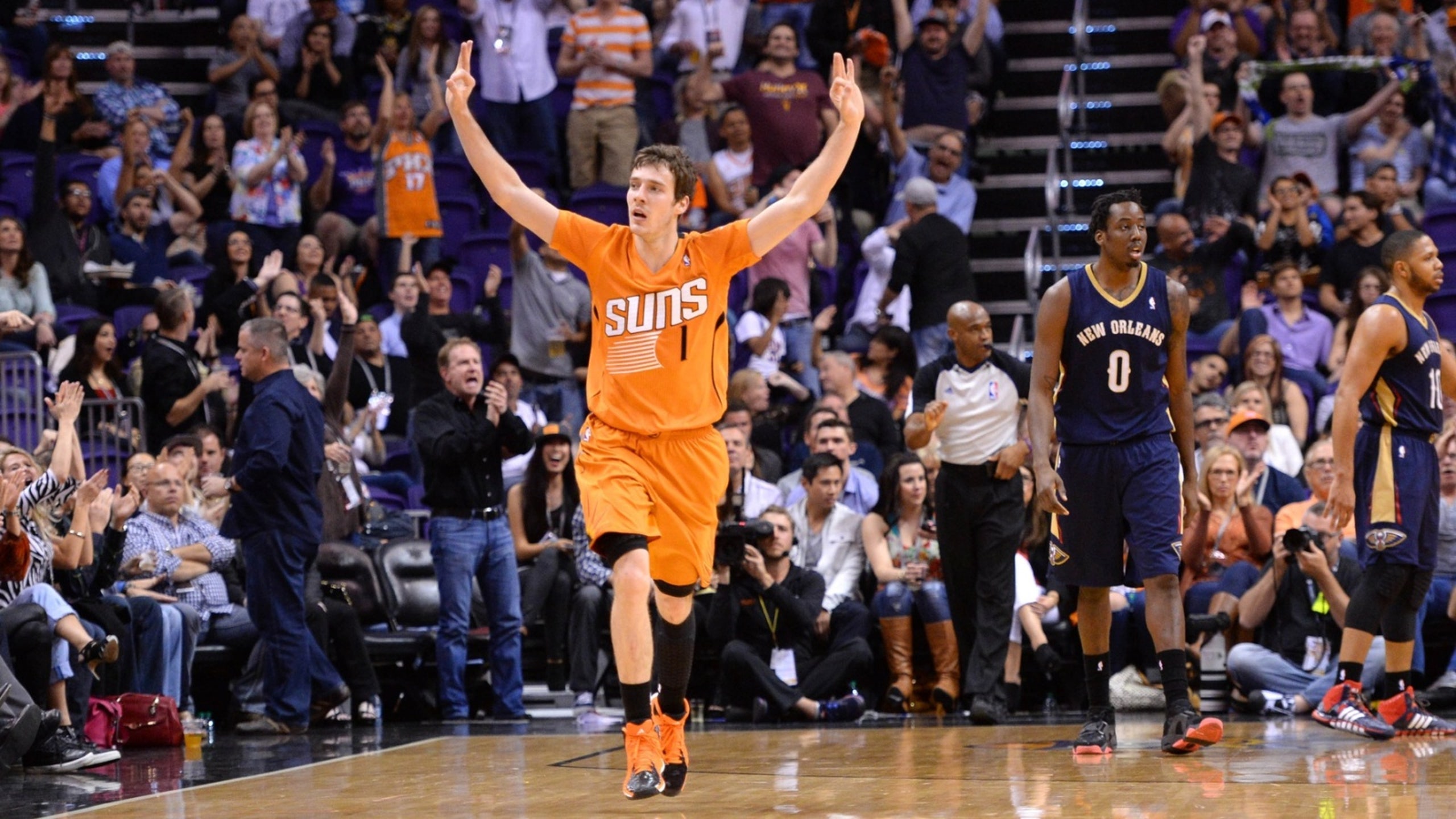 Dragic brings Suns back up to speed
BY foxsports • March 1, 2014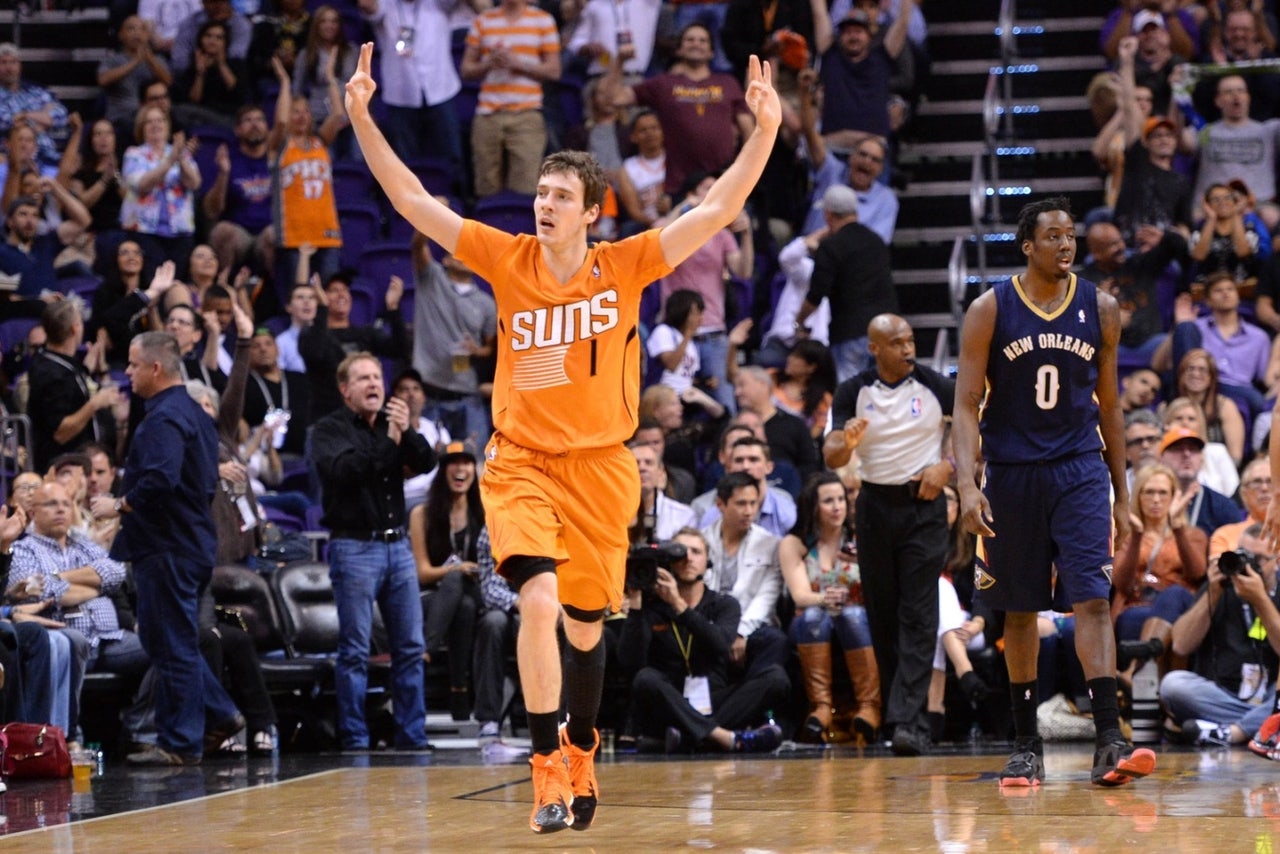 PHOENIX -- Suns coach Jeff Hornacek, who encourages his team to engage its schedule in three-game chunks, also knows the importance of an even narrower approach.
"It's always one game that can turn things around," Hornacek said before the Suns' 116-104 late-Friday-night victory over the New Orleans Pelicans.
Riding a three-game losing streak that landed them in eighth place in the Western Conference, the Suns certainly couldn't afford to lose at home against a struggling, short-handed Pelicans squad.
Please note that Game 3 in this downward spiral was absorbed Wednesday night in Salt Lake City without relentless pursuits from Goran Dragic. Two nights after losing to the often tone-deaf Jazz, Dragic bounced back off his sprained right ankle with a rescue-caliber, 40-point performance.
Dragic gunned in 12 points during Friday's third-quarter revival and 13 to finish off New Orleans during the fourth and provoked "M-V-P!" chants from the US Airways Center crowd.
"It was great," Dragic said of the MVP testimony. "I never imagined they would cheer that for me. I heard that when I was here with Steve (Nash) and they were cheering that for Steve. It is a great feeling, especially with those four free throws when the whole crowd stood up and cheered. It is something special in my career that I will remember my whole life."
Still charging toward stardom during Eric Bledsoe's absence, Dragic posted a fourth career high in scoring in his last 13 games.
The big 4-0 was fashioned on only 21 shots (he made 14) in just under 42 minutes; not bad for a guy registered as a game-time decision when Hornacek arrived for his pre-game scrimmage with reporters.
"You know Goran ... he's going to want to go," Hornacek said. "I think it'll be up to the training staff. We'll ask him and try to get an honest answer out of him about how much it hurts.
"Again, we can't rush him back and have it continue to get aggravated. We'll try to get an honest answer out of him after he warms up and see if he will go."
An emphatic response included Dragic taking the third-quarter lead after a 13-0 Pelicans run had put the Suns in a 10-point hole.
With The Dragon and the Morris twins joining Ish Smith in Hornacek's blitzkrieg-style lineup, Phoenix used a 12-2 interlude to draw even at 81 after three.
This glorious evening for Dragic, who dropped 15 points in the opening quarter and didn't scratch in the second, was defined when he banked in a high-trajectory, 25-foot 3-pointer over Tyreke Evans to give Phoenix a 103-92 cushion with 5:41 left to play.
And it was that kind of night for Evans, who was stuck in an elevator at the Ritz-Carlton and had to be left behind when the Pelicans boarded their bus. He was liberated in time to reach the arena 45 minutes before tip-off.
By then, Dragic and his ankle were ready to go.
"Dragic was in our paint all night long," Pelicans coach Monty Williams said. "He's a really good player, but we could have done a better job."
En route to its sixth consecutive defeat, New Orleans did a nice job of exposing the recent lack of attention to defensive detail from a few Suns players.
P.J. Tucker, for example, fouled a Pelicans shooter attempting to beat the shot clock while falling to the floor. Before their uprising, the Morris twins took turns with Channing Frye in failing to stay attached to screeners, effectively preventing Smith from scampering under the screen quickly enough to corral a ball-handler.
The Suns spent a great deal of time allowing shooters to tee up jumpers off of these ball screens, and losing slip-screen participants on their way to the rim.
Late in round three, Hornacek and the Suns just thought small, adding Tucker or Gerald Green in a six-man rotation that recovered with more success on defensive rotations and pushed the offensive tempo to furious levels.
Pelicans coach Monty Williams -- working without too many key players to list -- attempted to go checkmate on this small-ball concept entering the fourth quarter.
With sensational, second-year power forward Anthony Davis (32 points on 14-of-18 shooting and nine rebounds) obliged to go solo on the defensive boards, the Suns converted after four offensive rebounds in the final quarter.
"We needed that game," Dragic said. "Especially if we want to be a playoff team, we need to beat those guys and the next one against Atlanta."
---