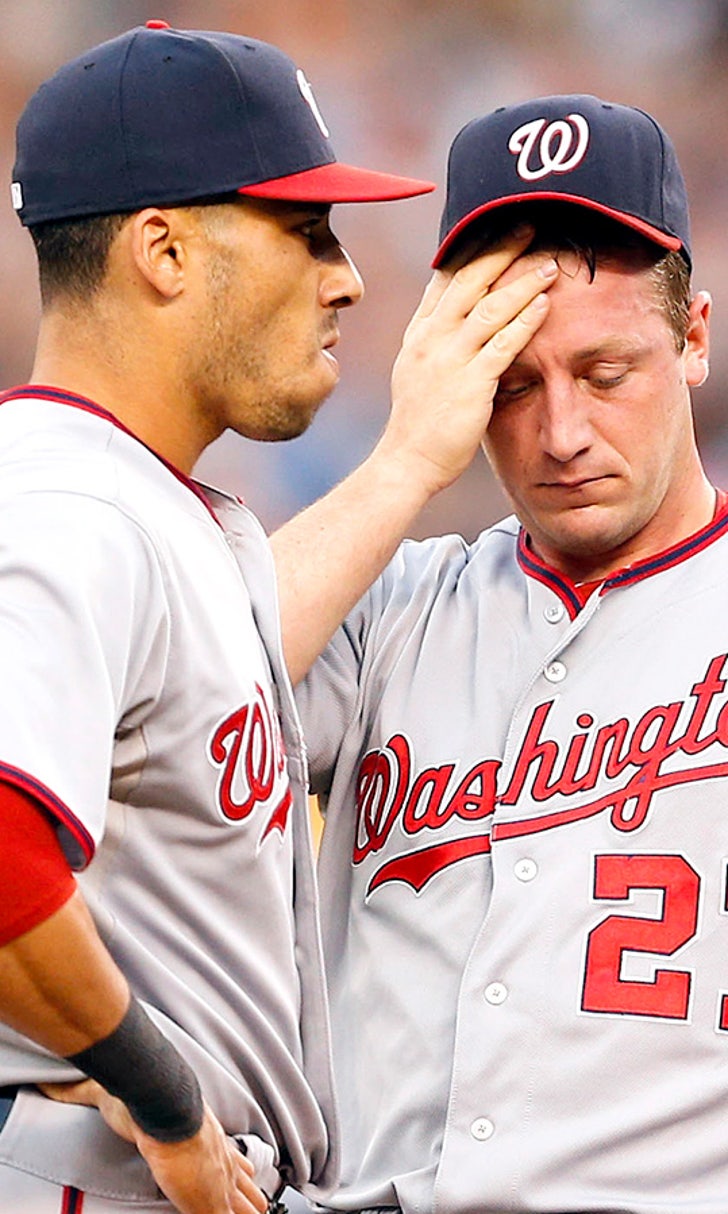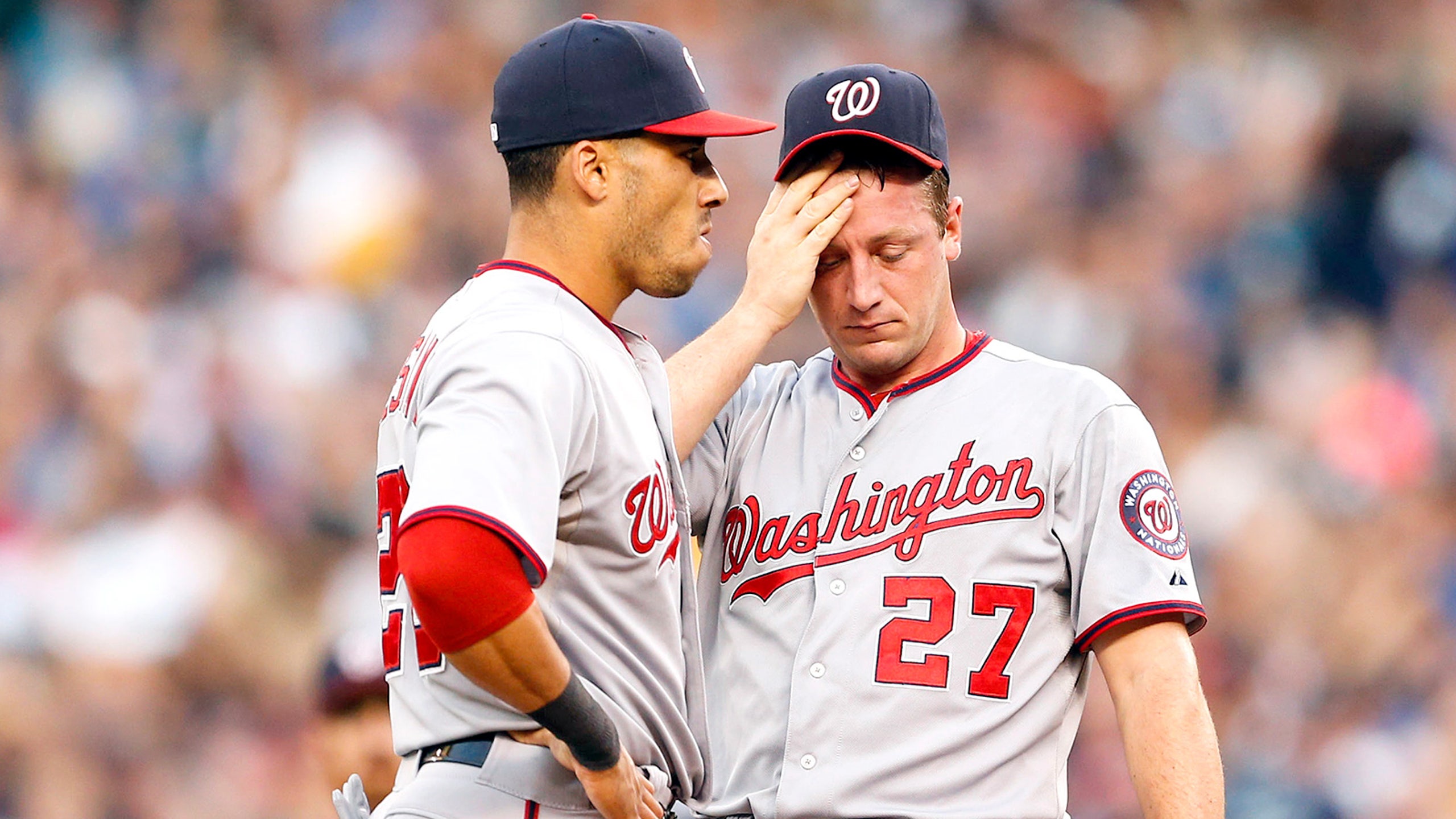 Don't Nationals want to pay to play?
BY foxsports • December 14, 2014
Nationals right-hander Jordan Zimmermann and shortstop Ian Desmond will combine to earn $27.5 million next season. That is probably about the average annual value it will take to land free-agent right-hander Max Scherzer. If that is the Nats' plan -- trade Zimmermann and Desmond for younger parts, then sign Scherzer -- pretty much everyone would understand.
But is that the Nats' plan?
They certainly appear ready to enact Phase 1, dangling Zimmermann and Desmond in trade talks. Whether they are shopping them or merely listening to offers is unimportant. The real question is whether the Nats are trying to re-allocate resources or reduce payroll. And the answer will reveal much about the intentions of their owner, Ted Lerner.
The Nats indeed are open to moving Zimmermann and Desmond, perhaps even in the same deal. They recently engaged in multiple conversations about both players with the Mariners, according to major-league sources. One of the many ideas the Nats proposed was Zimmermann and Desmond for right-hander Taijuan Walker and shortstop Brad Miller, sources said.
The Mariners balked, unwilling to absorb $27.5 million in salary when they still need to find a right fielder for next season. They also did not want to yield five years of control on Miller and six on Walker while potentially getting both Zimmermann and Desmond for only one year, sources said.
The Nationals also had conversations about Zimmermann with the Red Sox and other clubs, again targeting premium young talent, according to sources. Zimmermann's $16.5 million salary, though, almost certainly would limit the return. Which returns us to the original question: What exactly is the Nats' plan?
Here they are, poised to enter the 2015 season with perhaps the most talent in the National League. Yet they keep talking about trading Zimmermann and Desmond. Perhaps they believe that they could win the relatively tame NL East even if they went with younger, cheaper replacements. But that would be a heck of a risk -- and, frankly, a rather arrogant viewpoint.
More likely, the Nats' approach is financially driven. Zimmermann and Desmond are entering their free-agent years, as are right-hander Doug Fister, center fielder Denard Span and reliever Tyler Clippard. That's an unusually large group, and no one should expect the Nats to keep them all.
What's more, the Nats last season had a club-record Opening Day payroll of $136.8 million, ninth in the majors. This season, through existing contracts and arbitration cases, they're looking at nearly $150 million in commitments. That is hardly a trivial number, but last we checked, the Nat aren't the low-revenue Athletics, needing to constantly turn over their roster. Not even close.
So, what gives?
The Nats should be proud of what they have assembled, and especially proud of Zimmermann and Desmond, two homegrown stars. True, both have rejected multiple offers to sign long-term, perhaps convincing the Nats they are destined to hit the open market. But even then, why not keep them and take a shot, with a team that is built to win now?
In the best-case scenario, Zimmermann and Desmond would perform at their usual high levels and help the Nats get to the World Series; ownership then could pick and choose which potential free agents it wanted to retain.
The worst-case scenario could produce a couple of outcomes, neither of which is so bad.
If, for some reason, the Nats underachieved, they could spin Zimmermann, Desmond and others before the July 31 non-waiver trade deadline.
If Zimmermann and/or Desmond got injured or performed at a subpar level, the Nats would stand a better chance of re-signing them, all while gaining a better idea of what younger players such as right-hander Stephen Strasburg and outfielder Bryce Harper are worth.
Oh, there is one other possibility, one that would make the players and fans happy and give the team the best possible chance of sustaining long-term success.
Pay Zimmermann and/or Desmond what they deserve.
Yes, it will cost money -- a lot of money, more than $125 million each, according to the estimate of one agent who is not affiliated with either player. Such is life when teams develop stars; payrolls escalate through salary arbitration, and then long-term commitments. The Nats might not like it, but they darned well should understand it. And they should be ready to take the next step.
Desmond, 29, is 14.0 wins above replacement the past three seasons, the highest of any shortstop, according to the Fangraphs version of WAR (fWAR). In the past three free-agent classes, Robinson Cano (19.0), Josh Hamilton (16.6) and Jacoby Ellsbury (16.3) were the only free-agent position players with higher three-year WARs.
Of that group, Ellsbury received the lowest average annual salary - $21.85 million. Hanley Ramirez since has scored a $22 million average, mostly because of his offensive ability. Well, Desmond is only the fifth shortstop to win three consecutive Silver Sluggers, joining Cal Ripken Jr., Barry Larkin, Derek Jeter and Alex Rodriguez. Unlike Ramirez, he actually can play short. He also is far more durable and a far superior leader. Ask anyone close to the team — Desmond is perhaps the most important voice in the Nats' clubhouse.
Zimmermann, 28, not only is the Nationals' true ace -- over Fister, over Strasburg -- but also grades out, minimally, as one of the 10 or 12 best pitchers in the game. Over the past three seasons, only Clayton Kershaw, Johnny Cueto, Chris Sale and Felix Hernandez rated higher than Zimmermann in ERA-plus -- that is, ERA adjusted to a pitcher's league and ballpark.
Zimmermann also is 10th in baseball-reference.com's version of WAR over that period and 12th in fWAR. He cannot match Jon Lester's postseason accomplishments, but his overall resume dwarfs Homer Bailey's. Lester got $155 million for six years as a free agent, Bailey $105 million over six in a non-free agent deal. Zimmermann, on the open market, would be closer to Lester -- and still well below Scherzer.
So, are the Nats willing to pay or not?
Only once have they spent big in free agency, giving outfielder Jayson Werth a seven-year, $126 million contract after the 2010 season. The team also awarded third baseman Ryan Zimmerman a six-year, $100 million deal in February 2012, but that contract was not top of the market; Zimmerman signed it coming off an injury-marred season and accepted $10 million in a personal-services deal that will start after his playing career is over.
The Nats are fighting with the Orioles over their television rights fees. They just settled a dispute with Harper about whether he should be eligible for arbitration, according to The Washington Post. Such issues aside, Lerner remains one of the wealthiest owners in baseball, and the franchise is incredibly valuable.
This is no time to retool. Not with a team this good.
---
---