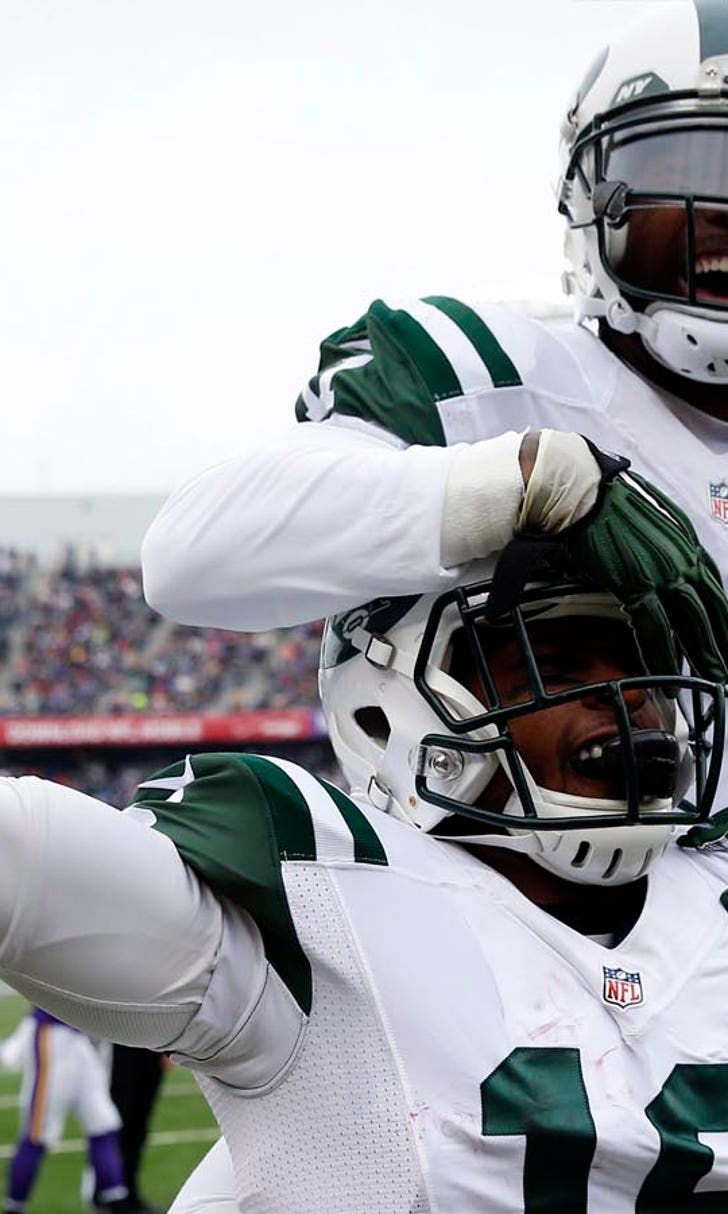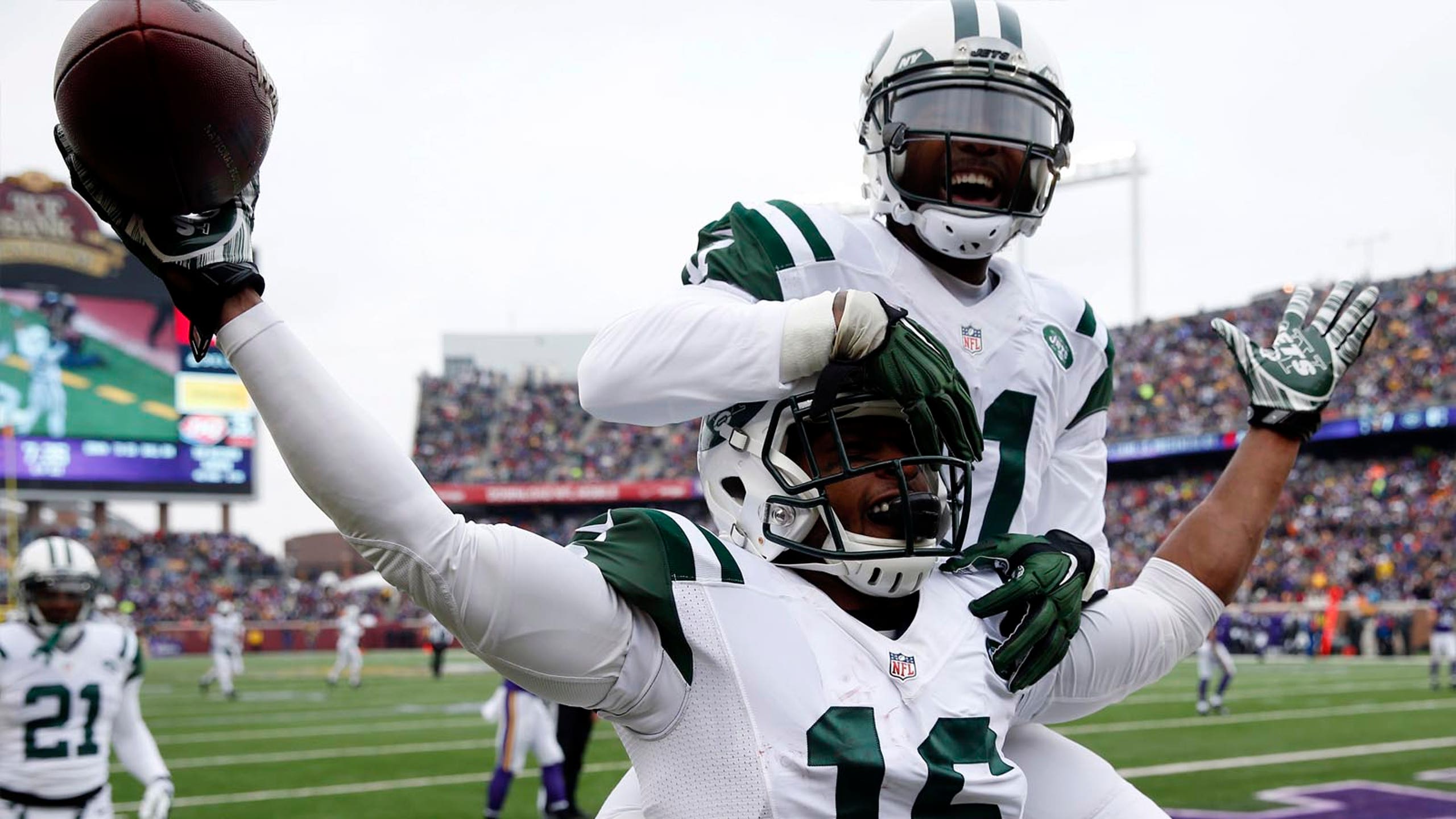 Despite the boos, Harvin's return to Minnesota 'all love'
BY foxsports • December 7, 2014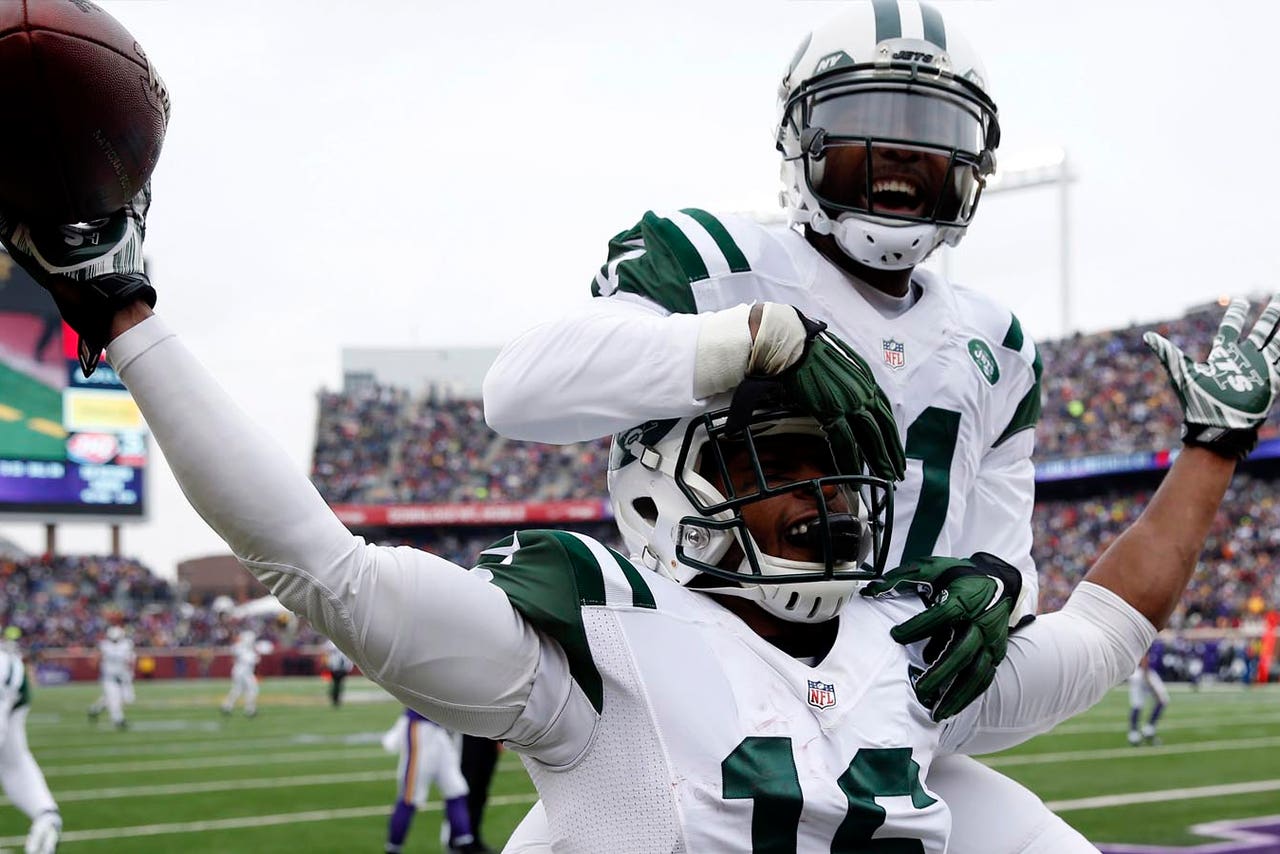 MINNEAPOLIS -- Percy Harvin hauled in Geno Smith's perfectly-placed, back-shoulder fade near the goal line, strutted past helpless cornerback Josh Robinson and stared straight into the southeast stands at TCF Bank Stadium. The boos he heard all day Sunday reached a crescendo during the silent, post-touchdown taunt.
But after a brief moment of the recalcitrance that saw Harvin traded away from two different NFL teams, he did something unexpected. As he approached the nearest section, arms raised triumphantly and defiantly, he flashed a smile and flipped the ball to the closest fan.
Who was wearing a black, No. 84 Randy Moss jersey.
A show of good faith, perhaps, from the Vikings' electrifying yet estranged receiver?
"Ha," Harvin laughed in the Jets' locker room afterward. "I guess you could call it that."
Sunday marked Harvin's first return trip to the Twin Cities since the March 12, 2013 trade that sent him to Seattle for a trio of draft picks. The volatile utility man has since been dealt to New York after running into the same issues he did in Minnesota, and he made an impression against the team that drafted him in the first round out of Florida in 2009.
It was for naught, though, in the Vikings' 30-24, overtime win.
"It was fun," said Harvin, who had 236 of his team's 410 total yards but left the game with a fourth-quarter ankle injury and didn't return. "I got to see a lot of familiar faces. We all gave each other hugs. It was good. I seen some of the coaches, some of the staff that worked at the stadium. It was all love."
Before limping off the field with 1:49 to go, Harvin caught six passes for 124 yards, returned four kickoffs for 109 yards and added three yards rushing on a pair of end-around carries. The bulk of his production, including his 35-yard touchdown grab from Smith, came in the first half.
And if the constant catcalls that echoed his name every time it came over the PA system -- during the starting lineup announcements, before kickoff returns and after receptions -- stirred memories of the vitriol he experienced here from 2009-13, Harvin wasn't opening up about it.
"I expected it. I wouldn't expect anything different," Harvin said with a scoff when asked about the booing, shortly after hobbling his way through the visitors' dressing room on a pair of crutches. "I'm not a big rah-rah guy, so to hear the boos and finally get that score, staring (at the crowd) was a pretty good feeling.
"It's just disappointing man we couldn't get that win."
Jarius Wright's 87-yard catch-and-run from quarterback Teddy Bridgewater in the extra period prohibited that.
Following three years in Gainesville, Fla., Harvin came into the league with all kinds of promise. He vindicated it on the field, catching 280 passes for 3,302 yards and 20 touchdowns, rushing for 683 yards on 107 carries and four touchdowns, and scoring on five kickoff returns.
But with his highlight-reel receptions, scampers and run-backs came durability questions, clashes with coaches and a cancerous reputation around Winter Park. Last March, general manager Rick Spielman sent him to Seattle, where Harvin reportedly caused the same commotion.
After playing just seven games in a Seahawks uniform -- including a home game against Minnesota and the club's Super Bowl XLVIII win -- Harvin, who missed most of last year with a preseason hip injury, was shipped to the Big Apple in exchange for a conditional 2015 draft pick.
Sunday included, he's had his bright moments with New York. But the Jets are now 2-11, coach Rex Ryan's job is in jeopardy, and Harvin isn't owed any guaranteed money after this season, casting doubt upon his own future.
He's still a threat, though, Vikings cornerback Xavier Rhodes said.
"He always makes the first man miss," said Rhodes, one of the three players Minnesota drafted with the picks it accrued in the Harvin trade. "When the ball hit him, you have to be tight on him. Then he's explosive."
Harvin showed it off in spurts again Sunday, shortly after catching up with some old acquaintances. He still has friends in the organization, he said, including Vikings chaplain Rev. Michael Van Sloun, who stopped by Harvin's locker to say hello Sunday morning.
The 26-year-old Virginia native also caught up with friend and former teammate Everson Griffen, who entered the league a year after Harvin.
"P-Baby," Griffen still calls him. "That's my dog, man."
Follow Phil Ervin on Twitter
---
---