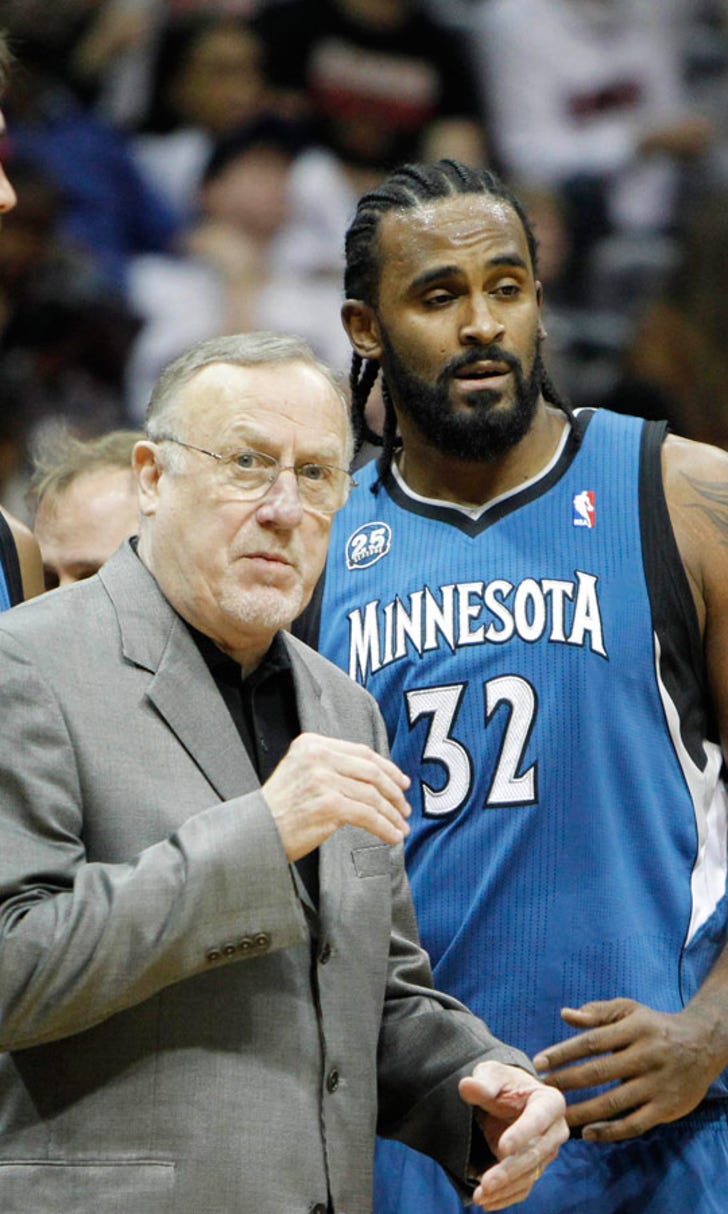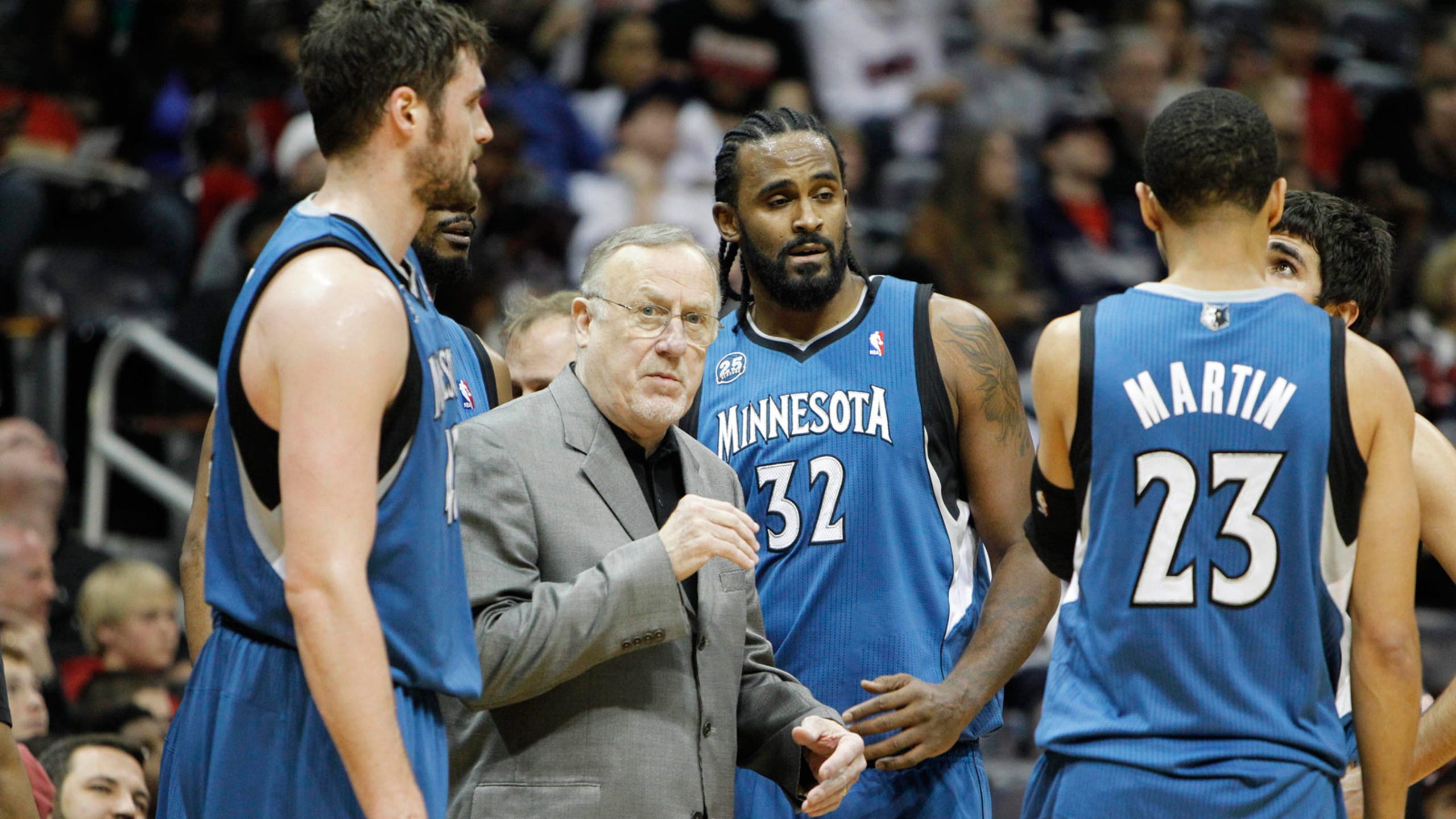 Defensive lapses haunt Wolves yet again
BY foxsports • February 1, 2014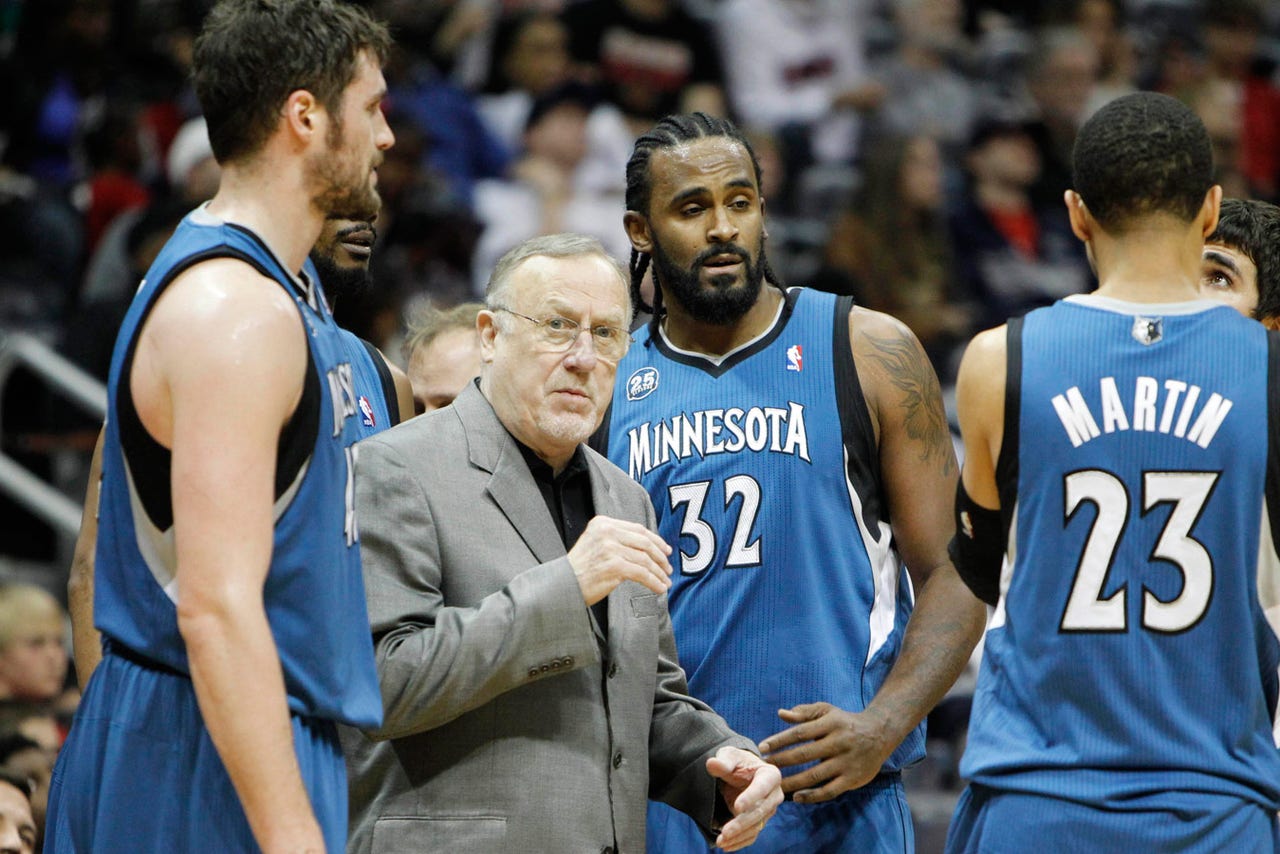 Just when the Timberwolves appeared to be stringing some semblance of defensive effectiveness together, Atlanta stymied their role with a second-half firestorm Saturday at Philips Arena.
The results don't fall all that short of backbreaking: Another loss to drop Minnesota below .500, another late-game collapse, another short, tense Rick Adelman postgame press conference where the veteran coach tries to explain why his improved roster can't seem to be anything but mediocre.
This time, it was the glaring issue that's proven problematic since the season's outset.
"There's two ends of the court," Adelman said, his tone teetering between exasperation and bewilderment, "and we didn't play well at one of them."
In the final two quarters of an otherwise-even 120-113 Hawks win, the home team shot 53.3 percent from the field, made 7 of 12 3-pointers and got 17 points apiece from guards Jeff Teague and Kyle Korver. Atlanta outscored Minnesota 72-59 in the second half and was allowed to make several open shots, each helping quell the Timberwolves' attempts at rallying.
This was more like the defense that came in allowing an NBA-worst 46.9 percent shooting. But Minnesota (23-24) had been bottling opponents up better lately, holding its previous three opponents to less than 100 points and right around 40 percent from the floor.
But Chicago, New Orleans and Memphis don't have a shooter like Kyle Korver, who made 5 of 7 3-pointers -- 3 of 4 after halftime -- scored 24 points and extended his NBA-record 3-pointer streak to 115 games. He, All-Star power forward Paul Millsap (20 points), Teague and DeMarre Carroll (19 apiece) were left open far too often, especially in the second half.
With 13,018 fans watching, there were plenty of defensive blunders to behold. But two in particular will haunt Adelman between now and Minnesota's home matchup Tuesday with the Lakers.
Nearly negating a 16-point deficit for the second time in as many games -- the Timberwolves rallied all the way back from such a hole Friday, only to lose by four to Memphis -- they got within 112-109 on a Kevin Love 3 with 1 minute, 26 seconds remaining Saturday. Minnesota needed one stop to earn a chance to tie but allowed center Gustavo Ayon to drive in barely contested and bank home a running one-hander.
It was Ayon's first and only converted shot on the night.
The first outstanding gaffe occurred in the second quarter's final seconds -- second, technically. With 1/10 of a tick left, Corey Brewer fouled Korver on a desperation 3 attempt. The sharpshooting swing man hit all three of his free throws to cut the Hawks' deficit to 54-48 at the break.
The Timberwolves had led by 11 less than a minute earlier.
"Very poor possession," Adelman said. "We were 11 up with 30 seconds to go but didn't take care of it at the end.
"You've got to finish the halves. You've got to finish the quarters."
Minnesota's inability to do so squandered a dominating performance from Love once again. A night after hanging 28 points and 16 rebounds on the Grizzlies, the Western Conference All-Star scored 43 points and nabbed a season-high-tying 19 rebounds.
That allowed him to outduel fellow All-Star Millsap, who made 9 of 18 field-goal tries and pulled down 13 boards.
It was Love's third night scoring 40-plus points this season. All three efforts have come in defeat.
"He played his tail off, and he kept battling," Adelman said of Love. "We've got to look at the defensive end in that second half. We were not very good."
Saturday's loss also saw a significant backcourt shakeup -- part by choice, part by circumstance. Backup point guard J.J. Barea (12 points, 4 assists) received two technical fouls and an ejection for arguing with officials midway through the fourth quarter. It was the first ejection of a Minnesota player since Barea got the boot for mixing it up with Ray Allen in a game against the Heat last season.
Adelman also went with Alexey Shved at shooting guard in the fourth quarter instead of starter Kevin Martin. Shved scored nine points -- four in the final frame -- to Martin's 17.
"I was just trying to go with the guys who were there in that fourth quarter," Adelman said, repeating his season-long explanation for who plays and who sits in the final period. Friday, he played Barea over Ricky Rubio despite a solid third quarter for the starting one-guard.
Playing a third straight game without starting center Nikola Pekovic (right-ankle bursitis), Minnesota fell to 3 1/2 games behind Dallas for the West's final playoff spot. The Timberwolves and Lakers tip off at 7 p.m. Tuesday at the Target Center.
Follow Phil Ervin on Twitter
---