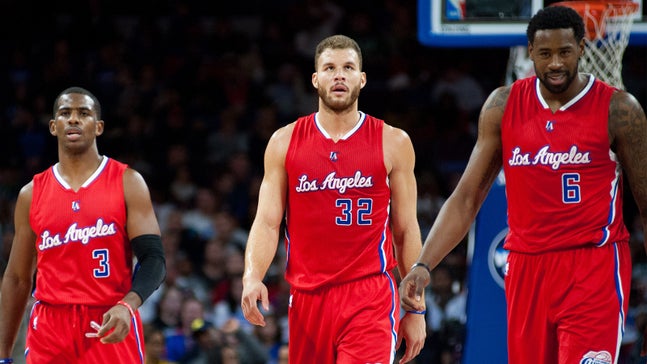 DeAndre Jordan, Clippers face Mavs for first time since wild offseason
Published
Oct. 29, 2015 11:55 a.m. EDT

For a few days in July, the Dallas Mavericks thought they had pried DeAndre Jordan away from the Los Angeles Clippers.
The saga that ensued could only seemingly come from the pages of a screenplay.
Jordan will get to see the Mavericks for the first time since that tense and wild portion of the summer Thursday night when they visit Staples Center.
Jordan was first reported to have an agreement with Dallas for a four-year contract worth around $80 million on July 3, two days after the start of free agency. On July 8, there were rumors that the 6-foot-11 center had a change of heart.
What followed was an exodus to Jordan's home in Houston by Clippers coach Doc Rivers, and players Blake Griffin, J.J. Redick and Paul Pierce.
They stayed inside with their teammate while denying Mavericks owner Mark Cuban and their currently injured forward Chandler Parsons a chance to talk with Jordan. Griffin sent out a photo on Twitter of a chair wedged underneath a door handle.
The tactics paid off as Los Angeles ultimately got Jordan's signature on a four-year deal worth approximately $87 million just after midnight Eastern time.
"The most emotional part of the whole entire process was when I decided I was going to stay because I knew I had to upset and let down a whole different fanbase," he said. "That definitely got to me.
"The (Mavericks) had a great presentation, a great owner, a great coach, a championship team, but at the same time, I felt like I didn't give it all of my thought. At the end of the day, we're basketball players, these great athletes, but we're also human and we make mistakes."
Jordan had eight points, 12 rebounds and four blocks in his first game with the Clippers under his new contract Wednesday, a 111-104 win in Sacramento. Griffin scored 33 points, and Pierce's jumper with 2:21 left started Los Angeles on an 11-4 run to end the game.
"This group has been together for some years, they have a good understanding of one another," Pierce said. "I'm just trying to fit in and play with that group down the stretch."
Dallas also opened the season with a victory Wednesday, 111-95 in Phoenix, with eight players scoring in double figures led by Raymond Felton's 18.
The Mavericks got a chance to rest a little for this game after building a 27-point lead in the third quarter.
"We stayed in attack mode all night and never let up, and that is how we are going to have to play," coach Rick Carlisle said.
Dallas blew out the Clippers 129-99 in the most recent matchup March 13, but Griffin (staph infection) and Jamal Crawford (sore calf) were inactive for Los Angeles. The Clippers have won eight of the last 11 meetings and five of the last six at home.
One small reason why the Mavericks coveted Jordan was perhaps the thought of not having to face him. He has averaged 17.1 points in his last seven meetings - his highest versus any opponent in the past two seasons - and 17.3 rebounds.
Dallas forward Charlie Villanueva averaged 22.5 points on 60.7 percent shooting off the bench and went 8 of 15 from 3-point range in the final two meetings last season.
---
---