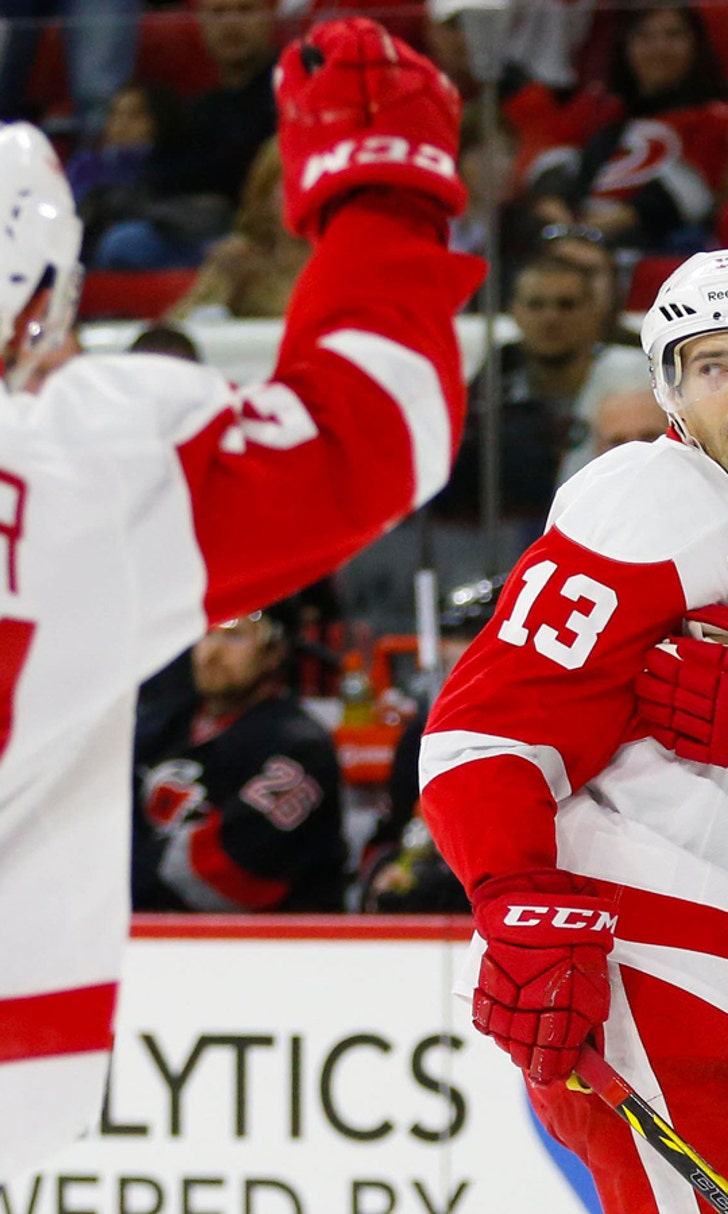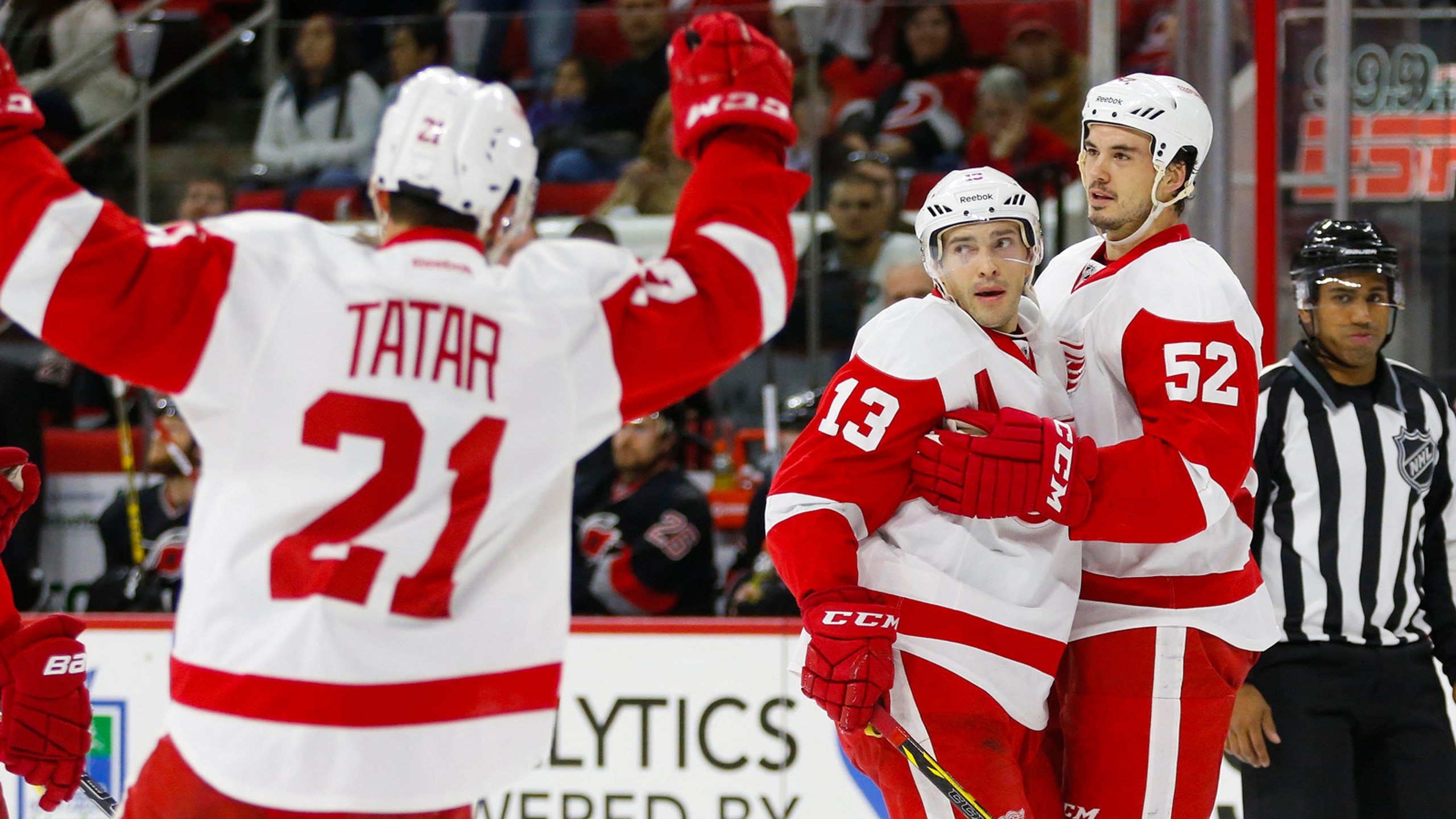 Datsyuk, Wings look to keep rolling against Leafs
BY foxsports • December 10, 2014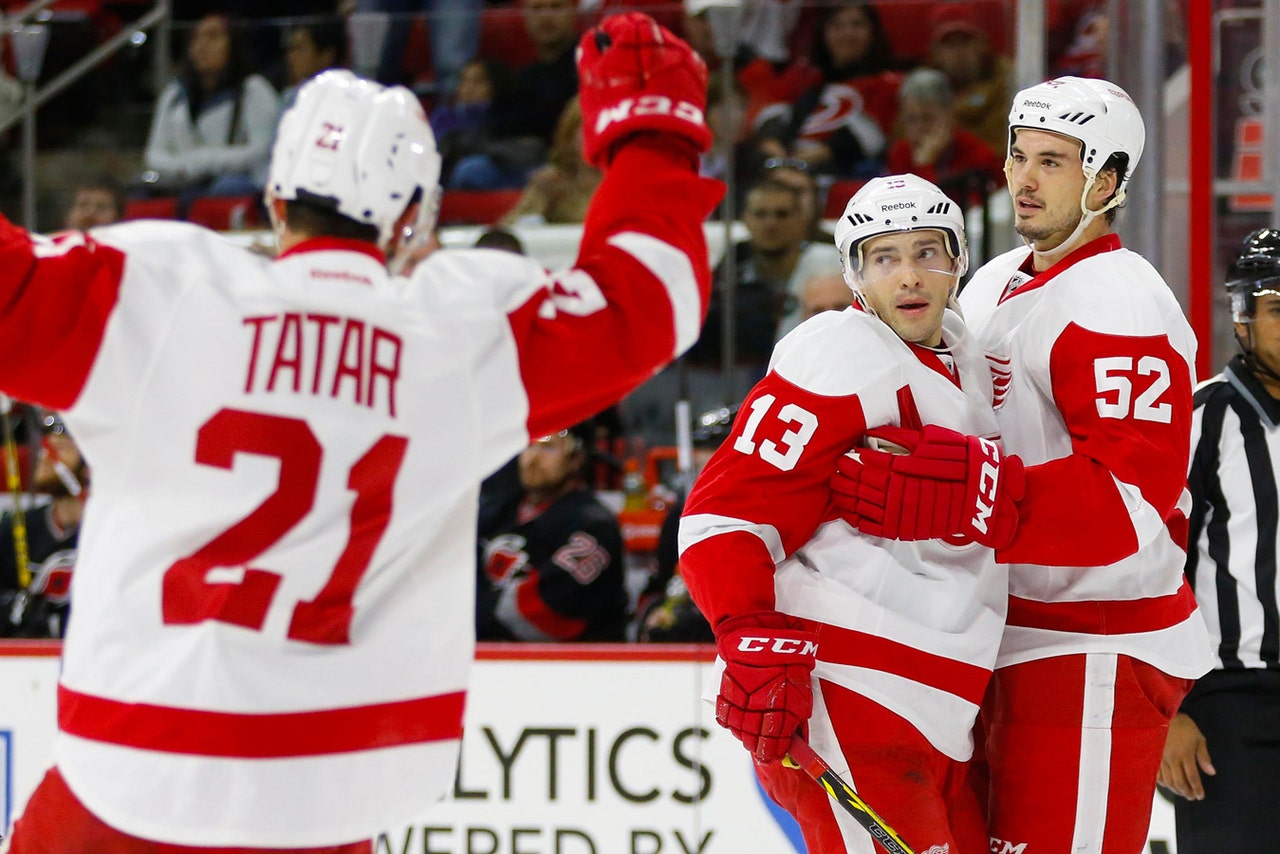 When the Detroit Red Wings fell at Toronto a little over two weeks ago, Pavel Datsyuk was still two games away from returning to the lineup while battling one of his multiple injuries this season.
They've been on quite a roll since, with Datsyuk providing plenty of assistance.
Detroit seeks its eighth victory in nine tries as it hosts the surging Maple Leafs on Wednesday night.
Datsyuk has missed 11 games for the Red Wings (17-6-5), including a 4-1 loss to Toronto on Nov. 22. Detroit has gone 7-1-0 since, with Datsyuk recording seven goals and four assists over the last six since returning from a groin injury.
He had a goal and assisted on both of Tomas Tatar's tallies in Sunday's 3-1 win over Carolina, the Red Wings' third straight victory.
"You always have more energy if you win," Datsyuk said. "It's important that the team is sticking together."
Tatar has three goals and four assists during a five-game point streak, and linemate Darren Helm has three goals and an assist during a three-game streak of his own.
"We're doing a good job and I hope we stay this way," Tatar said. "I think Pavel is the best player I've ever seen. We all know what he can do. When he's healthy, he's a big help for us."
Detroit is tied with Tampa Bay atop the Atlantic Division one season after barely qualifying for the playoffs and losing in the first round to top-seeded Boston. Datsyuk and Henrik Zetterberg missed 28 games apiece due to injury.
"We battled through a lot of injuries last year throughout the year to a lot of key guys," Jimmy Howard, who had a 2.66 goals-against average in 2013-14 but has a 2.21 mark this season, told the team's official website. "We felt coming into this year, with everyone getting healthy over the summer, we had a good team."
Howard has won five of his last six starts since losing to Toronto, and he'll be in goal again for this contest after having Sunday off. Detroit swept a home-and-home set Oct. 17 and 18 before Tyler Bozak scored twice in the Maple Leafs' victory last month.
"They're a team that lives off transition, they want to get the puck onto their forwards' sticks and make plays," Howard said. "It's just important for us to keep going the way we have been, rolling four lines, keeping them off our D and having fun in the offensive zone."
Toronto (15-9-3) has scored at least four goals six times during a 6-1-1 stretch after beating Calgary 4-1 on Tuesday. James van Riemsdyk had a goal and an assist and Phil Kessel scored for the third time in four games.
"The second period was one of the best periods we have played this season from a perspective of playing more of the style of hockey that is required for 60 minutes," coach Randy Carlyle said after his team outshot the Flames 13-4 in that stretch. "They know this is the way we're going to have to do it on a more regular basis."
James Reimer could get the start in this contest to complete Toronto's back-to-back set after Jonathan Bernier made 32 saves against the Flames.
Reimer, 0-3-0 with a 3.96 GAA in four career games against Detroit, hasn't started since allowing six goals in a loss to Buffalo on Nov. 15. He allowed six goals in relief against Nashville in his most recent appearance Nov. 18.
Howard is 3-1-1 with a 1.97 GAA in his last five against Toronto, which hosts Detroit on Saturday to complete the season series.
---