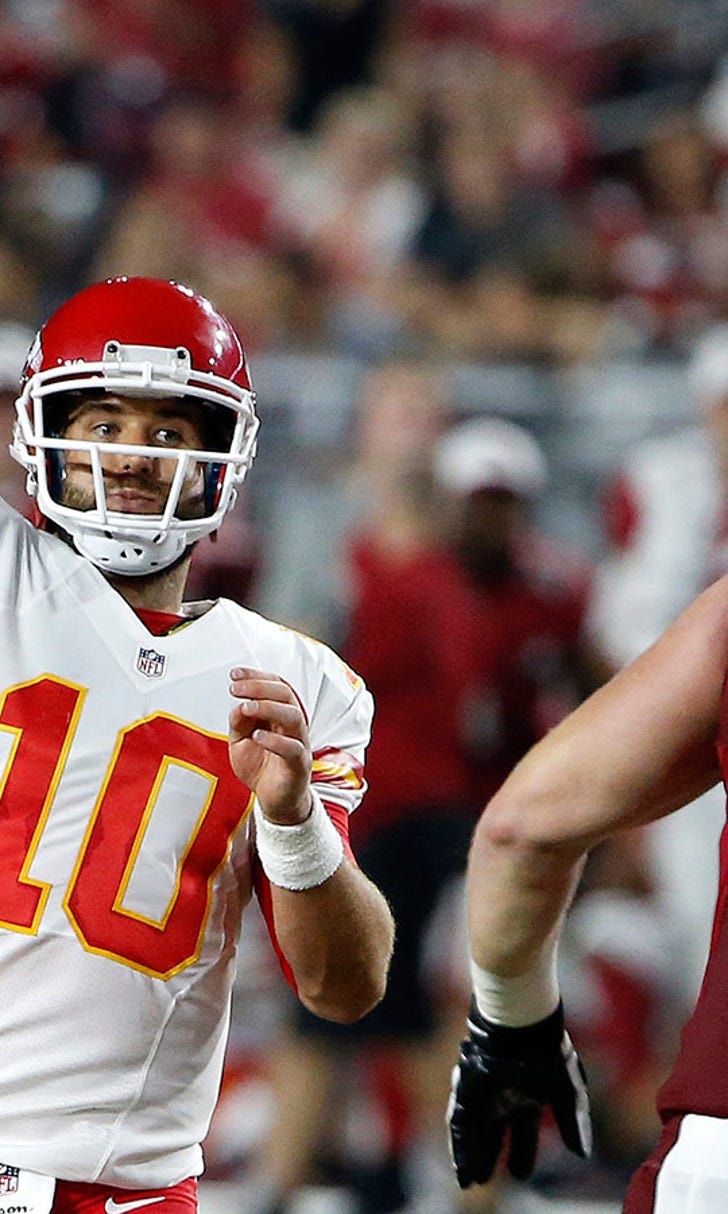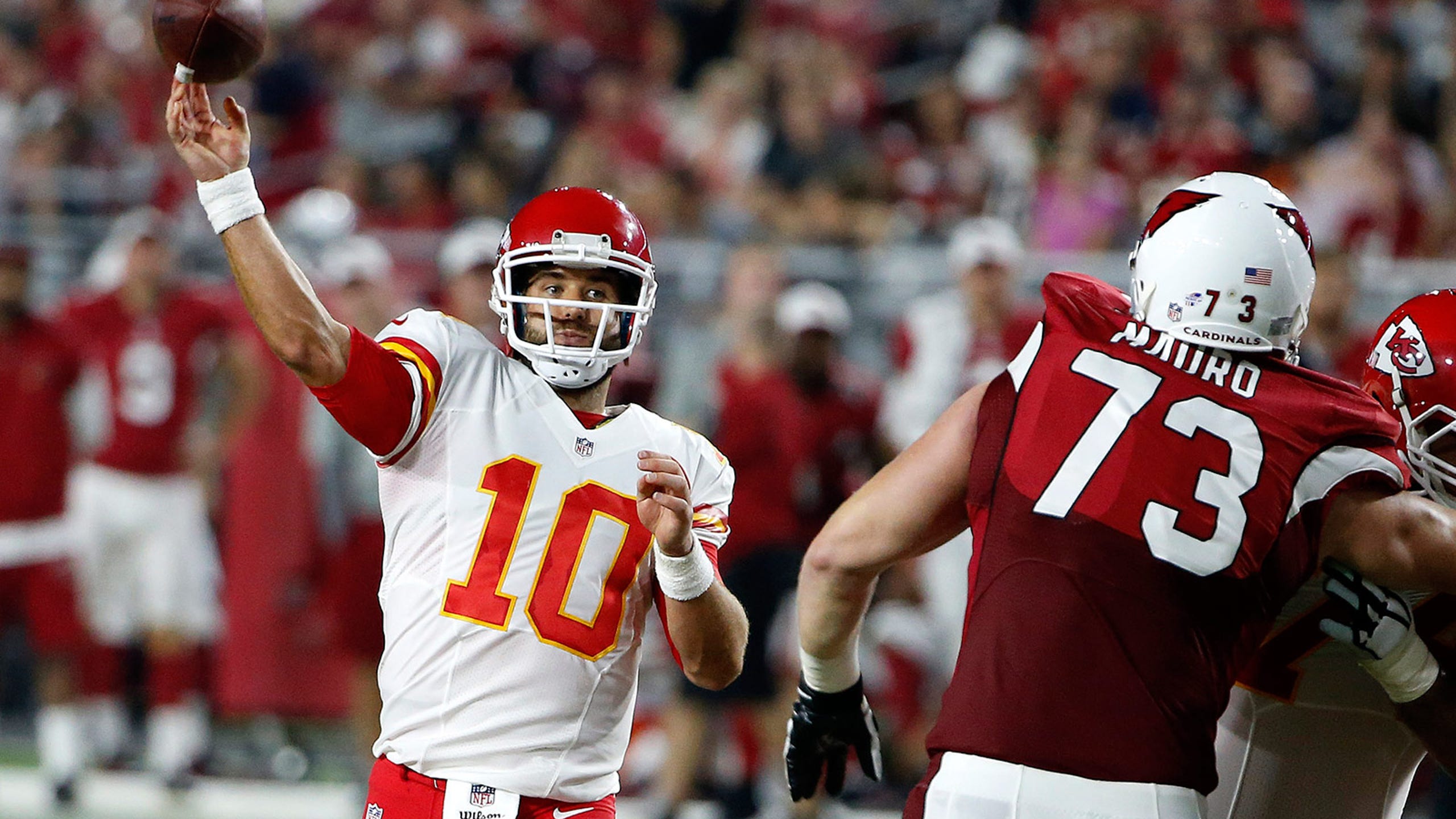 Daniel leads Chiefs to exhibition win over Cardinals
BY foxsports • August 16, 2015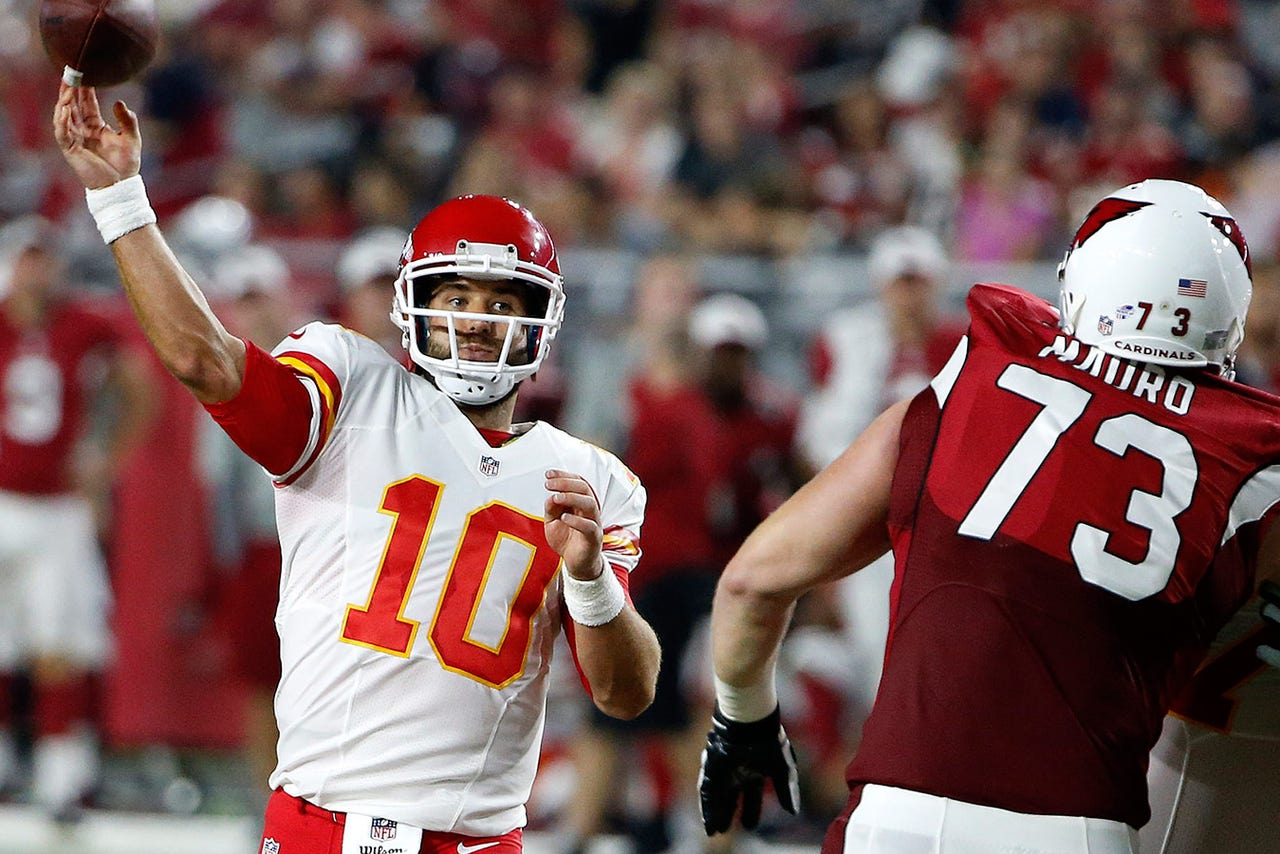 GLENDALE, Ariz. -- Carson Palmer and Tyrann Mathieu have been probably the most impressive players in the Arizona Cardinals' training camp.
They excelled in the first preseason game, too.
So did Kansas City backup quarterback Chase Daniel.
Palmer was flawless in a brief appearance, Daniel threw for three touchdowns and the Chiefs beat the Cardinals 34-19 on Saturday night.
In his first game since tearing an ACL last Nov. 9, Palmer was 4 for 4 for 77 yards, directing a seven-play, 80-yard touchdown drive to start the game before sitting down for the night. Palmer, who said he never took a single hit, threw over the middle to Andre Ellington on a 57-yard play to highlight the seven-play, 80-yard drive.
"It's great to be back and play on this grass again in front of our fans and in our stadium," Palmer said. "It's been a long time coming. It's been a lot of days since I saw this day in the future."
Mathieu intercepted Alex Smith's pass on the Chiefs' first possession to set up a field goal to put Arizona up 10-0. The Kansas City reserves scored the next 31 points.
Daniel was 17 for 21 for 189 yards in two quarters of play.
"The ones could have been sharper. ... The twos and threes played tremendous and they moved the ball," Chiefs coach Andy Reid said. "Chase did a nice job with that group."
On the big play, Palmer found Ellington through a tight window. Ellington, who nursed a foot injury most of last season and has missed most of training camp with a hamstring injury, scored on a 2-yard run on third-and-goal.
On Kansas City's first possession, Smith was under pressure when he threw the pass intended for an open Jason Avant. The pass was well behind the intended receiver and Mathieu, who was slowed noticeably last season after coming off knee surgery, easily picked it off.
"Luckily, the quarterback threw the ball right to me so I didn't really have to break and get a good route to the receiver," Mathieu said. "He kind of just threw it right to me."
Smith said he had a defender "screaming in my face" and he sailed the ball behind the receiver.
Arizona coach Bruce Arians said he was "very, very pleased with the way our starters came out, displeased with our young guys."
Asked what he learned about his young players, Arians said, "Some can't tackle."
Smith completed 6 of 10 for 42 yards.
Chandler Catanzaro's 52-yard field-goal try early in the fourth quarter was deflected by the outstretched hand of 6-foot-7 Chiefs rookie David Irving.
Arizona rookie Rodney Gunter tackled quarterback Aaron Murray from the blind side for a safety.
EMOTIONAL RETURN
Nine months after being diagnosed with Hodgkin's lymphoma, Chiefs safety Eric Berry made a triumphant, emotional return. On the field before the game, he gave his mother a big hug. Just before kickoff, he got a hug from Arizona cornerback Patrick Peterson.
Berry completed treatment in May and was declared cancer-free a month later.
The Cardinals put a pregame message up on the big screen that said, "Welcome Back Eric Berry!"
"It was great being back out here," Berry said. "Just the smell of the grass, the crowd, the food. I was just taking everything in. ... And having my mom on the sideline, that was just great. She was there from Day One. We went through a lot."
MILESTONES
Two women set NFL milestones at kickoff.
Sarah Thomas became the first female official to work an NFL game and Jen Welter, a Cardinals intern, is the league's first female coach of any kind.
INJURED
Three Kansas City players left the game in the first half with injuries and did not return.
Starting right guard Jeff Allen was carted into the locker room with a knee sprain. A short time later, backup RB Knile Davis (knee) and WR De'Anthony Thomas (calf) left the contest.
The Cardinals held cornerback Jerraud Powers out of the game with an oblique injury.
QB COMPARISON
Chiefs: In the second quarter, Daniel was 13 of 16 for 145 yards and two touchdowns. Murray threw one pass, and it was incomplete.
Cardinals: Logan Thomas, trying to hold off rookie Phillip Sims for the No. 3 quarterback spot, completed 9 of 15 for 107 yards. He was intercepted once but the ball bounced out of the hands of rookie Gerald Christian, "Mr. Irrelevant" as the final player chosen in this year's draft. Sims, playing most of the fourth quarter, was 3 for 12 for 49 yards, including a 1-yarder to Travis Harvey with 29 seconds to play.
QUOTABLE
Cardinals: " I told him to get in shape because he's never been caught before," Arians said about Ellington being caught from behind on his big play, "and he agreed."
---
---