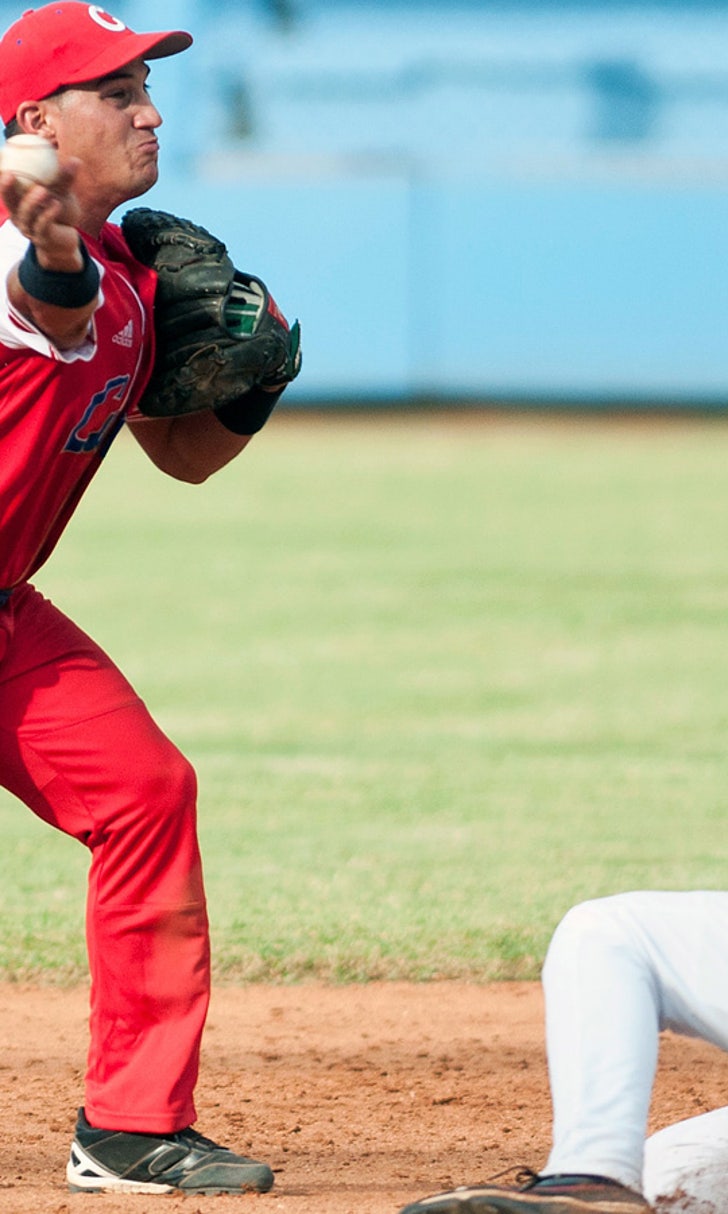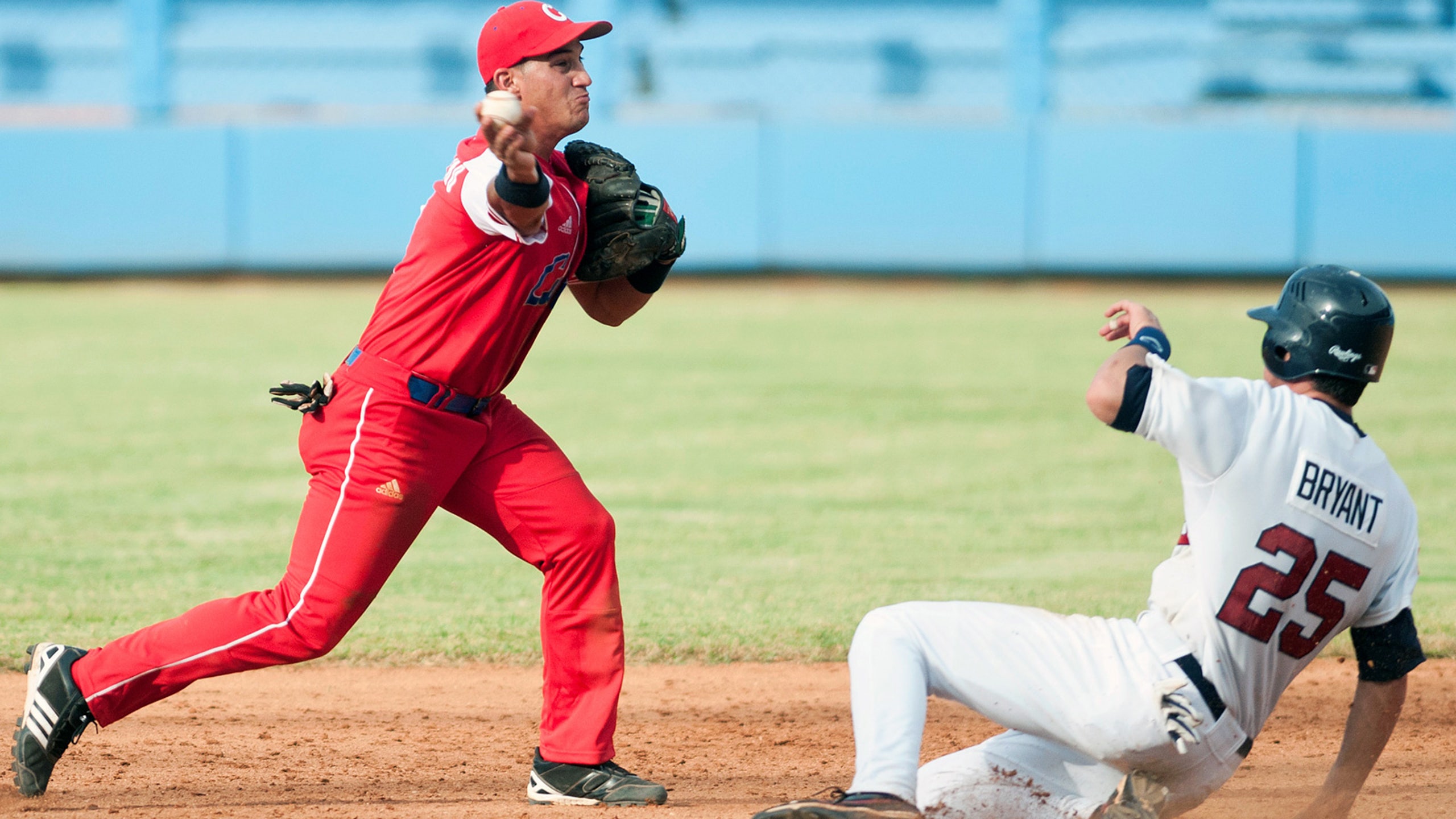 Cuban Guerrero adjusting on, off field in first spring with Dodgers
BY foxsports • February 18, 2014
GLENDALE, Ariz. -- Alex Guerrero isn't just learning a new position. He's learning a new culture.
Both will take time, especially for someone making a transition that requires patience and repetition. But Guerrero, the Dodgers' presumed second baseman, is clearly in a rush.
He hasn't been in the US for more than two months, yet he's already pronouncing himself ready to make a position switch from shortstop to second.
"I think I have it," he said in Spanish. "I've got it down and I'm working hard to perfect the finer details."
His adjustment from Cuba to the US has been far more challenging.
"The culture is different, even down to the food," Guerrero said Tuesday after working out at the Dodgers' spring camp. "The biggest part is the language. The atmosphere of various places isn't anything like Cuba."
Finding a good meal hasn't been easy. He's been told there are restaurants that serve traditional Cuban food, but he has yet to find them. McDonald's isn't on his list.
His favorite American dish? "Potatoes and steak," he said in English. Then, speaking through translator David Longley, he added, "I don't like fast food."
Finding a good steak won't be a problem. Guerrero signed a four-year, $28 million contract with the Dodgers after finally escaping Cuba last year on his third attempt. Now all he has to do is prove he can be an everyday second baseman.
He has little experience. In seven seasons playing for Las Tunas in Cuba's top amateur league, National Series, he primarily played shortstop. But with Hanley Ramirez set at short and last season's second baseman, Mark Ellis, having departed for St. Louis, the Dodgers handed second base to Guerrero.
They have plenty of fallbacks should Guerrero's trial not work out: Dee Gordon, Justin Turner, Justin Sellers, Chone Figgins, Brendan Harris and Miguel Rojas are all in camp looking to win jobs. But Guerrero, 27, is their first choice.
"We feel good about him," manager Don Mattingly said. "The biggest thing is just the willingness to work. He wants to keep working and working, and we're trying to make sure we don't let him do too much at one time and get confused. We feel like there's more than just second base. There's country and language. It's a lot at one time."
Guerrero already has a tutor to work with him on his English. But he's not afraid of putting in too much work, staying long after most of his teammates have left.
"I'm here to work," he said. "It's what I to do. I'm happy the coaches are worried about me because I want to be in the big leagues as soon as possible. But it's a matter of dedication, coming and working every day."
What he needs more than anything is game experience. After he signed, the Dodgers sent him to the Dominican Republic to play in the winter league. But he suffered two hamstring injuries, limiting his time to work at second base.
Offense should be less of a transition. He hit .308 in Cuba with 102 home runs in 547 career games, including 62 in his final three seasons.
Hitting big league pitching is another matter, and the Dodgers won't know how good he'll be until they see him in spring games.
"You see guys in (batting practice) all the time and their swing looks good and they've got some power," Mattingly said. "We need to see Alex in games. All our people have said a lot of good things. He's had success at a lot of different places, but he needs to get back into the swing, too. It's been a while since he's played games consistently."
In fact, Guerrero last played competitively in 2012. He sat out last season and was left off Cuba's World Baseball Classic roster, prompting him to attempt an escape. He finally reached Haiti by boat with a brother and two friends, then went to the Dominican Republic.
He has a couple of cousins who live in the Miami area, but he is essentially alone in the US. Asked if he has a support system, he answered, "My team."
There is also his wife, Anisley, and their two children, but they remain in Cuba. He talks to them daily by phone and hopes to pull enough strings to get them into this country soon.
"We're working on it," he said. "I think within two or three months."
By then, if all works out well, he could be an everyday player. In his mind, he has already made a successful switch.
Asked if he still considers himself a shortstop, Guerrero said firmly, "I'm a second baseman."
---
---