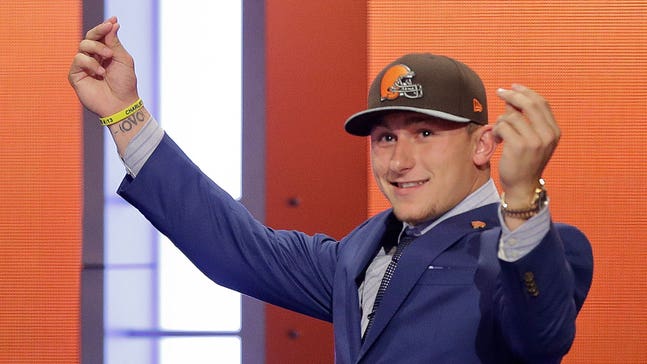 Cover jinx? Manziel front and center on regional SI
Updated
Mar. 4, 2020 1:45 p.m. EST

Johnny Manziel is on the cover of Sports Illustrated -- again.
The Cleveland Browns' first-round draft pick graces the front of a regional edition of the magazine this week with the headline "Johnny Better Be Good" and sub-headline "Because how much more suffering can a city take?"
Ouch.
Manziel, in combine gear, landed on the national cover ahead of the draft and subsequently "fell" (depending on how much stock you take in draft prognostication) to the No. 22 overall pick.
This time, he's flashing his signature handshake in a Browns hat. But does it mean Manziel is doomed before he even hits the field?
Well, some believe in the "SI cover jinx," which is really stuff of urban legend but does have a lengthy track record. From its origins in the 1950s with the Braves' Eddie Matthews to the Reds' Pete Rose on the cover the week his lengthy hitting streak came to an end in 1978 and most recently the Denver Broncos before Super Bowl XLVIII.
Depending on your definition of being on the cover (national vs. regional), the last time the Browns highlighted a Sports Illustrated cover may date back to training camp 2007 and Jamal Lewis (h/t to SI's Richard Deitsch for digging that up).
No jinx for Lewis that year though, as he ran for 1,300 yards and nine touchdowns for Cleveland.
---
---