Corbin dominant again, Ahmed walks off Brewers
BY foxsports • March 22, 2016
SCOTTSDALE, Ariz. -- Patrick Corbin struck out seven and allowed just an unearned run while pitching into the sixth inning as the Arizona Diamondbacks beat a Milwaukee Brewers split squad 3-2 on Monday night.
Corbin, who came back from elbow surgery midway through last season, has given up only one earned run in four starts covering 14 1/3 innings this spring. He has 17 strikeouts.
"Everything feels great and I felt strong there toward the end as well," the left-hander said. "I'm just hoping I can build off that. Biggest thing was just to build up the pitch count."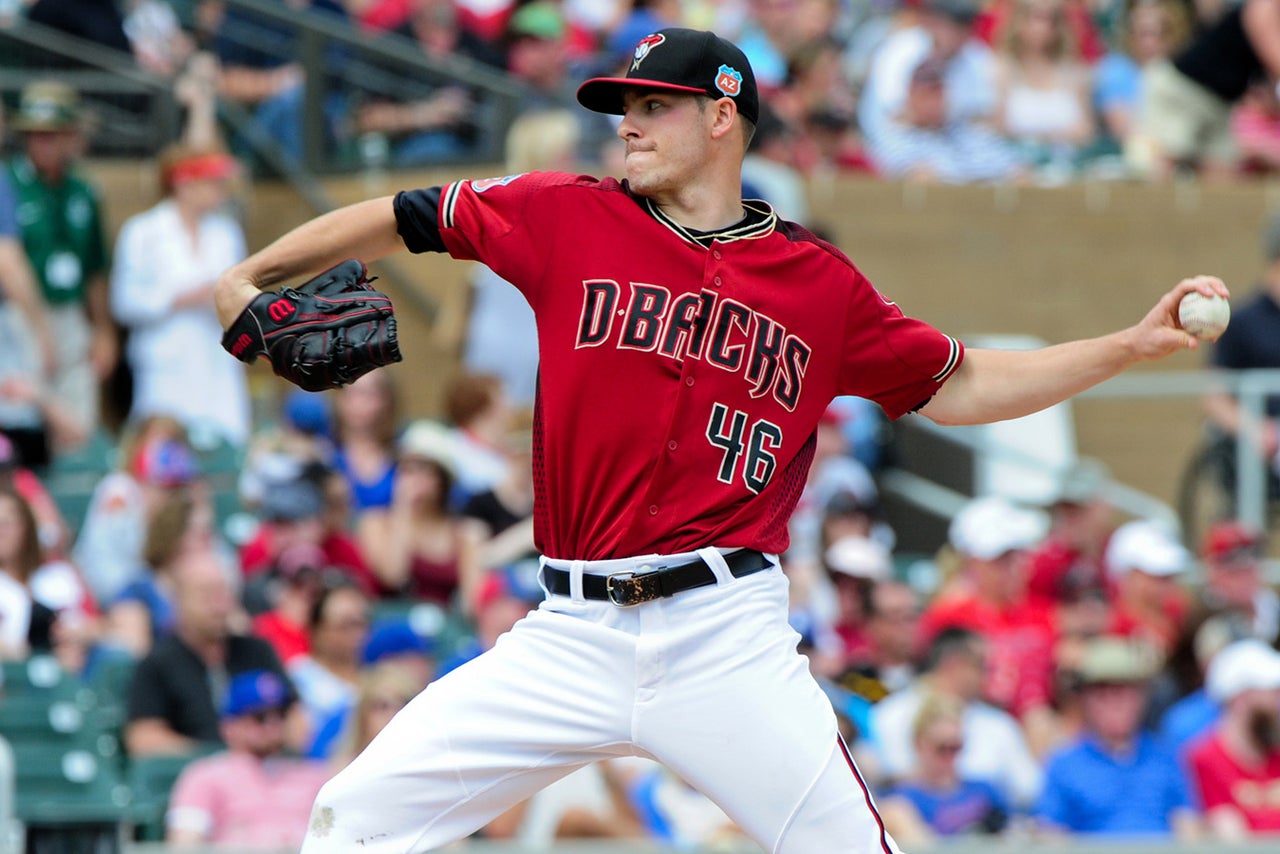 THREE TAKEAWAYS: D-backs 3, Brewers 2
* The D-backs are counting on Patrick Corbin and he looks every bit as dominant as he was three seasons ago, before Tommy John surgery. With one big exception: He is using a changeup much more often and it could be quite a weapon for him this year. The lefty also has a 17-to-3 strikeout-to-walk ratio this spring.
* Nick Ahmed is a better hitter, he said last week, and manager Chip Hale echoed that after Ahmed had three hits, including the walk-off winner Monday. "His swing has improved," Hale said. "I think he will hit better (than last season). He just has a better idea of himself." Ahmed is hitting .429 this spring.
* Jean Segura still has to win a starting job in the infield, but he has been a force in the leadoff spot. On Monday, he walked in the first inning and immediately had nearly all Brewers pitcher Josh Hader's attention. Segura still stole second, and after a couple bluffs by Hader took third without a throw. He has four steals and a .579 on-base percentage this spring.
            -- Chris Gabel, FOX Sports Arizona
Nick Ahmed drove in the winning run with a two-out single in the bottom of the ninth. Ahmed had three hits for the Diamondbacks, who also got two stolen bases from former Brewers shortstop Jean Segura.
Ahmed, an infielder, has a .429 batting average through 13 games. He hit .226 in 134 games last season.
"He should improve, and his swing has improved a bunch," manager Chip Hale said. "He had a great spring last year, too."
Jake Lamb, competing for the Diamondbacks' third base job, committed three errors. No other Arizona player has more than two in spring training.
Corbin permitted five hits in 5 1/3 innings. Arizona closer Brad Ziegler gave up a run and two hits with one strikeout in his inning of work.
Scooter Gennett had two hits for the Brewers, including a run-scoring double. Gennett has played in only three games but has six hits in 10 at-bats.
"I like it that Scooter's swinging the bat well. That's the big thing," Milwaukee manager Craig Counsell said. "Just swinging the bat well against good pitching is meaningful."
Domingo Santana reached base three times and scored once, leaving the young Milwaukee outfielder with a .500 batting average and a seven-game hitting streak.
"He missed a couple of games but he's had a solid spring. It's been good at-bats and getting on base a lot," Counsell said. "He's drawing walks, so he's just got to continue on this path through the season."
Diamondbacks: Corbin threw 77 pitches and Hale said the left-hander was in command of each pitch.
"He pretty much can throw any of his pitches in any count right now, so those are weapons not a lot of pitchers have," Hale said before mentioning Corbin's changeup. "That's a huge pitch for him. He almost has two of them, one that's a strikeout pitch and one that he can throw for strikes."
Diamondbacks short-season field coordinator Luis Urueta managed Colombia to the 2017 World Baseball Classic with his team's qualifier win over Panama on Sunday night. Colombia made the field of 16 teams for the WBC for the first time.
The Diamondbacks optioned RHPs Archie Bradley and Tyler Wagner to Triple-A Reno. LHP Keith Hessler and OF Gabriel Guerrero were optioned to Double-A Mobile, and OF Zach Borenstein was reassigned to minor league camp.
Diamondbacks: Hale hopes C Chris Herrmann (hip) can catch in a game by Wednesday.
Brewers: RHP Taylor Jungmann continues his tuneup for the regular-season rotation Tuesday against the Colorado Rockies. In three starts, he has a 1.08 ERA.
Diamondbacks: RHP Rubby De La Rosa makes his fourth start of the spring Tuesday night against San Francisco.
---
---