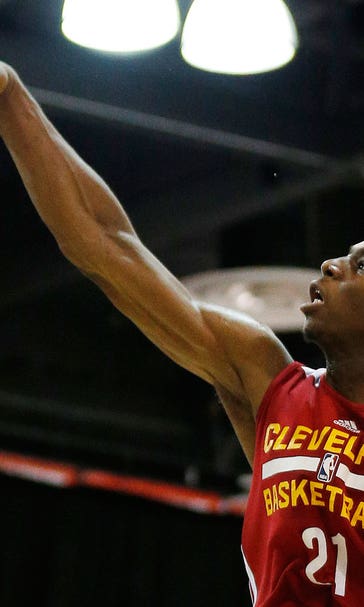 Cavs aim to stay unbeaten as summer play continues
BY foxsports • July 14, 2014
The Cavaliers have been coasting right along, having a grand old time in the NBA's Las Vegas Summer League.
So far, they've bucked the Milwaukee Bucks and stomped the San Antonio Spurs, mostly behind former No. 1 overall picks Anthony Bennett and Andrew Wiggins. But more than anything, it's been a total team effort -- with the Cavs displaying the ball movement and generally heady play that's always a staple of David Blatt-coached teams.
Next up: The Philadelphia 76ers, who feature undrafted rookie Sean Kilpatrick, a guard from the University of Cincinnati. Kilpatrick scored 20 points in the Sixers' win over the Utah Jazz on Saturday.
Tip-off is 8 ET and the game can be viewed on NBA TV or NBA Summer League Live online.
For the Cavs, Wiggins is averaging 15.5 points per game, with Bennett coming in at 14.0. Point guard Will Cherry is also scoring 14.0, and point guard Matthew Dellavedova is third in Vegas in assists at 6.5 per game.
This will be the Cavs' final game before the NCAA tournament-like format tips off Wednesday. Their first-round opponent is yet to be determined.
ROSTERS
CAVS (2-0): F Anthony Bennett; PG Will Cherry; C Jack Cooley; PG Matthew Dellavedova; F Shane Edwards; C/F Carrick Felix; G Steven Gray; G Joe Harris; C Alex Kirk; C/F Dwight Powell; F/G Andrew Wiggins; G Jayson Granger.
SIXERS (1-0): F Brandon Davies; C Mouphtaou Yarou; F Jerami Grant; F Jordan McRae; G Sean Kilpatrick; G Tim Frazier; F Drew Gordon; PG Casper Ware; G Scottie Wilbekin; G/F K.J. McDaniels; G/F Elijah Millsap; F Jamelle Hagins.
---