Carrera hopes to take advantage of second chance
Published
Aug. 1, 2014 8:40 p.m. ET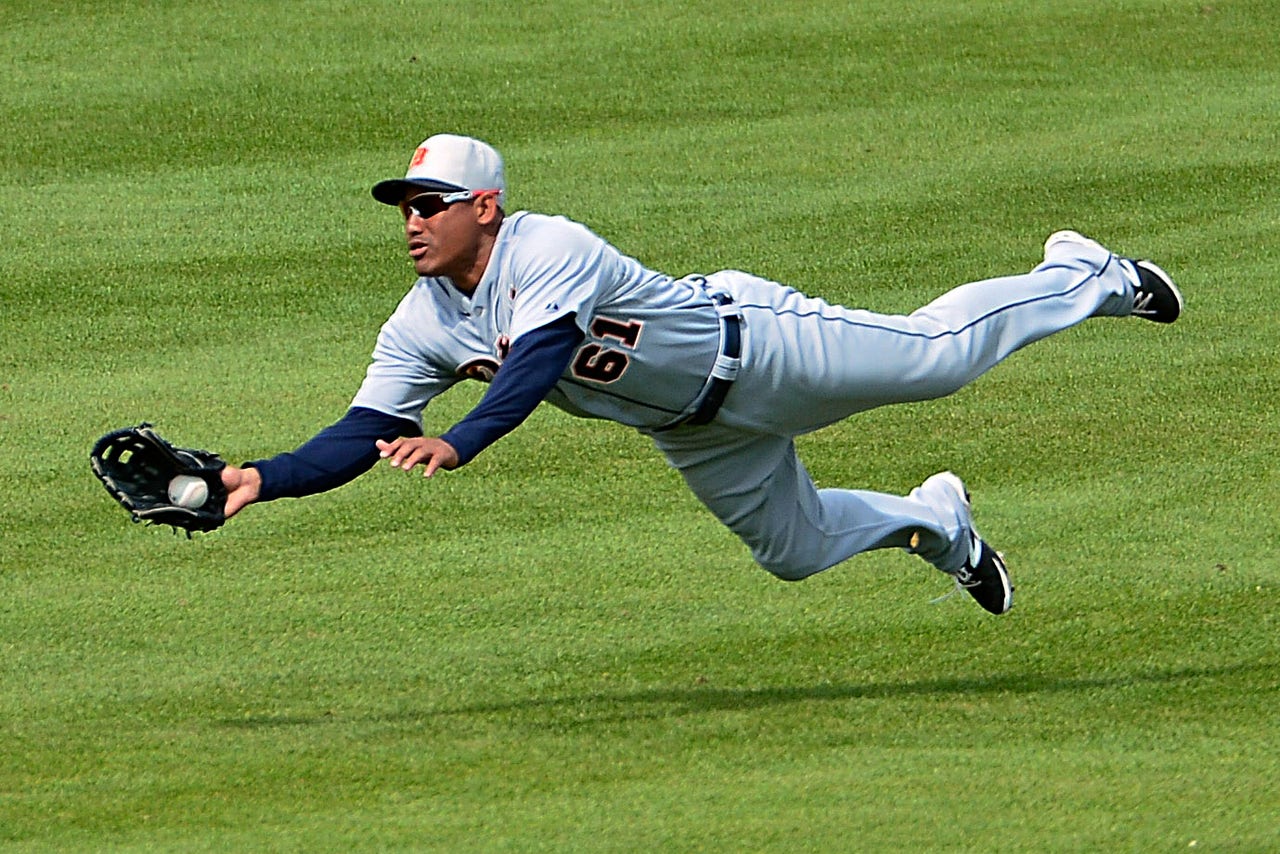 DETROIT -- Ezequiel Carrera nearly got his chance to join the Detroit Tigers a few weeks into the season, but J.D. Martinez got the call instead and responded by bashing balls over the fence and into the gaps to spark the offense.
Trading away center fielder Austin Jackson to the Seattle Mariners in the three-team swap on Thursday that landed All-Star pitcher David Price in Detroit created another opportunity. And this time, Carrera got the call. He did all he could to knock down the door from Toledo, where he batted .307 with good power and 43 stolen bases while tracking down balls far and wide in the outfield.
"Jackson was a very good center fielder," said Tigers manager Brad Ausmus. "But you will be surprised by how good Carrera is out there. Originally, we talked about him in spring training (after outfielder Andy Dirks had back surgery).
"When we called up J.D., we thought of calling up Carrera, who hit left-handed. But we thought we needed some thump."
Detroit's other regular outfielders are right-handed hitters. He could platoon in center with Rajai Davis, who started Friday night against Colorado Rockies left-hander Franklin Morales, but Ausmus said he will wait to see how it works out.
Davis could start every game in center against the Rockies, who are starting a trio of lefties in the series.
Carrera, 27, batted .258 in 353 at-bats for the Cleveland Indians over the last three seasons, and also played 13 games for the Philadelphia Phillies in 2013. Detroit signed him as a minor league free agent during the winter.
"I didn't think I had a great spring training," Carrera said through an interpreter, while standing in front of what used to be Jackson's locker and is now his. "But I got refocused and hope to seize this opportunity."
Carrera, a Venezuelan, said he patterns his play after fellow countryman Endy Chavez in the outfield. Chavez, a 13-year veteran now with the Seattle Mariners, is fleet of foot and an excellent defender. He batted .306 without committing a error in 2006 for the New York Mets, and stole 32 bases for the 2004 Philadelphia Phillies.
"I've always been aggressive," said Carrera. "And I've always tried to emulate the style of play of Endy Chavez."
When asked if the "E.C." tattoo initialed into his right hand is for Chavez, Carrera said it was.
Carrera has played more than half of his games in center, but also can play left and right.
"I'm happy with the opportunity Detroit has given me this season," Carrera said with a smile.
Ausmus said he will be valuable off the bench when not starting, noting that he can become a defensive substitute, pinch-runner or pinch-hitter.
"He can bunt and he's more of an action player," Ausmus said.
Davis was batting .294 with 25 stolen bases entering Friday night's game and also hits well against right-handed pitchers. Martinez had knocked him out of playing time in left, and now he has a good shot to play plenty in center. Davis made a good running catch against the wall in straight-away center against Colorado's Drew Stubbs to end the second inning Friday.
"I can't tell you how many at-bats (Carrera) will get," Ausmus said. "It depends on how Rajai plays out there -- or it could be like J.D. was -- he plays well and forces his way into the lineup every day."
---