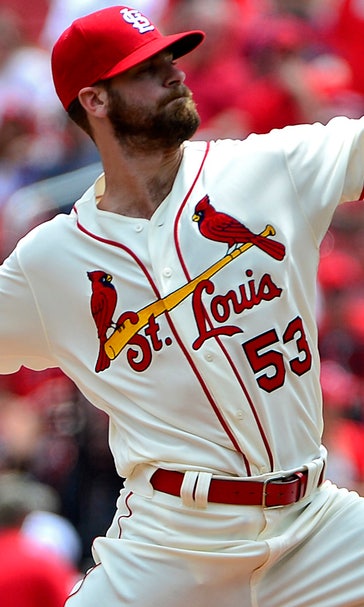 Cardinals need a win Saturday to remain in playoff position
September 15, 2018
ST. LOUIS -- The Los Angeles Dodgers' goal of turning the tables on the St. Louis Cardinals is well within reach heading into the third game of a four-game series on Saturday at Busch Stadium.

Three weeks after the Cardinals rolled to a three-game sweep in Los Angeles, the Dodgers are on the cusp of a third consecutive victory in St. Louis. A victory on Saturday won't give the Dodgers a sweep, but it will give them the series with one more game in the matchup to play.

After Clayton Kershaw pitched the Dodgers to a victory in the series opener on Thursday, Walker Buehler was even better with eight scoreless innings in a victory on Friday.

On Saturday, Rich Hill (8-5, 3.88 ERA) will be tasked with starting the Dodgers toward another victory over the Cardinals. More than his pitching of late, Hill has been known for getting huge amounts of run support.

In three of Hill's past four starts, the Dodgers scored at least nine runs. In two of those games, they scored 11 runs.

Hill has not necessarily been sharp in his last four outings, posting a 4.50 ERA in 22 innings, but it has been plenty good enough with a windfall of offensive support.

Dodgers manager Dave Roberts does not care if a victory is powered by the offense or by the pitchers at this point in the proceedings. He'll take a victory by any means possible.

"Every game right now is so important," Roberts said, according to the Los Angeles Times.

Hill is 2-1 with a 4.66 ERA in seven career appearances, including six starts, against the Cardinals, but he has not faced them this season.

As good as the Dodgers' offense has been in recent Hill starts, though, it will be up against it facing Cardinals starter John Gant (7-5, 3.16).

While Gant has been very good since moving permanently into the rotation on July 29 (2.83 ERA over 47 2/3 innings), he has been excellent since Aug. 8, going 4-1 with a 1.60 ERA over his last 39 1/3 innings. He did not face the Dodgers when the Cardinals were in Los Angeles.

Gant is 0-0 with a 3.38 ERA in two career appearances against the Dodgers, both of which came as a reliever for the Braves in 2016.

The Cardinals know that a victory over the Dodgers on Saturday will clinch the season series, an important tiebreaker if the teams finish with the same record as wild-card participants. But Cardinals manager Mike Shildt isn't about to put more importance on a game against the Dodgers when matchups with the Atlanta Braves, Milwaukee Brewers and Chicago Cubs still await.

"We respect our opponent, but our opponent is ourselves," Shildt said, according to MLB.com. "We play our game and prepare to play our game. We execute, and that's how that works."

As good as it was for the Dodgers to see Kershaw and Buehler pitch well in the series, the most uplifting performance might have been from closer Kenley Jansen in the ninth inning Friday. The right-hander gave up two runs in Thursday's victory, but with the game on the line a day later, he shut down the Cardinals and completed a 3-0 shutout for his 35th save.

Jansen has been inconsistent since returning from the disabled list because of an irregular heartbeat. Since Aug. 20, he has a 6.55 ERA in his last 11 outings and was not with the team at Colorado last weekend.


---
---