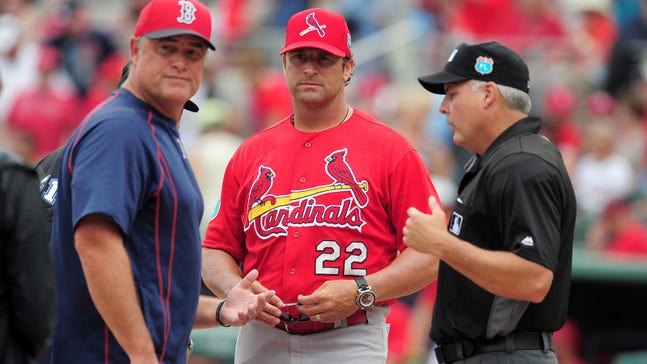 Cardinals drop 3-1, rain-shortened decision to Red Sox
Published
Mar. 19, 2016 4:08 p.m. ET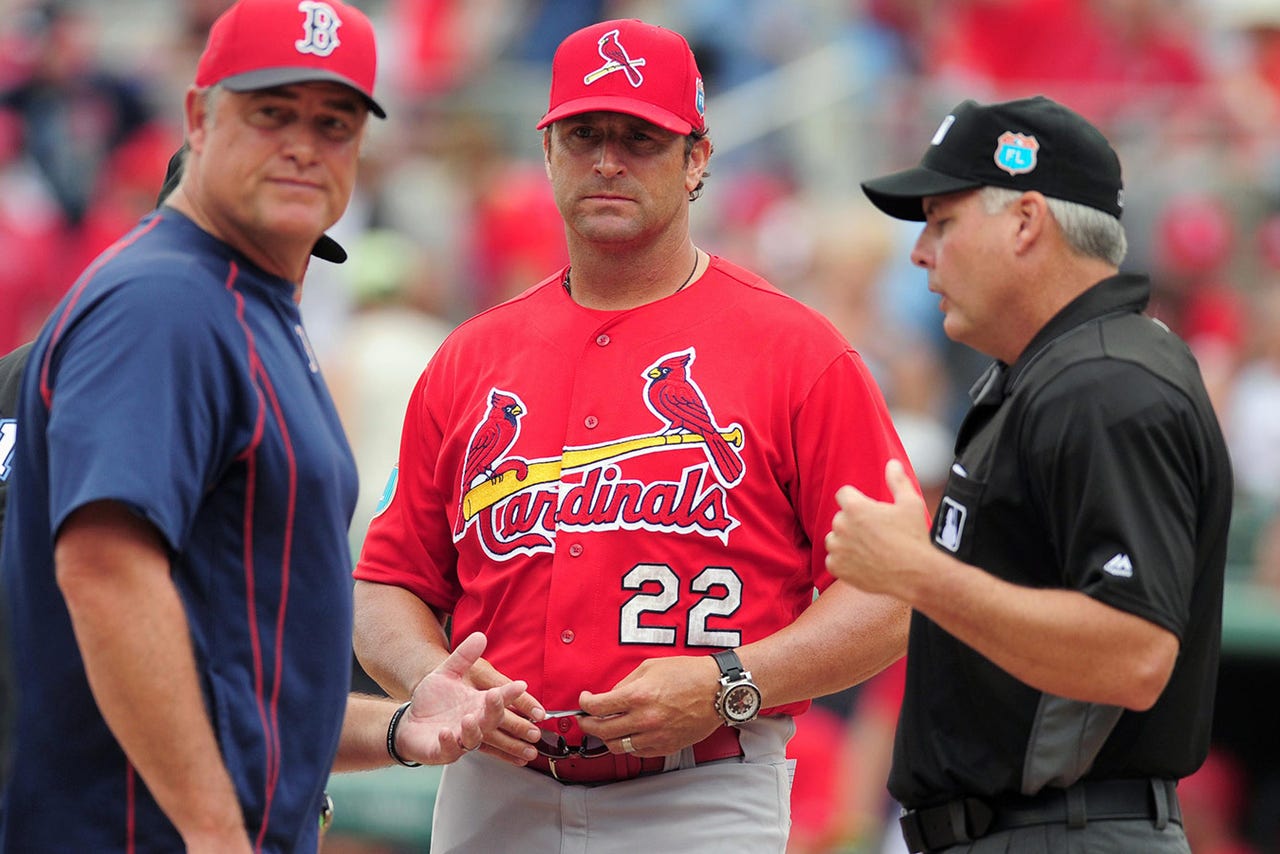 FORT MYERS, Fla. -- Mookie Betts hit his fourth home run of the spring and Pablo Sandoval hit a two-run shot as the Boston Red Sox beat the St. Louis Cardinals 3-1 on Saturday. The game was called after five innings because of rain.
Joe Kelly pitched 4 2/3 innings for the Red Sox, giving up five hits and striking out five. Carlos Peguero homered for the Cardinals with two outs in the fourth.
"I thought Joe was outstanding in a number of ways," Red Sox manager John Farrell said. "One, he was powerful and seemed to gain some strength and rhythm as the game went along. Four different types of pitches for strikes. He had a number of things working for him today and he was able to get back into some counts with the changeup or a breaking ball. He used a full assortment of pitches in this start, more so than in the previous couple of starts. It was an impressive showing for him today."
Michael Wacha went four innings for the Cardinals, allowing seven hits with no walks and three strikeouts.
"The first three innings I felt really good out there. I felt good for the whole outing, really," Wacha said. "I liked the way the ball was coming out of the hand. The command is definitely on the right track. It's not where I want it to be. The pitches are coming out the way I want them to. I definitely need a bit more time getting them to where I need them to be."
Of Wacha's 30 starts in 2015, eight had weather-related delays totaling 7 hours and 15 minutes.
STARTING TIME
Cardinals: In eight innings over three starts this spring, Wacha has allowed seven runs on 15 hits, with one walk and six strikeouts. Manager Mike Matheny saw improvement in Wacha's command over his previous outing.
"Today was better than that," Matheny said. "It was. That was good stuff. He wasn't fine-tuned with his heater. He was really close. Much better than what we've seen and like I said, real close to being dialed in."
Wacha led the Cardinals with 17 wins last year.
Red Sox: In 13 innings over four starts this spring, Kelly -- Boston's projected No. 4 starter who was obtained from the Cardinals in a 2014 trade -- has allowed just two runs.
"I was feeling pretty good," Kelly said. "I feel like it was another step in the right direction after the last outing. Felt good with off-speed. I did some things today that I liked with the off-speed, especially with these guys, my former team, knowing what I throw. Didn't try to give them anything over the middle to hit. I fell behind a couple times but tried to battle back into counts. Felt like I made some good pitches battling back."
UP NEXT
Cardinals: Right-hander Mike Leake gets the start Sunday when the Cardinals host the Marlins at 1:05 p.m. This will be Leake's third start of the spring. He has not allowed a run or walk in his previous six innings, giving up three hits with eight strikeouts. The Marlins have not yet named a starting pitcher.
---
---