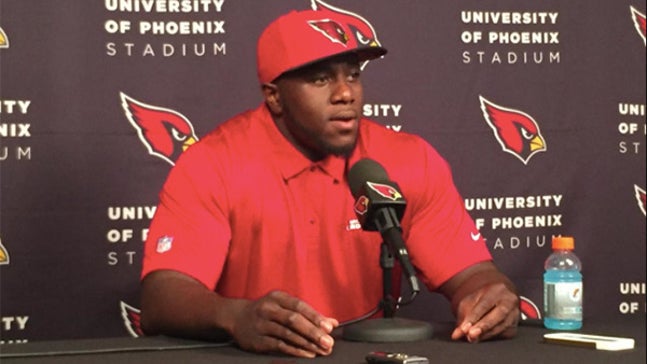 Cardinals' draftee Gunter reaps reward for hard work, sacrifice
Published
May. 7, 2015 7:00 p.m. ET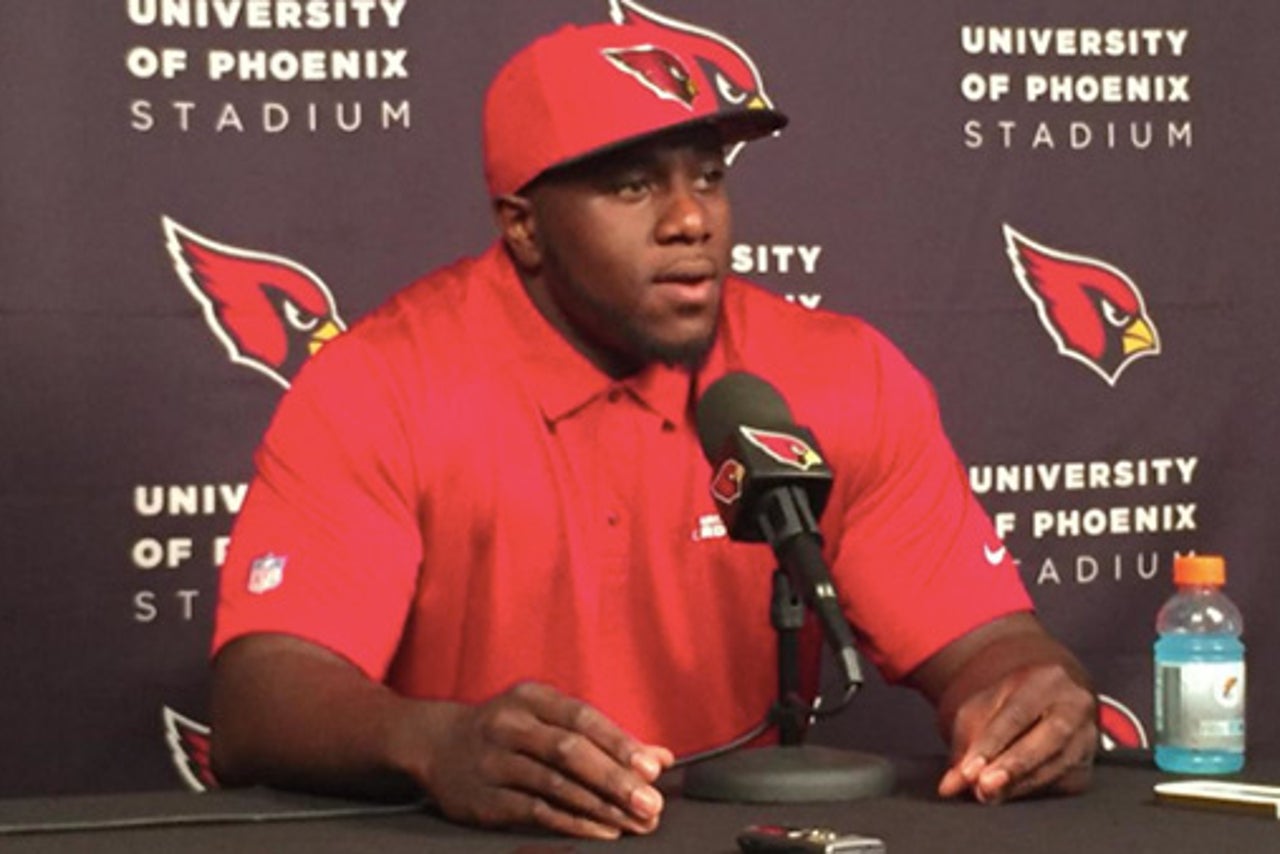 TEMPE, Ariz. -- The NFL Draft is a life-altering moment for most players. For Cardinals fourth-round pick Rodney Gunter, it was closer to life threatening.
Two spots before he thought the Kansas City Chiefs were going to select him with the 118th overall pick, the 6-5, 305-pound defensive lineman got a call from GM Steve Keim, who told him to watch the TV because his name was being called.
"I hit my knees and started praying," Gunter said Thursday at a press conference at the Cardinals headquarters. "It was so unreal. I passed out for like three minutes."
Like most players who reach the NFL, Gunter overcame long odds to do so. His particular challenge was a lack of exposure. He played just one year of high school ball (his senior year) at Haines City, Fla. As the oldest son, he needed to work to help support the family.
Gunter's father was in and out prison, leaving his mom, Sondra Russell, alone to raise three boys.
"He probably didn't want to work at first, but he never complained about it," Russell said. "He just went and did what he had to do. That's the kind of boy he was."
Gunter took a job as a dishwasher and a waiter at the Spring Haven Retirement home southwest of Haines City. He worked 32 hours a week, beginning his shifts after school and ending at 9 p.m. He found time for studying after work or on Saturdays, when Russell said he would sit at the kitchen table.
"It was very tough," Gunter said when asked about balancing responsibilities, "but I'm a hard worker, so I got through it, and it was for my mom too, to support her, so I was fighting through it."
Gunter admits repeatedly that he was heartsick about missing football. He still kept tabs on the team; he still watched them play, but that only made things worse.
When his senior season rolled around, Russell told him the family finances had improved enough so he could play. One year wasn't sufficient to catch the eye of college scouts, so he enrolled at the one school that made him an offer, Delaware State.
Before he left, Spring Haven home sent him off with a care package and messages from all the lives he had touched while he was there.
"Rodney never had an enemy in this world because he was so good to everyone," Russell said.
When he got to Delaware State, however, there was work to be done.
"He had all the other necessary tools -- he had the body, he had the size, and he could run -- but he was a kid we had to teach," said then-Delaware State coach Kermit Blount, who is now the coach at Johnson C. Smith University. "It was mainly a lot of technique work and using his hands.
"Big kids coming out of high school are used to overpowering guys with their size, but when they get to college, they figure out they're playing kids who are as big and strong as them, so we tried to shorten up his base on his get-offs and get him playing with a lot more power than he did in high school."
Blount thought about shifting Gunter to offensive tackle, where he thought he would be a natural with his long arms, but he knew Gunter's passion was defensive line.
"I didn't want to destroy his dream -- not when he had worked so hard for it," Blount said. "I'm sure having to miss football for three years helped him mature a bunch, because I could just tell with the way he carried himself that he had the possibility of playing at the next level. You never know when life will teach you the lessons you're going to need." 
A four-year starter and three-time All-MEAC selection, Gunter totaled 188 tackles, 34 tackles for loss, 18 sacks, a forced fumble and a fumble recovery. As a senior, he had 57 tackles, 12 tackles for loss and a career-high seven sacks.
A relative unknown when the season ended, Gunter's stock started to soar in the weeks immediately preceding the draft. When his name was called on Saturday, Russell was out shopping for more groceries while his draft party raged at his uncle's house, but Gunter still remembers the advice she gave him once he had realized his dream.
"She told me just to play hard," he said. "Just think about her and the rough times we had."
Russell wasn't there when Gunter was introduced to the Arizona on media on Thursday, either, but she was still in her son's thought. When asked what he planned to do with his first big NFL paycheck, he had a quick response.
"Buy my mom a house," he said.
"He better have said he was going to do something for his momma," Russell said, laughing. "He always told me he was going to get me out of the hood."
Follow Craig Morgan on Twitter
---