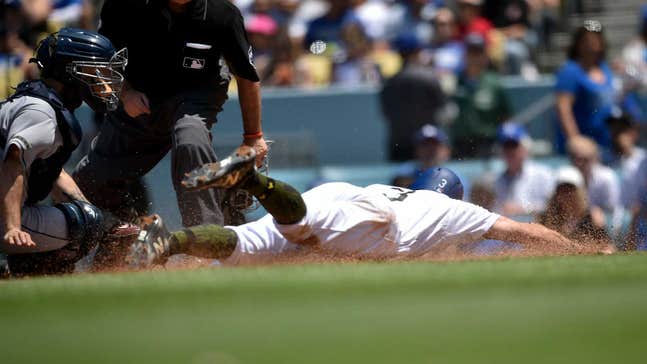 Buehler goes 7 strong, Dodgers beat Padres 6-1
Published
May. 27, 2018 9:36 p.m. ET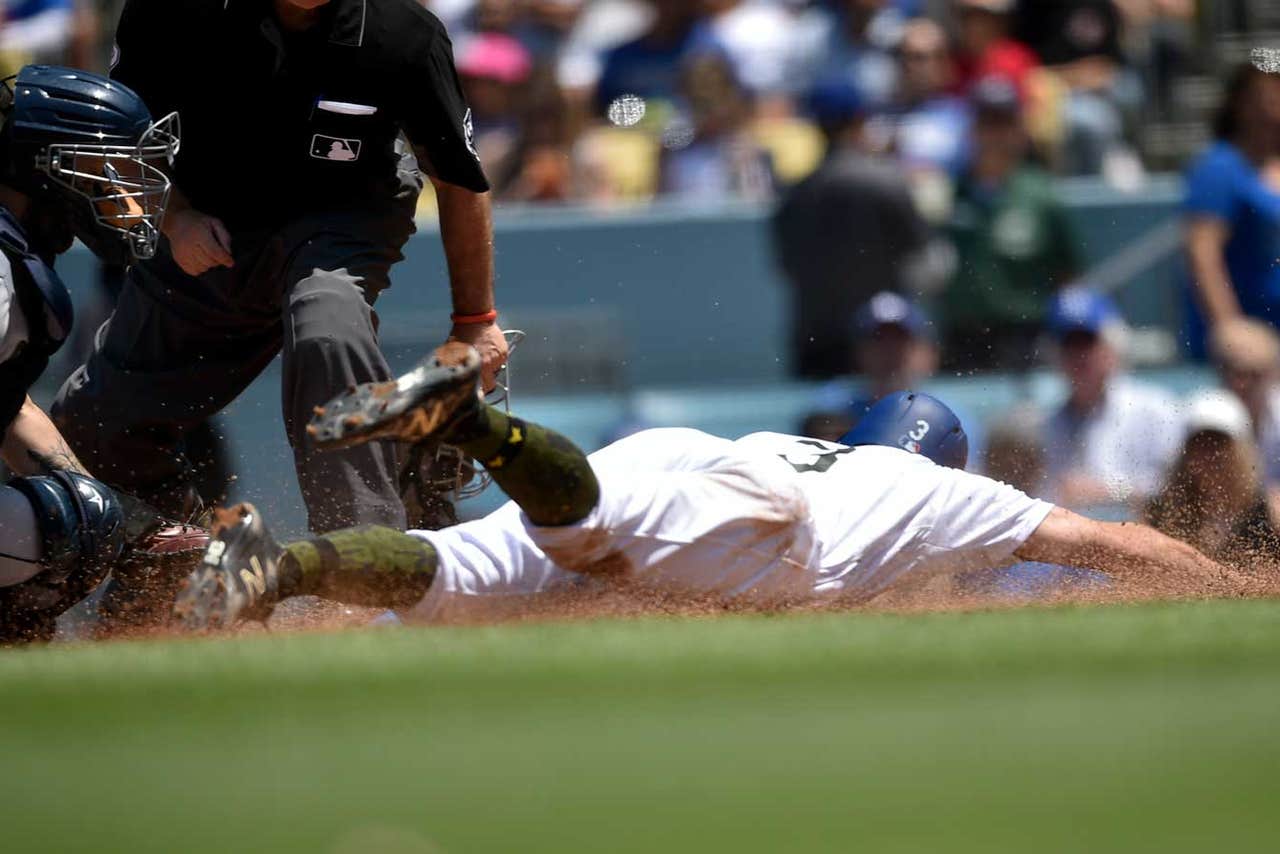 LOS ANGELES (AP) -- The Los Angeles Dodgers plan to be careful with talented rookie right-hander Walker Buehler, but his performances thus far will tempt the team to give him more work.

Buehler tied a career high with eight strikeouts, Max Muncy and Cody Bellinger homered and the Los Angeles Dodgers beat the San Diego Padres 6-1 on Sunday for their eighth victory in 10 games.




Buehler (3-1) allowed one run on four hits in seven innings, striking out eight for the third time in his seven career starts. His previous eight-strikeout game was May 10 against the Cincinnati Reds. The other one was also against the Padres, when Buehler started the Dodgers' first combined no-hitter in franchise history with six scoreless innings.

He threw 93 pitches on Sunday and has yet to exceed 97 pitches in a start.

"I think I'm making a lot better 0-0 pitches, and getting guys in holes," Buehler said. "Or if I miss, it's not what they want to see. I'm throwing more two-seamers early and luckily getting out of some bad mistake pitches with a little movement. When you're ahead, you're going to be more efficient."

The Dodgers don't claim to have a hard limit on the number of pitches or innings Buehler will throw this year. He is less than two years removed from Tommy John surgery, which is one reason for the cautious approach.

He has thrown 54 innings combined in the majors and minors. At that pace, he would top 160 innings by the end of the regular season.

But the five-time defending division champions have their eye on the postseason as well.

"A lot of it is on how he feels and how the training staff sees how he's doing and how his body is responding to a long season," manager Dave Roberts said. "As we get deeper into the summer, we'll keep an eye on Walker. It's just how he is feeling."

The Dodgers broke open a tight game late to secure Buehler's first home victory. The Padres went exclusively with their bullpen in the series finale. Left-hander Matt Strahm started and went two scoreless innings.

"It's tough when you ask a bullpen to go out there and give you nine innings against a very good club," Padres manager Andy Green said. "I think overall we had a chance to win the game. The plan kind of worked how we wanted to from a pitching standpoint. You get a one-run game going into the seventh or the eighth, then if you tie that thing up or take the lead, you can leverage guys and things turn out a little bit differently."

Strahm, Adam Cimber and Kazuhisa Makita kept the Padres in it until Tyler Webb gave up two homers in the eighth.

"Andy last night told me, `Give it everything you've got, whether it be one to three innings, and we'll figure it out from there,'" Strahm said. "So I did exactly what he wanted me to do and just didn't worry about it and just filled the zone. Once he shook my hand I was gone."

The Dodgers scored twice in the third against Cimber (2-2), getting things started when Buehler delivered his second career hit, a single to center. Chris Taylor followed with a double. Enrique Hernandez's single to left scored Buehler and sent Taylor to third.

Justin Turner followed with a sharp grounder to third that nearly made Padres history. Third baseman Christian Villanueva looked Taylor back to the bag before throwing to second to start a double play. Taylor raced home and scored just ahead of the throw from first baseman Eric Hosmer.

Taylor's dive, just ahead of the tag from catcher Raffy Lopez, prevented the Padres' first triple play since 2010.

Muncy hit a towering two-run homer in the eighth off Webb. It was the sixth home run this season for Muncy, who entered in the fifth as a pinch-hitter.

Bellinger then hit his eighth homer of the year, a shot to center off Webb. It was his second home run since May 16 and just his fourth extra-base hit in that time.

"I think we're starting to get our mojo back," Bellinger said. "Everyone is getting healthy. ... We're feeling good and feeling confident again."

The Padres scored their only run in the fifth. Freddy Galvis led off with a double to right and moved to third on a wild pitch. He scored on a sacrifice fly from Lopez that carried Dodgers outfielder Matt Kemp to the wall in the left field corner.

TRAINER'S ROOM

Dodgers: LHP Clayton Kershaw came out of his Saturday simulated game feeling fine and will return to the rotation Thursday against the Phillies after spending a month on the disabled list with left biceps tendinitis.

UP NEXT

RHP Brock Stewart (0-0, 3.72 ERA), who is on his fourth separate stint with the Dodgers this season, will make his second start of the season Monday and first-ever start against the Phillies. LHP Eric Lauer (1-2, 6.67) will start in the opener of the Padres' three-game home series against the Miami Marlins, coming off a solid outing at Washington where he gave up one run on six hits over six innings.
---
---