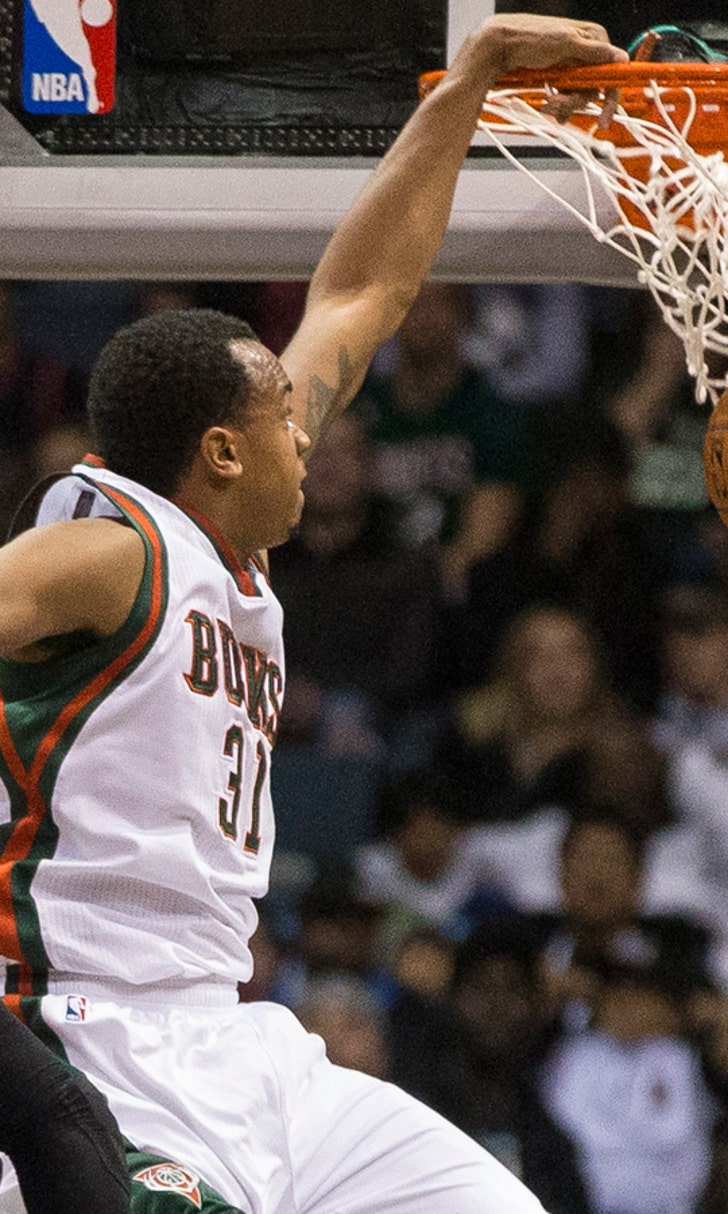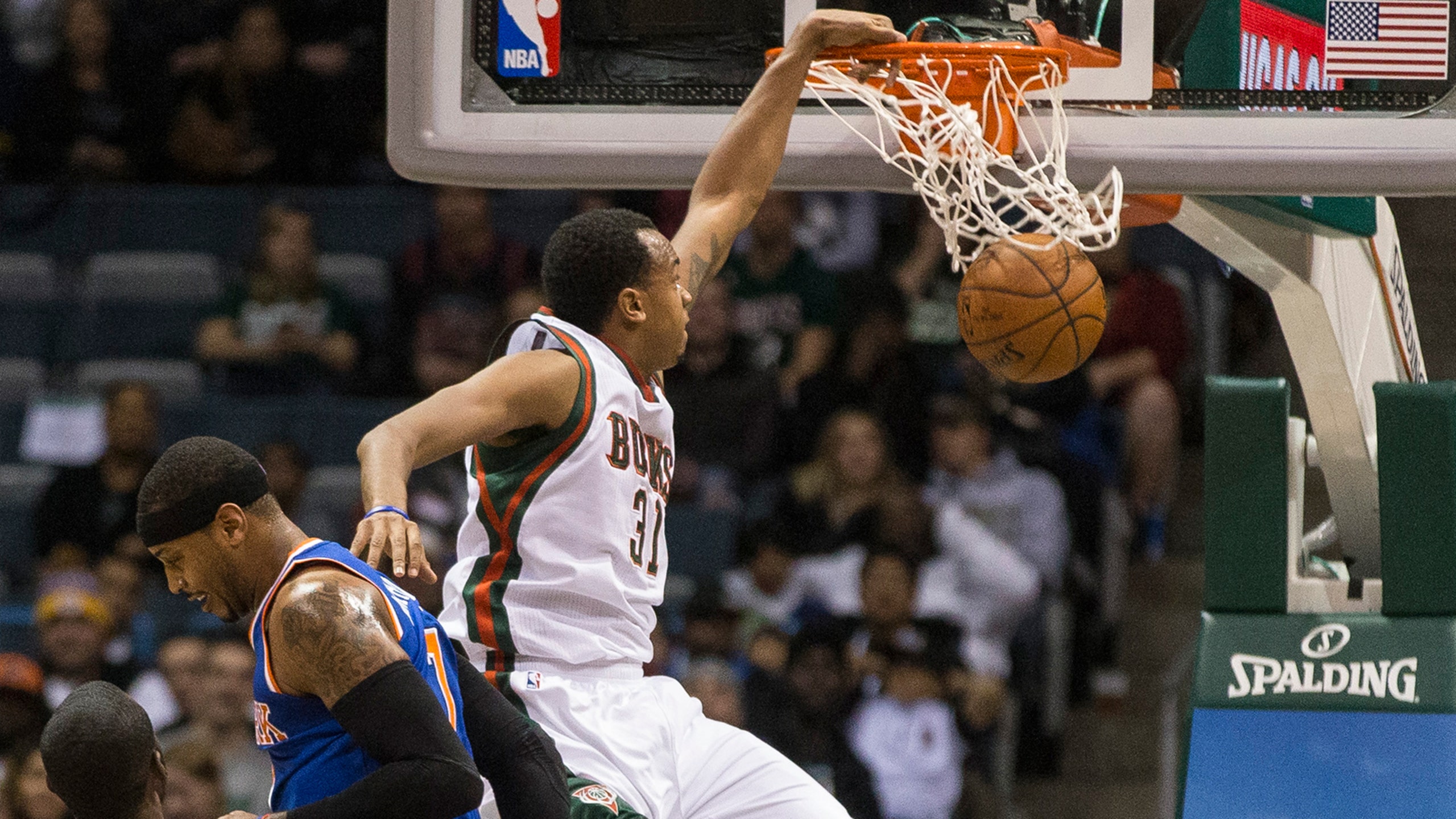 Bucks knock off Knicks to climb above .500
BY foxsports • November 19, 2014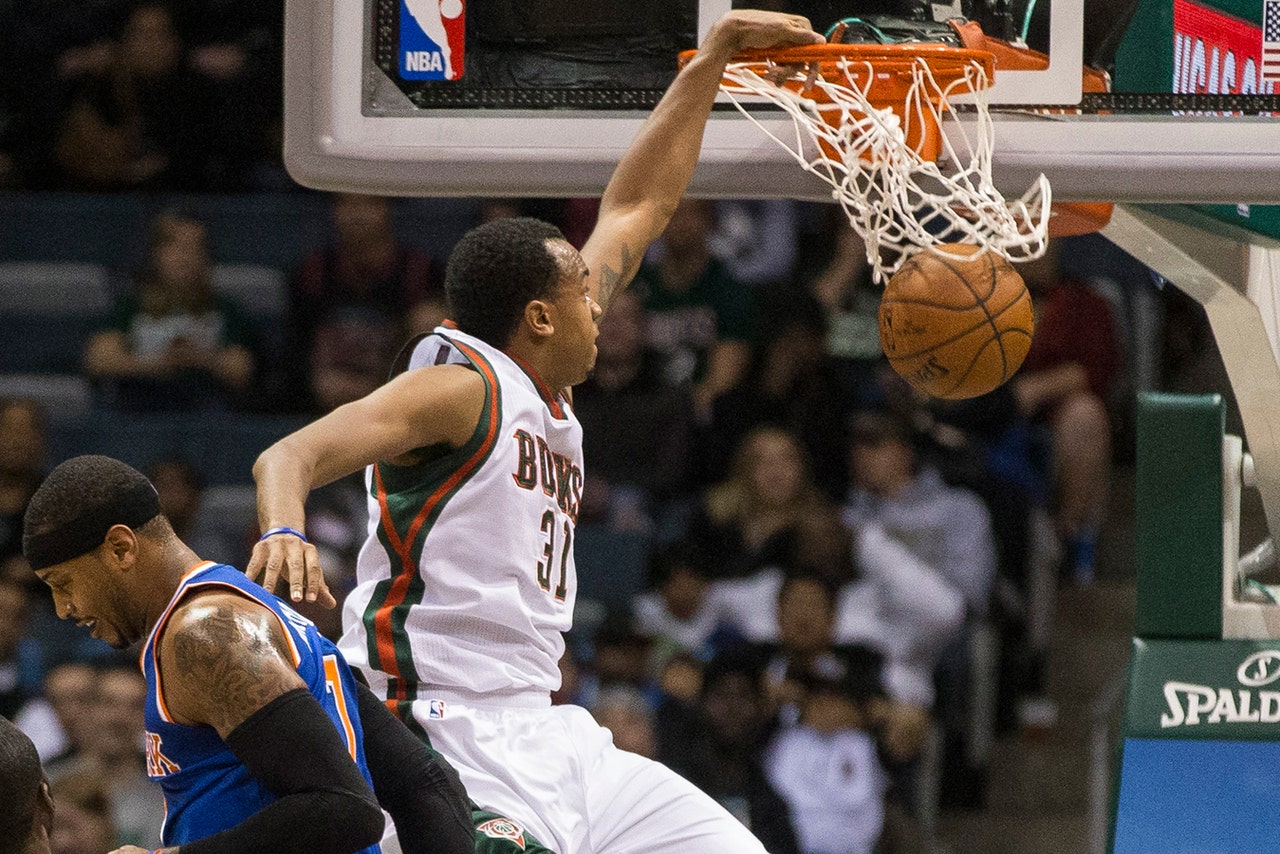 MILWAUKEE -- As Milwaukee's scoring drought got longer and the New York Knicks crawled closer, the Bucks were inviting deja vu to creep into mind.
But unlike opening night, when they lost a 24-point second half lead in an overtime loss to Charlotte, the Bucks did just enough to withstand a furious comeback attempt in a 117-113 victory over the Knicks at the BMO Harris Bradley Center.
At 6-5, Milwaukee is over .500 for the first time since March 20, 2013. The Bucks are now 4-1 at home this season after not winning their fourth home game last season until Jan. 22.
"We bent but we didn't break," Bucks guard Jerryd Bayless said. "We have a little momentum going right now and we want to continue this into Brooklyn and Toronto."
With terrific ball movement, the Bucks hit 15 of 23 shots (65.2 percent) in the second quarter to outscore the Knicks, 36-19. Milwaukee closed the second half on a 13-2 run to take a 66-49 lead into the locker room.
The Bucks missed 17 shots in the first half but grabbed the offensive rebound on 10 of those misses. Milwaukee outrebounded New York, 24-12, in the first half even without starting center Larry Sanders, who was a late scratch due to a thigh bruise.
Milwaukee built its lead up to 85-59 with 5:46 left in the third quarter, but New York didn't go quietly. Down 108-94 with 6:30 to play, the Knicks then trailed by just four with 1:18 left.
"Having a big lead doesn't mean anything in the NBA," Bucks coach Jason Kidd said. "It actually gives the team that's down an opportunity to take shots that they miss because it is like, 'We're not supposed to win anyway.'
"The pressure is on the team that has the lead. We're going to be in a lot of situations like this. We learned opening night that the game isn't over with a big lead. I thought tonight we kind of used that as a stepping-stone to finish off the game against a veteran ball club that put themselves in position to win."
Khris Middleton scored Milwaukee's first points in five minutes, 26 seconds when he hit a pair of free throws with 1:04 to play. The Knicks answered on the other end, but Ersan Ilyasova hit a 16-foot baseline jumper over Carmelo Anthony to put the Bucks up 112-106 with 33.1 seconds left.
"We executed the play really well," Ilyasova said. "Everybody was in the right place. Zaza (Pachulia) set a hell of a screen."
Ilyasova finished with a season-high 20 points on 8 of 10 shooting in 20 minutes Tuesday, just the second time he's reached double digits in Milwaukee's first 11 games.
"I think Ers played great on both sides of the ball," Kidd said. "He had some shots in the first 10 games that haven't gone in, but we trust him. For him to make a big shot down the stretch for us shows that everybody trusts one another.
"Anybody can get their name called on any given night. Ers was the one tonight, and he stepped up for us."
While Ilyasova's shot put the Bucks up by six points with 33.1 seconds on the clock, the Knicks still weren't done. J.R. Smith hit a tough 3-point shot and Anthony took advantage of Bayless' first missed free throw of the season to pull New York to within 113-111 with 12.9 to play.
Bayless atoned for his miss by hitting his final five foul shots, none bigger than the pair he hit to ice the game with 5.6 seconds left.
"Obviously I wish we would have put them away when we had them, but I think learning to win is something important," Bayless said. "We're going through the process right now and getting better every day at it."
Not only have the Bucks snuck over the .500 mark for the first time in over a season, but they have won four out of their last five games. They've also picked up two sets of back-to-back wins in the matter of a week after not coming away with consecutive victories in 602 days.
The next step for the surprising young Bucks is a trip to Brooklyn on Wednesday. Not only will Milwaukee be facing a rested Nets team while it is playing on a back-to-back, but the Bucks are walking into a hornet's nest with Barclays Center sure to be alive for Kidd's return.
"We just have to focus on ourselves," Bucks guard Brandon Knight said. "We don't know how it is going to go or how the atmosphere is going to be. I'm pretty sure it is going to be pretty elaborate because of the situation.
"(Kidd) has our back, so we're going to always have his back no matter if we are in Brooklyn, Golden State or wherever it is at, Africa, we're going to be there."
Sanders sits: Bucks center Larry Sanders was in Milwaukee's initial starting lineup Tuesday but was scratched shortly before tipoff with a left thigh bruise.
Sanders suffered the injury Sunday in Miami but was said to have practiced fully Monday. He did accompany the team to Brooklyn, meaning there's a chance he could return against the Nets.
Veteran Zaza Pachulia started in place of Sanders and finished with 14 points and 13 rebounds in 35 minutes, all season-highs. The Bucks are a better defensive team with Sanders on the floor, but the offense has flowed better with Pachulia due to his facilitating nature.
"That's part of the game," Pachulia said. "We all have each other's backs. It doesn't matter who starts or who plays, we try to play together. And that's what we did today, we really play together, shared the ball. . . . It's beautiful, we won the game."
John Henson served as Pachulia's backup at center but was in foul trouble most of the night, scoring just four points with four rebounds in 13 minutes.
Follow Andrew Gruman on Twitter
---