National Football League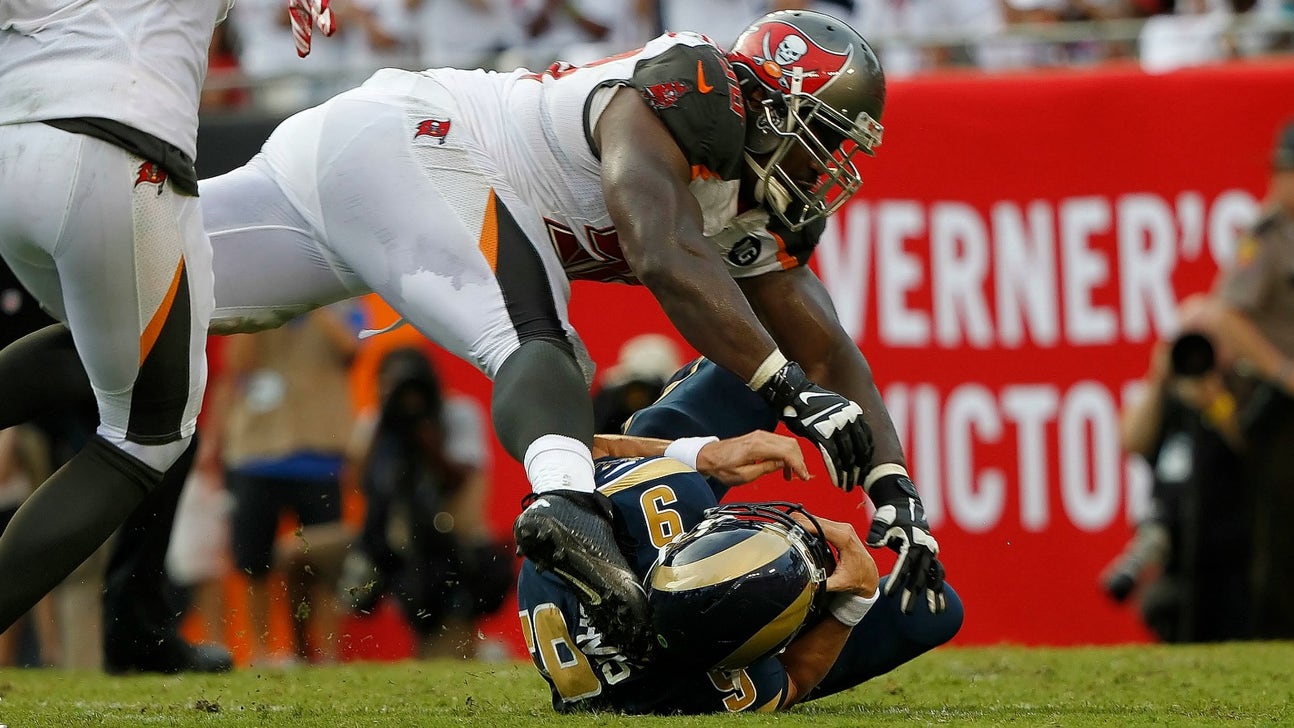 National Football League
Buccaneers going for much-needed win against Vikings
Published
Oct. 25, 2014 1:30 p.m. ET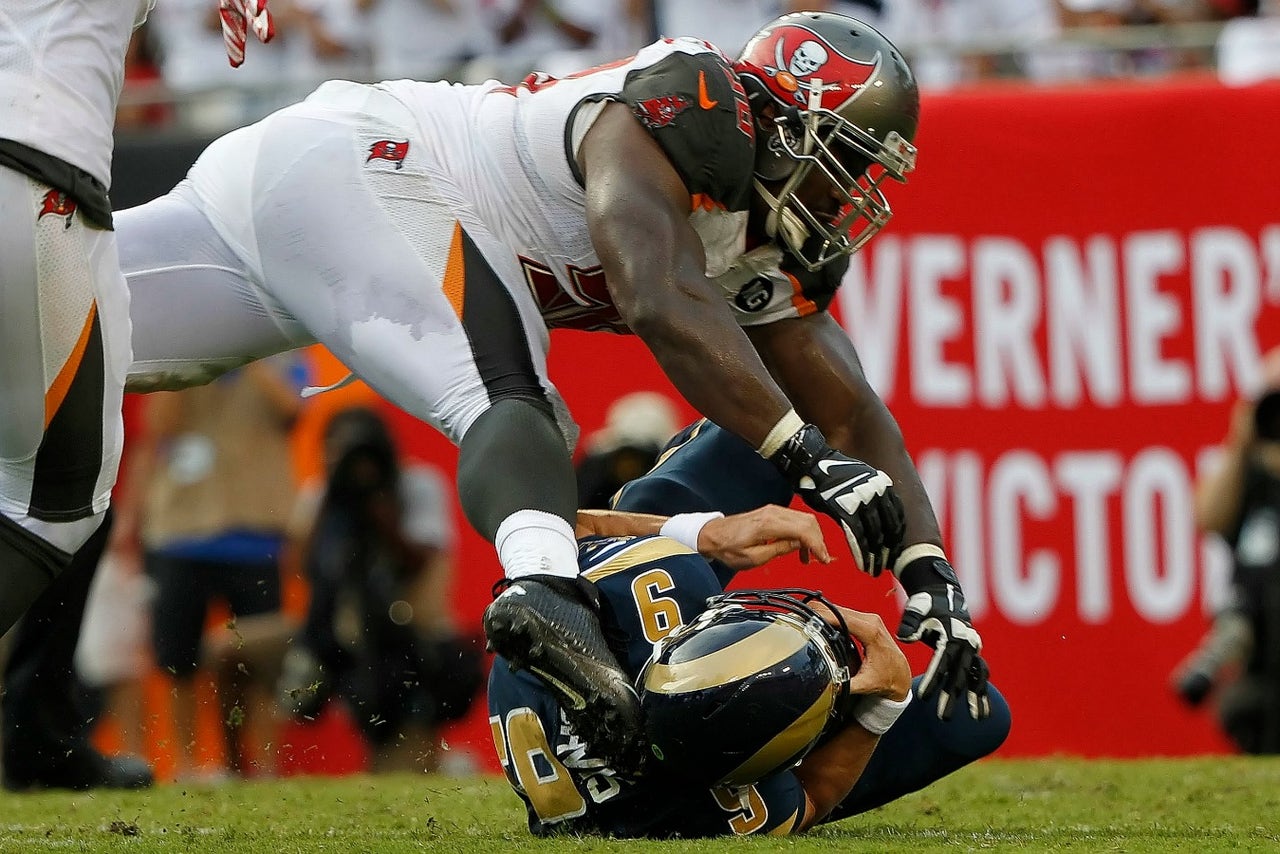 TAMPA, Fla. -- Someone must gain momentum.
The Tampa Bay Buccaneers and Minnesota Vikings meet at 1 p.m. Sunday at Raymond James Stadium without much going for either. The Bucs (1-5) are in last place in the weak NFC South, and the Vikings (2-5) are the same in the NFC North. Both teams have managed to produce a meager 120 points this season. Both are in need of a victory.
On the surface, this matchup appears to favor Tampa Bay. Minnesota will start rookie quarterback Teddy Bridgewater, who's still trying to find his way within the NFL. As bad as the Bucs' defense has performed through six games, facing a young quarterback at home while coming off a bye week figures to play into Tampa Bay's hands.
"It's an important week for us," Bucs coach Lovie Smith said. "I look at the big picture. The big picture is the leader in our division has two more wins than we do. There's so much football left to go. But for us, just talking about this game, we need to play better. We need to look like a complete football team. And yes, that would do an awful lot. Every win you have, it doesn't matter -- there's no such thing as an ugly win. Whether it's one point or 50 points, it means all the same to find a way to be in that winning column, and that's what we're shooting for."
For the Bucs, there's some intrigue about who will start at quarterback. Smith has been coy about his plans behind center with Josh McCown returning to practice with a healing right thumb.
No matter who starts at quarterback for Tampa Bay, either McCown or Mike Glennon, they must keep watch for a dangerous defensive front. Defensive end Everson Griffen is tied for second in the NFL with seven sacks, and overall, Minnesota has produced 20 sacks this season.
The Bucs, meanwhile, should have sack chances of their own. The Vikings have allowed 27 sacks, and the Bucs should have prime opportunities to add to that total.
Someone will earn momentum, someone who hasn't enjoyed much of it this fall. The Bucs hope they achieve the result they seek.
Here's a closer look at the Bucs' Week 8 matchup against the Vikings ...
MATCHUP TO WATCH
Tampa Bay's offensive line vs. Minnesota's defensive line
So many things point to advantages for the Bucs on Sunday: A rookie quarterback starting for the Vikings, the Bucs entering mostly healthy after the bye week, the Vikings arriving on a three-game losing streak. Still, this is one area where Minnesota can give Tampa Bay problems. The Vikings' sack total is tied for sixth in the NFL. If Minnesota's defensive front causes problems, then Tampa Bay's offense can become bogged down enough to give the Vikings a chance.
TRENDING UP
Vikings: Aside from an ability to produce a pass rush, Minnesota's defense also has a knack for defending the pass. The Vikings are ninth in the NFL by allowing 219.7 yards per game through the air. They must force the Bucs to become reliant on an anemic running threat. If that happens, Minnesota has a chance.
Buccaneers: Not much has gone right for the Bucs, but passing offense stands as their strength, which should make for an intriguing matchup against the Vikings' defense. Tampa Bay ranks 24th in the league by averaging 217 yards per game through the air. Glennon's recent production has aided that total -- he has produced two 300-plus-yard passing outings in three starts. Since the Bucs' running threat has been so pedestrian, they must be strong through the air to have a chance to earn their second victory.
TRENDING DOWN
Vikings: Minnesota is terrible as a passing offense. The Vikings rank 32nd in the league by averaging 183.9 yards per game through the air. Bridgewater's stat line this season is rough: 69-of-113 passing for 812 yards and one touchdown to five interceptions. If Bridgewater figures to breakthrough against anyone, the Bucs offer a prime opportunity. Still, the Vikings likely won't accomplish much through the air.
Buccaneers: Pick your poison on defense. The Bucs rank 32nd in the NFL in scoring defense (34 points per game), total defense (422.8 yards per game) and passing defense (294.5 ypg). They don't do much of anything right, period. So even in facing an unproven talent like Bridgewater, nothing simple can be assumed Sunday.
INJURY REPORT
Vikings: Probable -- DT Sharrif Floyd (ankle); TE Chase Ford (foot); CB Jabari Price (hamstring); S Harrison Smith (ankle); C John Sullivan (concussion); DE Corey Wootton (back); Questionable -- G Vladimir Ducasse (knee); S Antone Exum (ankle); CB Josh Robinson (ankle); Doubtful --LB Gerald Hodges (hamstring); Out -- TE Kyle Rudolph (abdomen, groin)
Buccaneers: Probable -- CB Johnthan Banks (neck); Questionable -- LB Jonathan Casillas (hamstring); T Anthony Collins (knee); S Dashon Goldson (ankle); WR Vincent Jackson (rib); QB Josh McCown (right thumb); S Keith Tandy (hamstring); Out -- LB Brandon Magee (knee)
DID YOU KNOW?
The Bucs have won six consecutive games over the Vikings. Their last loss against Minnesota occurred on Sept. 30, 2001.
QUOTEBOARD
"How many games have we lost? Five? We've won one? So, if we win out, we'd be 11-5 -- pretty good shot to go to the playoffs. So there is an opportunity." -- Defensive tackle Gerald McCoy, when speaking Monday about the NFC South standings. At 1-5, the Bucs trail the first-place Carolina Panthers by two games in the loss column.
"I don't see it that way at all. We have two quarterbacks. You might say that -- I don't say that at all. Guys know where they stand (with) the rotation that we have." -- Smith, when speaking Wednesday about his quarterback situation. With McCown returning to practice, questions were asked about who will start behind center for the Bucs on Sunday.
"It's great to come out and play for a coach that puts emphasis on special teams. It's a key part of the game: offense, defense and special teams. I'm just going to come out week-by-week and day-by-day and make sure we get it together during the week in practice." -- Wide receiver/kick returner Trindon Holliday, when describing Wednesday his new home with the Bucs. He was signed Tuesday to give Tampa Bay's return game a boost.
"If you look out there on tape, and you see a bunch of guys sitting on blocks, are you not earning the title of being soft?" -- McCoy, when speaking Thursday about the Bucs' defensive inefficiencies. The two-time Pro Bowl player has grown frustrated with Tampa Bay becoming one of the NFL's worst defenses.
LOOKING AHEAD
The Bucs play at the Cleveland Browns at 1 p.m. Nov. 2. Tampa Bay is 3-5 all-time against Cleveland, the most recent meeting a 17-14 victory over the Browns on Sept. 12, 2010.
You can follow Andrew Astleford on Twitter @aastleford or email him at aastleford@gmail.com.
---
---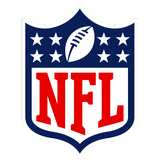 Get more from National Football League
Follow your favorites to get information about games, news and more
---