Brewers pay back Pirates, completing sweep with shutout rout
BY foxsports • September 4, 2016
PITTSBURGH -- The Milwaukee Brewers won't be going to the postseason and they spent the weekend trying to keep the Pittsburgh Pirates from getting there.
Domingo Santana had his first career two-home run game, Jonathan Villar hit his first grand slam and Chris Carter connected for his 32nd homer as the Brewers rolled to a 10-0 victory over the sputtering Pirates on Sunday to complete a three-game sweep.
The Pirates have lost six in a row since sweeping a four-game series at Milwaukee last weekend, falling 3 1/2 games behind the St. Louis Cardinals for the second National League wild card. The Pirates host the Cardinals in a three-game series beginning Monday.
"This one's done," Pittsburgh manager Clint Hurdle said. "Learn from it. The schedule's been fortunate for us. We get to chase the team that we're chasing. We all need to hit the reset and refresh button and go on. Lamenting about the past doesn't do anybody any good."
The Brewers are in fourth place in the NL Central with a 60-76 record.
Santana, who has six home runs while being limited to 54 games this season because of a shoulder injury, hit a solo shot off starter Steven Brault (0-2) to open the scoring. The third-year outfielder hit the second of back-to-back homers with Carter, who had a three-run drive, off rookie left-handed reliever Kelvin Marte during a five-run ninth.
"It just feels good to hit one, so I feel really feel fortunate to hit two in one game," Santana said. "I've been through a lot this year. I'm trying to stay positive and go out, help the team as much as I can and make a good impression."
Villar connected as a pinch-hitter with two outs in the sixth inning off Juan Nicasio to break open a 1-0 game. Normally the Brewers' third baseman, Villar did not start for a second straight day because of a sore left knee that was the result of the Pirates' Josh Harrison sliding into him Friday night.
It was the 12th home run of the season for Villar, adding to the four-year veteran's career high, as he helped the Brewers win their fourth straight game.
"I hit the ball and started running to first base because I didn't think I hit it hard enough for it to go out," Villar said. "I was surprised but it was a good surprise."
Chase Anderson (8-11) scattered five hits over five innings while striking out two and walking none as he combined with three relievers on a six-hitter. Anderson has not recorded an out in the seventh inning in 14 starts since June 8 but has not allowed more than three runs in 11 starts since June 28.
The Brewers allowed four runs in the series.
"It's huge," Anderson said of the sweep. "We're such a young team and it's important that we can bounce back from losing (six) in a row. We just want to keep growing together and come back next year and have a better season."
Santana had three of the Brewers' 13 hits. Carter finished with two hits and three RBI and Keon Broxton doubled twice.
Making his fourth career start, Brault also pitched five innings and gave up one run on four hits with five strikeouts and three walks. Both of his losses have come against the Brewers.
Harrison had two hits.
Brewers: With Villar limited to pinch-hitting, INF Yadiel Rivera was recalled from Triple-A Colorado Springs to provide depth.
Pirates: RHP Gerrit Cole (elbow inflammation) is on schedule to be activated from the disabled list Sept. 12 and start at Philadelphia. He has been out since Aug. 25. . . . 3B Jung Ho Kang (sore left shoulder) is expected to activated from the DL on Monday after being sidelined since Aug. 20. . . . RHP Neftali Feliz said he felt better after leaving Saturday night's game with arm discomfort but there is no timetable for when he may pitch again.
Brewers manager Craig Counsell was ejected in the second inning by second base umpire and crew chief Brian Gorman following a long argument over an obstruction call.
With the Brewers ahead 1-0, Orlando Arcia appeared to score from first base after third baseman Adam Frazier threw wildly to first base on Hernan Perez's two-out grounder. The throw pulled first baseman John Jaso off the bag and he collided with Perez.
The umpires, after huddling twice, ruled obstruction on Jaso and sent Arcia back to third base, where he was left stranded when Carter lined out.
Brewers: Rookie RHP Zach Davies (10-6, 4.07 ERA) faces Cubs RHP Kyle Hendricks (13-7, 2.09) on Monday in the opener of a three-game home series.
Pirates: Rookie RHP Chad Kuhl (3-2, 3.70) opposes St. Louis RHP Adam Wainwright (9-8, 4.53) in the series opener.
---
---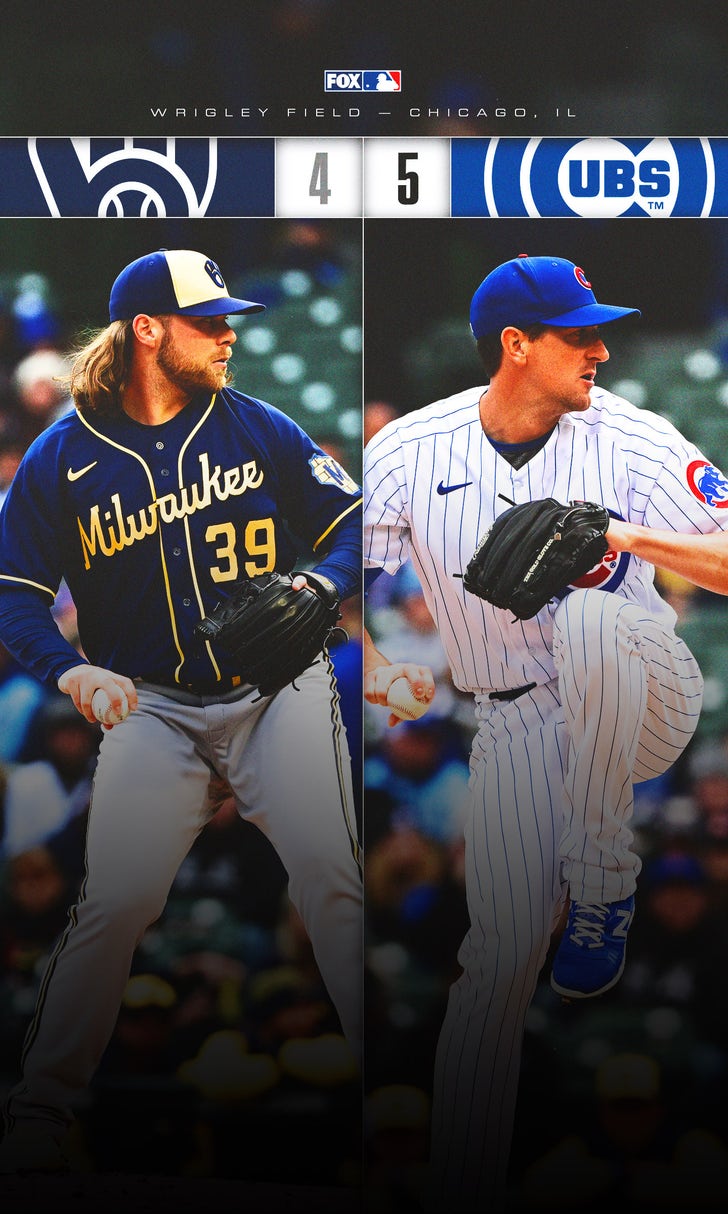 Cubs deliver for the home crowd, top Brewers on Opening Day