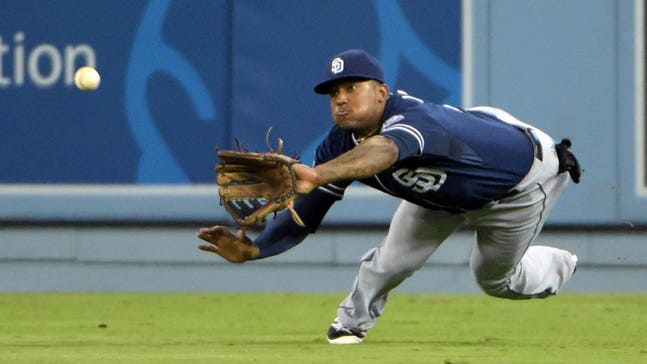 Brewers OF Rymer Liriano carried off field after taking pitch to face in win over Dodgers
Updated
Mar. 4, 2020 11:24 p.m. ET

PHOENIX -- Milwaukee Brewers outfielder Rymer Liriano was hit in the face by a pitch and bleeding from his nose as he was carried off the field Sunday during a 3-1 win over the Los Angeles Dodgers.
There was no immediate report on his condition.
Liriano's left eye appeared to be severely swollen when he was strapped to a backboard. He was taken to a hospital in downtown Phoenix.
"He's conscious but . . . it's serious," Brewers manager Craig Counsell said. "I don't know. He got hit in the head. I can't give you many details."
The pitch from Matt West went under the brim of Liriano's batting helmet and hit him on the left side of the face in the eighth inning. Liriano went to the ground holding his face and rolling in pain as trainers rushed to his aid.
Jake Elmore was hitting two batters behind Liriano.
"We couldn't really see it from the field. They guys were saying that his nose was gushing blood and it really hadn't stopped when he came in here," Elmore said in the clubhouse.
"They said it just ticked the side of his helmet and got his cheek area. You know that the sound is different. That slap against the flesh. That's when you know it's not good," he said.
The 24-year-old Liriano, from the Dominican Republic, was acquired from San Diego in a trade on Jan. 28. He made his major league debut in 2014 with the Padres, hitting .220 with one home run and six RBI in 38 games. He spent last year in the minors.
Liriano is trying to earn a roster slot, with center field the open spot right now. He played center and was 0 for 3 before being hit.
"We're all praying for him," Brewers pitcher Jimmy Nelson said. "It's tough for him and his family. Hopefully everything comes back and he's OK and it's not too severe. It is tough, and it kind of makes you appreciate every day."
Nelson started and gave up one run and four hits in six innings.
Last September, Nelson was hit in the head by a line drive off the bat of Tommy Pham of the St. Louis Cardinals. Nelson sustained a bruise to the right side of his head and a CT scan was clear.
"Stuff like that, when it's that quick, it can be a matter of inches between something that's severe and not as severe," Nelson said.
Scott Kazmir started for the split-squad Dodgers and allowed one earned run and four hits in four innings.
Ryan Braun had a RBI single for Milwaukee. He has a hit in all three games he's played as he returns from offseason back surgery.
Dodgers: Kazmir had his best start of the spring, striking out four. He came into the game with a 17.18 ERA. He retired the last six batters, three by strikeout.
"As the game went on, I smoothed it out and things got more crisp," he said.
Brewers: Nelson continued an impressive spring. The only blemish was a home run by Charlie Culberson in the fifth.
"Today I had probably the best fastball command I've had since I've been in camp -- two-seam, the sinker and the four-seam," he said. "I felt like my fastball command was right where I needed it to be."
Brewers: RHP Yhonatan Barrios is waiting for a second opinion from Dr. James Andrews on the MRI of his right shoulder. He has not pitched this spring. . . . Domingo Santana was back in the lineup and hitting cleanup Sunday. Santana, who missed a few days with a sore neck/shoulder, which was chalked up to sleeping wrong on it, had a RBI single in the fifth.
Counsell said he will announce his opening day starter on Monday. Despite Nelson's strong outing, right-hander Wily Peralta had been the main topic of conversation and he pitched Saturday when a lot of No. 1 starters took their turn around the Cactus League.
Peralta's ERA ballooned to 11.70 this spring after allowing 10 runs (seven earned) and 11 hits in 2 2/3 innings against the Angels.
Dodgers: RHP Kenta Maeda will pitch against the Seattle Mariners at Camelback Ranch in Glendale.
Brewers: RHP Matt Garza will start Monday afternoon against the Angels in Maryvale and Josh Hader will go against the Arizona Diamondbacks on Monday night in Scottsdale.
---
---