Brewers fall short in extra-innings loss to Mets
BY foxsports • June 11, 2016
MILWAUKEE -- The line drive up the middle by the New York Mets' Matt Reynolds had a tricky spin, but seemed to move just slow enough for sure-fielding shortstop Jonathan Villar to get to the ball.
Even Reynolds thought it was a sure out -- until the ball glanced off of Villar's glove.
Reynolds drove home the go-ahead run in the 11th inning with what turned into a confusing fielder's choice, leading New York to a 2-1 victory on Friday night over the Milwaukee Brewers.
"Honestly, I thought it was a double play," Reynolds said. "Never seen anything like that before. . . . I'm still trying to figure out what happened."
With the bases loaded, Reynolds hit the 1-0 slider from Blaine Boyer (1-1) on a line up the middle. The deflection off Villar's glove gave Asdrubal Cabrera enough time to dash home from third for a one-run lead.
It looked like a Little League play with so much confusion on both teams.
Villar tossed the ball to Scooter Gennett standing on second for the force. But Gennett still went after runner Kelly Johnson, who had stopped short, thinking that he wasn't out yet.
"I don't know how else to put it other than, it was kind of confusing," Gennett said. "Something that might happen once every couple years."
But a play that nevertheless wouldn't have happened had Villar caught Reynolds' liner in the first place.
"It's not as easy as a straight-at-you line drive. It was top-spinner pretty hard. Just a weird ball that was hit and he just wasn't able to make the play," Milwaukee manager Craig Counsell said.
Jeurys Familia held the Brewers hitless in the bottom of the 11th for his major league-leading 21st save in 21 opportunities. Jerry Blevins (2-0) pitched a scoreless inning for the win.
The late confusion overshadowed a pitcher's duel between Milwaukee's Junior Guerra and resurgent Mets starter Matt Harvey, who struck out eight in six innings.
After a 6.08 ERA in a 10-start stretch, Harvey has rebounded with a 0.90 ERA over his last three outings.
Guerra was nearly as good for the Brewers, allowing five hits and three walks over 6 2/3 innings. Only slugger Yoenis Cespedes got to Guerra with a homer to left-center in the sixth, his first since May 23.
Guerra nearly gave up another one in the seventh, but former Met Kirk Nieuwenhuis made a leaping grab at the wall in straightaway center to rob the newly reacquired Johnson of a potential home run.
"I've seen a lot of major league baseball games. That might be one of the wildest I've ever been involved in. Baseball 101," Mets manager Terry Collins said.
Replay review took away a run from Milwaukee in the third when Aaron Hill came home on a two-out, infield single. The play was overturned when umpires rules that Hill did not beat the tag.
There were frustrating moments late, too, for Milwaukee.
Ramon Flores was thrown out at third with one out in the 10th after trying to advance on a wild pitch. An inning earlier, Milwaukee had the potential tying run at third with one out before ex-Brewer reliever Jim Henderson got out of the jam with a strikeout and groundout.
Mets: Johnson, who was activated before Friday's game, started at second in place of Neil Walker, who was still sore after a hard grounder hit him in the chest during the 5-2 win on Thursday night. Walker struck out looking in the ninth with the bases loaded. Collins said Walker could have started, but that he intended to give him a day off anyway this weekend.
Brewers: Counsell hoped that OF Domingo Santana wouldn't be sidelined long after being placed on the 15-day disabled list on Friday with right elbow soreness, a move retroactive to Wednesday. Santana didn't need an MRI for the injury. The right-handed hitter had come off the disabled list on June 3 following a right shoulder injury.
Mets: RHP Logan Verrett (3-3) will make a spot start after the Mets had to rearrange their rotation earlier in the week because of a doubleheader in Pittsburgh. Verrett's last start came on May 14 in Colorado, when he went 2 2/3 innings and allowed seven earned runs and 10 hits.
Brewers: RHP Wily Peralta (3-7) is 3-2 with a 3.23 ERA in five career starts against the Mets.
---
---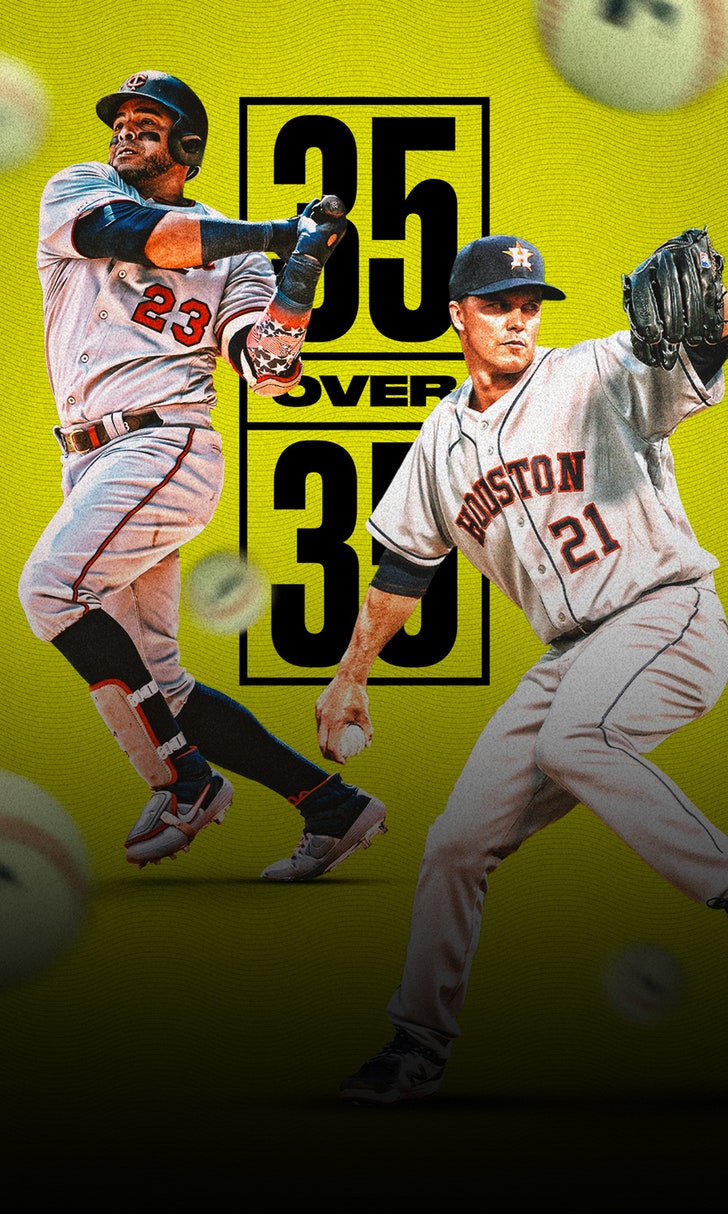 The top 35 Major League Baseball players over age 35