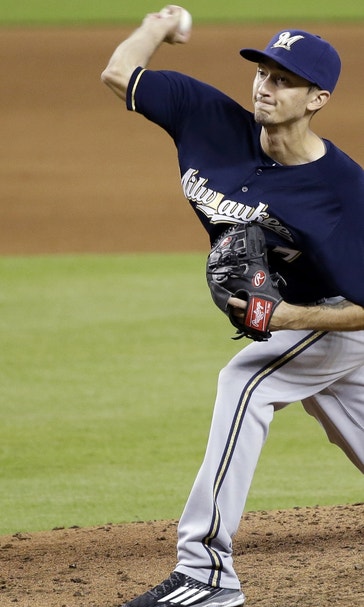 Brewers fall 7-3 after big eighth inning for Angels
May 4, 2016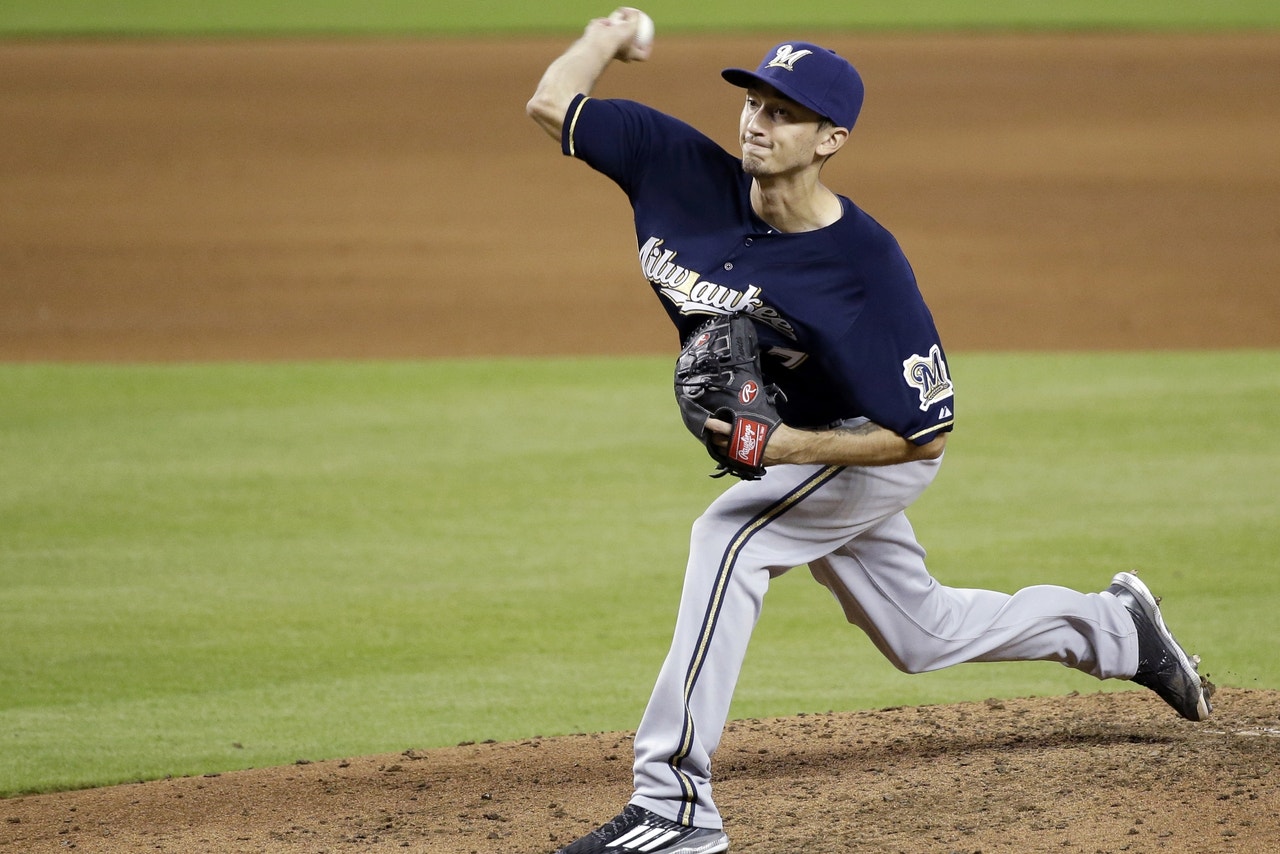 MILWAUKEE -- Promising starter Zach Davies established his fastball early against the Los Angeles Angels and turned in a sorely-needed quality start for the Milwaukee Brewers.
On Wednesday, the bullpen fell apart late at Miller Park.
Mike Trout had a RBI triple and sparked a four-run eighth inning with a solo homer, and the Angels avoided a three-game sweep with a 7-3 victory.
Trout tied the game at 3 after leading off the eighth with a drive to right on a hanging curveball from reliever Tyler Thornburg (2-1).
Thornburg (2-1) gave up Trout's homer on an 0-2 curve.
"It all boils down to execution for the pitcher. It's an 0-2 count so Thorny is looking to throw a ball there but he just left it in the strike zone," manager Craig Counsell said.
Five batters later, pinch-hitter C.J. Cron drove in the go-ahead run after looping a two-out doublet.
It spoiled a solid outing for Davies, who went six innings and allowed two runs, five hits and three walks.
After struggling through his first three starts, all losses, Davies lowered his ERA to 6.98. The right-hander was in line for the win until the Angels rallied in the eighth.
Davies' strategy was to try to take advantage of the Angels hitters in a day game after a night game, on the last day of a six-game trip.
"Tried to go out there and really catch them a little sleepy and establish the fastball early," he said, "trying to go after them a little bit more than I had in the past, so be more aggressive with these guys."
Milwaukee took a 3-2 lead in the sixth when Hernan Perez scrambled home from third on Cam Bedrosian's wild pitch.
After a solid start by Davies, manager Craig Counsell turned the game over to a relief corps that has performed well in late-game situations.
But Thornburg was hit hard by the heart of the Angels order, allowing four runs and three hits in two-thirds of an inning.
Davies went six innings, allowing five hits and two runs, along with three walks and three strikeouts.
Trout, now hitting .317, led off the eighth with his seventh homer this season. After Cron's double, Johnny Giovatella added a two-run single to give the Angels a three-run lead.
The rally got Hector Santiago off the hook for the loss after the starter gave up three runs and eight hits in 5 1/3 innings. He's glad Trout is on his team.
"He was hitting .200 . . . Then we looked up yesterday and he's hitting .313 and we were like, 'What is going on here?'" Santiago said. "He's locked in, man."
Perez, who was called up from Triple-A Colorado Springs last week, hit a solo homer in the second and finished 2 for 4. He's hitting .385, and Counsell indicated that Perez could continue to get opportunities against left-handed pitching.
Angels: It's uncertain whether Garrett Richards will make his next scheduled start on Friday after the right-hander worked just four innings in his previous appearance Sunday because of dehydration and cramping. Manager Mike Scioscia said Richards would most likely skip his bullpen session and just throw on flat ground to monitor his progress.
Brewers: RF Domingo Santana did not start because of right shoulder tightness. It was the second time in three games that Santana was a late scratch because of the injury. Alex Presley replaced Santana in right, with shortstop Jonathan Villar moving into the leadoff spot.
Angels: The team gets an off day on Thursday before returning home to start a three-game series with Tampa. Scioscia said he's a contingency plan in case Richards (1-3) cannot make the start.
Brewers: RHP Chase Anderson (1-3) is 2-0 with an 0.44 ERA in three career starts against Cincinnati, where the Brewers begin a four-game series on Thursday.
---
---