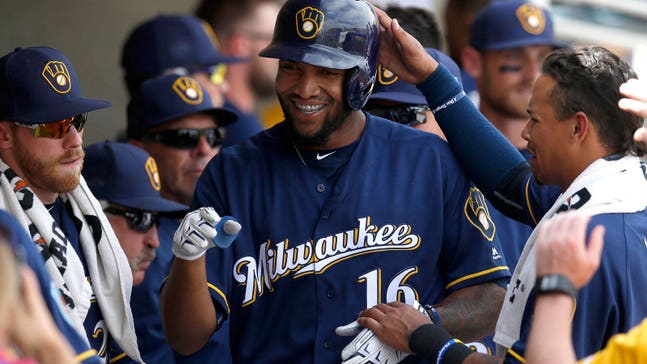 Brewers collect 12 hits, top Rockies 7-6
Published
Mar. 12, 2016 6:57 p.m. ET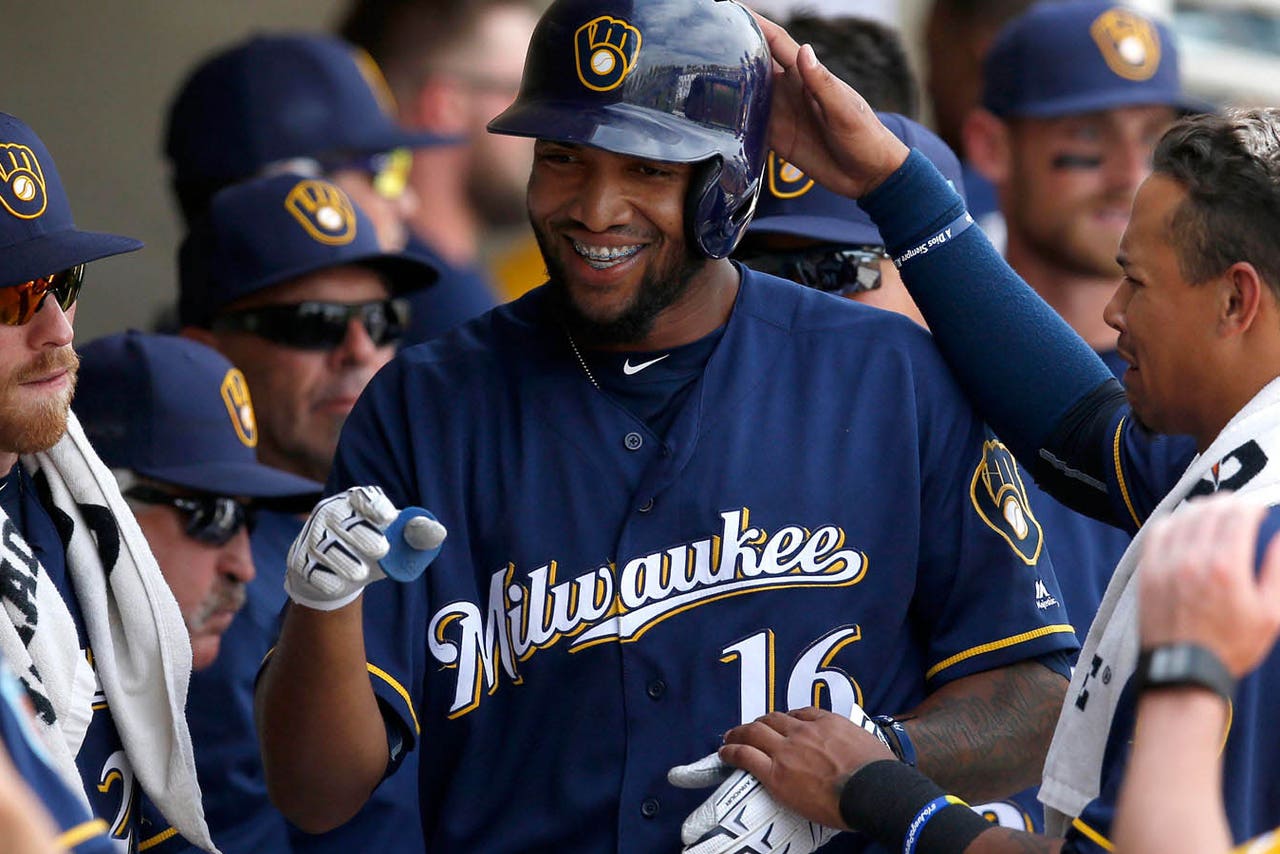 PHOENIX -- Domingo Santana was 2 for 3 with an RBI double, two walks and a stolen base, starting pitcher Taylor Jungmann didn't allow a hit in three innings and the Milwaukee Brewers had 12 hits in a 7-6 victory over the Colorado Rockies on Saturday.
"I started a little rough," said Jungmann, who walked former Brewer Gerardo Parra to start the game and hit Carlos Gonzalez two batters later. "I got in a couple 3-2 counts, I'm trying to minimize that this year ... I want to get further into games."
Batting cleanup, Santana doubled in Eric Young Jr. in the first, and after back-to-back doubles by Shane Peterson and Will Middlebrooks in the second, Milwaukee led 2-0.
After Jungmann was removed, Brewers relief pitcher Tyler Cravy surrendered two home runs in the fourth, the first by Nolan Arenado and the second by Trevor Story, giving Colorado a 3-2 lead.
Arenado was 2 for 2 with a home run and three RBIs.
"I was seeing it well today," said Arenado, who raised his average to .556. "I put a good swing on the homer, and (I was) just trying to make sure I saw the ball deep."
Switch-hitting second baseman Colin Walsh's two-RBI double in the fourth scored Alex Presley and Orlando Arcia, giving the Brewers a 5-3 lead.
"The reason why we were attracted to him is the quality at bat he gives, the strike-zone judgment and he's shown that ability is going to translate (to the majors)," Brewers manager Craig Counsell said about Walsh, a Rule 5 selection.
STARTING TIME
Brewers: Jungmann said his mechanics were good Saturday and he was pleased with his change-up, a pitch he's been working hard on this spring.
"I threw some good ones, but it's still a work in progress," said Jungmann, who was 9-8 with a 3.77 ERA last season.
Rockies: Jon Gray allowed two runs on four hits while walking two in three innings pitched Saturday against the Brewers. He started in place of lefty Tyler Anderson, who was originally slated to start but was scratched at the last minute due to a strained oblique.
TRAINING ROOM
Brewers: Right-hander Jeremy Jeffress, who has been sidelined with a strained hamstring, threw a live batting practice session Saturday and could see live game action as early as next week.
Jeffress is in contention for the closer spot for Milwaukee. Front-runner Will Smith hasn't allowed a run in three appearances this spring.
GETTING CLOSER
After signing a minor-league contract with the Brewers on March 5, left-hander Franklin Morales threw his first live batting practice session Saturday.
Counsell said he'll throw another live batting practice before getting into a Cactus League game.
"He's been here a short amount of time, so we need to look at him," Counsell said.
The Brewers have a short window to decide on Morales, who can become a free agent again if Milwaukee doesn't add him to their big-league roster by March 28.
FIRST BASE?
In 2013, Will Middlebrooks was the starting third baseman for the World Series Champion Boston Red Sox. This spring, he's fighting for a job on the Brewers roster by making himself available at any position.
"I told the guys, anywhere you can fit me in, or anywhere that can help us out any given day, throw me in there and I'll do it," said Middlebrooks, who saw time at first base for the first time this spring against the Texas Rangers on Friday.
UP NEXT
Brewers: Right-handed pitcher Chase Anderson, battling for a spot in the Milwaukee rotation, will start against the Cleveland Indians at Goodyear Park on Sunday. Anderson is 1-1 with a 17.18 ERA in two starts this spring.
Rockies: Jordan Lyles we'll get his third start of the spring Sunday against Clayton Kershaw and the Los Angeles Dodgers at Salt River Fields at Talking Stick. Lyles, a 2008 first-round pick by the Houston Astros, is 0-1 with a 5.40 ERA and four strikeouts in five innings pitched this spring.
---
---