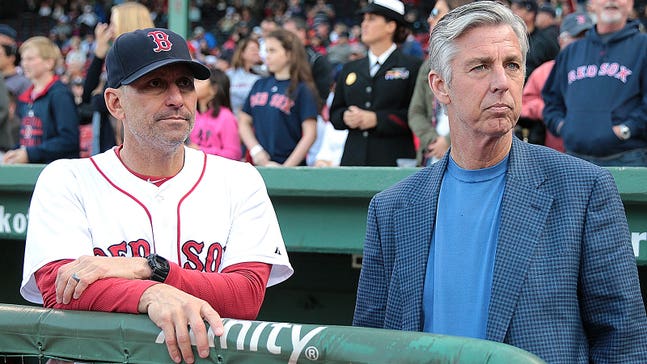 Boston Red Sox hold keys to the offseason as Dave Dombrowski looks to bolster roster
Updated
Mar. 4, 2020 9:45 p.m. ET

With the World Series in the rearview mirror, MLB's Hot Stove season is just about to get warmed up. The exclusive period for teams to negotiate with their own players ends Friday, opening the doors for 139 free agents to hit the open market. And with names like David Price, Jason Heyward and Yoenis Cespedes up for grabs, this is a star-laden free-agent class, far better than anything seen in recent years. But despite the availability of a host of All-Star-caliber players, the man with the most power this winter might very well be Dave Dombrowski. 
After being let go by the Tigers on Aug. 4, it took Dombrowski all of two weeks to land a job as the president of baseball operations with the Red Sox. His history of success with the Expos, Marlins and Tigers made him a coveted free agent in his own right, and the Red Sox wasted no time in giving him the keys to the office in an effort to get the franchise back on the winning path. While the previous regime left a strong core in place, it's clear that Dombrowski is going to want to remake the roster to better align with his own philosophies, and that means that the Red Sox might be the busiest team in baseball this winter. 
As his first priority, Dombrowski has made it pretty clear that he's going to target high-end pitching this winter.
"Our depth in starting pitching is pretty good," said Dombrowski. "I don't think the back end of our rotation is going to be the difficult part. When I say 'back end,' I mean (Nos.) 3-4-5 — Porcello, Miley, Kelly. We saw Owens, he pitched well. We had Rodriguez and he can take that step forward at any point. So I don't think it's the depth, as much as you're looking for that one guy who can maybe be your horse, if you can get him."
There's no question that this is a pretty great winter to be shopping for a top-of-the-rotation starting pitcher. Price is likely to command the largest contract of any free agent this winter, and we know Dombrowski is a fan; he just traded for Price 15 months ago, after all. But beyond Price, Zack Greinke also will be available — he opted out of the final three years left on his contract on Wednesday — as a right-handed frontline starter, and Johnny Cueto and Jordan Zimmermann loom as lower-cost alternatives if Dombrowski can't lure either of the top two pitchers to Boston. 
With the Yankees publicly downplaying their interest in the highest end of the free-agent market, and the Dodgers showing a preference for depth over stars since hiring Andrew Friedman to push their team in a new direction, the representatives for each of the elite arms are going to be heavily incentivized to get Dombrowski involved in the bidding. Given Dombrowski's public statements and Boston's resources, it's fair to expect every pitcher looking for a big payday this winter to initiate contact with the Red Sox. 
But one doesn't get to be the kingpin of the offseason just by signing one free-agent pitcher, and it's unlikely that Dombrowski's reshaping of the Red Sox roster will end with the pursuit of just one starter. In addition to coveting a No. 1 starter, Dombrowski also has publicly stated that he's interested in adding a new closer, which would allow Koji Uehara to move back into a setup role, and give the team additional late-game depth it lacked last year. 
"People have told me that he can fit different roles,'' Dombrowski said of Uehara. "€œBut you also feel comfortable that he can close games at this point in his career. I would hope that we could find somebody else to help in that regard."
The free-agent market is not nearly as loaded with relievers and is especially thin when it comes to guys who have racked up a bunch of saves. But on the trade market, both Craig Kimbrel and Aroldis Chapman are expected to be available, and Dombrowski has a stated affection for high-velocity guys who rack up strikeouts. As he told csnne.com, "Ideally, you want an arm out there that could be a power arm in some role, to get a strikeout at a key time for you."
Well, if you want velocity and strikeouts, you're not going to do any better than Chapman, the hardest thrower the game has ever seen. And while Kimbrel's ERA wasn't as shiny in 2015 as it had been in prior years, he actually posted the highest average velocity of his career, and his peripherals still suggest he's got some years left as an elite relief ace. Given the strength of the current Red Sox farm system, the Reds and Padres — both of whom could use more young talent — have to be eyeing Boston as a top-tier trade partner, and likely will be trying to involve Dombrowski in negotiations before they move their star closers. 
So the Red Sox likely will be discussing deals for both the best starters and relievers available, but Dombrowski's influence over the winter's movement won't end there. He'll almost certainly be looking for an opportunity to move Hanley Ramirez to a team with an opening at designated hitter; entering the 2016 season without knowing if Ramirez can handle another position switch seems like a risk he might not want to take unless he has to. Perhaps a bad contract swap could be worked out with the other Sox team, as Chicago's pale hose are going to be looking to infuse some offense into their lineup, and Adam LaRoche was highly disappointing in his first year in Chicago. 
Dombrowski made a similar big-money-for-smaller-money deal by sending Prince Fielder to Texas for Ian Kinsler a few winters ago, and if he can save some longer-term money by moving Ramirez's deal this winter, he could end up as a bidder for a first baseman as well. Chris Davis is an intriguing option who could provide some legitimate power for the team in the middle of the batting order. Even if the Red Sox don't get in on the bidding for Davis, it's reasonable to expect that Dombrowski will be in the middle of discussions for a first baseman in case a deal for Ramirez materializes. 
Toss in the fact Dombrowski inherited a loaded farm system and has never been shy about dealing prospects for veterans, and we shouldn't rule out the unexpected either. Last winter, Alex Anthopoulos shocked everyone in baseball by talking the A's out of Josh Donaldson, and there's always a player traded who wasn't anticipated to be on the move. If a team with a superstar decides to make a deal for a bevy of young talent, Dombrowski's probably going to be the first call it makes. 
This winter, all roads lead to Fenway Park. The prized free agents are exactly the kinds of players Dombrowski is publicly coveting. His preferred type of closer will be available in multiple forms. The team will have options to import a first baseman if it can first export a designated hitter. The Red Sox are even rumored to be interested in Alex Gordon, whose acquisition would require a trade of one of the team's incumbent young outfielders. There is essentially no available impact player who can't be connected to the Red Sox in some semi-reasonable way. 
So, while everyone else formulates a plan of attack, the Red Sox'€™s plan might just be to stick as many irons in the fire as they can, and see which ones get hot first. With this many options, it seems quite possible that all the other teams might end up sitting around waiting for Dombrowski to decide what he wants to do. In the big game of dominos that is baseball's offseason, the Red Sox might very well be the ones pushing over the first piece at a lot of different positions. 
---
---