Texas A&M Aggies
Texas A&M Aggies
Boomer White leads Texas A&M against former team in super regional
Published
Jun. 9, 2016 5:48 p.m. ET

COLLEGE STATION, Texas (AP) -- When Boomer White transferred from TCU to fulfill a lifelong dream and play at Texas A&M, the third baseman couldn't have known tings would turn out quite like this.
Forced to sit out last season because of transfer rules, White was relegated to his couch while the Aggies fell to the Horned Frogs in the NCAA super regional.
This year? White is now the SEC player of the year, a junior slugger who will lead his team into Friday's opener of the best-of-three super regional that pits the Aggies against those same Horned Frogs.
"It means everything to me," said White, a native of nearby Houston. "This is the team I grew up in love with and I've got a chance to help them now."
White has been to the College World Series before, helping the Horned Frogs make the trip in 2014 in a season where he started all 66 games and hit .315 with two homers and 49 RBIs. He enjoyed his time at TCU and doesn't have any negative feelings about the school or the program. He said he just knew it wasn't where he was supposed to be.
"There was something still tugging at me," he said.
So after the 2014 season, White left Fort Worth and headed to College Station where he finally became an Aggie after rooting for the team his entire life. With White sitting out, the Aggies drew TCU in the super regional in 2015 and were eliminated in an epic Game 3, falling 5-4 in 16 innings.
White, who leads the Aggies with a .398 average, can't wait for the rematch.
"I'll have an impact on the game somehow, some way," White said. "Last year I was sitting in the bleachers in Fort Worth and on my couch in Cape Cod watching. It was kind of a hopeless feeling wanting to will the Aggies to a super regional win and to Omaha and I couldn't really do anything about it."
TCU coach Jim Schlossnagle raved about White and lauded him for the way he dealt with changing schools.
"He had something that he felt like in his heart he wanted to do. He handled it 100 percent the right way," Schlossnagle said. "So we rooted for Boomer, stayed in contact with him. I look forward to seeing him. I won't look forward to seeing him in that batter's box because he's a good player."
Some things to know about the TCU-Texas A&M super regional:
WILD FINISH
Last year's elimination game in Fort Worth had one of the wildest finishes in recent super regional history. TCU led by 3 after six innings before the Aggies rallied to tie it in the ninth and force extra innings. Neither team scored for the next six innings before the Horned Frogs got two on with walks in the 16th. Then with two outs Evan Skoug singled down the third base line and Garrett Crain headed toward home. The Horned Frogs won it on an error when the throw home bounced away from A&M's catcher and allowed Crain to score.
"If I was on their side, that's a lot tougher to take," Schlossnagle said. "There's no doubt about it. When you're that close and you have something freaky weird to end the game."
HOT HITTING
The Aggies have won seven games in a row and have had three hitters leading the way in that span. Austin Homan, Michael Barash and Jonathan Moroney all have averages above .440 in those seven games. Homan leads the group with a .550 average with four doubles and 10 RBIs, Barash is .462 and also has four doubles and 10 RBIs and Moroney is batting .444 with two homers and 10 RBIs.
UNDERDOG ROLE
After reaching the CWS three times since 2010, the Horned Frogs find themselves in the unfamiliar position of not being favored in this series. The Aggies are one of eight national seeds in the tournament at No. 4 and TCU did not get a national seed.
"They are certainly the team that has the highest level of skill, the highest level of experience," Schlossnagle said. "We're talented, but we don't have that kind of experience across our dugout the way they do since they have most of their club back. There's no doubt we're the underdog in this deal. And that's OK. It always comes down to the team that plays the best."
---
---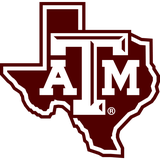 Get more from Texas A&M Aggies
Follow your favorites to get information about games, news and more
---