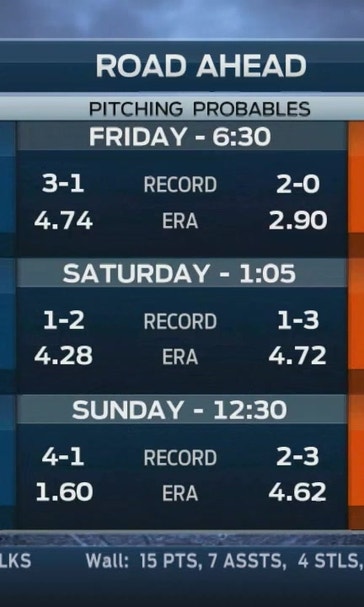 Atlanta Braves at Miami Marlins series primer
May 15, 2015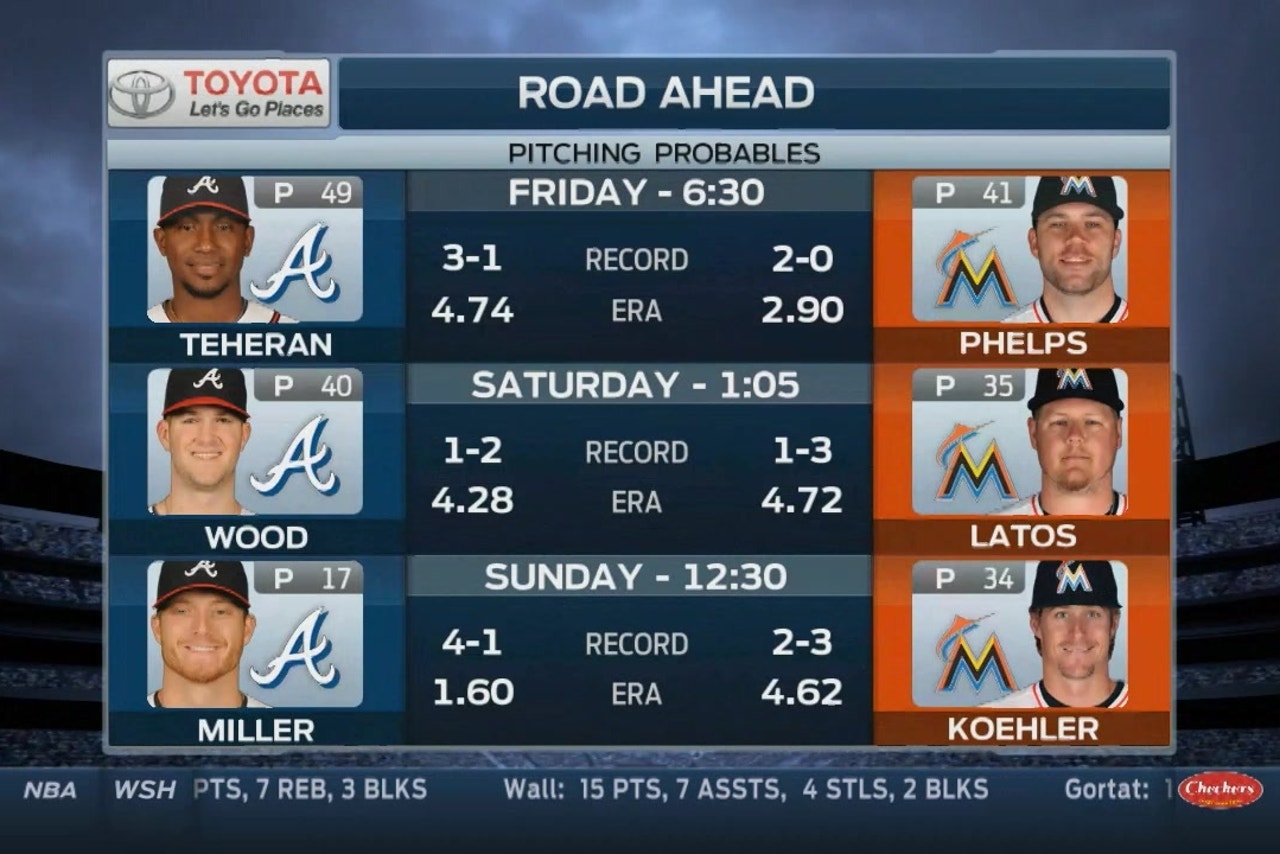 The Miami Marlins (16-19) finally return home for a 10-game homestand after going 4-6 on the road with visits to Washington, San Francisco and Los Angeles. In three of those losses, the Marlins held a lead into the eighth inning.
Visiting Miami for the second time this season are the Atlanta Braves (15-19), who swept the opening series but dropped two of three at Turner Field the following week. The Braves have lost consecutive series on their current nine-game trip.
After a 3-11 start, Miami has gone 13-8 for one of the best marks in the National League during that span. Atlanta, meanwhile, is 9-18 following a 6-1 beginning. A half-game separates the ballclubs in the NL East standings.
Righty David Phelps makes his sixth start since joining the rotation to open the series on Friday night. With Henderson Alvarez on the disabled list, Phelps has gone 2-0 with a 1.80 ERA in five starts. In his Marlins debut on April 7 against the Braves, he tossed 2/3 scoreless relief innings but gave up two hits. Righty Julio Teheran earned the victory on Opening Day against the Marlins, allowing one run over six frames. He struggled in his last start, giving up a season-high six runs in just five innings against the Washington Nationals.
With each start, righty Mat Latos has looked like the reliable pitcher the Marlins acquired over the offseason. Since back-to-back rough outings against the Braves to open the season, Latos has recorded a 2.73 ERA in five starts. Southpaw Alex Wood has just three decisions in seven starts despite giving up three runs or fewer in all but one of the outings. In his 2015 debut, he beat the Marlins with five frames of two-run ball.
In the series finale, righty Tom Koehler looks to carry momentum from his previous outing, when he allowed just one run over six innings at Dodger Stadium. He had allowed eight runs in 11 frames in his past two starts before that. He went 1-1 in two starts against Atlanta last month, giving up four runs over 11 1/3 innings. Righty Shelby Miller cruised in his first two showdowns with the Marlins, surrendering just one run on seven hits over 10 innings. He has not allowed more than two earned runs in all seven of his starts.
Here's a look at the upcoming Braves-Marlins three-game series:
SCHEDULE AND PROBABLE PITCHERS
WHO'S HOT
1B Freddie Freeman (Braves): Freeman's nine-game hit streak got snapped on Wednesday when the Braves tallied just two hits. During that torrid stretch, he went 17 for 35 (.486) with eight runs, six doubles, one homer and eight RBI. His average has bumped from .275 to .323.
2B Dee Gordon (Marlins): Gordon briefly cooled off against his former team by going hitless in his first eight at-bats, snapping his 13-game hit streak, before warming up again. In the finale, he went 4 for 5 with two runs and two doubles, spiking his major league-leading average back to .426.
WHO'S NOT
3B Alberto Callaspo (Braves): Remember how hot Callaspo was during the first week of the season, posting a .538 average? Well, he is in the midst of a hitless skid totaling 12 at-bats. His average now sits at .211, second lowest among Atlanta regulars.
LF Christian Yelich (Marlins): Since returning from the disabled list on Friday, Yelich is 3 for 21 (.143) with two runs, a two-run homer, three walks and eight strikeouts. He has gone hitless in four of six games.
STORYLINES
210: Strikeouts for Braves batters this season, lowest in the NL
3: Saves in three opportunities for Braves closer Jason Grilli against the Marlins this season. Grilli spent two seasons (2001-01) with the Marlins tobegin his career.
13: Caught stealing by Marlins runners, most in the NL
.409: Average for Christian Yelich against Alex Wood. He is 9 for 22 with a triple.
QUOTE BOARD
"I don't know if it's a lapse or what, but one or two batters every game I'm cruising throwing all three pitches, executing pitches and then I don't know. I've got to figure it out so I can do more of my part to help us win." -- Right-hander Jarred Cosart on his outing on Wednesday. He led 2-0 before leaving with an injury and down 4-2
"Give these guys a lot of credit. They keep battling. We've had some tough losses --€" taken some tough losses — but they keep fighting. That was a good one (Wednesday). You've got to finish games. To go where we want to go we know what we need to do. We can talk all we want, but we have to go out there and do it." --€" Manager Mike Redmond on the trip, closing out games
"It won." -- Giancarlo Stanton on dropping a ball after colliding with the right-field wall on Wednesday
PROMOTIONS & GIVEAWAYS
May 15 --€" 70s Night benefitting Breast Cancer Awareness; Happy Hour at the Budweiser Bow Tie Bar (pregame); Fireworks Friday (postgame)
May 16 -- Marlins Summer Concert Series featuring Charli XCX; Saturday Spectacular (postgame); All You Can Eat Seats; Broward Schools Day
May 17 -- Giancarlo Stanton Growth Chart courtesy of FOX Sports Florida (first 5,000 kids); Diamond Dash (postgame); Miami Dade Schools Day; Pepsi 4-for-$74; Scholarship Day; Selfie Sunday (photos with player pregame)
LOOKING AHEAD
The Marlins continue a 10-game homestand with four matchups with the Arizona Diamondbacks.
You can follow Christina De Nicola on Twitter @CDeNicola13 or email her at cdenicola13@gmail.com.
---
---