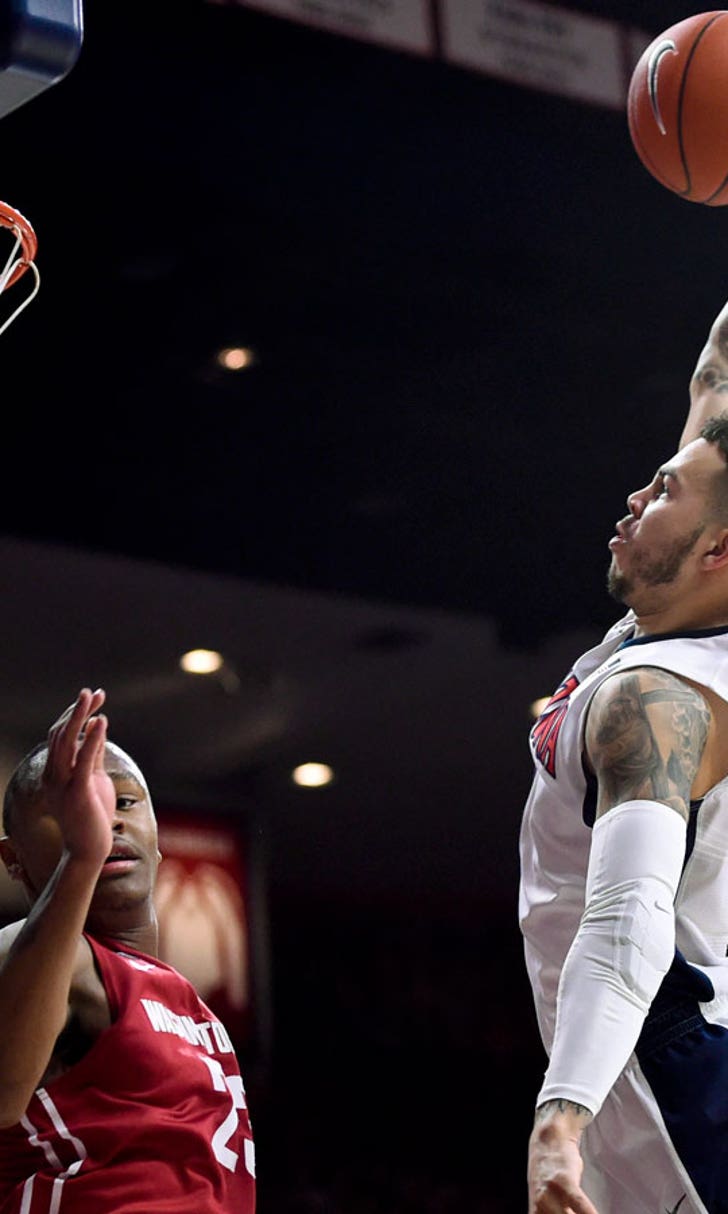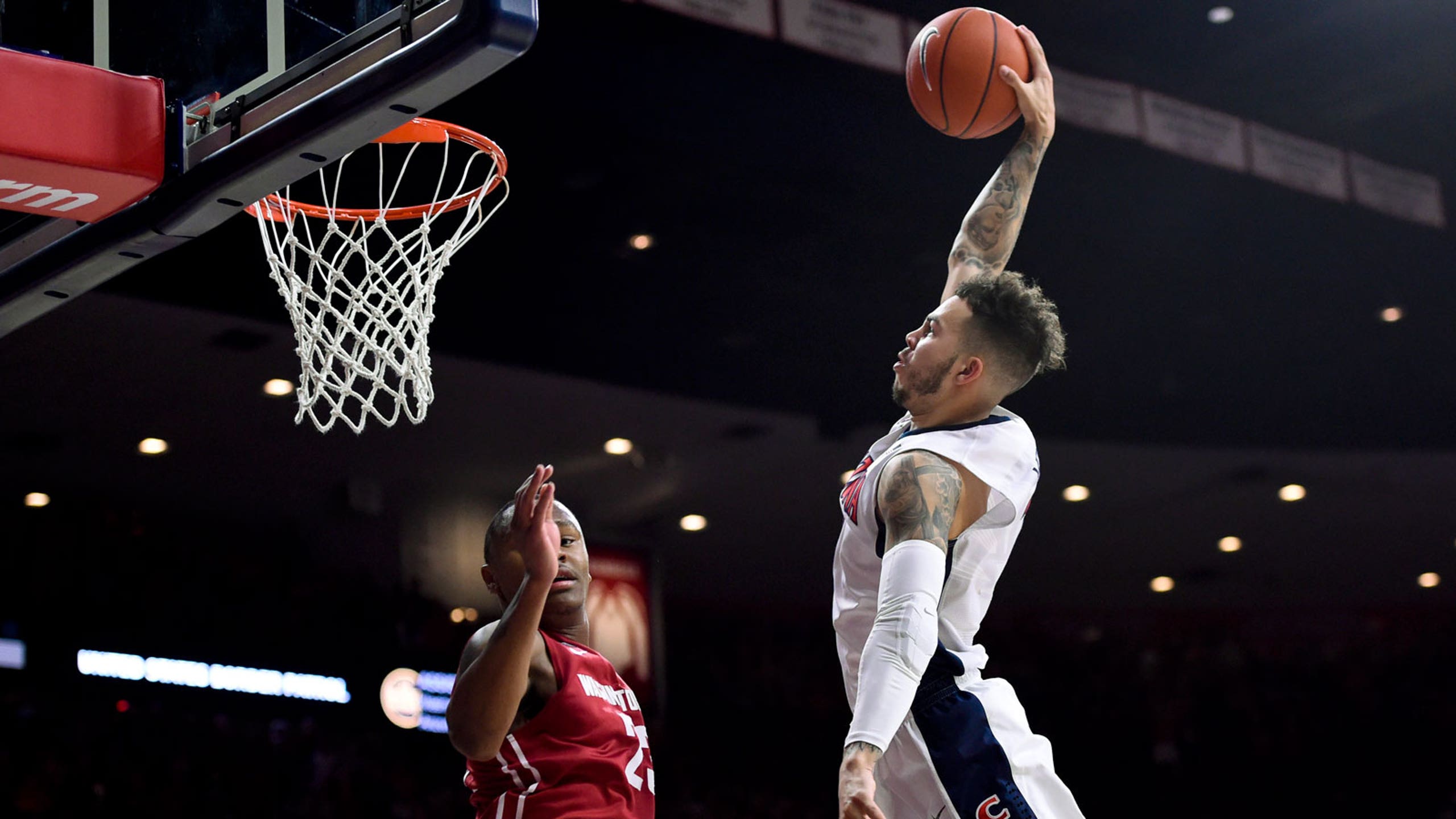 Arizona rolls past Cougars for 49th win in a row at McKale
BY foxsports • January 17, 2016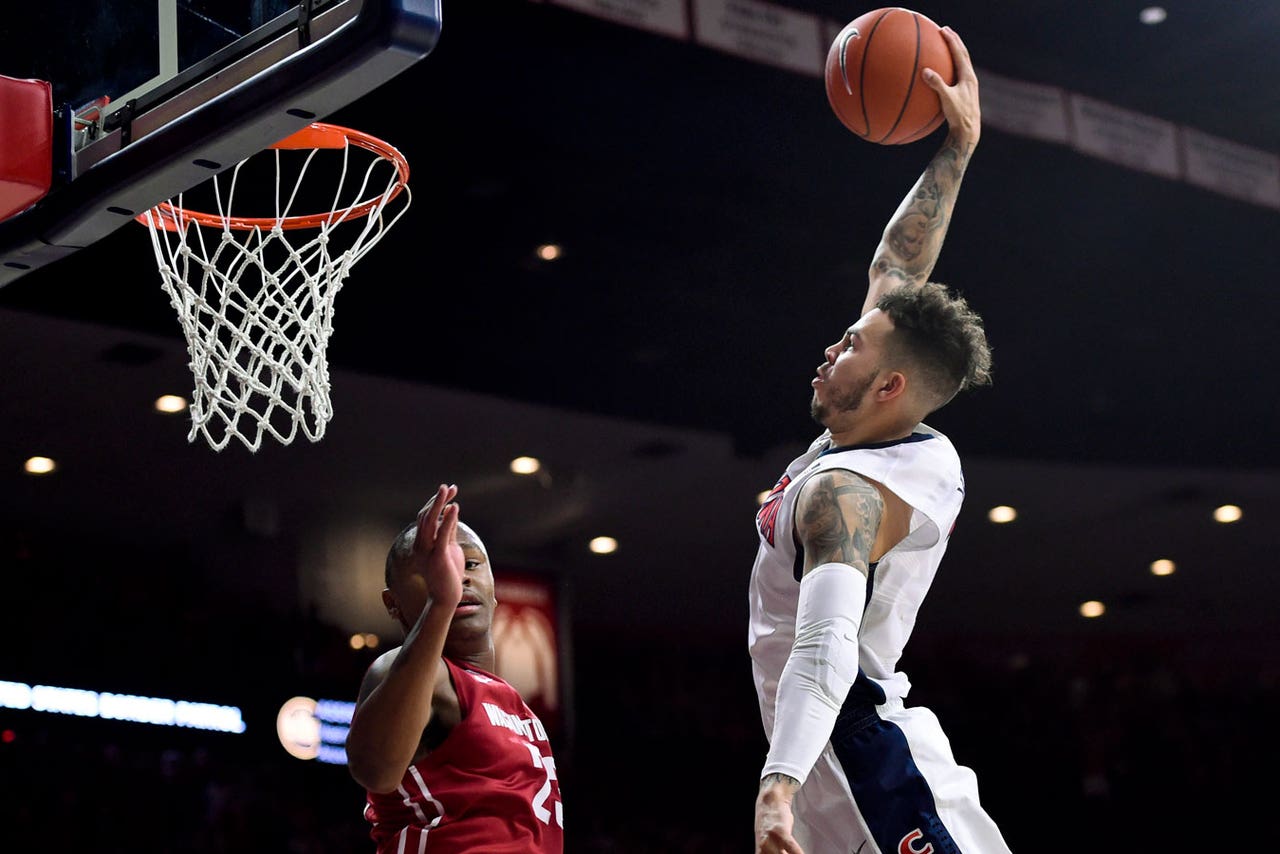 TUCSON, Ariz. -- Ryan Anderson swatted Josh Hawkinson's layup attempt off the glass. Parker Jackson-Cartwright raced the other way and lobbed a pass to Mark Tollefsen for a thunderous dunk and eventual three-point play.
The 7-second sequence late in the first half showcased No. 18 Arizona's depth and sparked the decisive run to secure the Wildcats' 49th straight home victory, 90-66 over Washington State on Saturday night.
Anderson had 15 points and eight rebounds, Parker Jackson-Cartwright added 13 points and seven assists, and Arizona continued its dominance of Washington State.
"Those are the type of plays we feed off of," Jackson-Cartwright said. "Defense to offense really works for us. When we get out in transition, it really helps."
After a last-second loss to UCLA and four-overtime defeat to Southern California last weekend, Arizona (15-3, 3-2 Pac 12) has shot better than 50 percent in consecutive wins without star freshman Allonzo Trier (broken hand).
Jackson-Cartwright has 18 assists and three turnovers in an increased role since Trier's injury.
"I thought the story of this weekend was Parker," Arizona coach Sean Miller said. "He played the best basketball of his career in back-to-back games."
Jackson-Cartwright starred in the key sequence late in the first half turned a fast-paced, close game into a rout and allowed Arizona to extend the nation's longest home winning streak.
Trailing 32-26, Washington State (9-8, 1-4) went inside to Hawkinson, but Anderson rejected the shot. Jackson-Cartwright then immediately planned an alley-oop.
"I saw it as soon as I got the ball," he said.
Anderson turned to the crowd and yelled. After a timeout, Tollefsen hit the free throw, beginning a 14-5 that put Arizona ahead 46-31 at halftime.
"If I'm looking at the tape, I thought that was the best Arizona has played in a while," Washington State coach Ernie Kent said.
The Wildcats poured it on early in the second half, with Gabe York's breakaway one-handed jam making it 56-33. Anderson delivered another powerful dunk that brought the crowd to its feet on a night Arizona hit 9 of 16 3-pointers and surpassed 80 points for the 10th straight game.
"We're a fun team to watch play," Miller said.
Ike Iroegbu scored 13 points and Josh Hawkinson added 12 points and eight rebounds for Washington State, which trailed by as many has 28 points. The Cougars have dropped nine straight to Arizona and are 16-60 overall.
York and Tollefsen each scored 11 points. Charles Callison had 12 for the Cougars.
"I think they learned how hard they have to play on the road," Kent said. "It is a mental fortitude that you need on the road, and for the new guys coming into the program, they don't quite understand that. They have to go through it to understand."
TIP-INS
Washington State: Seven-footer Connor Clifford made his fourth start and first since Dec. 18 as coach Ernie Kent matched up with Arizona's big front line. ... The Cougars have dropped 11 straight road games to ranked teams.
Arizona: After playing some zone Thursday for the first time this season, the Wildcats returned to the 2-3 defense for some possessions in the first half. ... Arizona football coach Rich Rodriguez chatted with Pac-12 Networks analyst Bill Walton at halftime. ... The Wildcats held a 38-game winning streak in the series from 1986-2005.
THAT WAS FAST
Washington State managed seven points in the first half of a 60-25 loss in its last visit to Tucson in 2014. This time it took 3:14 for the Cougars to reach eight points and 13:15 to get to 26.
STOP WHISTLING
Iroegbu was about to attempt a free throw with 13:12 left in the first half when he heard a whistle, stopped his motion and stepped over the line. The whistle, though, came from the stands. Iroegbu was still called for a violation. The officials then told the public address announcer to warn fans about bad sportsmanship.
UP NEXT
Washington State hosts Utah on Thursday night.
Arizona visits Stanford on Thursday night.
---
---