Buffalo Bills
Buffalo Bills
Anthony Lynn expects Chargers to win now, no matter the city
Published
Jan. 17, 2017 6:52 p.m. ET
CARSON, Calif. (AP) -- Anthony Lynn stepped to the podium under a brilliant sun Tuesday and immediately made the same verbal slip that everybody in Southern California will be making for at least a little while.

"I am so proud to be the head coach of the San Dieg- uh, LA Chargers," Lynn said. "Oops."

In truth, Lynn's mailing address might be the least important detail of his new job. The fiery coach says he is all about winning, and he saw a golden opportunity to do it immediately with the Chargers.

"We don't care where we play," Lynn said. "We'll play out here on the asphalt. We don't care. We just want to play football, and that's what we do."

Lynn's introduction doubled as the Los Angeles Chargers' first public event in their new city, and he immediately stoked expectations for a contending team this fall at StubHub Center, the 30,000-seat soccer stadium in the south LA suburbs. The Chargers must build a new fan base after their two-hour move north, and Lynn believes he knows how to do it.

"We're going to win. That's how you sell," Lynn said. "I feel very confident in the staff that we're putting together and in our leadership, and in the players that we have. There's no reason why we shouldn't win right now. We have the right pieces to get that done. When you win, and the style of ball that you play, they will come. My biggest concern when I got (to StubHub Center) was, how are we going to get more seats in here?"

Lynn replaced Mike McCoy last Friday, a day after the Chargers announced their relocation to Los Angeles after 56 seasons in San Diego. He realized the challenges of taking over a 5-11 team during a move, but wasn't daunted by the extra obstacles in his path.

After a steady quarter-century in the NFL as a Super Bowl-winning player and an assistant coach, the 48-year-old Lynn believes he has his moment.

"This is not a rebuilding project," Lynn said. "This is not a two-year transition. This is long-term, baby. We have a very talented roster. I like the corner pieces that we have and we can build a championship program around."

Lynn felt the Chargers' vacancy was "the best job out there," and quarterback Philip Rivers was one major reason. While rumors swirled around the NFL in recent days about Rivers' feelings on the relocation, Lynn and general manager Tom Telesco both said Rivers is completely on board.

Rivers will attend a kickoff ceremony for the Chargers on Wednesday in Inglewood, where they will share a $2.6 billion stadium with the Los Angeles Rams starting in 2019.

Rivers is the centerpiece of an undeniably talented roster that has won just nine games in the last two years. The Chargers were beset by injuries last season, but Lynn is confident he has a contender if they stay healthy.

Lynn's coaching staff already is taking shape: He confirmed that Ken Whisenhunt will stay on as the offensive coordinator after the Chargers finished ninth in the NFL with 25.6 points per game last season. Lynn also is pursuing former Jacksonville coach Gus Bradley as his defensive coordinator.

Lynn finally reached every NFL assistant's ultimate goal through determination, smarts and the help of a few mentors.

He carved out a seven-year NFL playing career after going undrafted as a running back from Texas Tech, and he won two Super Bowls with the Denver Broncos. But his life changed in 1996 when former 49ers coach Bill Walsh took him to lunch while Lynn was playing for San Francisco.

"He said, `I've identified you as a coach in the National Football League, and I want to talk to you about my program for minority coaches,'" Lynn recalled. "I had never thought about coaching before. But that's where the seed was planted, from Coach Walsh. At the time, being a young man, I didn't know if I should take that as an insult, because I thought I was in the prime of my career, and this man is already talking to me about coaching. But now I take it as a compliment."

Lynn's coaching star rocketed upward in the past year.

He began last season as the Buffalo Bills' running backs coach, but was promoted to offensive coordinator by Rex Ryan. He took over as Buffalo's interim head coach for the season finale after Ryan's firing, and the Chargers beat out other suitors for his services.

"As far as handling transition, if you can handle going from a running backs coach to a coordinator to a head coach in one year, you can handle a lot of things," Telesco said.
---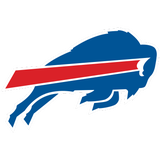 Get more from Buffalo Bills
Follow your favorites to get information about games, news and more
---