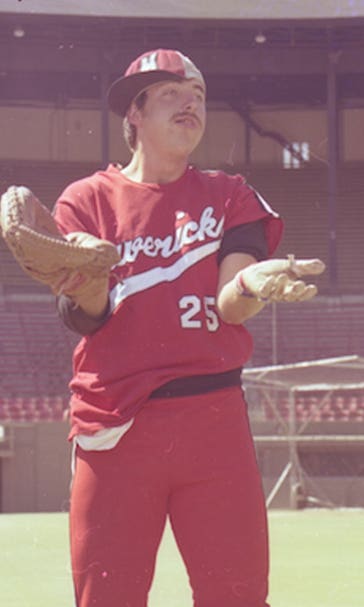 About those Battered Bastards
September 10, 2014

Last winter the documentary The Battered Bastards of Baseball premiered at the Sundance Film Festival, and made its national debut as a Netflix Original in July. The story of the independent Portland Mavericks in the 1970s, owned by Bing Russell and featuring a variety of has-beens and never-weres, Battered Bastards must rank among the more positively reviewed documentaries in recent memory. Over the last few weeks, filmmakers (and brothers) Maclain and Chapman Way were kind enough to answer a few questions via e-mail about their debut film ...
Rob: You guys have been interviewed a lot, and I know I'm going to ask you some things you've been asked before … but I do want to begin with something I hope is different. Were you ever going to do anything else? Your grandfather and your uncle were both in the movies, but I'm guessing you have siblings and cousins who aren't in the business? Did one of you have your heart set on being an accountant? A schoolteacher? A shoe salesman? What were you going to be, before you became famous documentarians?
Chap: Famous documentarians - ha! That's quite the oxymoron! Growing up, all I wanted to do was play college basketball. I played on club teams, AAU teams, and traveled all over playing high level basketball. Then at 16, everything changed. I got my driver's license and a library card, which allowed me to rent DVDs for a dollar apiece. It was the early 2000s and a new wave of American indie filmmakers completely knocked me on my ass. I became obsessed with film and watched anything I could from Spike Jonze, P.T. Anderson, Wes Anderson, etc. When it came time for college, I retired from my mediocre basketball career and instead studied music and cinematography. Since then, watching, studying and making films has pretty much been my life.
Mac: I never knew exactly what I wanted to do. However, I certainly knew what I didn't want to do. I knew I didn't want to work for someone else on a routine basis. I'm sure that sounds arrogant. But my father was a screenplay writer, and growing up that seemed like a more normal career than anything else. I think Chap and I, early on, were very motivated to have control over our work, so that probably eliminated many possible careers. Don't get me wrong, we've both worked jobs we didn't like, jobs that helped pay bills and finance our projects. The film industry wasn't something I had my eye on from an early age, but it was project-orientated and I think that's what drew us toward making films.
Rob: Before we go any farther, I want to play, just in case anyone here hasn't seen it already, the trailer for Battered Bastards. Because it's just so damned good. Before I saw this, I'd read a few delightfully positive reviews. But I hadn't gotten the movie into my head yet. While apparently it was very good, I didn't know what made it good. Then I saw this, and I just knew I would love it, and probably why …
So it's basically all there, and I've been wondering about the making of just this. Did you guys cut it yourselves? Had you learned enough while editing Battered Bastards that you could also edit what seems to me the perfect trailer?
Chap/Mac: When we started formulating ideas, we knew we needed to convey the rag-tag character of the Portland Mavericks and their heroic rise, along with Bing's larger than life personality and his conflict with organized baseball, all in under two minutes.
We decided to start with a short monologue from our Todd Field interview. We'd asked him to briefly explain the Portland Mavericks to someone who knows nothing about the team. His answer didn't make it into the film, but we always thought it'd work great in our promo pieces.
We worked very closely with our additional editor, Neil Meiklejohn, who cut the piece together and did a tremendous job. After that we asked our composer, Brocker, to write an original song for the trailer, which really helped to emotionally anchor our ending. Once the trailer was finished, Netflix made a few trims and we premiered it a few days later. We're very proud of it, and think it does reflect the heart of our film.
Rob: A couple more "process" questions … When did you first become inspired to make this movie? And at what point (if any) during the process did you realize, or at least begin to seriously think, "Hey, we might really have something here?"
Mac: Our first step in post production was an assembly cut of just our talking heads. It was very long and boring. But it told the story that we wanted to tell. After about two years of trimming and polishing and cutting in archive footage, stills and newspapers, we had our first real rough cut. It was at this point that the themes of our documentary really started to shine through. To be honest, I never had a moment when I realized the documentary was something special, because I almost always thought that. I had never seen a baseball documentary that really captured the spirit of independent baseball and that always excited me. However, when I realized, "Hey, other people might even like this film, too!" was when Chap and I got the call that our documentary had been accepted into the Documentary Premieres category of the Sundance Film Festival. Getting into Sundance is almost every independent filmmaker's dream, and achieving that was huge for our film.
Rob: Sure. Of course, a fair number of documentaries get into Sundance. Just one this year was adopted by Netflix, right? That was when I knew big things were coming. Well-deserved big things.
Moving along … Maybe these are related questions, so I'll ask them together… Did you guys get along well when you were kids? Did you have any non-violent-but-vehement disagreements while you were making the movie? And could you share one of your favorite clips that just got squeezed out of the movie?
Chap: One question we have received over and over again is: What was it like to work with your brother? To be honest, it was a question I never gave much thought to while making the film. But after taking the film around the country to different film festivals, I see it's a topic of interest for many people. In short, the experience of collaborating with your brother creatively and professionally is f%*&#@ awesome. It has been a blast to share this experience and journey with him. We are very good friends, share very similar tastes and challenge each other in a positive way. And, when none of my friends and co-workers could bear to listen to me ramble about the film for one more second, I knew I could always call Mac (sometimes at 3 AM in the morning) and pitch him some scintillating (often nonsensical) concept that had struck me late in the night - and he would be just as pumped about it as I was.
The only other person I could talk about the documentary with until their ears were numb, was my wife Juliana, whom I was lucky enough to have produce the film for me.
Mac: Growing up, I think Chap and I got along well. Except for maybe the time he coached my 7th-grade basketball team and benched me in the semifinals for arguing with him. But growing up, we were close brothers and today we're also very close friends and collaborators. I think when someone works closely and creatively with a family member, you can actually be extra tough and a little more harsh on one another's work. With Chap and I, we didn't have to be worried about fracturing our relationship, so we could be honest with each other.
Thankfully—whether because of nature or nurture—we do have similar tastes and think alike most of the time. But that probably just makes our disagreements that much more heated. One of the bigger arguments we had was over how to edit the intro of the film. Our earlier cuts opened with a montage of Mavericks highlights, the voice of a newsman introducing the team. It was a much easier and softer introduction into the story, maybe a little more comfortable. Chap wanted to open with a monologue from Bing while walking inside Civic Stadium. Maybe it was because we spent so much time polishing the opening montage but I really didn't want to can it and lose it. I'm happy to say I couldn't have been more wrong. Opening with the winning montage early and seeing the Mavs' success would have completely undermined the skepticism that we were trying to build in the audience's mind. I think our final-cut opening might be more abrupt, maybe a bit riskier. But that's what makes it work so well. Dropping straight into Bing makes the whole story unfold so much more cinematically and helps structure the narrative arc of the film. I'm happy to admit I was wrong. Good call, Chap!
Chap: Thanks, baby bro.
Rob: The movie is tightly structured and hums along quite nicely, but I know you must have left out some great footage and stories. Can you share something with us that didn't make the final cut?
Mac: There were so many stories, and part of the filmmaking process is whittling down which stories are truly essential. It was very important for us to create a real sense of forward movement, because we wanted the pacing of the film to match the chaotic energy of the team. In the editing room, we quickly found that if we didn't have archival film to lay over the talking heads, the stories would usually drag. Because of this, there are a handful of very strange, beautiful, and often hilarious anecdotes that didn't quite make sense in the context of the film.
Chap: In no particular order, here are a few of my favorite stories that didn't make the final cut, but might one day end up on a over-priced, special-edition directors' cut ...
Second, there was the time Todd Field was on a long road trip to Boise on the Mavericks' bus, and really had to urinate. However, there was a strict rule forbidding the bus from stopping for bathroom breaks. Ever. Todd, however, still managed to work up the courage to quietly ask the bus driver if he would pull over. Kurt Russell and Jim Bouton overheard this, and came up with a different plan. Before Todd knew what was happening, the bus driver had flung the door wide open while barreling down I-5 at 65 miles an hour, and Kurt and Jim hoisted Todd down to the bottom step, holding him by his shirt while he relieved himself, with the entire rest of the team chanting his name.
And lastly, the story of the team bus. While the other teams teams in the league, all of them affiliated with major-league franchises, travelled in air-conditioned chartered buses, the Mavs travelled in an old beaten down school bus, painted in Mav colors -- red, black, and white -- sort of a devilish version of the (then-famous) Partridge Family bus. The players took out the seats and replaced them with mattresses, upon which they would gamble, smoke pot, and nap before games. They also installed a set of stereo speakers on top of the bus roof that hooked up to a microphone/PA system inside the bus, where they could shout outrageous statements at innocent bystanders in visiting cities. These activities were always filed under "promotional duties."
Rob: So what's going on with the dramatic version of The Battered Bastards of Baseball?
Chap: At Sundance, we were thrilled to link up with Perfect Storm, Justin Lin's production company to produce a feature adaptation of Battered Bastards. Part of the deal was to bring in Todd Field, an Academy Award-nominated filmmaker and Mavericks batboy, as writer and director of the adaptation. We are huge fans of Todd's filmmaking, long before we even knew he was associated with the team. We really look forward to seeing his singular vision and style with this story.
Rob: For those who don't know, the protagonist of your story is Bing Russell, who also happens to be your grandfather. And your Uncle Kurt plays a large role, too. So what's been your family's reaction to the movie?
Mac: The first time our family saw the film was at our world premiere at Sundance. As much as they seemed to enjoy watching Bing and the Mavericks, I think they enjoyed even more watching the audience, people of all ages, reacting so strongly to this story of independence, second chances and community. And I don't think anyone in the family had understood the historical significance of the Mavericks, and their place in resurrecting independent baseball.
Rob: So I gotta ask … were the Mavericks really underdogs?           
Mac: When we first started researching the Maverick story, we quickly realized that the Mavericks were underdogs through and through. Some have assumed that since the Mavericks were older, they must have been talented veterans who had previously played professional baseball. In 1977, the Mavericks' best year, at least 24 of the players on the team were not drafted by Organized Baseball and had never played a single game professionally before joining the Mavericks. And only two players on the team had played higher than Class A.
This isn't to suggest the Mavericks were untalented bums. Rather, many of them had fallen through the cracks of Organized Baseball for various reasons: personality problems, image, drug issues, injuries, etc. These guys came together and beat players who were considered more talented by baseball scouts, which was considered an incredible feat by everyone we spoke to, an opinion backed by newspaper articles and news telecasts at the time.
---
---