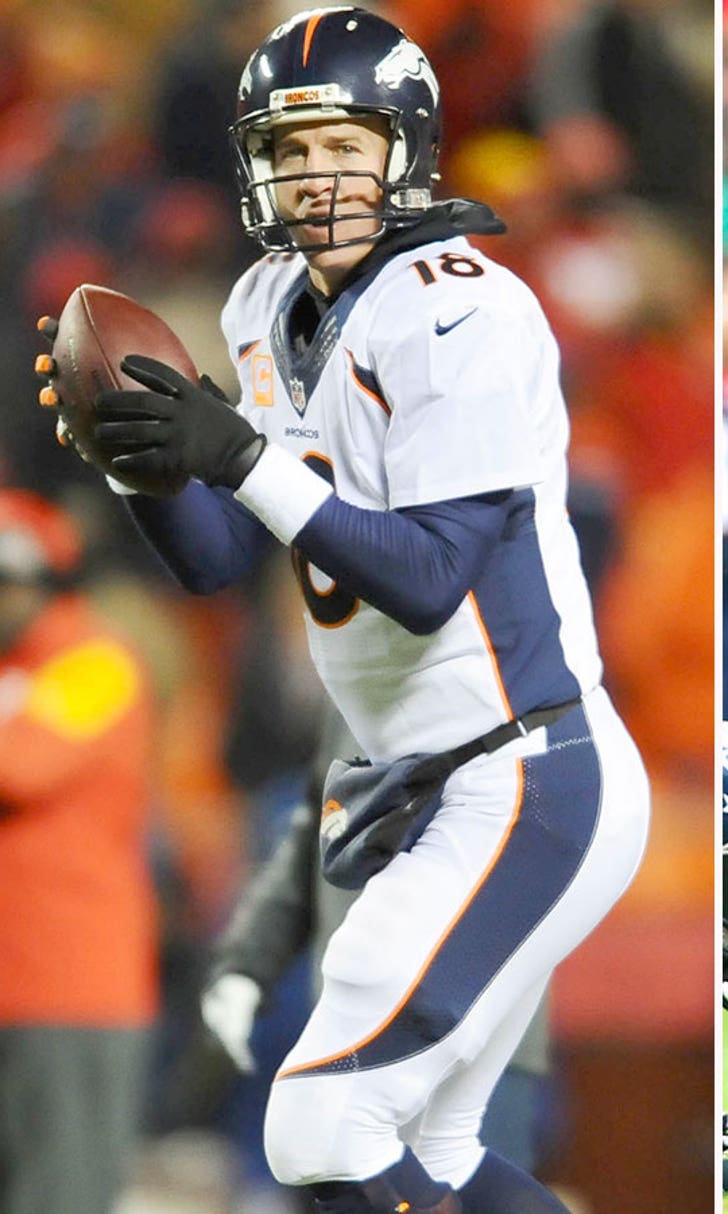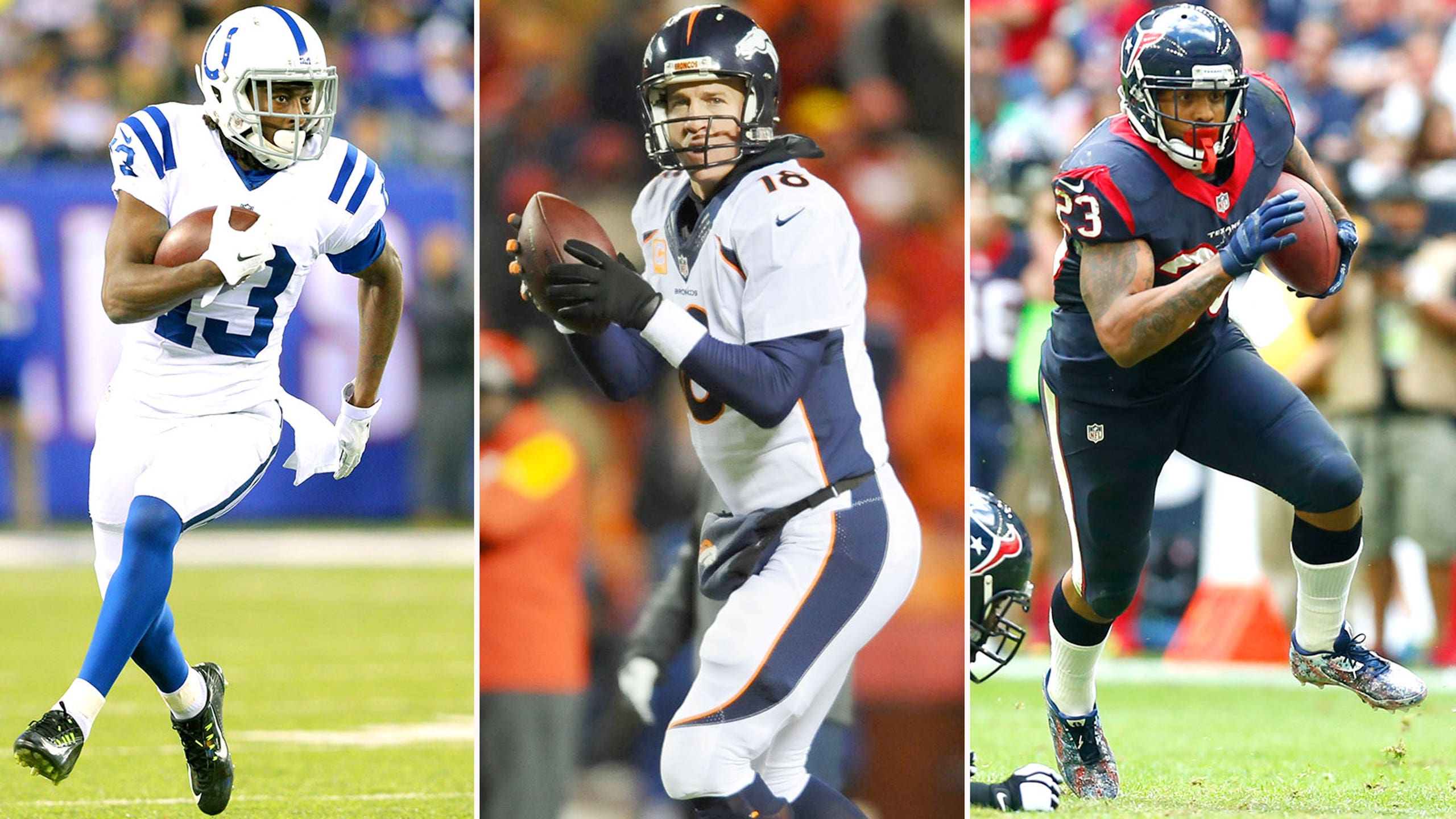 '15 Star-Driven Fun Facts' to ponder for NFL Week 16
BY foxsports • December 16, 2014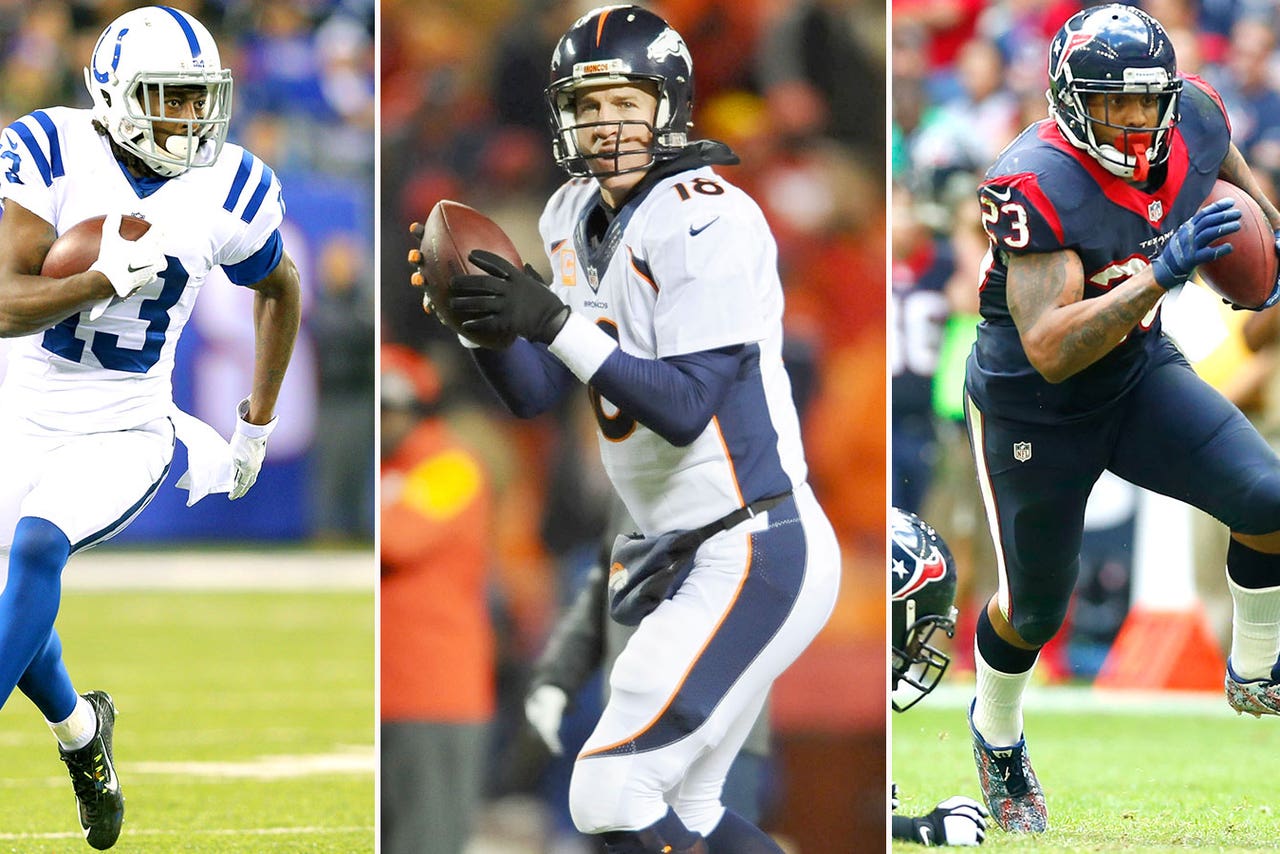 FOX Sports South takes a whimsical and diverse look at 15 star-driven factoids for NFL Week 16 -- a piece that might help shape fantasy-league decisions and/or inspire more real-world and barstool debates, among friends and kind strangers:
1. Arian Foster's seven-game streak of at least one touchdown may be over, but there are still numerous reasons to celebrate his standing as an elite-level fantasy option:
**Foster has notched 100 total yards and/or one TD in every outing since Week 5. In that span, he has averaged 136 total yards/1.4 TDs.
**Against the Ravens (this week's foe), Foster holds career averages of 107 total yards and 0.6 TDs -- and that includes a 52-yard, zero-TD clunker from 2013.
**The Texans' flickering playoff hopes may rest on the broad running shoulders of Foster, who has averaged 27 touches in his last three outings.
2. The Bills defense may be riding high from the absurd act of surrendering zero passing touchdowns to Peyton Manning and Aaron Rodgers in consecutive weeks ... but don't just assume victory against the lowly Raiders in Week 16.
Dating back to the 1966 campaign (the NFL/AFL's inaugural Super Bowl season), Buffalo has endured the goose-egg torture of going winless in its last seven trips to Oakland (excluding the Raiders' Los Angeles years).
3. By my count, as his team's starting quarterback, Peyton Manning has never lost to the Bengals during the regular season or playoffs -- enjoying an 8-0 record vs. Cincinnati, either with Indianapolis (7-0) or Denver (1-0).
As part of that, Manning boasts supreme averages of 328 yards passing/3 TDs at Cincy's Paul Brown Stadium (two career appearances).
4. Colts wideout T.Y. Hilton (82 catches, 1,345 yards, 7 TDs) is a lock for monster numbers this week (against the Cowboys) -- by any metric angle.
**Of his previous six outings against NFC foes, Hilton has notched 100 yards receiving and/or one TD four times.
**Citing his last four road games, Hilton boasts absurd averages of seven catches, 150 yards and 1.3 touchdowns.
**Of his three career appearances in the state of Texas, Hilton has incredibly amassed 19 catches, 422 yards and five TDs.
5. There's plenty at stake for Sunday's Seattle (10-4) vs. Arizona (11-3) showdown in the desert -- namely the NFC West title (most likely) and home-field advantage throughout the NFC playoffs (even more likelier).
And for the Cardinals, it's also a chance to notch the most regular-season victories in club history (12).
Which brings us to this: In the franchise's 94-year run through Chicago, St. Louis and now Arizona (Glendale), the Cardinals have posted seven combined seasons of double-digit wins -- matching the New England Patriots' output since the 2008 campaign.
6. Here's the upshot to Jordy Nelson dropping a golden touchdown opportunity (90-plus yards) from Aaron Rodgers against the Bills:
Of his previous five games of zero touchdown passes (prior to Sunday), Rodgers holds stellar averages of 324 yards passing/3.2 TDs in the very-next start.
7. Of his last six outings against AFC North foes (including the playoffs), Chiefs tailback Jamaal Charles -- who draws the red-hot Steelers this week -- has notched 100 total yards and/or one TD every time.
In fact, during that span, Charles (33 TDs in his last 28 games) boasts stellar averages of 125 total yards/0.5 TDs.
8. The Jets might only have the NFL's 20th-ranked pass defense, but that's no reason to automatically ride Patriots QB Tom Brady for this week's Fantasy Bowl.
Of his seven career outings against the Jets, citing only the month of December, Brady holds pedestrian averages of 200 yards passing/1.6 TDs. And that includes Week 15 of the 2007 season, at the tail end of a record-breaking year (50 TD passes).
Amid a torrent of heavy rains, cold temperatures and stifling crosswinds, the Hall of Fame shoo-in threw for only 140 yards and zero touchdowns in '07, while single-handedly crushing the playoff hopes of every fantasy owner who rode Brady's coattails to the postseason (and presumably the top seed).
One last thing: For the New York/New Jersey area, Sunday's weather calls for low-40s temperatures and an 80-percent chance of rain.
9. Citing Weeks 7 through 14, spanning eight games, Seattle's opponent went 0-8 the following weekend.
That stat speaks volumes to the Seahawks' physical, pounding nature ... and how most clubs need more than seven days to recover from the NFL's premier defense (nine consecutive outings of allowing less than 325 yards of total offense).
10. I may not be president of the Mark Ingram Fan Club, but it's also important to give proper credit for the following:
Of Ingram's last 13 games of 14-plus touches (including the NFC playoffs), the former Heisman Trophy winner (2009) has rolled for 100 total yards and/or one TD 11 times. And one of the "misses" entailed 97 total yards.
11. Speaking of former Heisman recipients, a hat tip to ESPN (via Yahoo Sports Radio wiz Steve Czaban) for this deflating stat/Tweet (below):
Citing the last 20 years, only six rookie quarterbacks have been shut out in their first NFL starts -- a list that includes 2012 Heisman Johnny Manziel (2014 with Browns) and 1996 Heisman Danny Wuerffel (1997 with Saints).
12. The odds of Ryan Tannehill breaking out of a mini-slump (only two TDs in three games) are long this week.
The Vikings have allowed only one 300-yard passing day all season (Jay Cutler, for what it's worth) ... and haven't surrendered more than one touchdown pass to three consecutive QBs (Cam Newton, Geno Smith, Matthew Stafford).
Of equal relevance, citing Tannehill's 11 career outings against NFC competition, the Dolphins QB has pedestrian averages of 247 yards passing and 1.5 TDs.
13. You can bet the proverbial farm on LeSean McCoy (still a candidate for 1,500 total yards) finding redemption from his 22-yard, zero-TD clunker against Washington ... wayyyyyyy back in Week 3.
In his previous eight outings against the rival Redskins, McCoy collected 100 total yards and/or one touchdown every time. And during that stretch, he averaged 135 total yards and 0.6 TDs.
14. No one has Giants rookie Odell Beckham Jr. (12 catches, 143 yards, three TDs last week) ticketed for the Hall of Fame -- at least yet.
But check out his recent four-game swing, citing rookie campaigns only, when compared to the NFL's all-time listing of top 20 pass-catchers (receiving yards):
And last but not least ...
15. The Jaguars may be making baby steps to relevance under head coach Gus Bradley, strong-armed QB Blake Bortles and progressive GM David Caldwell. But first, the club really needs to end the following drought before next season:
Dating back to the 2012 campaign, Jacksonville has endured 31 straight games without eclipsing 400 total yards.
But help's on the way this week ... in the form of the troublesome Titans -- who have surrendered staggering averages of 399 total yards and 29.2 points since Week 4 (spanning 11 games).
Jay Clemons, the 2008 Fantasy Football Writer of the Year (Fantasy Sports Writers Association), can be reached via Twitter, day or night, at @ATL_JayClemons.
---
---