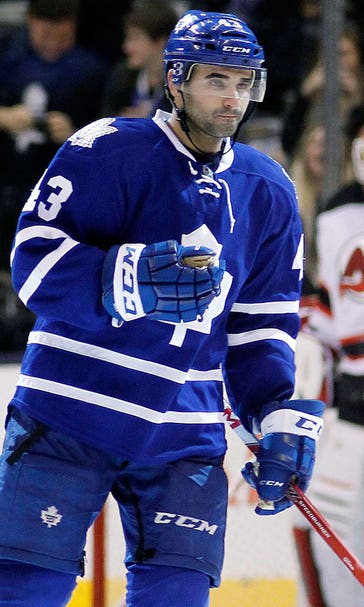 Trade deadline outlook: Toronto Maple Leafs
BY foxsports • February 24, 2016
Buyers or Sellers?
Sellers. The Leafs are rebuilding and they are not afraid to show it, and they already got rid of Dion Phaneuf and Roman Polak. It is hard to imagine there are many players on the Leafs' roster who are untouchable aside from young defenseman Morgan Rielly or top forward James van Riemsdyk. If a team is looking to trade at this deadline, they should probably give the Leafs a call.
Team needs
The better question to ask might be what the Leafs don't need. The team could do with upgrades in every area, although moving pieces on offense will likely be the biggest focus at the deadline as the team has already made significant trades on defense by shipping out Phaneuf and Polak. Do not expect the Leafs to acquire any big names, however, as it seems more likely that the team will simply try to clear up as much cap space as possible in order to position itself better to build for the future.
Key Players
Nazem Kadri
Kadri is one of many players whose contract expires at the end of the season, but he is in the unique position of playing in somewhat of a "prove yourself" year. Toronto signed Kadri to a one-year deal over the summer in the hopes that Kadri would prove to the coaching staff that he can be an elite player. The 25-year-old has done well, posting 30 points (11 goals, 19 assists) in 55 games, but he has not made himself untouchable. Given his age and talent level, Kadri is one of the players on the roster who could command a decent return, so if the right deal comes along, Kadri could be on the move soon.
James Reimer/Jonathan Bernier
Goaltending has consistently been an issue for the Leafs over the past few years, and with prospect Garret Sparks rising up through the system, it would be strange to see the Leafs hold on to both Bernier and Reimer by the end of the season. Bernier has nearly destroyed his trade value by going 6-15-3 in 26 games this season with a .895 save percentage. He is overpriced as well and will be a $4.15 million cap hit next season, so it would be hard to find a team willing to take on that salary. Should an interested buyer come along, however, the Leafs would likely be happy to trade Bernier.
Because Bernier's trade value is so low, it seems more likely that the Leafs would be able to trade Reimer, who is in the final year of his contract with the club. Unless the Leafs are planning to sign Reimer at the end of the season, their best bet would be to trade him now and get something in return rather than letting him walk over the summer.
P.A. Parenteau
The well-traveled Parenteau signed a one-year, $1.5 million deal with the Leafs ahead of this season that screamed rental player. He might be able to command a good return given that Parenteau has been one of the team's most productive players, totaling 30 points (15 goals, 15 assists) and a team-best three game-winning goals through 57 games. If Parenteau was not 32 years old, it could make more sense to keep Parenteau for a few more years, but given his age, Parenteau is not an ideal player for a rebuilding team.
Arielle Aronson covers the NHL and special features for FOX Sports. You can follow her on Twitter @aharonson28.
---
---