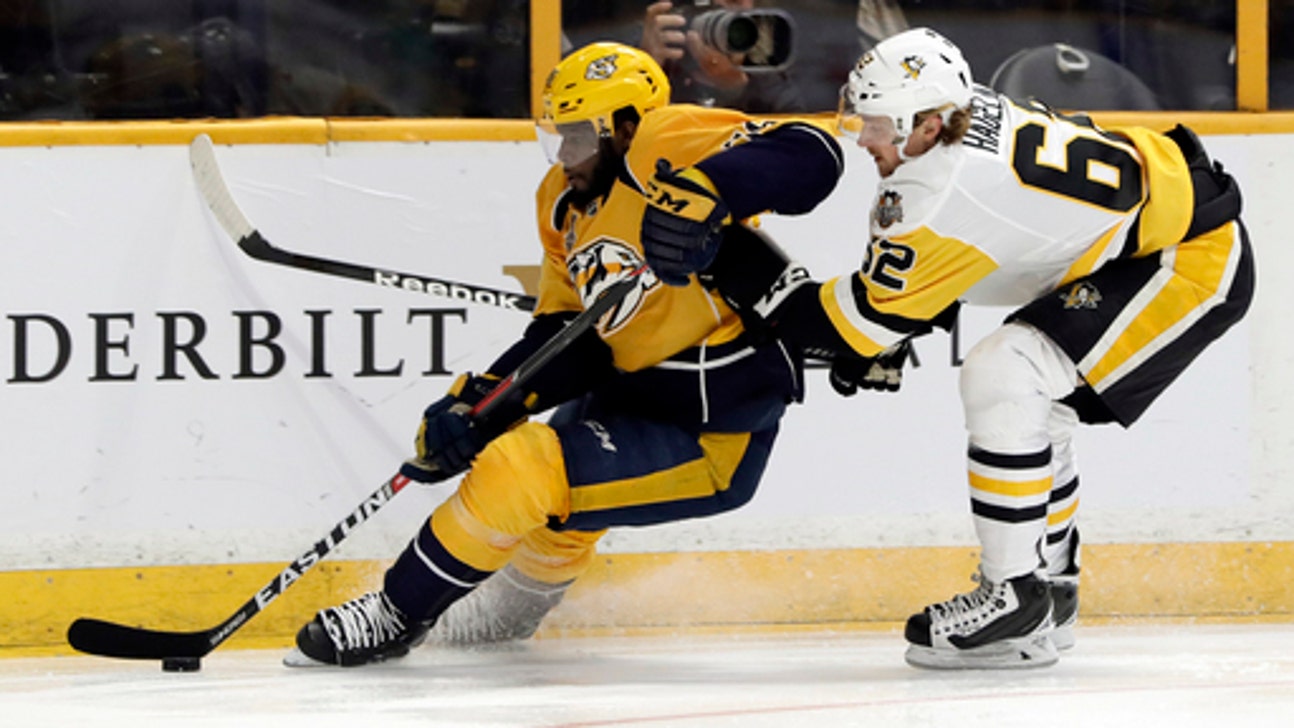 The Latest: Predators beat Penguins 4-1, even Final at 2-2
Updated
Mar. 5, 2020 12:39 a.m. ET

NASHVILLE, Tenn. (AP) The Latest on Game 4 of the Stanley Cup Final (all times local):
10:05 p.m.
Pekka Rinne was spectacular, Frederick Gaudreau scored a tiebreaking goal early in the second period and the Nashville Predators handed Pittsburgh a 4-1 loss Monday night to even the Stanley Cup Final at two games apiece.
The defending champion Penguins will host Game 5 on Thursday night, hoping home ice is an advantage after being outscored 9-2 in losing the two games in Nashville after averaging 4.5 goals in winning the first two.
Nashville's Calle Jarnkrok was the first to get the puck past Matt Murray, scoring 5:09 into the first period. Pittsburgh's Sidney Crosby scored on a breakaway about a minute later. It was his first goal in the Final since 2009, but it wasn't nearly enough.
Gaudreau's goal came on a wraparound, but the horn sounded a little later because of video review. The puck just crossed the goal line under Murray's outstretched stick before he shoved it out of the net.
Viktor Arvidsson gave the Predators a 3-1 lead at the 13:08 mark of the second and they were able to hold onto the cushion against Crosby and Co. With 3:23 left, Nashville sealed the victory with Filip Forsberg's empty-net goal.
---
9:45 p.m.
The Nashville Predators are a hanging on to a two-goal lead against Pittsburgh late in in Game 4 of the Stanley Cup Final, a few minutes away from evening the series at 2-2.
All-Star defenseman P.K. Subban briefly left the ice after Evgeni Malkin's shot hit his left leg with 7:08 remaining. In obvious pain, Subban left the ice, but he returned.
---
9:05 p.m.
Viktor Arvidsson have given Nashville a two-goal lead over Pittsburgh after two periods in Game 4.
He streaked in on a breakaway and beat Matt Murray on his glove side with a laser-like wrist shot.
Arvidsson's third goal of the playoffs gave the Predators a 3-1 lead at the 13:08 mark, moving them a step closer toward evening the Stanley Cup Final at two games apiece.
Arvidsson had not scored a goal since an empty netter in Game 4 against Chicago that finished a sweep of the Blackhawks. He got an assist from Mike Fisher, who pushed the puck ahead as he fell to the ice for his fourth point in the series and first on his 37th birthday.
Nashville is outshooting Pittsburgh 15-14 so far. The Penguins are 0-6 when trailing after two periods this postseason
---
8:35 p.m.
Frederick Gaudreau has scored on a wraparound, giving the Nashville Predators a 2-1 lead early in the second period against the Pittsburgh Penguins in Game 4 of the Stanley Cup Final.
Gaudreau's goal didn't light the lamp right away and play resumed, but the horn sounded a little later because of video review. The puck just crossed the goal line under the outstretched sick of Pittsburgh goalie Matt Murray before he shoved it away.
The 24-year-old undrafted rookie, who didn't score in nine games during the regular season, has three goals in six playoff games.
Moments later, Nashville goalie Pekka Rinne stopped Sidney Crosby's backhander on a breakaway, then slid back to his right to stop Guentzel in a frantic scramble.
---
8:25 p.m.
Pittsburgh captain Sidney Crosby and Evgeni Malkin heard all the questions about not getting a shot on goal in Game 3.
They've taken care of that in the first period of Game 4.
Crosby and Malkin have a shot apiece, and Crosby tied it up at 1-1 with his first goal this series at 15:57. His goal came 66 seconds after Calle Jarnkrok gave Nashville a 1-0 lead.
It was Crosby's first goal in the Final since June 4, 2009, in Game 4 against Detroit - a span of 12 straight games. Pittsburgh leads Nashville 7-6 in total shots in what was a tight first period.
Crosby has now passed Mike Bossy, Gordie Howe, Al MacInnis and Bobby Smith for 20th in all-time playoff points. He has 57 goals and 104 assists, for a total of 161 points.
---
8:05 p.m.
Calle Jarnkrok scored with 5:09 left in the first period, putting the Nashville Predators ahead 1-0 against Pittsburgh.
The lead didn't last long.
The Penguins pulled into a tie a little more than a minute later when Sidney Crosby scored on a breakaway, making it 1-all late in the opening period.
Jarnkrok's goal stood after the Penguins challenged that goaltender interference should have negated the score.
No one challenged Crosby's goal, which came on a backhander after faking a slap shot. It was Crosby's first goal of the series.
---
7:40 p.m.
A fan in Nashville added some flair to the tradition of throwing catfish on the ice, sending one over the glass with a bedazzled top hat and a toy penguin in its mouth Monday night.
A second catfish also hit the ice before Game 4 of the Stanley Cup Final between the defending champion Pittsburgh Penguins and the Predators.
Apparently, the fans didn't get the message from coach Peter Laviolette. He asked them before the game not to throw anything onto the ice.
---
6:50 p.m.
Nick Bonino sure tried to play for the Pittsburgh Penguins. His injured left foot is keeping him out of a second straight game.
The Pittsburgh Penguins' center skated briefly with his teammates before Game 4 in warm-ups. But he banged the boards in apparent frustration and limped toward the locker room He was announced as a scratch from the lineup.
Bonino's left foot took the brunt force of a slap shot from Nashville's P.K. Subban during Game 2 in Pittsburgh and didn't play in Game 3.
His absence leaves the Penguins without a veteran penalty killer. Nashville was 2 of 3 on the power play in Game 3.
---
6:40 p.m.
The Great One would've picked a different one.
In a poll of fans, the 1984-85 Edmonton were chosen as the NHL's greatest team of all time.
''I would've voted for our '87 team,'' Wayne Gretzky said.
The NHL says 3.6-plus million votes over a six-week stretch led to the choice of the Gretzky-led, Stanley Cup winning team that won its second straight title in 1985.
The other teams in the top 10 were the 1991-92 Pittsburgh Penguins, 1976-77 Montreal Canadiens, 1987-88 Oilers, 1986-87 Oilers, 1997-98 Detroit Red Wings, 1982-83 New York Islanders, 1977-78 Canadiens, 1983-84 Oilers and 2001-02 Detroit Red Wings.
---
5:50 p.m.
Charles Barkley has taken advantage of a day off in the NBA Finals and accepted NHL Commissioner Gary Bettman's invitation to come watch the Stanley Cup Final in person.
Barkley interrupted Wayne Gretzky and Paul Coffey talking about NHL fans voting for the best team of all-time.
The former NBA star and now TV analyst says he had nothing to do and is really looking forward to the game. Barkley says the NHL playoffs have been amazing while noting the NBA playoffs have not been very good this spring.
Barkley says he's been watching hockey for years dating back to a team in Birmingham, Alabama, and Ron Hextall is his favorite NHL player of all-time after watching him in Philadelphia. Today, he roots for Columbus defenseman Seth Jones because his father, Popeye, once played in the NBA.
And he calls Stanley Cup overtime hockey the craziest thing anyone will ever see, just one reason why he loves the sport.
---
5:22 p.m.
P.K. Subban seems as if he's still trying to get under Sidney Crosby's skin.
Nashville's All-Star defenseman was seen walked toward his locker room Monday with a bag that appeared to be filled with bottles of mouthwash .
Pittsburgh's superstar has insisted he did not complain about Subban's breath in Game 3 as Subban said he did.
Game on.
---
Laviolette had a message for Nashville fans attending Game 4 of the Stanley Cup Final: Don't throw anything onto the ice.
Five catfish, several towels, a stuffed penguin and a cowboy hat hit the ice Saturday night in the Predators' 5-1 win over Pittsburgh, which pulled Nashville within 2-1 in the best-of-seven series.
The team shared Laviolette's video plea Monday on Twitter hours before Game 4. The coach asks fans to avoid both putting players and officials in danger and penalties.
Police estimated more than 50,000 turned out for the first Stanley Cup Final game in Tennessee on Saturday night. That prompted changes to handle the crowds with only 200 fans with wristbands allowed on the plaza with a downtown amphitheater opened for a watch party.
---
More AP NHL: https://apnews.com/tag/NHLhockey
---
---