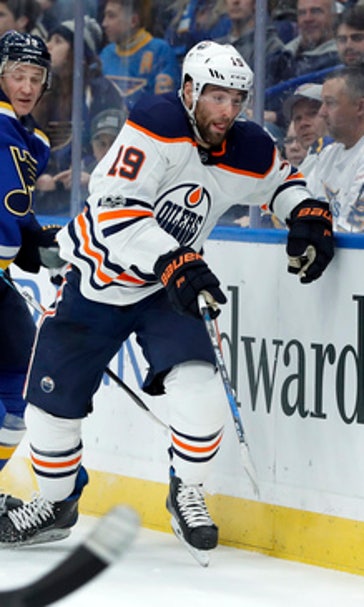 Tarasenko nets 2, gets in rare fight as Blues top Oilers 8-3 (Nov 21, 2017)
BY AP • November 22, 2017
ST. LOUIS (AP) Vladimir Tarasenko dropped his gloves and inspired his teammates.
On a night when he had two goals and two assists , Tarasenko got in a rare fight Tuesday during the St. Louis Blues' 8-3 victory over the Edmonton Oilers.
Brayden Schenn also had two goals and two assists, and Jake Allen stopped 26 shots for the NHL-leading Blues (16-5-1).
Tarasenko's fight came in the second period. In just the third scrap of his six-year career, the skilled forward tangled with Matt Benning and landed a solid right hand much to the crowd's delight.
Tarasenko looked good out there, too.
''Yeah, a couple of boxing lessons,'' he quipped. ''It's part of the game and I don't see anything wrong with it.''
Tarasenko was reacting to Benning's near-collision with Schenn that was almost a knee-on-knee hit.
''I don't fight really often but I think that was on purpose, knee on knee,'' Tarasenko said . ''I don't like that kind of stuff in hockey. I don't want to look like a good fighter but, you know, it happens sometimes.''
Schenn took the blame for the play.
''That was my fault coming through the middle with my head down,'' he said. ''I picked it up at the last second. Maybe I'm lucky it wasn't a bigger defenseman trying to hit me.
''Hats off to him. We don't need that guy fighting. I guess he decided to drop the mitts. He looked at it from a team perspective and he's willing to stand up for his teammates. That goes a long way. When you see our best playing doing that, it makes everyone want to do that.''
Blues coach Mike Yeo held his breath during the fight.
''We don't want Vladdy getting into fights, but he sent a message there,'' Yeo said. ''If you saw the way the bench got up ... I could hear what they were saying.
''It is what it is but again, you don't want a guy like him fighting and he breaks his hand. He did pretty well. He's so strong. But again, that's not what we want him doing.''
It was Tarasenko's second career Gordie Howe hat trick - a goal, an assist and a fight in the same game. The other one came on Nov. 13, 2014, against Nashville.
St. Louis scored two goals in each of the first two periods before adding four in a wide-open third.
Tarasenko got his 11th goal 3:16 into the first period on two deflections. Shooting from the slot, he scored when his shot hit Connor McDavid's stick and then Adam Larsson's stick for a 1-0 lead.
Tarasenko has 14 points in his last 13 games (nine goals, five assists) against the Oilers.
The Blues made it 2-0 when Dmitrij Jaskin scored at 7:35. He outmuscled Ryan Strome for the puck in the right circle and hit a rising wrist shot threw sailed over Edmonton goalie Cam Talbot's left shoulder.
The Oilers pulled Talbot, who faced just three shots, in favor of Lauren Brossoit. It was the third time this season Talbot, who has started 105 of Edmonton's last 116 games, has been pulled.
Brossoit faced 37 shots and allowed six goals.
St. Louis went up 3-0 when Jaden Schwartz knocked in the rebound of a shot by Tarasenko. Brossoit kicked out Tarasenko's shot and it went right to Schwartz, who snapped in a wrist shot from the high slot at 3:52 of the second.
It was the 100th career goal for Schwartz, who had three points.
''Good to hit it but obviously I want to get a lot more,'' Schwartz said. ''It's exciting. I never imagined doing that as a young kid.''
A goal by Schenn from the slot made it 4-0 with 19 seconds left in the period. Schwartz fed Schenn with a pass and he one-timed the puck by Brossoit.
Edmonton cut it to 4-1 when Milan Lucic scored at 6:09 of the third. St. Louis got the goal back when Scottie Upshall scored from just outside the crease on a pass from Chris Thorburn at 7:39.
Tarasenko added his second goal at 12:21 for a 6-1 lead. Schenn scored on a power play at 14:37.
After Leon Draisaitl scored for Edmonton, the Blues responded with a goal by Paul Stastny.
Darnell Nurse scored the Oilers' final goal.
''The game was indefensible on my behalf,'' Edmonton coach Todd McClellan said. ''In every facet of the game, we were second. It wasn't even close and I'm very, very concerned obviously the way some individuals played tonight.
''That's about as poor as I've seen our group of defensemen play in my three years here.''
NOTES: Veteran defenseman Jay Bouwmeester, a two-time All-Star, played his first game of the season for the Blues. He broke his left ankle when he was hit by a puck on the third day of training camp in September. ... McDavid played after missing practice Monday with flu-like symptoms. ... With Bouwmeester back, D Carl Gunnarsson was a healthy scratch for the Blues. ... St. Louis is 10-2 in its last 12 games at home. ... Edmonton is 1-5 in its last six games. The Oilers are 3-9 in their past 12 on the road, losing four straight away from home.
UP NEXT
Oilers: At the Detroit Red Wings on Wednesday.
Blues: Host the Nashville Predators on Friday.
---
More NHL hockey: https://apnews.com/tag/NHLhockey
---
---