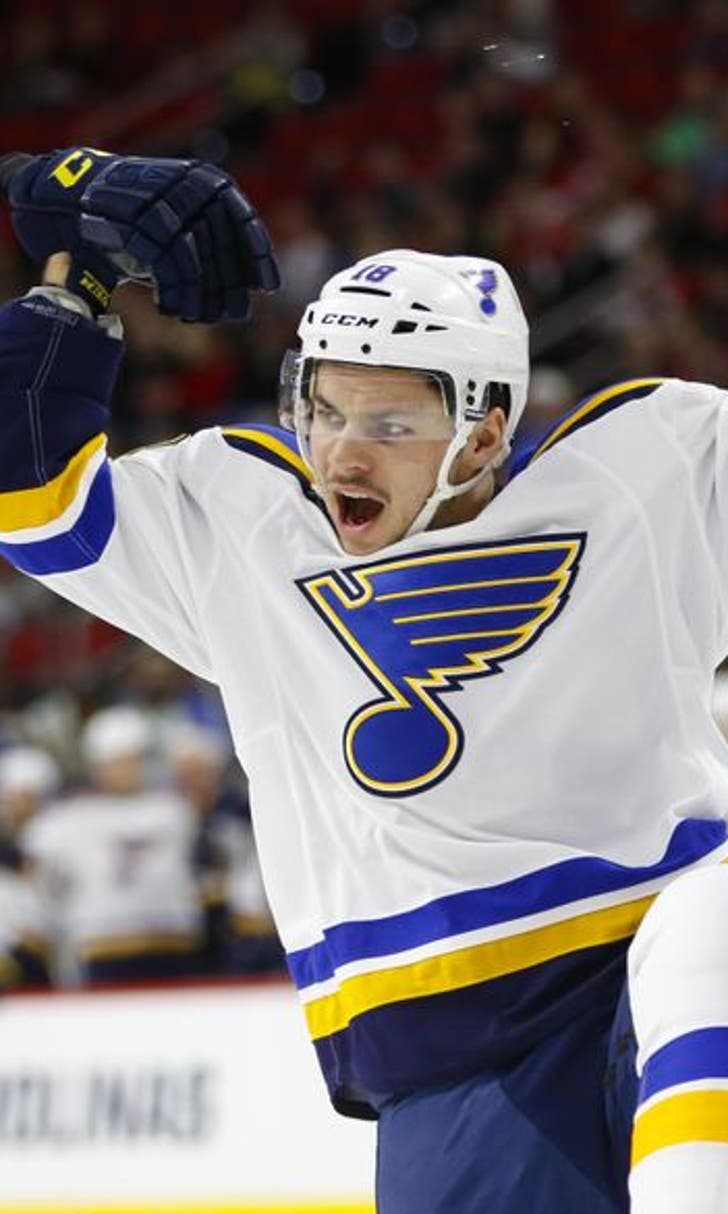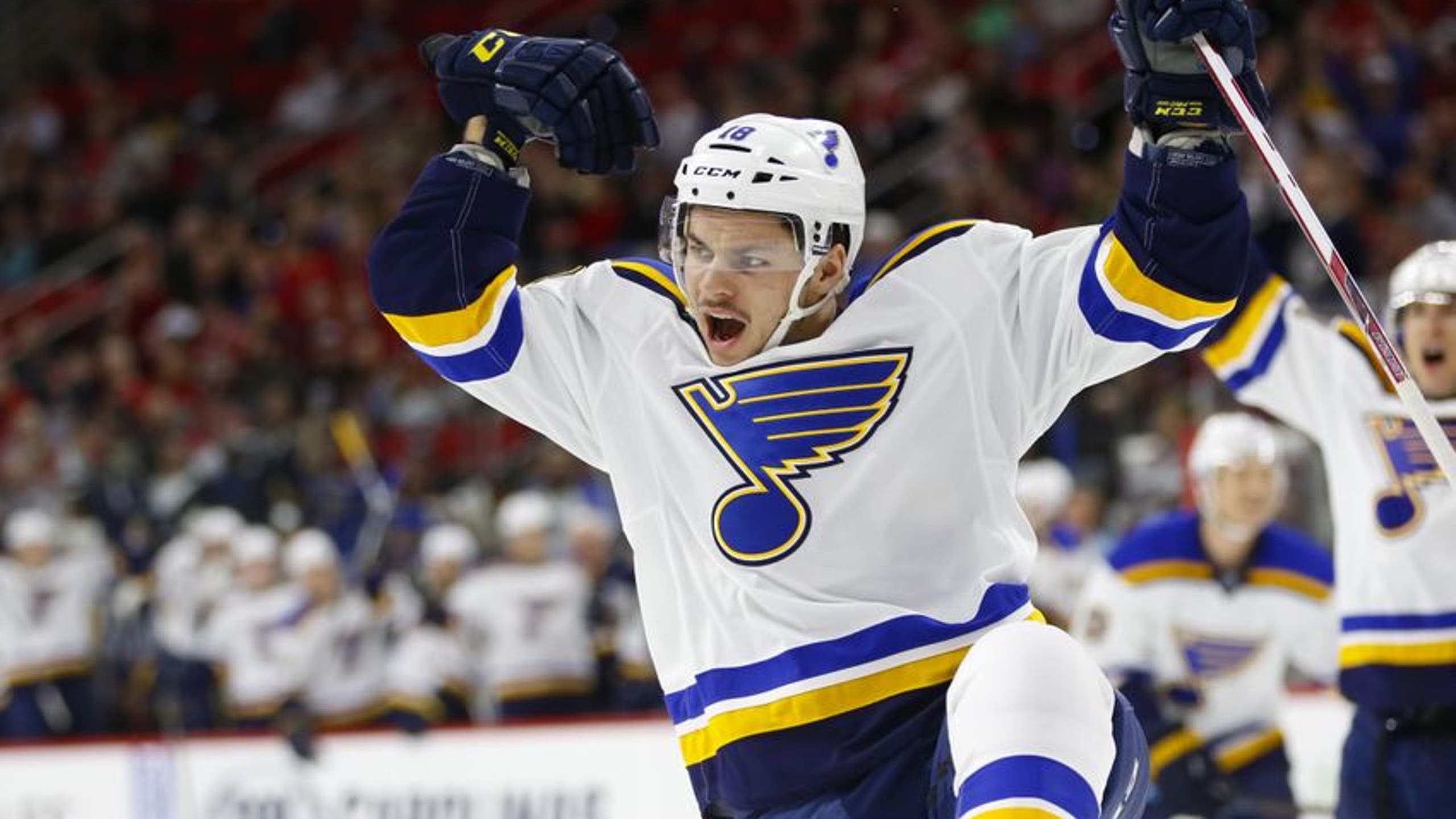 St. Louis Blues: Ty Rattie Is Thankfully Gone At Last
BY Fansided and Todd Panula/FanSided via Bleedin' Blue • June 30, 2017
The St. Louis Blues gambled on Ty Rattie twice for the 2016-17 season. Given the end result, they lost both times. Now he will get his chances elsewhere.
The St. Louis Blues put Ty Rattie on waivers a day after the Winter Classic. He was claimed off waivers the following day by the Carolina Hurricanes.
Thankfully, we will never have to see that awful mustache just above the blue note any more. In all seriousness though, the Blues lost a player with some good upside but one who had not managed to show anything yet at the NHL level.
The Blues gambled on Rattie twice this year and lost both times. The first time was clearly the contract they gave him.
There was nothing really wrong with the deal. A one-year, one-way deal was a reward for Rattie keeping his nose to the grindstone and being a "good soldier" as Ken Hitchcock put it.
However, the gamble did not pay off. Rattie supporters point vigorously at Hitchcock for providing no chances for the youngster.
That is very true. However, even someone as even keel as Jeremy Rutherford has pointed out in the past that Rattie was not doing enough to earn those chances either.
Everything was just working against Rattie in this scenario. He's not very big, doesn't play a strong style, was not a consistent point producer but did not have the game/style to get a spot on the fourth line.
That is probably why the Blues put him on waivers in the first place. Most teams have their rosters pretty well figured out at this point, if you are a contender, and Rattie doesn't fit on most team's fourth lines.
So, that was gamble number two. St. Louis was hoping they could get Rattie down to the AHL and get him games there.
Instead, he will either get games or continue to sit in the press box in Raleigh, North Carolina now. Let us hope, for the player's sake, this is not an NFL style move where the acquisition is only to gain knowledge of an upcoming opponent. The Blues play the Hurricanes immediately after the deal, in case you did not know.
While my title is somewhat in jest, it actually is a good thing he is gone. He might actually get to flourish in a different spot.
I don't blame Hitchcock for his lack of development like some do. Hitchcock's job is to win games and Rattie was not doing that for him. People can scream about favoritism until they are blue in the face, but like the menagerie of players used in the St. Louis Cardinals' middle infield, you cannot let them just continue to play while the team underperforms and hope they find that spark.
I like the kid and root for his future, but he had not done anything to earn more chances this year. No points and not playing any more than eight minutes in one game just doesn't cut it even if you've only had four appearances.
Dec 11, 2016; Saint Paul, MN, USA; St Louis Blues defenseman Brad Hunt (77) shoots in the first period against the Minnesota Wild goalie Devan Dubnyk (40) at Xcel Energy Center. Mandatory Credit: Brad Rempel-USA TODAY Sports
People talk lack of chances, but others made the most of theirs. Wade Megan scored in his first and only game. Brad Hunt had four points in his first four games of the season.
There is no denying that he was not going to fit into Hitch's plans though. If the team was healthy, Rattie did not have a place in the lineup.
When there were injuries, he still was not the man looked to to fill the gap. So, a change of scenery was exactly what was best for his game.
The Blues also had to consider their other options. It stinks to lose a player with no compensation, but they have plenty of wingers in the waiting.
Kenny Agostino is currently one of the AHL's leading scorers with 15 goals and 46 points. Megan and Ivan Barbashev are also in the top ten in scoring.
They are all left wingers or centers and Rattie played on the right, but that doesn't take away the point. There are other players that deserve a look just as much as Rattie did and might still not find a way to get it this season.
Even Hitchcock acknowledged as much. "All you've got to do is look around the Chicago Wolves right now and go look at the scoring in the American Hockey League, and there's three in the top 10," said Hitchcock.
"There's players down there that have earned the right to play. They're champing at the bit. There are three guys down there that want a chance to play and they're earning it every day. They're playing great, they're playing well, they're collecting points, they're scoring, they're playing hard minutes every night. They want a chance to play here. We can't lose sight of that either."
Add to those names the likes of Tage Thompson, who may not feel another year of college is necessary. Nail Yakupov is waiting for more playing time as well.
Losing Rattie is a blow to team depth, but not much more. The Blues gambled with him and lost, but it is not as though they bet the farm.
The loss of Rattie is little more than losing your spare change in a poker night with your buddies. Sure, you'd like to still have that stack of quarters, but it's not going to break you.
For his own sake, I hope Rattie succeeds. From the Blues perspective, I just don't think there was ever going to be a real opportunity even after the coaching change.
More from Bleedin' Blue
This article originally appeared on
---
---