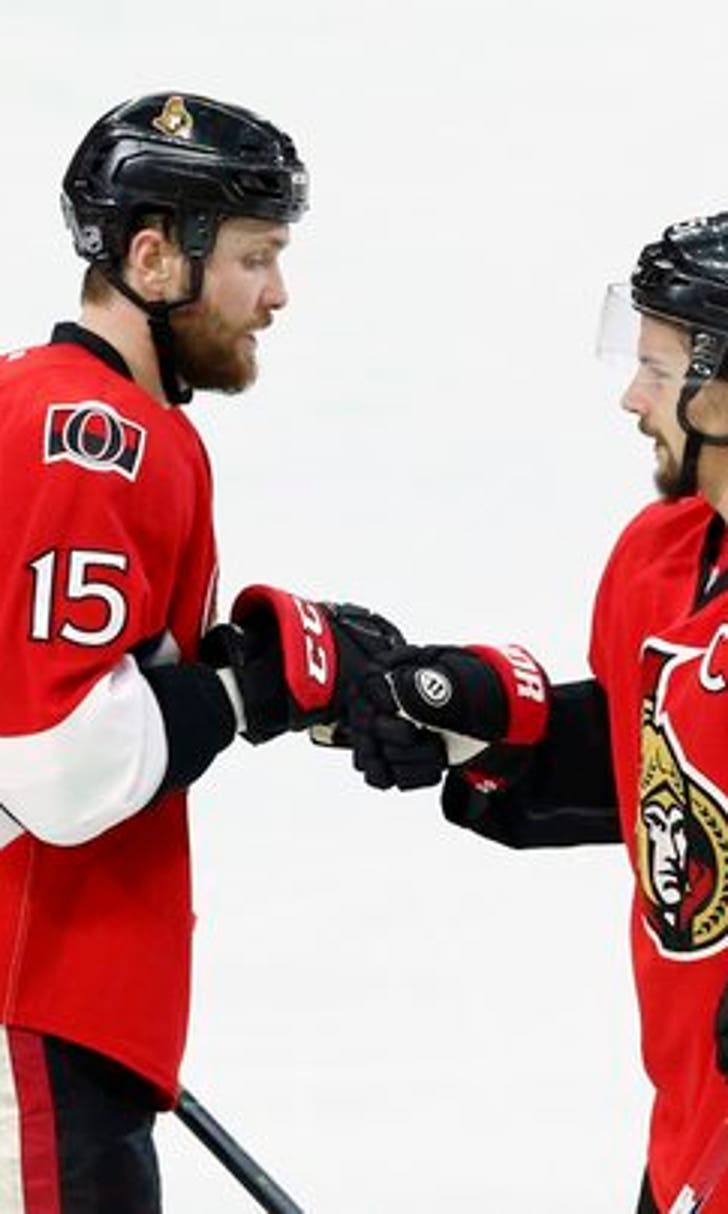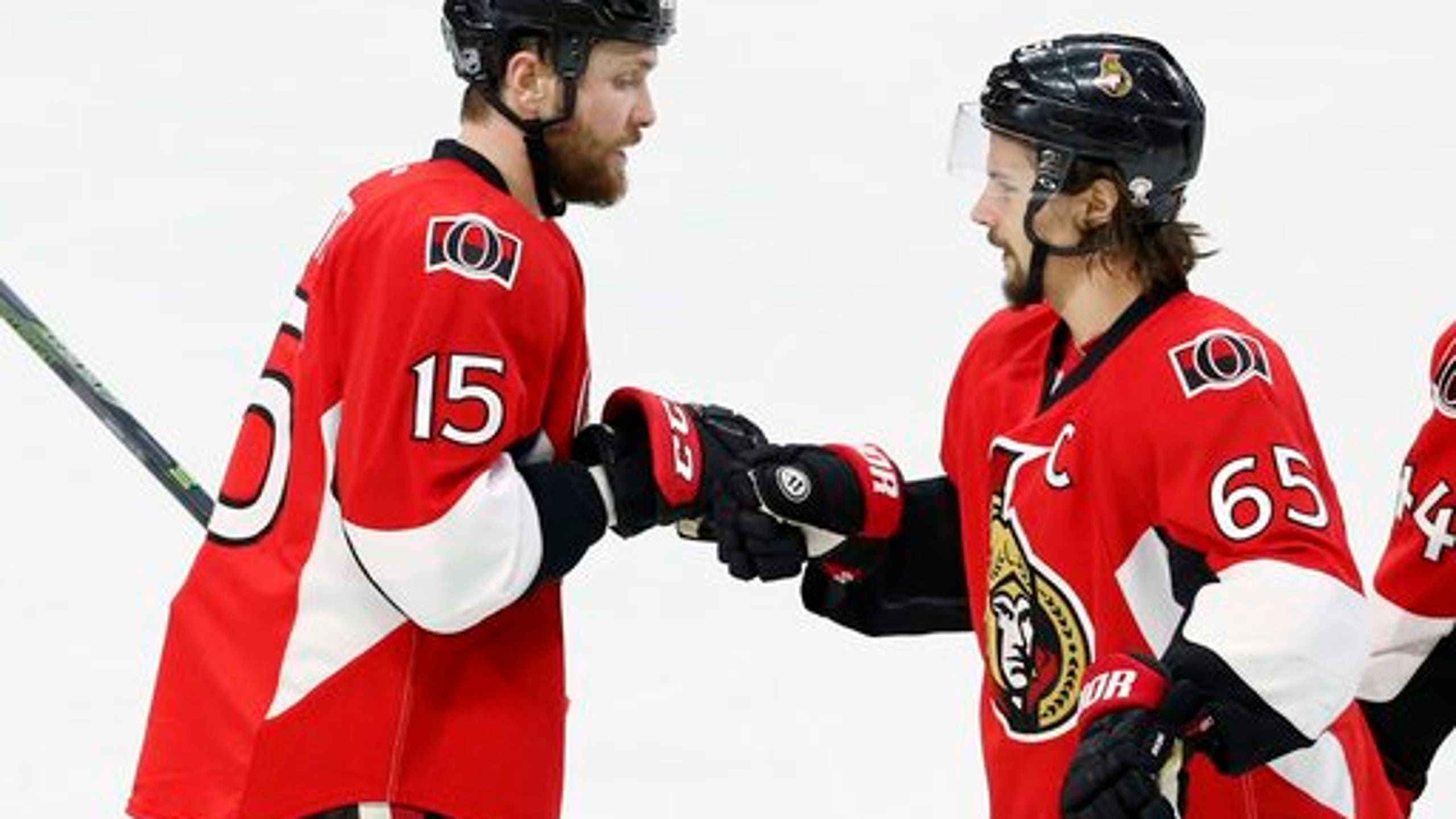 Senators snap three-game skid with 3-1 win over Devils (Dec 17, 2016)
BY AP • December 17, 2016
OTTAWA, Ontario (AP) Mark Borowiecki found a unique way to break the tension in a tight game against the New Jersey Devils.
Derick Brassard scored the go-ahead goal early in the second period, Mike Condon stopped 29 shots and the Ottawa Senators beat the Devils 3-1 on Saturday night to snap a season-high three-game losing streak.
Bobby Ryan scored in the first period and Zack Smith added an empty-netter for the Senators.
However, everyone was talking about Borowiecki after the game. For about 30 seconds midway through the third period the Devils controlled the puck in the Ottawa zone while Borowiecki stumbled and fell about five times after losing his skate blade. Referee Tim Peel finally blew the play dead allowing Borowiecki to make his way to the bench and get his skate repaired.
''It was a very serious moment in the game and (the Devils) were throwing the puck around and then I saw (Borowiecki) fall and I couldn't help but chuckle when he fell on his butt so hard,'' Condon said. ''I talked to the ref after and he said `that's not hockey and I had to blow the whistle.' Thankfully he blew it down.''
Borowiecki also had a postgame laugh about the incident and said it was the second pair of skates he broke in the game.
''My blade holder cracked in half and I lost my steel and when that happens you can't stand up. It's impossible,'' he said. ''I'm pretty sure I have two bruised hip bones right now from falling so much. You can laugh about it now. (Chris Kelly) said Timmy Peel was so disgusted with me on that shift he just finally blew it down.''
John Moore scored and Keith Kinkaid finished with 28 saves for the Devils, who have lost five straight.
The Senators entered the third period up 2-1 and needed a great save from Condon in the final minute before Smith scored into the empty net with 14 seconds to play.
Despite Borowiecki's moment of comedic misfortune, Senators coach Guy Boucher thought his club played a textbook third period - not allowing the Devils to score while holding them to six shots.
''Winning teams, that's what they're able to do,'' Boucher said. ''I like that twice we took away back doors, which has hurt us lately. I really like that we had a back door, box up mentality.
''(Cody) Ceci saved one, (Dion) Phaneuf saved one, our forwards were really looking for that back-door guy, so I think we got better. It was a solid, shutdown third period.''
Ottawa went up 2-1 at 1:14 of the second period when Brassard tipped a shot by Zack Smith past Kinkaid. That goal was changed after originally being credited to Smith.
The Devils nearly tied the game a few minutes later when Taylor Hall beat Condon with a shot from the slot, but after hitting the post the puck was swept away by Dion Phaneuf.
The Senators got the game's first goal four minutes in thanks to a little leg work from Smith. Chris Kelly took a shot that was redirected by the knee of Ryan in front of Kinkaid.
Kelly was originally credited with the goal but following further review it was changed to Ryan.
The Devils tied the game just shy of the 11-minute mark of the first period when Moore beat Condon with a point shot. Mike Cammalleri picked up the assist on the goal, giving him his 600th NHL point.
''You hit a milestone and it gives you a moment to reflect,'' Cammalleri said. ''I'm a romanticist when it comes to sports and it for me it makes me think of all the people that support you and all the time you've enjoyed playing this game.
''But it's only a moment of reflection because you get right back to trying to win a hockey game.''
NOTES: Ben Harpur, Craig Anderson and Mike Hoffman were the scratches for the Senators, while Beau Bennett, PA Parenteau and Pavel Zacha were scratches for the Devils ... F Casey Bailey, acquired along with defenseman Dion Phaneuf last season, made his Senators debut Saturday. ... F Jean Gabriel Pageau played his 200th NHL game, all with the Senators.
UP NEXT
Devils: At the New York Rangers on Sunday night.
Senators: At the New York Islanders on Sunday night.
---
---