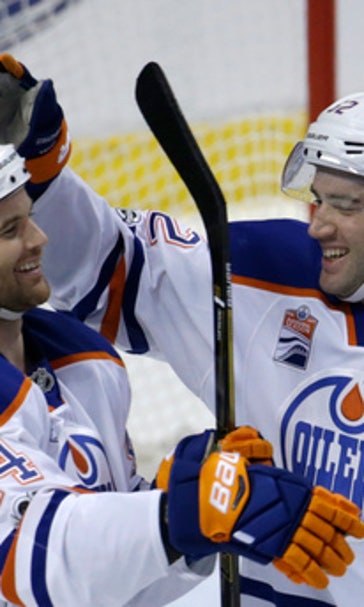 Russell scores in 3rd to lift Oilers over Panthers, 4-3 (Feb 22, 2017)
February 22, 2017

SUNRISE, Fla. (AP) The last time Edmonton lost a road game at Florida, Connor McDavid was 5 years old.
He's 20 now. And he wasn't about to let the streak end just yet.
McDavid helped set up Kris Russell's winner with 7:58 left, and the Oilers beat Florida 4-3 on Wednesday to snap the Panthers' five-game winning streak.
''Happy that the leaders took care of a few things,'' said Oilers coach Todd McLellan, who lauded his team for a bounce back after a lackluster effort Tuesday in a loss to Tampa Bay. ''We got tremendous games from guys that had a lot of trouble last night.''
McDavid carried the puck into the Florida zone on the right wing before sending it over to Leon Draisaitl. He tapped it to Russell, who came down the left side almost unnoticed for what became his first goal since Feb. 11, 2016 - when he played for Calgary.
Fellow defenseman Oscar Klefbom also scored for Edmonton, as did Zack Kassian and Ryan Nugent-Hopkins. The Oilers played half the game without defenseman Andrej Sekera, who suffered what McLellan called a soft-tissue or muscle injury and will be evaluated again Thursday.
''They're playing real well right now,'' Russell said of the Panthers. ''And I thought we answered well.''
Aleksander Barkov, Colton Sceviour and Jonathan Marchessault scored for Florida. Keith Yandle had two assists for the Panthers, giving him 400 points for his career.
''Lot of good stuff,'' Panthers coach Tom Rowe said. ''Last 11 games, we're 8-2-1. ... We're going to look at the positives. I thought there was a lot of good stuff. It was a good game. We just didn't get the bounces.''
Cam Talbot stopped 31 shots for the Oilers, who have won their last eight games at Florida - last losing on the Panthers' ice in 2002. James Reimer made 31 saves for the Panthers, who just completed a 5-0-0 road trip.
The Panthers trailed for 93 seconds on their five-game road trip. They trailed for the final 14:42 of the first period alone in this one, after Klefbom's unassisted goal opened the scoring.
From there, the trend of the night emerged: Edmonton would lead, and Florida would come back. It worked three times - but not a fourth.
''Got to give them credit,'' Yandle said. ''They played well. Their goalie played well. Talbot played well. Just one of those things where a mistake here and there kind of cost us.''
Florida knotted the game on a power-play goal from Barkov 21 seconds into the second period. Kassian made it 2-1 midway through the second on a goal that was originally credited to Eric Gryba, only to have Sceviour answer for Florida five minutes later. And when it seemed like Edmonton would take a 3-2 lead into the third period, the Oilers quickly gave the advantage back.
Nugent-Hopkins' goal off a rebound with 1:01 left in the second gave Edmonton its third lead, but Matt Hendricks was whistled for holding five seconds later. And just as it did to start the period, Florida finished the second by cashing in on the man advantage - with Marchessault scoring with four seconds left to send the teams into the final 20 minutes tied yet again.
''We did a really good job of not letting up,'' Nugent-Hopkins said. ''They pushed back a lot but we found a way to get it done.''
NOTES: The two leading scorers in NHL history were at the game - No. 1 Wayne Gretzky appeared on the Panthers' telecast during the first intermission, and No. 2 Jaromir Jagr was on the ice for Florida. ... Not only was Wednesday the 37th anniversary of the U.S. Olympic hockey team's 4-3 ''Miracle on Ice'' upset of the Soviet Union in Lake Placid, it was the 19th anniversary of Jagr and the Czech Republic beating Russia 1-0 for the gold medal at the Nagano Games. ... Trocheck left the game with an upper-body injury in the second period but returned in the third. ... Talbot has appeared in more games (54) than any goalie this season.
UP NEXT
Oilers: Visit Washington on Friday.
Panthers: Host Calgary on Friday.
---
---