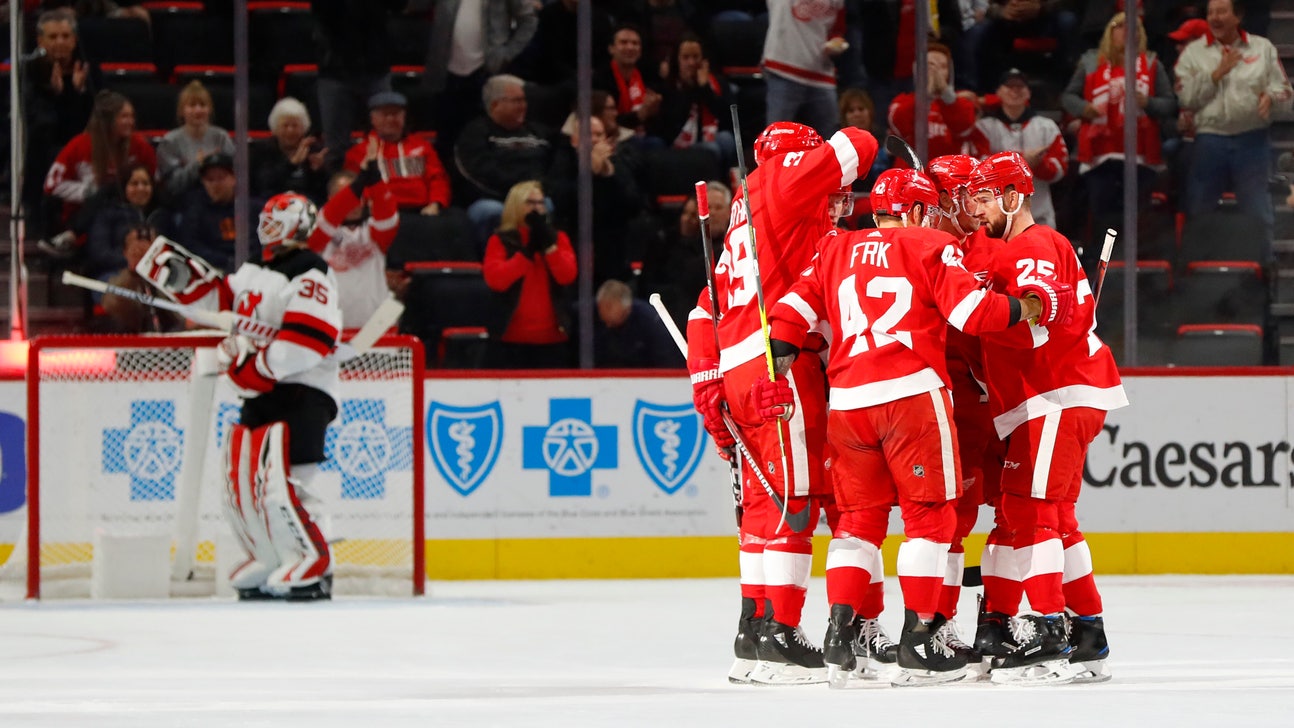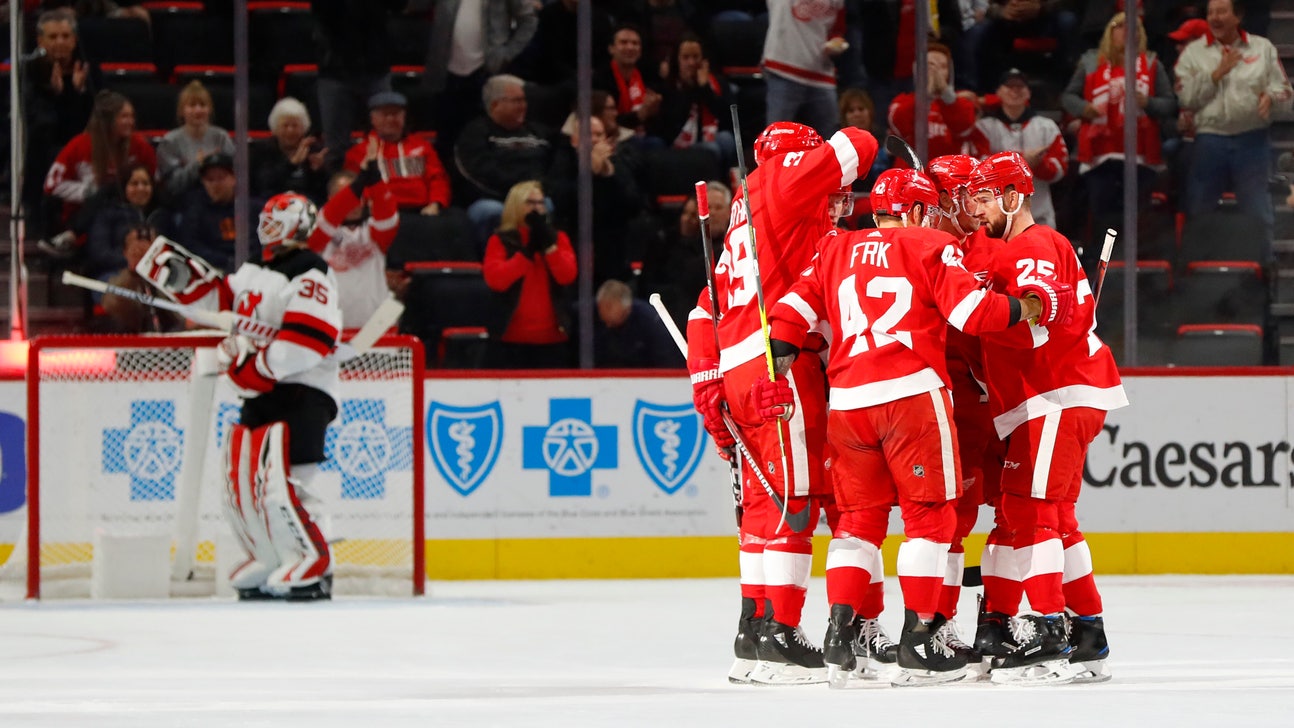 Red Wings beat Devils 4-3 with 2 short-handed goals in 3rd
Updated
Mar. 4, 2020 11:41 p.m. ET
DETROIT (AP) — The Detroit Red Wings earned and got some breaks while extending their season-high winning streak to three games.
Justin Abdelkader scored a short-handed goal midway through the third period and Trevor Daley put the puck in an empty net for another short-handed score in the final minute, helping Detroit beat the New Jersey Devils 4-3 on Thursday night.
"We're getting some bounces," Detroit defenseman Niklas Kronwall said.
The Devils pulled goaltender Cory Schneider with about 1 1/2 minutes left and a Detroit penalty gave them a two-man advantage. Daley cleared the puck from below Detroit's goal line and it caromed off the boards and into the net with 42.8 seconds left, giving the Red Wings a two-goal lead they needed.
"I wouldn't say it was luck," Devils coach John Hynes said. "They won the faceoff clean and wound up getting a good bounce. They dug in, won the faceoff, won it clean, and had an opportunity to at least have a chance to make that type of play."
Marcus Johansson scored for New Jersey with 4 seconds left on a goal that stood after review.
Jimmy Howard made 25 saves for the Red Wings, who dropped their first seven games and nine of their first 10 overall in the worst start in franchise history.
"Momentum is a huge part of this league, and that's helping us a lot right now," coach Jeff Blashill said.
Schneider stopped 27 shots for the Devils, who have lost five of six after opening the season with four wins.
"I think right now there's a confidence issue," Johansson said.
Hynes insisted he's not concerned.
"You don't instill confidence in anybody. You earn your confidence," he said. "When we decide to play the right way and get more competitive and do the right things, that's when confidence comes in."
Michael Rasmussen pulled Detroit into a tie with a power-play goal at the 4:59 mark of the third shortly after Sami Vatanen put New Jersey ahead.
Detroit's Martin Frk scored 7:54 into the game on a power play. New Jersey's Blake Coleman tied the game late in the second.
Luke Glendening took the puck away from New Jersey's Will Butcher in Detroit's end to set up Abdelkader's go-ahead goal. The forward carried the puck up the ice and got a shot on net, leading to Abdelkader scoring off the rebound.
"I'm the most important penalty killer, and I didn't do a good enough job," Schneider said. "They got two special-teams goals off rebounds and I really think I should have had their first power-play goal. It was a hard shot, but I need to get around to that."
Hynes disagreed with Schneider's assessment of his performance.
"I thought he played pretty well for some of the looks he got, some of the traffic, he made some big saves," Hynes said. "From his part, that's an encouraging sign for us."
NOTES: Wade Megan, a 28-year-old center, made his Detroit debut and played in his fourth NHL game. He took Joe Hicketts' roster spot after the 22-year-old defenseman was sent to the AHL's Grand Rapids Griffins. ... The Devils scratched F Stefan Noesen with an upper-body injury.
UP NEXT
Devils: Travel to play the New York Islanders on Saturday night.
Red Wings: Host Edmonton on Saturday night.
---
---