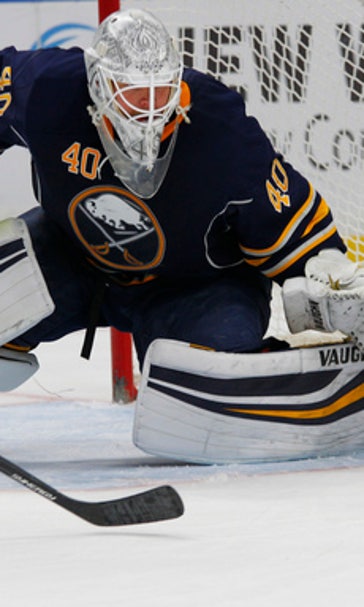 Rasmus Ristolainen scores in OT, Sabres beat Islanders 3-2 (Dec 16, 2016)
December 16, 2016

BUFFALO, N.Y. (AP) Rasmus Ristolainen has just two goals this season. Both have been game-winners for the Buffalo Sabres.
The defenseman scored 42 seconds into overtime to give the Sabres a 3-2 comeback victory over the New York Islanders on Friday night.
''I love to play overtime,'' said Ristolainen, who also scored in the extra period in Buffalo's 4-3 victory over Edmonton on Dec. 6.
Johan Larsson and Matt Moulson scored in regulation, and Ristolainen had his team-leading 19th assist to help the Sabres win their second straight game. Robin Lehner made 33 saves.
''We battled at the end and we found a way to win,'' Ristolainen said. ''We never give up and we're having fun and we trust each other.''
Ryan Strome and Alan Quine scored for New York, and Jean-Francois Berube made 34 saves in his first start of the season.
The Islanders have lost four in a row. They have had a lead or been tied entering the third period of each game.
''We play a good 40 minutes and the third period we kind of seem flat,'' Strome said. ''It's kind of been the downfall of our team this year, our third periods and finding ways to win.''
Ristolainen scored the winner on an odd-man rush, receiving a pass from Kyle Okposo in the slot and sending a wrist shot over Berube's glove.
Ristolainen is the fourth Sabres' defenseman to score two overtime winners in his career.
''It's good to get points from guys back there, and he's got a lot of poise,'' Okposo said. ''He makes plays and he creates offense, and you need that. He's our No. 1 D-man for a reason.''
Okposo, the Buffalo points leader, was playing against his former team for the first time.
''It was strange, to be honest with you,'' Okposo said. ''So many times you play with those guys. I know exactly what they're going to do. It was an odd game, an odd feeling.''
Moulson tied it at 2 for Buffalo on a power play 3:19 into the third period. Berube could not control the rebound from Evander Kane's long shot, and Moulson's backhand bounced in off the skate of Islanders defenseman Thomas Hickey.
''That's kind of how things have been going for us lately,'' Price said. ''It's frustrating. We're playing well, can't seem to get the bounces in the third and overtime.''
Islanders coach Jack Capuano was pleased with his team's effort on the second night of a back-to-back, but said taking two penalties in the third period killed New York's momentum.
''It's frustrating to me that the guys worked this hard and they can't get the win,'' Capuano said. ''I was just hoping we could stay disciplined in the third period, and we didn't.''
The Islanders showed little fatigue from playing in Chicago on Thursday night, generating several early scoring chances against a Sabres team that was off for two days.
New York had a 16-7 advantage in shots on goal in the first period and took a 1-0 on Strome's straightaway wrist shot with 6:52 remaining.
The Sabres showed more urgency in the second and tied it 2:32 into the period when Larsson re-directed Rasmus Ristolainen's shot from the point past Berube.
Quine scored on a power play to put the Islanders back in front 2-1 at 6:39 of the second period. Shane Prince slid a pass across the crease to Quine for the one-timer.
Both teams' stars were shaken up during the game.
Concussion spotters pulled Jack Eichel from the game after he was shoved head-first into the boars by New York's Johnny Boychuck late in the third period. Eichel took part in the ensuing power play before going to the dressing room. He returned before the end of the third period.
Islanders captain John Tavares also left briefly in the second period after getting hit in the leg but was able to return.
NOTES: Sabres D Zach Bogosian (knee) sat out his 20th straight game. Bogosian and D Tyler Fedun (upper body) both skated Friday morning and one of them will enter the lineup on Buffalo's upcoming two-game road trip, coach Dan Bylsma said. Fedun has missed five games. . Islanders F Casey Cizikas (upper body) did not play after getting injured Thursday night. ... Ristolainen has a point in five straight games, the longest streak of his career.
UP NEXT:
Islanders: Host Ottawa on Sunday night.
Sabres: At Carolina on Saturday night.
---
---