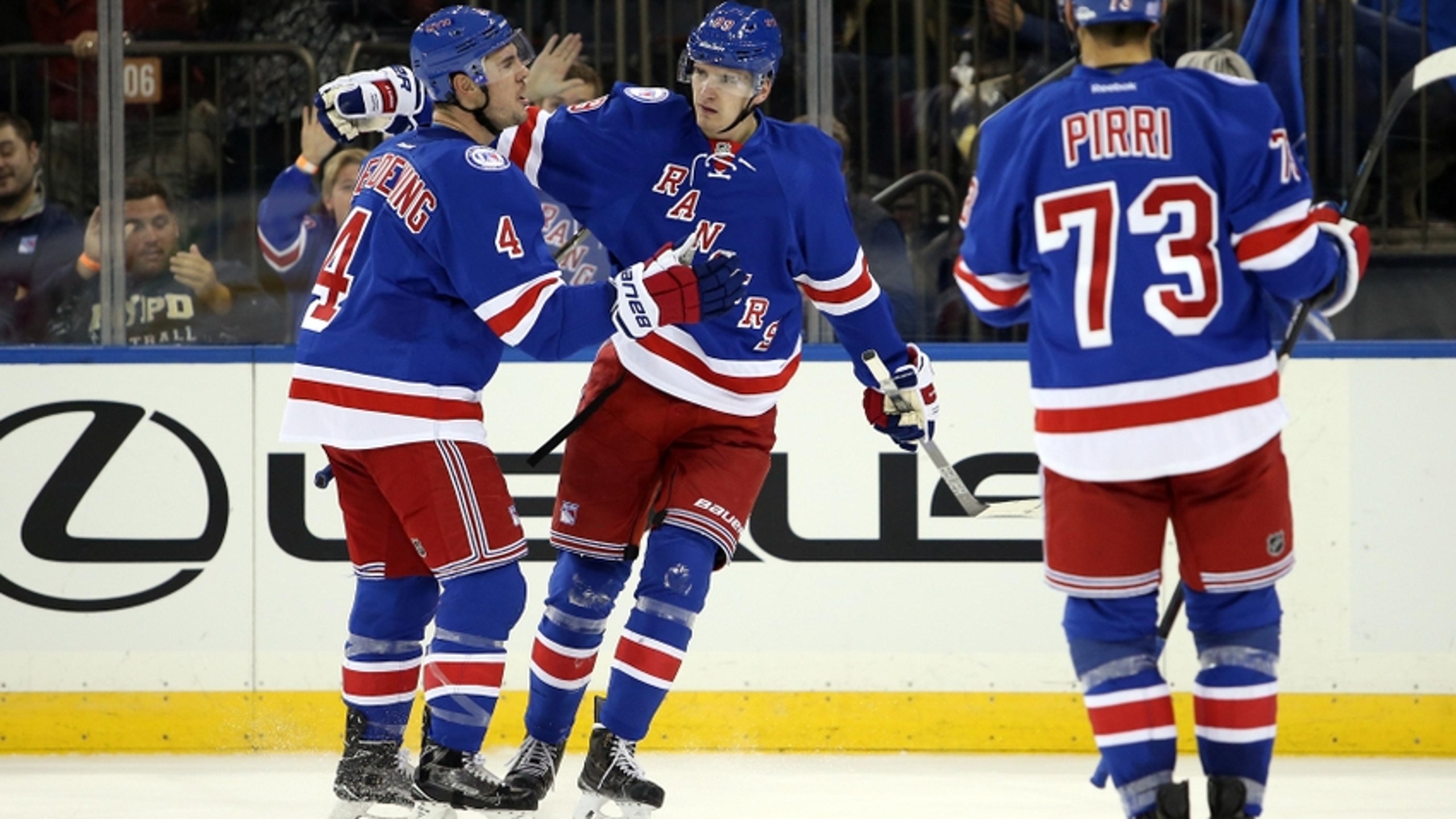 New York Rangers: Understanding Adam Clendening's Role
BY Fansided and Brandon Cohen/FanSided via Blue Line Station • December 15, 2016
Since the beginning of the season, Adam Clendening has been an enigma among those discussing the New York Rangers. By some, Clendening has been deemed the savior of the defense. By others, Clendening is useless. Let's take a look at the defenseman and his standing on the team.
Adam Clendening is an offensive defenseman that has played for five NHL teams, being employed by one other. Adam Clendening is 24 years old. 24 year old 2nd round draft picks are not often employed by six different organizations for good reason. If they are good enough, they find a way to stick. If they are not, they end up toiling away in the minors.
With Clendening, six different organizations have seen offensive talent worth taking a look at. Clendening moves the puck with speed, makes quick decisions, and in small samples has shown he can be a possession wizard. In a league growing smarter, taking a flier on a player with that skill-set is a no brainer.
However, given that skill-set and the Rangers' current defense, there has been plenty of confusion surrounding his value to the team. Exhibit A:
As you can see from the exchange above, the New York Rangers' 7th defenseman has sparked plenty of discussion. Given Clendening's reputation as a possession savant, there has been backlash from those that do not believe in possession numbers being indicative of success.
We have argued here at Blue Line Station that Clendening must be in the lineup. We are not backing down from that assessment. Instead, there must be elaboration on Clendening's ideal role for the Rangers. Let's explore.
New York's defense has struggled to find the scoreboard, push possession play, and make quick passes out of their own zone. The trio of areas in which Clendening is most known for, the Rangers have struggled in the most. The simple solution in hand given that evidence is to give Clendening a fair shot to make a difference.
Clendening has played in eight games this season, boasting three points despite playing over 15 minutes only four times. In those eight games, Clendening's 59.5 Corsi For Percentage ranks 2nd on the team, and first among defensemen. The next best defenseman is Kevin Klein at 48.6%.
Given Clendening has only played in eight games, his sample size is small. In his career, Clendening owns a 49.2 Corsi For Percentage, hardly an awe-inspiring number. This context is crucial when considering Clendening's value to the Rangers.
The Rangers currently have two-way defenseman Ryan McDonagh and Brady Skjei, mixed-bag Nick Holden, and a trio of polarizing "defensive" defensemen in Dan Girardi, Kevin Klein, and Marc Staal. Staal's game has improved since last season, and he is a right-handed defenseman, so he will be taken out of the equation.
We are now left with two two-way defensemen, two "defensive" defensemen, and Adam Clendening. We see a Rangers offense struggling in areas Clendening succeeds in, and the lack of an offense-first defenseman. With that context in mind, giving Clendening a fair chance to make a different with an extended look in the lineup is a no-brainer.
While Clendening may fail to make an impact, the Rangers will know they explored their options. If Clendening succeeds, the Rangers can rotate the Clendening-Girardi-Klein trio, keeping all of the defensemen fresh, or plug Clendening into the lineup full-time, while Girardi and Klein rotate.
There are plenty of options for the Rangers, but there is also a truth that must be understood. While Clendening can bring attributes not currently in the lineup to the table, he is not a savior. Adam Clendening is not a player that can be relied on for 25 minutes a night, nor does he have a long resume to defend his talent. Clendening is an unknown, and he must be treated like one.
Adam Clendening still must be freed to have an opportunity to make a difference for the Rangers. However, he must do so with tempered expectations. Context must be understood.
More from Blue Line Station
This article originally appeared on
---
---