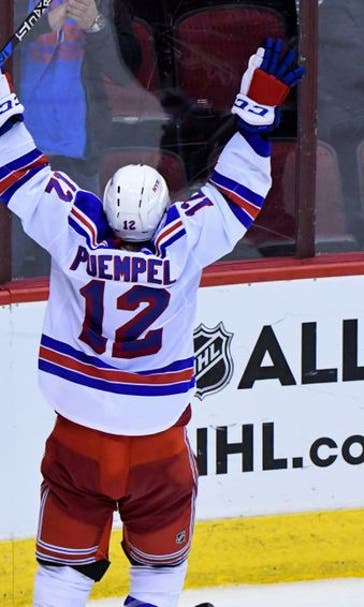 New York Rangers: Matt Puempel Will Fight for a Permanent Roster Spot
BY Fansided and John Williams/FanSided via Blue Line Station • January 14, 2017
The 23-year-old, who was claimed off waivers from the Ottawa Senators has been playing well in his fourth line role for the New York Rangers. Will he be able to keep it when the rest of the forwards get healthy?
On November 21st when the New York Rangers claimed forward Matt Puempel off of waivers from the Ottawa Senators, they didn't know what to expect from the young winger. Flash forward to the beginning of January, and Puempel has been an important addition to the team's depth.
With the injuries to Mika Zibanejad, Pavel Buchnevich and Rick Nash, Puempel has been finding himself with a fair amount of ice time each night, as well as time on the team's second powerplay unit with Kevin Hayes, Jimmy Vesey, Nick Holden and Brady Skjei.
Puempel has tallied five goals and an assist in his 13 games in a Rangers uniform. He didn't score a single point in the same amount of games with the Senators earlier this year.
A prominent goal scorer back in his days with the Peterborough Petes of the the OHL, Puempel has been known throughout his junior and AHL career as a goal scorer.
"Puempel is a natural goal scorer, thanks to his high-end shot and vision. He is also a good passer, and a quick skater," says HockeysFuture.com. "He has both the skill and drive required to have a good career as top-six NHL forward."
Although he has yet to show it at the NHL level on a consistent basis, the Rangers and their fans have clearly seen flashes. Look no further than when he scored three power play goals in route to a Rangers win against Arizona.
His Chance to Stick Around
Now with over a month of action under his belt on the Broadway stage, the team and head coach Alain Vigneault know what to expect from the Windsor, Ontario native. Is that enough to keep him in the lineup when the trio of injured forwards are healthy enough to play?
In order to figure this out, we need to take the Rangers entire roster makeup into account.
The locks in the lineup would be the Kreider-Stepan-Zuccarello grouping along with some combination of Nash, Buchnevich, Zibanejad, Vesey, Hayes, Michael Grabner, Jesper Fast and J.T. Miller. That's 11 forwards right there, so the last spot in the lineup will go to either Puempel, Brandon Pirri, Marek Hrivik or Oscar Lindberg.
Now this decision could go in many different directions, and it is hard to tell who will make the cut. The Rangers can keep up to three of them on their roster, while one must go down to Hartford. Regardless of which one the team decides to send to the Wolfpack, they will need to clear through waivers first. That is one factor the team must weigh.
It is easy to see the Rangers opt to waive Marek Hrivik, the man of five AHL seasons and zero NHL goals in this scenario. If they were to opt to only carry one extra forward, the situation does get a little bit harrier. It is hard to imagine the Rangers would want to go down that route, though. A trade involving one of them is more likely than the team waiving them.
With That Said…
Of the definite roster players in this scenario, only three would definitely fit into the center role (Stepan, Hayes and Zibanejad). J.T. Miller could also play center if called upon, but it would make more sense to play him on the wing.
Both Brandon Pirri and Oscar Lindberg are primarily centers. Pirri has really struggled since Zibanejad injury and Lindberg isn't going to give you much offensive upside. Even with that said, they will have the advantage of Puempel because of their postion.
Could the Rangers try Puempel at the center position? Sure they could, but it is unknown how likely that is. So even though Puempel has proved to be very effective in his role, the chances of him sticking in the lineup after the injured trio comes back are hurting unless a trade is made.
More from Blue Line Station
This article originally appeared on
---
---