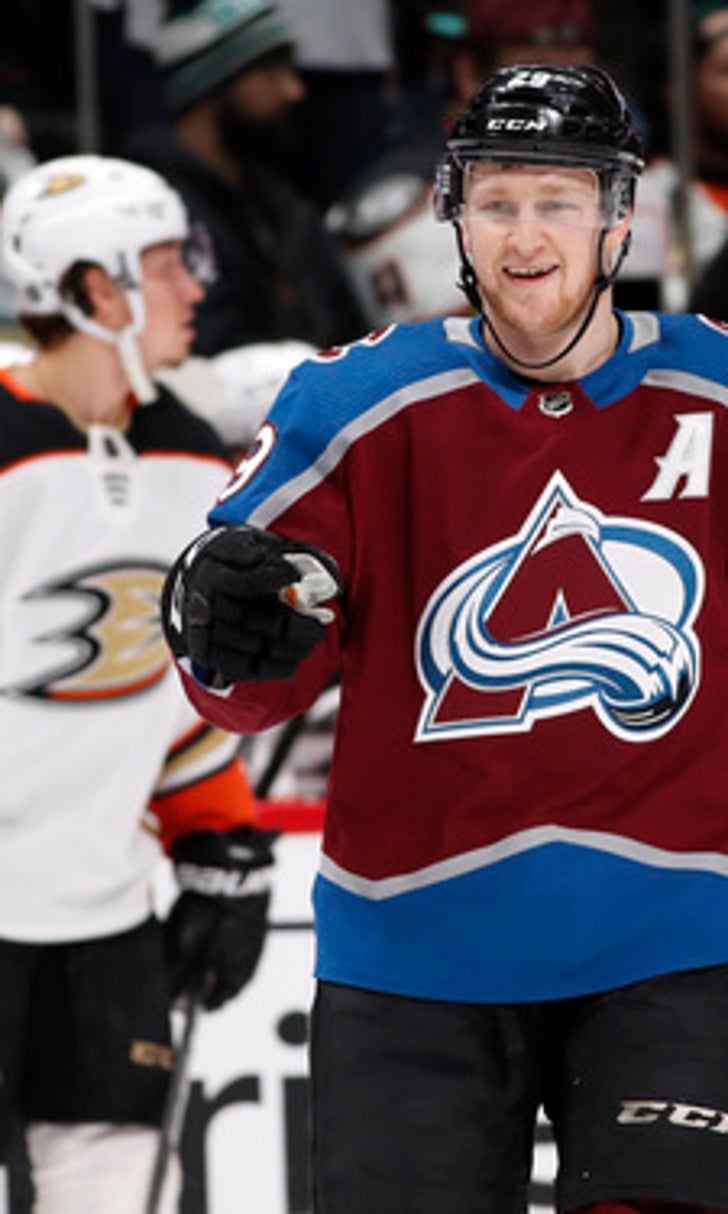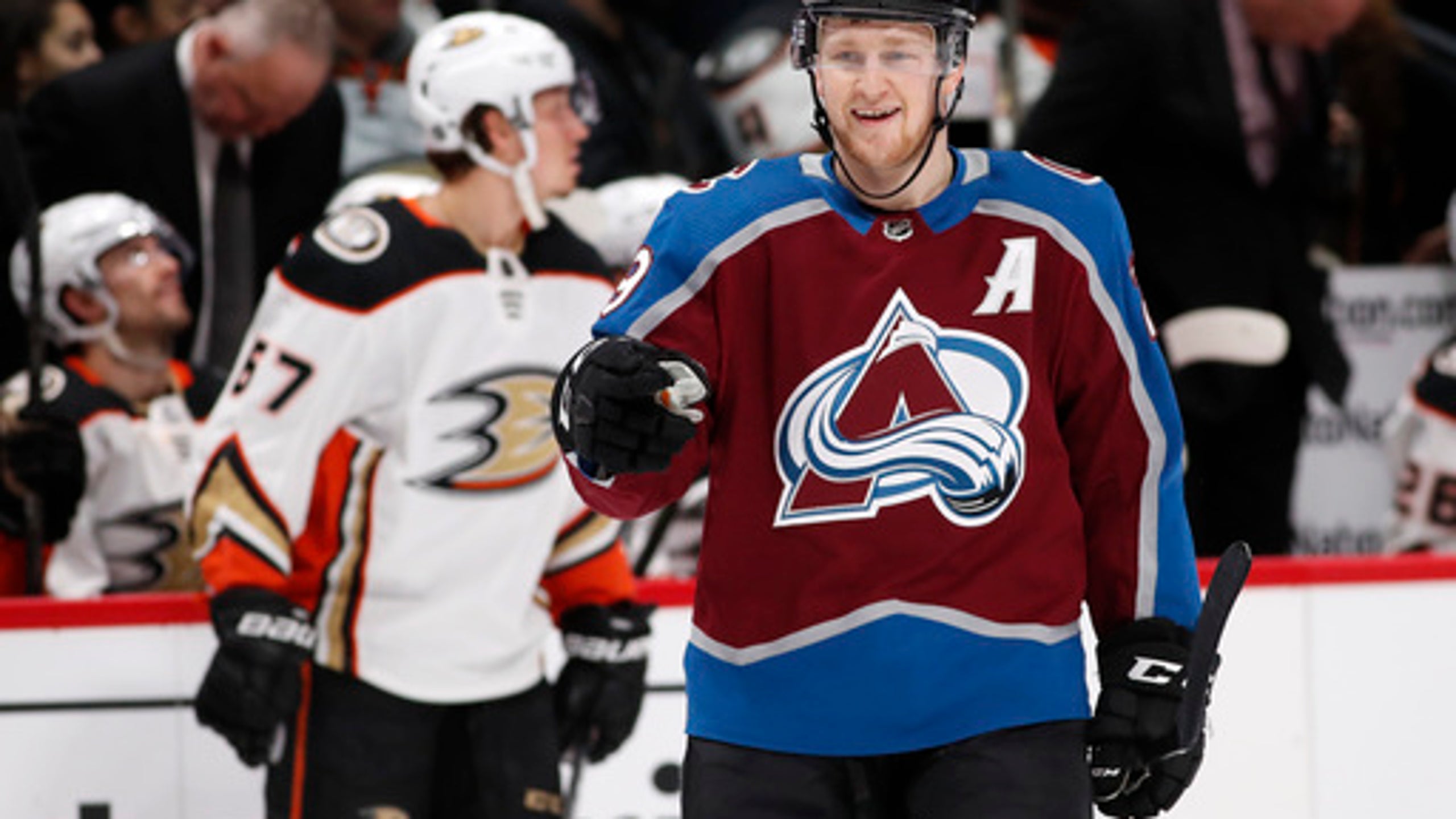 MacKinnon helps Avs beat Ducks 3-1 for 7th straight win (Jan 15, 2018)
BY AP • January 15, 2018
DENVER (AP) The save by Jonathan Bernier that sticks out the most was the one where he simply stuck out his stick.
Out of sheer desperation, no less. To thwart what looked to be a sure goal, too. It's just another sign of how well things have been going for the Colorado Avalanche in recent weeks.
Nathan MacKinnon kept up his torrid home scoring with a goal, Bernier turned back 33 shots and the Avalanche beat the Anaheim Ducks 3-1 on Monday for their seventh straight win.
Matt Nieto and Colin Wilson also scored for the Avs, who are outscoring opponents 29-10 during their longest win streak since the 2005-06 season.
MacKinnon leads the league in scoring on home ice this season with 41 points (15 goals and 26 assists) in 24 games.
''We're feeling good,'' said MacKinnon, whose team is vying to make the playoffs for the first time since 2013-14. ''For us, it's so tight, we can't get comfortable. ... We have to stay hungry.''
Bernier has been sensational since stepping into goal with Semyon Varlamov sidelined by a lower-body injury. Bernier came up big midway through the second period when he reached out with his stick to thwart Ryan Kesler. That set up a rush the other way, with MacKinnon scoring on a wrist shot past Ryan Miller.
''It happens quite a bit in hockey - you make a big save, you go to the other side and you score,'' said Bernier, who has a career-best six-game win streak. ''It was nice to be rewarded. You make a big save and you get a big goal.''
Chris Wagner had a goal in the second period for Anaheim. It was his first goal since Nov. 27.
Anaheim pulled Miller with around 3 minutes remaining, but couldn't get anything by Bernier, who played for Anaheim last season.
''They skate really fast, for the most part, and they capitalized on their chances,'' Wagner said. ''We gave them too many chances off the rush and too many power plays. That hurt us.''
The Ducks were without forward Andrew Cogliano as he served the first of a two-game suspension that ended his consecutive games streak at 830 - the fourth-longest in NHL history. He was suspended for an interference penalty against Los Angeles forward Adrian Kempe on Saturday.
Cogliano, who had never missed a game in his career, fought back tears as he talked about the streak on Fox Sports West: ''It's a tough pill to swallow. I'm not going to lie. ... I miss the game.''
Anaheim coach Randy Carlyle downplayed Cogliano's absence from the lineup.
''You don't like to put too much emphasis on one player being out of your lineup,'' Carlyle said. ''For Cogs, it's unfortunate the suspension is in place. But we take our medicine and move on. It's up to other people to step up and make a difference.''
Like forward J.T. Brown, who was just claimed on waivers from Tampa Bay and was in the lineup Monday. He had an assist as he digests a new system.
''You're going to make mistakes. They said, `We'll coach you through them. Don't be afraid to make those mistakes. Just go out there and play,''' Brown said.
Wilson's power-play goal with 19.6 seconds remaining in the second gave the Avalanche a 3-1 lead. Colorado improved to 18-1-1 when ahead entering the final period.
''Our guys are enjoying coming to the rink right now,'' Avalanche coach Jared Bednar said. ''They're playing the right way and they're having success, so that leads to confidence and a little bit of energy and guys wanting to keep this thing going. It's been a fun stretch for sure.''
NOTES: Anaheim D Francois Beauchemin was a scratch. ... Colorado won the other matchup between the teams this season 3-1 on Oct. 13 at Pepsi Center. ... Colorado is 7-3-1 on Martin Luther King Jr. Day. ... Avalanche rookie Alexander Kerfoot had an assist to give him at least a point in three straight games. ... Colorado was 1 for 6 on the power play.
UP NEXT
Ducks: Host Pittsburgh on Wednesday to open a five-game homestand.
Avalanche: Host San Jose on Thursday and the New York Rangers on Saturday as part of a three-game homestand.
---
For more NHL coverage: https://apnews.com/tag/NHLhockey
---
---