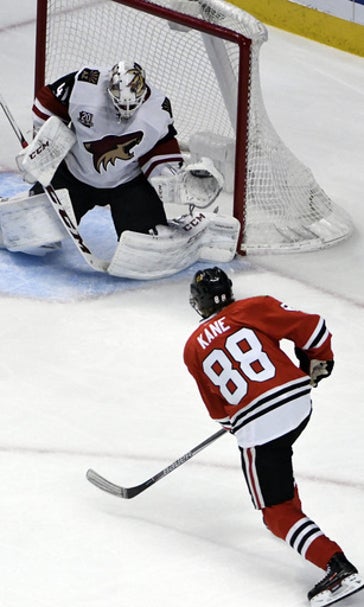 Kane's hat trick leads Blackhawks past Coyotes 6-3 (Feb 23, 2017)
February 24, 2017

CHICAGO (AP) - The Blackhawks and their marquee players are starting to get in a groove.
And Chicago is starting to look like the team that won three Stanley Cups in the last seven seasons.
Patrick Kane scored three goals for his third career hat trick to lead the surging Blackhawks past the Arizona Coyotes 6-3 on Thursday night for their third straight win and eighth in nine games.
Kane has 23 goals to lead Chicago, which closed three points behind first-place Minnesota in the Central Division and Western Conference.
"Anything can happen here down the stretch, but I think we like the way we're playing, especially the last 10 or so games," said Kane, last season's MVP. "Gotta be feeling good about what we have in this locker room.
"We'll take it a game at a time and see what the standings present at the end of the season."
The Blackhawks suffered a few defensive lapses on Thursday. But with Kane in prime form, they used their skill and puck control game to take charge in the second and third periods.
In its last nine games, Chicago has outscored opponents 40-22.
"We certainly like the progression of our game," coach Joel Quenneville said. "Way more consistent, way more possession. The pucks went in tonight."
Rookies Nick Schmaltz and Ryan Hartman each had a goal and assist. Blackhawks defenseman Michal Rozsival scored his first goal of the season in his first game since Jan. 15.
Chicago captain Jonathan Toews added two assists to extend his points scoring streak to five games and increase his output to 22 points in his past 13.
"We like the balance in our lines," Quenneville said. "We get scoring from Jonny's line and Kaner comes up with a hat trick, so we're getting scoring from across the board."
Jakob Chychrun, Ryan White and Radim Vrbata scored for the Coyotes. Chychrun and Vrbata each scored for the second straight game.
Vrbata, who played for the Blackhawks before they became one of the NHL's top teams and won championships in 2010, 2013 and 2015, was impressed by Chicago in Thurday's loss.
"You have to realize that they're maybe the Stanley Cup favorite again, to go far in the playoffs," Vrbata said. "You can see that they're probably one of the best teams in the league and we didn't have enough in the second or third (periods)."
Chicago's Corey Crawford made 34 saves. Arizona's Mike Smith stopped 23 shots, but neither he or many of his teammates were especially sharp.
"It was a poor game, right from our goaltender out," Arizona coach Dave Tippett said. "We had veterans who were brutal out there tonight."
Blackhawks defenseman Niklas Hjalmarsson left after skating five shifts in the first period. After the game, Quenneville said Hjalmarsson had suffered an upper-body injury earlier in the day.
The Blackhawks jumped out to a 3-1 lead in the first period, but the Coyotes took advantage of Chicago defensive breakdowns to score goals 57 second apart late in the period to tie it 3-all after 20 minutes.
Schmaltz, celebrating his 21st birthday, opened the scoring just 37 seconds in, taking Toews' cross-ice feed to complete a 2-on-1 break. Chychrun tied it at 1 on a screened shot from the left circle at 7:36.
Hartman connected from the low edge of the right circle at 10:28 to make it 2-1. Kane extended Chicago's advantage to 3-1 just over six minutes later on sharp-angle shot than banked in off Smith's torso on the short side.
White cut it to 3-2 with 2:18 left in the first when his initial shot hit the backboards and bounded in front. White skated around Rozsival and buried the loose puck.
Vrbata was alone at the edge of the crease and tapped in Martin Hanzal's feed from the left boards with 1:21 left in the first.
Rozsival and Kane scored in the second to put Chicago back in front, 5-3.
Rozsival trailed in and fired a shot past Smith's glove 2:56 into the period after taking a pass from Schmaltz.
Kane's second goal, with 7:19 left in the period, gave Chicago its second two-goal lead.
Kane completed his hat trick at 9:49 of the third.
NOTES: Blackhawks rookie C Vinnie Hinostroza was a scratch. ... Rozsival returned to the lineup after sitting out 14 games - six because of a foot injury and eight as a healthy scratch. ... Arizona D Anthony DeAngelo was in the lineup following his recall from Tucson of the AHL on Monday. He filled a spot created after the Coyotes D Michael Stone was traded to Calgary for draft picks. ... Arizona G Louis Domingue returned to back up Smith after being injured (lower body) for three games.
UP NEXT:
Coyotes: Play at Dallas on Friday night.
Blackhawks: Host St. Louis on Sunday.
---
---