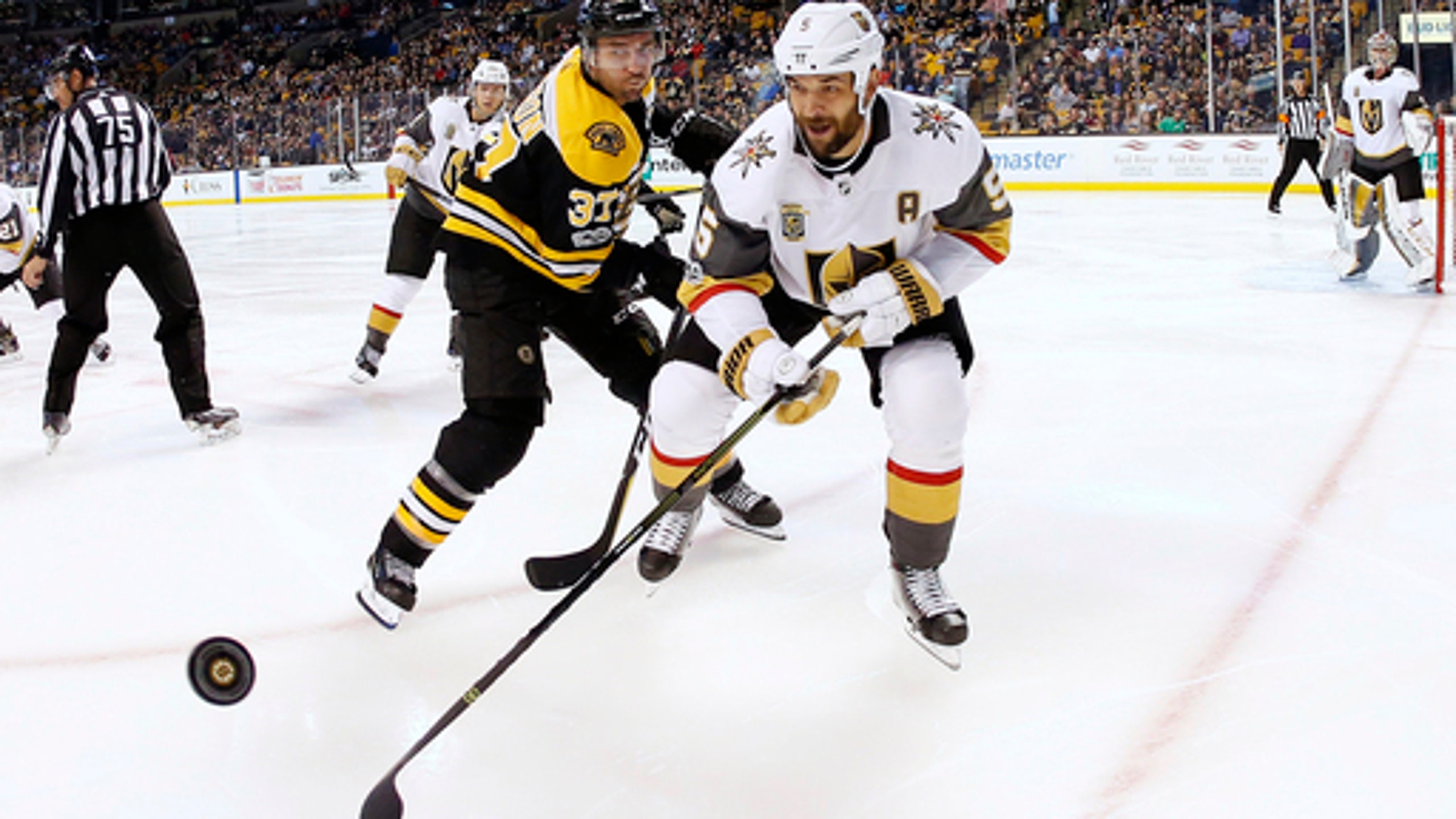 Golden Knights sign Engelland to $1.5M, 1-year extension
BY AP • January 15, 2018
When the Vegas Golden Knights selected Deryk Engelland in the expansion draft and signed him to a one-year deal, the longtime Las Vegas native set out to earn another contract.
Engelland got it Monday with a $1.5 million, one-year extension that serves as a reward for the veteran defenseman enjoying his best NHL season at age 35.
''That's a dream come true,'' Engelland said. ''I'm getting a little older now and to be able to stay here at home and play another year, that's your whole goal going into the season and I couldn't be more happy.''
Engelland is averaging almost 20 minutes a night and has three goals and 10 assists for 13 points through 41 games. General manager George McPhee said, ''Deryk has been an integral part of our team, on and off the ice, from the very beginning.''
Vegas leads the Pacific Division and is halfway through what will likely be the most successful season for an expansion franchise in league history. Engelland, an alternate captain, is a part of that on a deep defense that has relied on nine different players to contribute.
''He's a good fit on the team, he's a good fit with his D partner,'' agent Allain Roy said, referring to Shea Theodore and, before that, Brayden McNabb. ''I don't even think that they're asking too much of him. It's just such a good fit.''
Engelland has always been somewhat of a tough guy and came into the season with 500 penalty minutes in 469 games with the Pittsburgh Penguins and Calgary Flames. He has just 16 this season and has show he has more to his game than that.
''I don't think the fighting is as prominent in the game anymore, so there's not as many guys looking for it,'' Roy said. ''You can play physical but still not have to sit in the penalty box every game for five minutes, and that contributes to more flow to your game and more confidence in the player.''
Roy said Engelland, who made his debut for Pittsburgh in 2009 at age 27, figured out in his mid-to-late 20s how to take care of his body and has been able to sustain that.
''That's really when he kind of blossomed,'' Roy said. ''He's been in unbelievable shape ever since then, and I think to his credit that's something that's rare in the league when guys get in their mid-to-late 30s. Sometimes you see their play start to go backwards, but he's having a great year.''
Roy added that Engelland and coach Gerard Gallant having similar personalities helped them get and stay on the same page. Engelland is the blue-collar, veteran leader on a young team, while Gallant is the front-runner for the Jack Adams Award as coach of the year.
''Two very hard-working, honest guys,'' Roy said. ''I think Gerard brings the most out of his players because he shows them confidence early on and he gives them the chance to screw up, as opposed to some of the coaches in the league that sometimes have a shorter leash. I think he gives guys a benefit of the doubt early and then guys take it from there.''
Engelland fell in love with Las Vegas while playing for the ECHL's Wranglers from 2003-2005, and he and his wife, Melissa, still call it home. He was thrilled when McPhee approached him about an extension that gets him a raise from his current $1 million salary and about the Golden Knights' success thus far.
''I think right from the get-go we gelled together as a team,'' Engelland said. ''We've got a lot of character in that room, great leaders, great young guys coming up. Every night when we're playing, we're 20 men deep and everyone's going. If someone's not contributing, someone's picking up the slack.''
---
Follow Hockey Writer Stephen Whyno on Twitter at https://twitter.com/SWhyno
---
For more NHL coverage: https://apnews.com/tag/NHLhockey
---
---