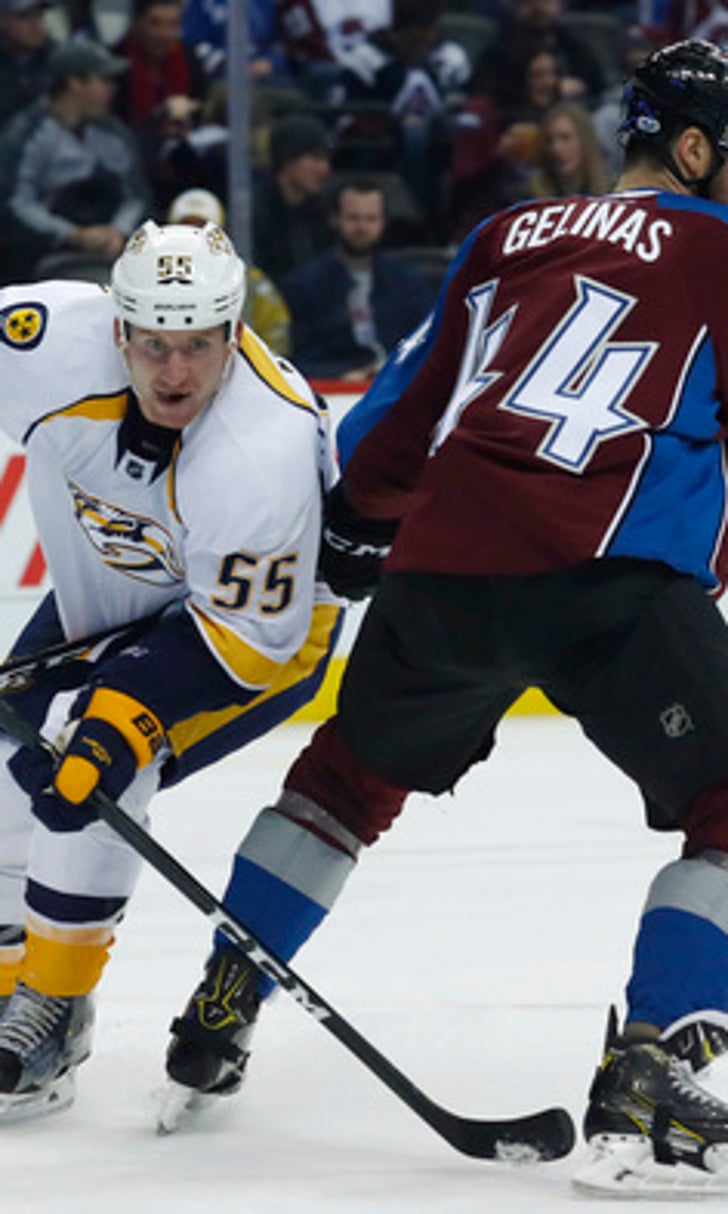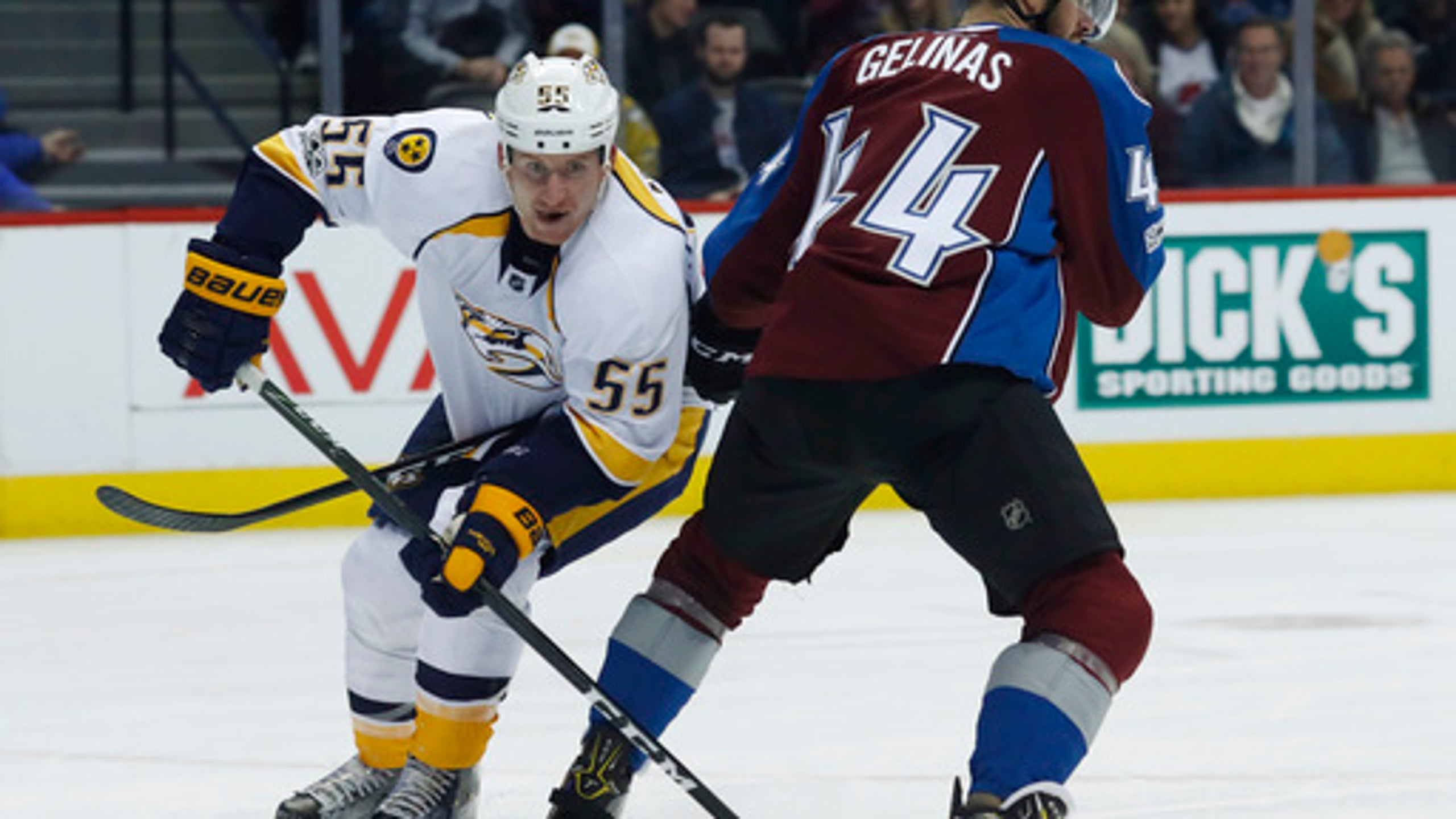 Forsberg, McLeod help Predators rally for 3-2 win over Avs (Jan 14, 2017)
BY AP • January 14, 2017
DENVER (AP) What would Cody McLeod's homecoming be without a good fight?
The enforcer also threw in a goal for good measure.
Filip Forsberg scored with 11:54 remaining in the third period, McLeod had a big game against his former team and the Nashville Predators rallied for a 3-2 win over the Colorado Avalanche on Saturday.
''Just a hard-working guy that hits and fights and goes to the net,'' Predators coach Peter Laviolette said of McLeod. ''That's a really good snapshot of who he is, and I think you saw it today.''
McLeod was acquired in a trade with Nashville the day before. He didn't meet his new team until the day of the game since the Predators had mechanical issues with their plane and didn't fly in until Saturday morning.
Didn't matter. Instant chemistry. McLeod even started.
This meant a lot to him as well: The Avalanche honored him with a video tribute in the first period. Then, he simply went out and did what the gritty forward does best - fight. He squared off with Jarome Iginla in a second-period bout that pretty much ended in a draw.
Fresh out of the penalty box after serving five minutes for fighting, McLeod tapped in a pass to make it 2-1 and revitalize the Predators, who improved to 4-0 against Colorado this season.
''There were a few butterflies for sure,'' McLeod said. ''The guys were great. Pumped to be here.''
With good reason - he just gained 20 points in the standings and went to a Predators team contending for a playoff spot. The Avs are stuck in last place.
''I definitely feel for them,'' McLeod said. ''But they'll get out of it.''
Forsberg's winning goal came after he lined in a shot shortly after corralling a faceoff. Mike Fisher had tied up the game about 3 minutes earlier on a breakaway.
Gabriel Landeskog and Francois Beauchemin scored for the Avalanche, who have lost 12 of their past 13 home games.
Pekka Rinne stopped 28 shots, including one late in which he slid all the way across the goal to thwart Nathan MacKinnon's liner with his body.
The Avalanche thought they tied it up during a scrum in front of the net with 2 minutes remaining, but the officials ruled the whistle had stopped play before the puck went in.
''I see it's loose the whole way and we poke it in,'' Landeskog said. ''It's frustrating, but at the same time officials make mistakes just like players do, and that's the end of that.''
Not surprisingly, one of the loudest roars of the game was when McLeod and Iginla dropped the gloves in the Predators end. It only lasted a few punches before they tumbled to the ice.
No hard feelings, either. It was brewing since the opening faceoff when McLeod asked Iginla if he'd ''give him one'' - a fight, that is.
''I've heard him give that line to many other guys,'' Iginla said. ''I said, `Sure.' I know it's not personal with him.''
Not in the least.
''I love Iggy. We're good friends, but on the ice it's all business,'' McLeod said. ''I thought we could use a spark right then.''
Only, it backfired because three seconds later, Beauchemin found an opening and lined a shot past Rinne to stake Colorado to a 2-0 lead. It was Beauchemin's first goal since April 7, 2016, at Dallas.
Semyon Varlamov and the Avalanche couldn't hold the advantage.
There was a scary moment in the second period when Colorado forward Rene Bourque checked Nashville's Viktor Arvidsson into the boards. Arvidsson stayed down for several minutes before heading to the locker room.
Bourque was given a boarding major penalty and a game misconduct. Arvidsson returned to the game.
Earlier in the game, Forsberg limped to the bench after taking a hard check from defenseman Nikita Zadorov. After a quick trip into the locker room, Forsberg was back on the ice.
Nashville is already without defenseman Roman Josi and forward Colin Wilson as both were placed on injured reserve Saturday. That's in addition to missing All-Star defenseman P.K. Subban, who's sidelined with an upper-body injury.
NOTES: The Predators recalled D Petter Granberg from Milwaukee of the American Hockey League. He was in the lineup Saturday. ... With McLeod's departure, Colorado F Matt Duchene has now been with the Avalanche the longest of any player on the roster. Duchene turns 26 on Monday.
UP NEXT
Predators: Travel to Vancouver on Tuesday for the second game on a five-game trip.
Avalanche: Host the Chicago Blackhawks on Tuesday night.
---
---