New Jersey Devils
New Jersey Devils
Devils-Blackhawks Preview
Published
Nov. 12, 2015 10:37 a.m. ET

The Chicago Blackhawks are closer to the bottom of the Central Division than the top through 15 games, but the new pieces surrounding franchise mainstays such as Patrick Kane might be coming together as they have in years past.
Kane is finding footing with linemates Artem Anisimov and Artemi Panarin, and the trio will try to keep it going Thursday night against the visiting New Jersey Devils.
The two teams met Friday with the Devils (8-6-1) winning 4-2 at home, but Kane still managed to score, then remained hot with a goal and three assists in Sunday's 4-2 home win over Edmonton. Kane has scored in four straight games and has seven goals and 10 assists on a 10-game point streak. He also has at least a point - six goals and 12 assists - in all nine home games this year.
But that's just part of it. The rookie Panarin had two goals and an assist against the Oilers and is averaging a point a game, while first-year Blackhawks center Anisimov added a goal and an assist.
"All three of us, the way we want to play is very similar," said Kane, who's 23 points are tied with Dallas' Tyler Seguin for the NHL lead. "I think we do a good job of supporting the puck, hanging on to the puck, trying to make plays."
The Blackhawks (8-6-1), however, aren't exactly following through with results, giving up 3.67 goals per game over a 2-3-1 span. Corey Crawford allowed three goals on 13 shots against the Devils, then stopped 34 of 36 against the Oilers with 22 second-period stops. Even so, he has a 3.68 GAA over a 2-2-1 span.
"(Sunday's game) was a good one for me, to get back into it," said Crawford, who's 1-1-1 with a 2.07 GAA against the Devils. "It was a big win for us."
Chicago had swept the four meetings over the previous two seasons before Friday's loss. New Jersey got a goal and an assist from Kyle Palmieri, Lee Stempniak and Travis Zajac. Palmieri has four goals and five assists in his last seven games after beginning his first season with the Devils with three points through eight contests. Stempniak has six points in his last four against Chicago.
The Devils followed up that win with Sunday's 4-3 victory over Vancouver but concluded the three-game homestand with Tuesday's 2-0 loss to St. Louis.
They were pleased with their start, then were outshot 14-4 in the second period.
"We have to go back and figure out what happened between the first and second and make sure we don't have that kind of lull coming out of a really good period in the first," said Cory Schneider, who made 26 saves. "We have to figure out a way to play like that for three periods."
Despite the latest loss, confidence is growing for a club that finished seventh in the Metropolitan last season and started 0-3-1. Since, New Jersey is 8-3-0, and it's won four of six on the road this season. Chicago, however, is 7-1-1 at home with at least a point from the last eight. A road win against the defending Stanley Cup champions would only further the Devils' confidence.
"I think we are coming to expect that we want to beat every team," Schneider said after the Chicago win. "You can't just feel good or get up for certain games. You have to get up for all of them and we are developing that mentality right now."
Schneider, who has a 1.78 GAA over a 3-2-0 span, is 3-3-1 with a 3.06 GAA against the Blackhawks.
---
---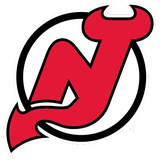 Get more from New Jersey Devils
Follow your favorites to get information about games, news and more
---