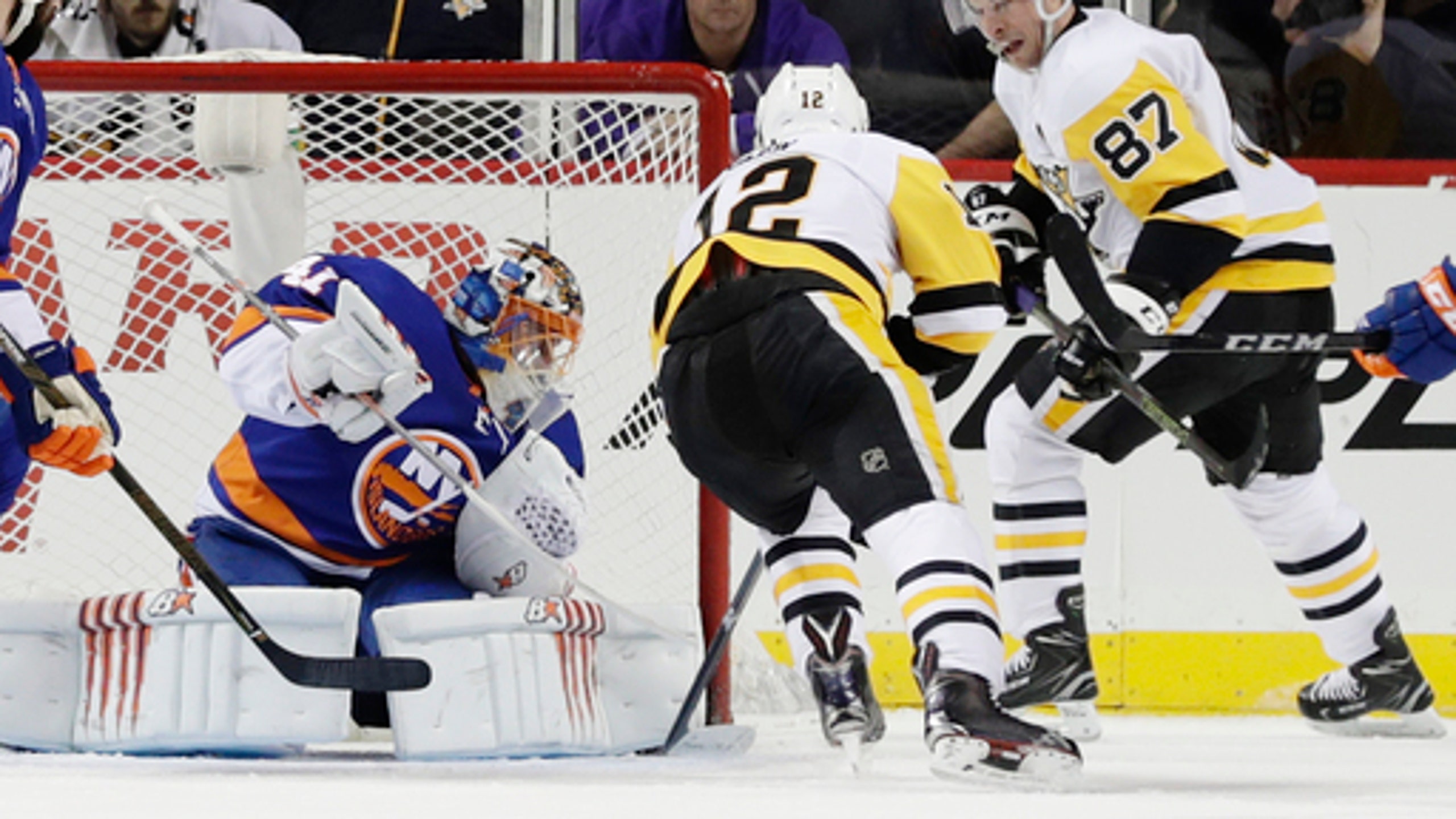 Crosby, Jarry lead Penguins to 4-0 win over Islanders (Jan 05, 2018)
BY AP • January 5, 2018
NEW YORK (AP) Sidney Crosby and the Pittsburgh Penguins bounced back quickly from a disappointing defeat at home.
Crosby had a goal and three assists, Tristan Jarry stopped 31 shots for his second shutout of the season and Pittsburgh beat the New York Islanders 4-0 Friday night.
Daniel Sprong had two goals and an assist, Evgeni Malkin also scored and Dominik Simon added two assists for the Penguins, who had dropped four of six and were coming off a 4-0 loss to Carolina on Thursday night.
''We had a quick turnaround and that was fresh in our minds. I thought we responded well,'' Crosby said. ''It felt like we were all more on the same page. ... We knew how important this game was and we came in here and had a strong game.''
The two-time defending Stanley Cup champions pulled within one point of the Hurricanes for the second wild card in the Eastern Conference.
''As you get closer to the playoffs, the games get tighter and the stakes get higher,'' Penguins coach Mike Sullivan said. ''We've got to have a playoff mindset right now and I thought we had that tonight.''
With the Penguins ahead 3-0, Jarry stopped a slap shot by Ryan Pulock two minutes into the third period, and then another attempt by the forward from the inside edge of the right circle 90 seconds later. Jarry also denied a tip by Jordan Eberle a little more than 5 1/2 minutes in and a try in front by Brock Nelson 20 seconds later.
Jarry, who improved to 7-3-2 with a 2.17 goals-against average in 14 games this season, was pleased with the way he played after leaving with a wrist injury late in the second period of the Penguins' 5-1 win at Philadelphia on Tuesday night.
''I wanted to come back and have a good game. I think that helps a lot,'' he said. ''We had a couple of guys step up tonight. ... That's huge to get offense throughout the whole team and have the whole team working.''
Sprong got his second goal with 6 1/2 minutes to go, beating Jaroslav Halak in the top left corner.
Halak finished with 31 saves as the Islanders lost their season-high fifth straight - all in regulation. They've been outscored 25-8 during the skid.
''I've been concerned for a few weeks,'' New York coach Doug Weight said. ''It's a concerning time. We looked tired at times. Jarry played really well. We have to recharge and get revamped.''
The Islanders lost right wing Josh Bailey to a lower-body injury early in the first period and he did not return. Bailey leads the team with 38 assists and is tied with captain John Tavares for tops with 50 points.
After a scoreless first period, the Penguins scored three times in the second while outshooting the Islanders 18-8.
Sprong got the Penguins on the scoreboard 41 seconds in as Crosby brought the puck up the left side and passed it through sliding Islanders defenseman Nick Leddy to Sprong, who tapped it past Halak for his first goal in his fourth game this season.
''I just saw him go 2-on-1 with me,'' Sprong said of Crosby. ''I just wanted to go hard to the net and keep my stick on the ice and he put it right on my tape.''
After Pulock was whistled for tripping Phil Kessel, Pittsburgh's top-ranked power play took advantage. Malkin got a pass from Crosby at the right faceoff dot and fired a one-timer past Halak to make it 2-0 with his 15th at 3:30.
Crosby made it 3-0 with 4:10 left in the middle period as he got the puck on a rebound off the end boards and put it in off Halak's left hip from behind the goal line for his 15th.
''We played fast, we generated a lot of shots, a lot of opportunities,'' Crosby said. ''That's more of the way we need to play.''
New York had a two-man advantage for 1:16 late in the second, but couldn't get anything past Jarry on a pair of scrambles in close.
Pittsburgh outshot New York 13-8 in the first period. The Penguins were outshot 7-1 over the first 9 1/2 minutes before picking up the intensity.
Jarry had a stellar sliding save on an attempt by Casey Cizikas on an Islanders 3-on-1 break with 1 1/2 minutes left in the opening period.
NOTES: Islanders assistant coach Luke Richardson and his wife, Stephanie, took part in a ceremonial puck drop on Mental Health Awareness Night. The Richardsons started a Do It For Daron initiative in memory of their daughter, Daron, who committed suicide in 2010. ... The Islanders are 1 for 18 on the power play over their last six games. ... Malkin has six goals and 11 points in his last 10 games. ... Crosby had his first four-point game of the season. ... Jarry's other shutout was a 4-0 win at Buffalo on Dec. 1, when he made 34 saves.
UP NEXT
Penguins: Host the Boston Bruins on Sunday.
Islanders: Host the New Jersey Devils on Sunday.
---
Follow Vin Cherwoo at www.twitter.com/VinCherwooAP
---
More AP NHL: www.apnews.com/tag/NHLhockey
---
---