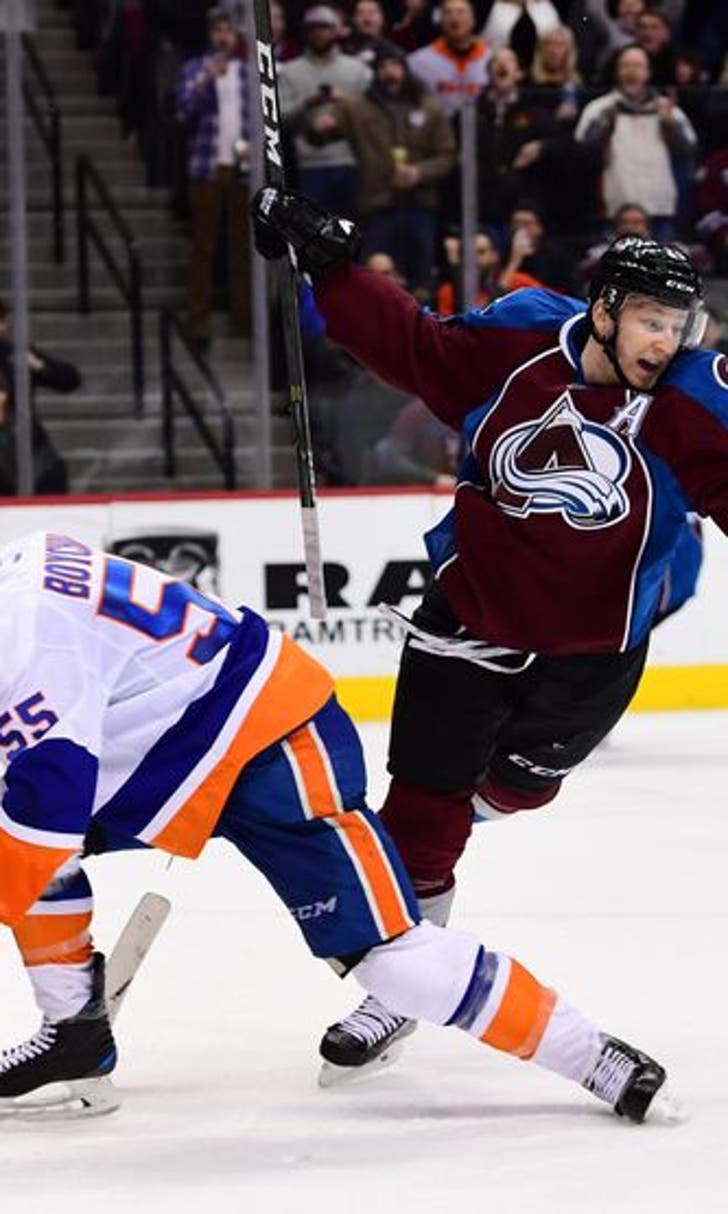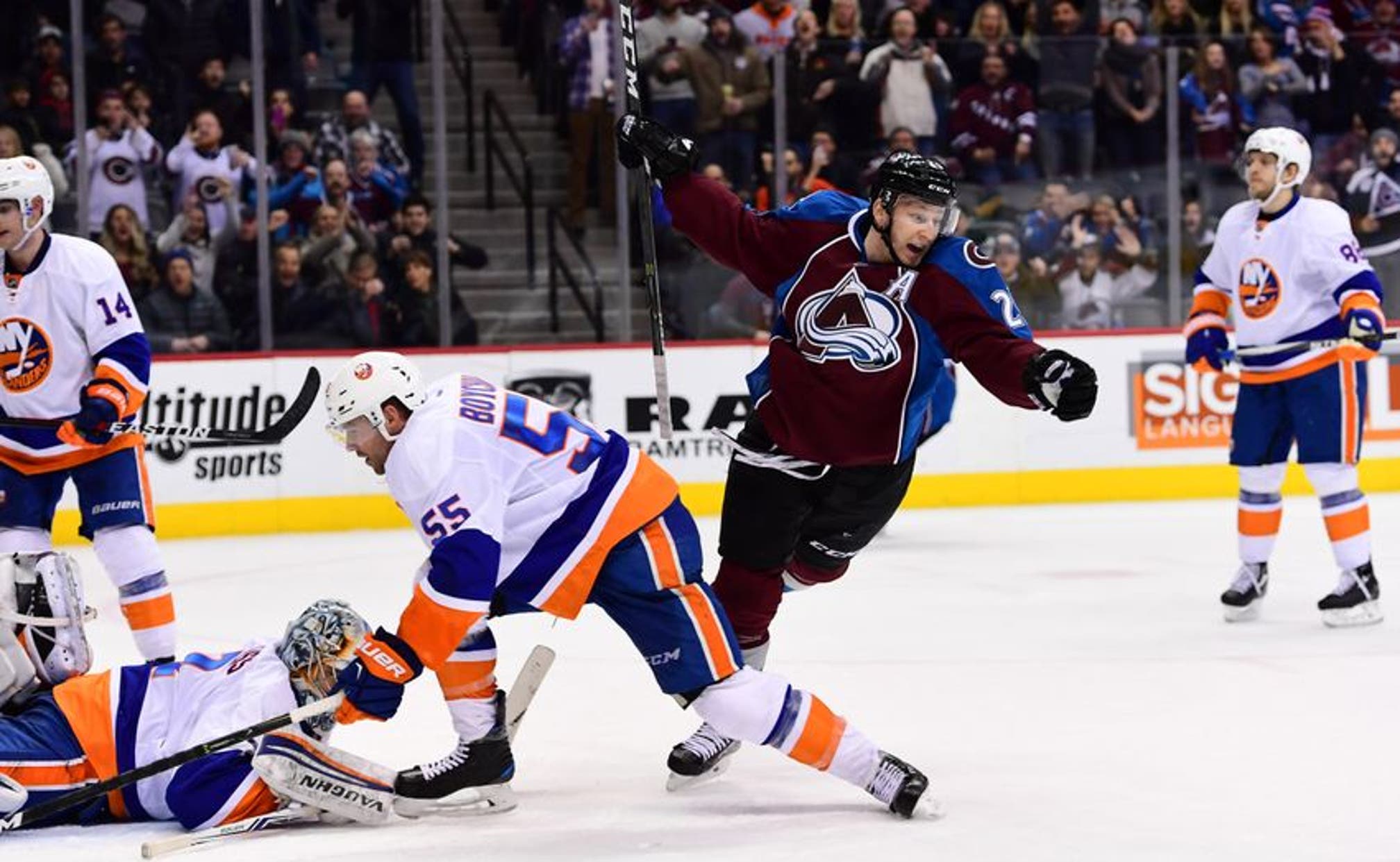 Colorado Avalanche Rebuild: Trade for Stud D-Man
BY Fansided and Nadia Archuleta/FanSided via Mile High Sticking • June 30, 2017
Jan 6, 2017; Denver, CO, USA; Colorado Avalanche center Nathan MacKinnon (29) reacts after scoring the winning goal past New York Islanders goalie Jean-Francois Berube (30) in overtime at the Pepsi Center. The Avalanche defeated the Islanders 2-1 in overtime. Mandatory Credit: Ron Chenoy-USA TODAY Sports
The Colorado Avalanche rebuild could include a single big trade — a core player for a stud defenseman.
The Colorado Avalanche's overtime win Friday night felt so good. I was at the game. When it became clear that the game could go into OT, there were whole shifts near the end when I didn't breathe for fear an exhale would make the puck go in our net.
As for the overtime itself, once the first big rush started, the entire crowd surged to our feet. And we stayed that way for the entire OT. My heart was beating so fast. I know mine wasn't the only one.
And when Nathan MacKinnon's shot went in! The wave of emotion we all felt was ubelievable. Personally, I screamed myself hoarse.
Let's relive that moment:
I hadn't felt that much energy and elation from a game since Game 1 of the playoffs in 2014. And that fact tells you a lot about the Avalanche right now.
Because Friday night's game was not a playoff game. It wasn't even a game to get into the playoffs. Hell, it didn't even change Colorado's position of dead last in the NHL.
However, it had been so long since we'd seen any win from this team (five games), especially at home (since November 15), that we were all that ecstatic.
While it's true that Nathan MacKinnon acknowledged in his post-game presser that he was grateful — and a little surprised — that fans were even still coming to the games, the Pepsi Center was far from full. Losing teams don't draw a crowd.
The Colorado Avalanche have to change. So far I've explored two polemic options — either they'll blow up the core or keep the core completely intact and find ways to augment it:
While there are numerous other options besides those two, the other popular scenario is that the Colorado Avalanche make a single blockbuster trade, for a defenseman.
Nov 21, 2016; Columbus, OH, USA; Columbus Blue Jackets defenseman Zach Werenski (8) against the Colorado Avalanche at Nationwide Arena. The Avalanche won 3-2. Mandatory Credit: Aaron Doster-USA TODAY Sports
Evaluating the CBJ Defense
Recreating the Colorado Avalanche simply by trading for a stud probably isn't going to be sufficient. However, it will be the cornerstone of the rebuild.
Now, I've gone on record about not liking the team's affinity for the Columbus Blue Jackets since I think it means assistant GM Chris MacFarland has too much influence:
MORE FROM MILE HIGH STICKING: Sakic Over-Reliant on MacFarland
However, CBJ's reconstruction of their blueline is one area where the Avs can take inspiration.
Here are the regulars on the CBJ blueline:
Probably the biggest name on that list is Jack Johnson, who was part of the prestigious US National Development Team Program and has represented his country many times in international competitions. The LA Kings drafted him third overall in 2005, and the Jackets acquired him via trade in 2012 (Johnson and a first round pick for Jeff Carter).
The 29-year-old Johnson is an exceptional athlete with high end skating skills. He can translate his talents into offense, but he's also a physical presence on the ice. He has excellent ice vision.
Seth Jones is another big name on the roster. He's another USNDTP player and another high draft pick — fourth overall in 2013 by the Nashville Predators. CBJ acquired him via trade in 2016 for franchise center Ryan Johansen.
The 22-year-old Jones is another impressive athlete who's great in the back end. He's a solid two-way defenseman with a booming point shot. Not the most physical of d-men, Seth can nonetheless be a difference-maker in games.
Jones' partner on the blueline, Zach Werenski, is an exciting player. He was drafted eighth overall in 2015 by the Jackets. He spent last year at Michigan State followed by CBJ's AHL-affiliate, the Lake Erie Monsters. While he's done some time with the Monsters this season, he's played in 39 games for the Jackets.
The 19-year-old Werenski is a true offensive defenseman. He's got good size for the position (6-foot-2, 209 pounds) plus a nose for scoring. He's young, so he's still learning the position at the NHL level, but he has really good upside. He pairs well with the more defensively-minded Jones.
26-year-old David Savard is Johnson's d-partner. He's another CBJ draft, in this case a fourth-rounder from 2009. He's been a mainstay on the Jackets' blueline since the 2013-14 season.
At 6-foot-2, 227 pounds, Savard is a solidly-built defenseman. He's another two-way defender, one who moves the puck well but isn't going to pot so many in himself. Paired with Johnson, the two can shut down opponents while getting the puck up the ice.
Ryan Murray (23 years old) and Markus Nutivaara (22 years old) comprise the regular third pairing.
Murray was another CBJ high draftee, second overall in 2012. Often injured, Murray missed a lot of his first couple seasons.
Ryan Murray is a poised defenseman who sees the ice well. Middling size for a d-man at 6-foot-1, 208 pounds, he's capable of playing big minutes in games. He has great two-way potential.
Markus Nutivaara was a surprise for the Jackets this season. Columbus drafted him in the seventh round in 2015. He impressed enough in training camp to get a shot with the big team.
The smallest on this list, Markus Nutivaara is the new style of defenseman. He's not weighty and not a physical defenseman. Instead, he's a good puck mover who doesn't make a lot of mistakes. He's a good depth guy.
Murray and Nutivaara round out the CBJ blueline by being low-risk defenders. They're not the flashiest on the ice, but they shouldn't cost the team games either.
With some tweaking, this model could work for the Colorado Avalanche.
Apr 3, 2016; Denver, CO, USA; Colorado Avalanche defenseman Erik Johnson (6) controls the puck against St. Louis Blues defenseman Joel Edmundson (6) in the second period at the Pepsi Center. Mandatory Credit: Isaiah J. Downing-USA TODAY Sports
Key Pieces of the Colorado Avalanche Defense
I can't pair the Colorado Avalanche defense the way I did the CBJ blueline because the pairings haven't been consistent. Part of that is because of Erik Johnson's injury, but it's also because… actually, I don't know why Jared Bednar mixes them up even in the middle of games.
Anyway, here are the Colorado Avalanche defensemen:
You might notice two things about the Avs defensive corps vs the CBJ one. It's a lot bigger. And it's a lot older. One of those things is a problem, and it ain't the size. (You might also want to cry when you compare the two defenses.)
Luckily, one of those over-30 defensemen, Tyutin, is a UFA this summer, so we don't have to have him back. Ditto AHLer Goloubef. Wiercioch, Zadorov and Gelinas are all RFAs this summer.
Erik Johnson is the cornerstone of the Avalanche defense, and Tyson Barrie is considered a core player. Technically, everyone else is expendable in a rebuild, contracts notwithstanding.
That said, Zadorov was included in the Ryan O'Reilly trade at GM Joe Sakic's behest. He said at the time that Zado was on a "10-year plan." I'm guessing as long as Sakic is calling the shots, Nikita is going to keep getting the chance to develop.
So, our foundation for the Colorado Avalanche is built on Erik Johnson, Tyson Barrie and Nikita Zadorov.
Admit it — that's not half bad. And it could fit into the CBJ mold.
Nov 21, 2016; Columbus, OH, USA; Colorado Avalanche defenseman Tyson Barrie (4) defends against Columbus Blue Jackets right wing Cam Atkinson (13) in the overtime period at Nationwide Arena. The Avalanche won 3-2. Mandatory Credit: Aaron Doster-USA TODAY Sports
Fitting the CBJ Mold with Avs Defenseman
Here the Columbus Blue Jackets d-line again:
Zach Werenski-Seth Jones
Jack Johnson-David Savard
Ryan Murray-Markus Nutivaara
Here's what that translates to:
offensive defenseman – talented 2-way defensive stud
veteran (under-30) 2-way defenseman – shut-down 2-way defenseman
poised young 2-way defenseman – puck-moving prospect
It's going to be difficult to match that mold exactly. However, the Colorado Avalanche do have some of the same pieces.
Interestingly, the Johnsons match. Jack Johnson is the CBJ's talented, veteran two-way guy. Erik Johnson is a smooth skater with excellent two-way skills. I'd say he's actually an upgrade on Jack.
Tyson Barrie is also a true offensive defenseman. He's a little older and a little smaller than Werenski, but he has been our Mr. Clutch.
Nikita Zadorov fits pieces of that mold. He's much bigger than anyone on the CBJ blueline. He's got a lot of shutdown potential, but he has two-way potential. He's an excellent skater.
I still like him for EJ's partner, and he does fit the CBJ mold. So, here's what we have:
Tyson Barrie – talented 2-way defensive stud (needed)
Erik Johnson – Nikita Zadorov
poised young 2-way defenseman (needed) – puck-moving prospect (needed)
Before we go any farther, I'm going to alter the mold just a little and name the EJ-Zado pairing the first. No way any of us wants to see Barrie as the top d-man, no matter who his stud partner ends up being.
Now, for the bottom pairing, we might have some of the pieces already available.
Concerning our RFAs, both Patrick Wiercioch and Eric Gelinas are considered inconsistent defensemen with good size and some upside. Of the two, I prefer Gelinas, but the current regime seems to prefer Wiercioch. Either way, these guys should be in the seventh defenseman category.
The Colorado Avalanche have not been keen on drafting defensemen in the first round ever since the 11th-overall Duncan Siemens selection of 2011. All those first rounders that CBJ picked are going to be difficult to match.
That said, the best defensive prospect in the system is Chris Bigras. He's not huge (6-foot-1, 190 pounds), but he's a poised puck mover with good shut-down abilities. He could slot into the third pairing in the mold in place of Ryan Murray.
That leaves the Colorado Avalanche needing a puck-moving prospect and, especially, a stud d-man.
Concerning the former, it's possible current prospects Anton Lindholm or Sergei Boikov could pan out. They're both playing with the San Antonio Rampage. Though not under contract yet, the Avs' 2015 second rounder, Nicolas Meloche, is another likely candidate. It's also possible the Avs will have to bit the bullet and draft a defenseman in the first round this year.
However, that still leaves them with the toughest piece of the puzzle — a stud defenseman. And here's where a trade will have to take place.
Dec 11, 2016; Toronto, Ontario, CAN; Toronto Maple Leafs defenceman Morgan Rielly (44) skates with the puck as Colorado Avalanche forward Nathan MacKinnon (29) pursues in the first period at Air Canada Centre. Mandatory Credit: Dan Hamilton-USA TODAY Sports
Trading for a Defensive StudMore from Mile High StickingColorado Avalanche are in a Death Spiral1 d agoColorado Avalanche Rebuild: Augmenting the Core2d agoColorado Avalanche: 5 AHLers to Play Now3d agoColorado Avalanche Rebuild: Blowing Up the Core3d agoColorado Avalanche Add Rap Star Matt Nieto4d agoLast January, the Columbus Blue Jackets and Nashville Predators completed a blockbuster trade. The Jackets gave up their franchise center Ryan Johansen for Seth Jones.Don't minimize how important Ryan Johansen — RyJo — was to CBJ. They chose him fourth overall in 2010. He's a big centerman with excellent playmaking abilities.He was also wildly popular in Columbus. He even served as the captain of the All Star team when it was in Columbus.You see where I'm going with this, and it's not somewhere I want to go. To get a stud defenseman, the Colorado Avalanche are going to have to make a similarly painful trade.They might have to give up their own franchise center, the equally popular and very talented Matt Duchene.This trade has to be taken with extreme caution and with the same approach that CBJ took. At the time, Columbus had the worst record in the NHL (sound familiar?), and RyJo was struggling.That second part doesn't translate, and that does give us our second option — trading our actual captain (and also a very popular player) Gabriel Landeskog. Duchene has a higher return, but Landeskog might do.What the Avalanche have to do is find a team like the Nashville Predators — one that is stacked on defense but that needs offense. The actual Blue Jackets come to mind, and I dream about wooing Werenski away with either Duchene or Landeskog being the price.Ok, dream is a strong word, and even with all the ties between the two teams, it's hard to imagine CBJ giving up that defensive stud.I think the Colorado Avalanche would be crazy to trade within their own division or conference. You do not want to have to face Landeskog or, especially, Duchene all the time. (If Sakic could somehow fast-talk Arizona GM John Chayka into giving up Oliver Ekman-Larsson — hey he is a youngster — it might be worth it.)Speaking of fast-talking, maybe Sakic could play a few rounds of golf with his old friendly nemesis, former Detroit Red Wings and current Tampa Bay Lightning GM Steve Yzerman. Yes, I'm looking at Victor Hedman. Yes, that's crazy, but we're talking Matt freaking Duchene here. Throw in the first round draft pick if necessary, but ask for a later round pick in return.That probably won't happen. However, I think it's possible Sakic could have some serious talks with another old nemesis of his, Brenden Shanahan. Now I'm looking at Morgan Rielly.Rielly would make an excellent partner for Barrie. He's not overly big, (6-foot-1, 214 pounds), but he's mobile enough to keep up with our rover. His hockey IQ is high. Again, it's highly unlikely Toronto would want to move him, but, hey, Shanny, Duchene is excellent.Justin Faulk out of Carolina is exciting — great skater and puck mover — but I wouldn't give up Duchene for him. Landeskog maybe.Here's the trade I really want to see Joe Sakic pull off: Gabriel Landeskog for the Buffalo Sabre's Rasmus Ristolainen. ("Really want" is strong — I'd accept it, though I don't really want to see Landy go.) The big (6-foot-4, 207 pounds) defenseman has great two-way ability. He skates well enough to keep up with Barrie.MORE FROM MILE HIGH STICKING: 5 AHLers to Play NowDo I think Joe Sakic can actually pull off any of these trades? No, I do not, which is why I shudder at the thought of giving up Duchene or Landeskog. I just highly doubt he could get adequate return.If Sakic could, though, the Colorado Avalanche would finally have a winning defense:Erik Johnson-Nikita ZadorovTyson Barrie-Rasmus Ristolainen/Morgan RiellyChris Bigras-Sergei Boikov/other prospectColorado would have to get rid of Francois Beauchemin's contract. However, they could follow the Blue Jackets' lead there, too. CBJ bought out Fedor Tyutin's contract last summer. (And the Colorado Avalanche promptly picked him up, but I've already gone over that mistake.)What do you think, Avs Nation? Is this a Colorado Avalanche rebuild that could actually work?By Nadia Archuleta for Mile High StickingThis article originally appeared on
---
---