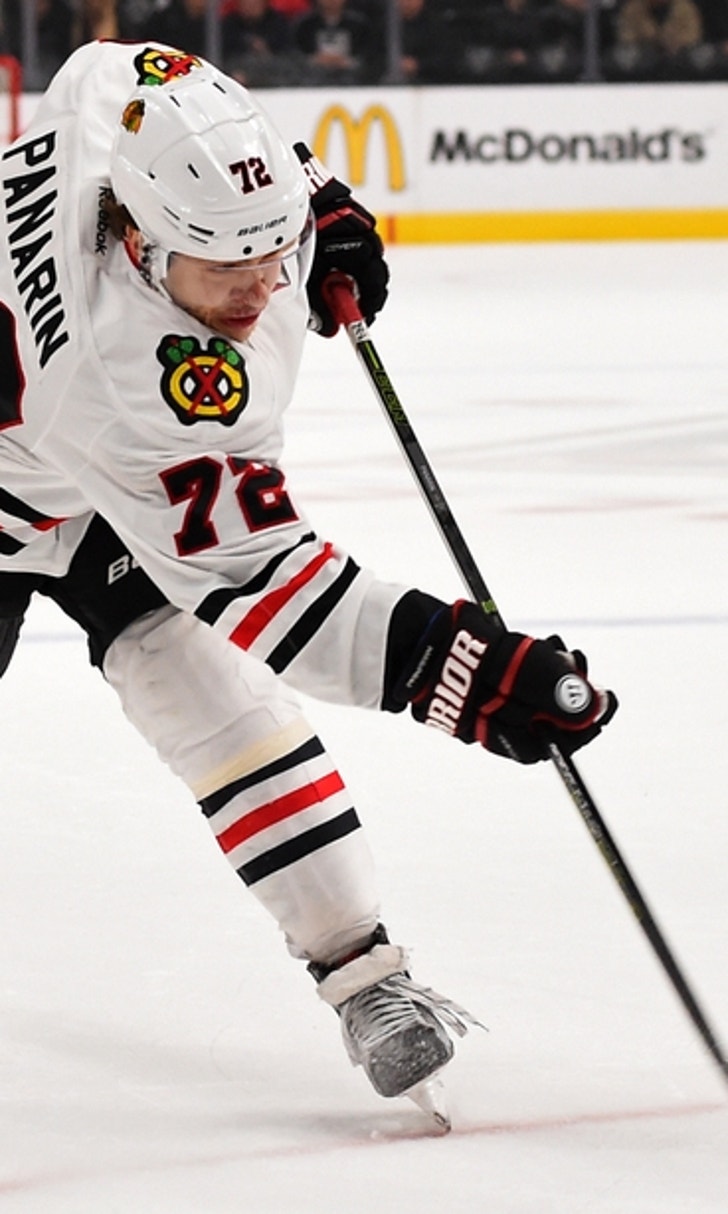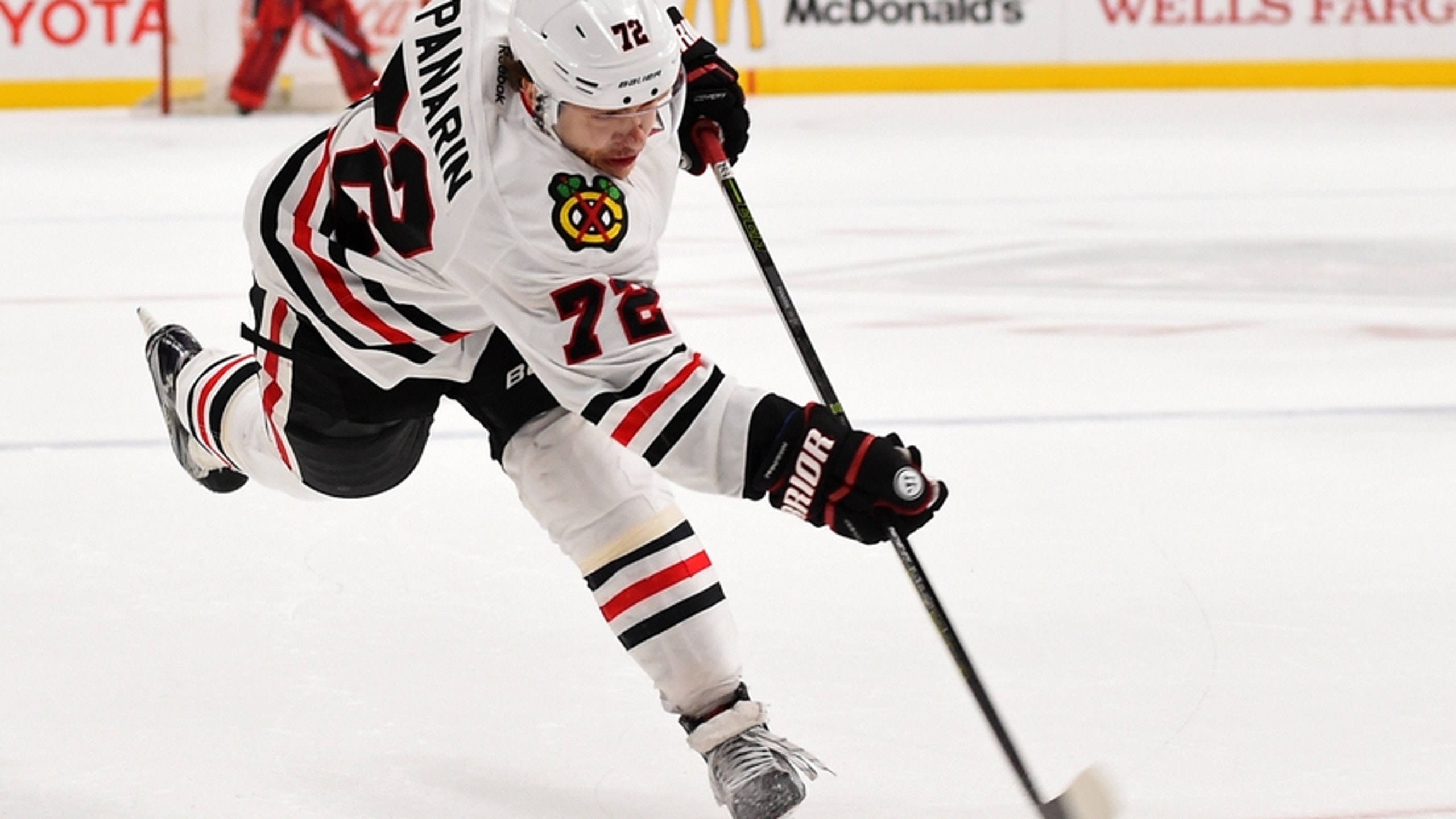 Chicago Blackhawks, NHL 3 Stars: Panarin Strikes Again
BY Fansided and Gail Kauchak/FanSided via Blackhawk Up • December 27, 2016
Nov 26, 2016; Los Angeles, CA, USA; Chicago Blackhawks left wing Artemi Panarin (72) takes a shot on goal in the first period of the game against the Los Angeles Kings at Staples Center. Mandatory Credit: Jayne Kamin-Oncea-USA TODAY Sports
Welcome to the second weekly installment of three Chicago Blackhawks' stars, and three stars from the East and the West
With the Christmas holiday, most NHL teams had a very light schedule last week.  For the Chicago Blackhawks, the break was very well-deserved.   They have already played in 34 games this year.  Most others teams are closer to the 30-32-game mark.  But for the 'Hawks and the rest of the league, that doesn't mean it's a free pass to take your foot off the gas.
My well-esteemed colleague Colin Likas debuted our Three Stars installment last week on Monday.  And the holidays have thrown us off as well, as today is Tuesday.  So for the purposes of this article, I will cover the past week from Sunday, December 18-Friday, December 23.  Let's discuss who has stepped up this week for the Chicago Blackhawks, as well as from the Eastern Conference and the Western Conference.
Chicago Blackhawks' 3 Stars
Third Star: Jonathan Toews.  Our fearless captain is recently back from injury, and he's been trying extremely hard to snap his goalless streak.  Against San Jose on Sunday, Toews earned a secondary assist on Kane's goal.  He had a couple good looks, and was credited with three shots on goal, but nothing went in for him.
Tuesday versus Ottawa was a similar story for Toews.  He was working hard, but had nothing to show for it.  On Friday when the 'Hawks played the Avs, things finally paid off.
He was credited with a goal, tapping in an Artemi Panarin shot.  Some might say the puck would have gone in anyway, but Toews was at the right place at the right time, and he'll take credit for the goal.
He also won 15 of 22 faceoffs, and had six shots on goal in this game.  Hopefully this goal and all his hard work will lead to more offensive contributions for Toews in the future.
Second Star: Patrick Kane.  Kane tallied a goal against the Sharks, and two assists against the Senators.  He's also been logging lots of extra minutes and being double-shifted in the absence of Marian Hossa and Artem Anisimov.
Speaking of which, because of the above-mentioned injuries, a first line of Kane, Toews and Panarin has emerged.  As you will see below, these three players make up my three stars of the week for the 'Hawks.  Perhaps I should be spreading the wealth, but these guys are doing what they are supposed to do right now, and that's leading the team in production.
First Star: Artemi Panarin. Panarin was the first star last week, and he earns the honor yet again.  He's been one of the most consistent players for the Chicago Blackhawks as of late.
The Bread Man tallied two assists against San Jose, one on a Duncan Keith goal, and one a Kane goal.  Against Ottawa, Panarin scored a goal of his own.  Against Colorado, he earned an assist on Toews' powerplay goal.  It was his 21st assist on the season.  He now has a point streak across seven consecutive games, having earned 13 points.
Panarin's favorite shot is a one-timer from the left circle.  It's completely predictable, but opposing teams can't seem to stop it.  Kudos to the Bread Man for continuing to get it done, whether it be his notorious shot or picking up the apples by helping out his teammates.
Dec 18, 2016; Vancouver, British Columbia, CAN; Columbus Blue Jackets forward Brandon Saad (20) celebrates his goal against Vancouver Canucks goaltender Ryan Miller (30) during the third period at Rogers Arena. The Columbus Blue Jackets won 4-3. Mandatory Credit: Anne-Marie Sorvin-USA TODAY Sports
Eastern Conference's 3 Stars
Third Star: Tampa Bay Lightning LW Jonathan Drouin. Drouin posted three goals and two assists in three games last week.  A number of other players in the Eastern Conference had five points, but Drouin topped them all in the goal department.
Second Star: Columbus Blue Jackets LW Brandon Saad.  The Columbus Blue Jackets are on fire right now, having won 12 games in a row.  They are now 23-5-4, which is good for first place in the league.  Former Chicago Blackhawk Brandon Saad earns the East's second star this week for his contribution of four goals and one assist, for 5 points.
First Star: Columbus Blue Jackets RW Cam Atkinson. Saad's teammate gets the East's first star honors.  In four games played, he's tallied four goals and two assists, for six points.  It must have been a fun Christmas for these players and their teammates!  Let's see if they can keep the ball rolling into the new year.
Dec 10, 2016; Los Angeles, CA, USA; Ottawa Senators defenseman Marc Methot (3) chases down Los Angeles Kings center Jeff Carter (77) as he takes the puck behind the net in the second period of the game at Staples Center. Mandatory Credit: Jayne Kamin-Oncea-USA TODAY Sports
Western Conference's 3 Stars
Third Star: San Jose Sharks C Joe Pavelski. Pavelski started out the week on Sunday by scoring the first goal of the game against the Chicago Blackhawks.  He didn't stop there, adding another goal and three assists for five points in the last three games.
Second Star: Winnipeg Jets RW Nikolaj Ehlers. Having contributed four goals and one assist in three games earns Ehlers the second star of the week.  The Chicago Blackhawks play this Winnipeg Jets team tonight. It would probably behoove them to keep an eye out for Ehlers.
More from Blackhawk Up
First Star: L.A. Kings C Jeff Carter. Along with being named the Second Star of the week by the NHL, I'm also going to award Carter my First Star of the Western Conference.  He tallied a league-high five goals in three games played.
Carter scored three goals (two in regulation and one in the shootout) against the Blue Jackets on Tuesday.  He added another against Nashville on Thursday, and two more against Dallas on Friday.  This was his fifth multi-goal effort of the season.  What a great way to go into the Christmas break!  He now leads the Kings with 29 points in 34 games.
In this post, we've taken a look at nine hockey players who have excelled and earned honors this past week for themselves and their teams.  Tonight, the Christmas break is officially over, and a new series of hockey games begin.  Who will step up with big contributions in this final week of 2016?  Well, we'll just have to watch and see.
---
---