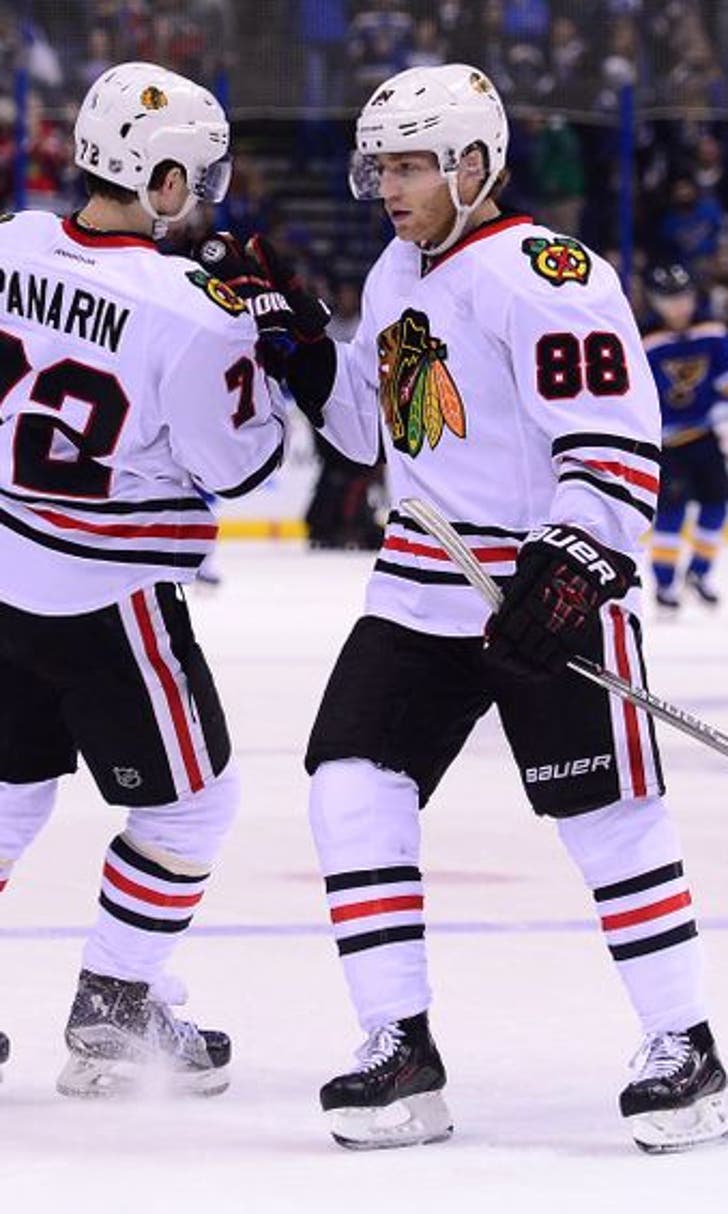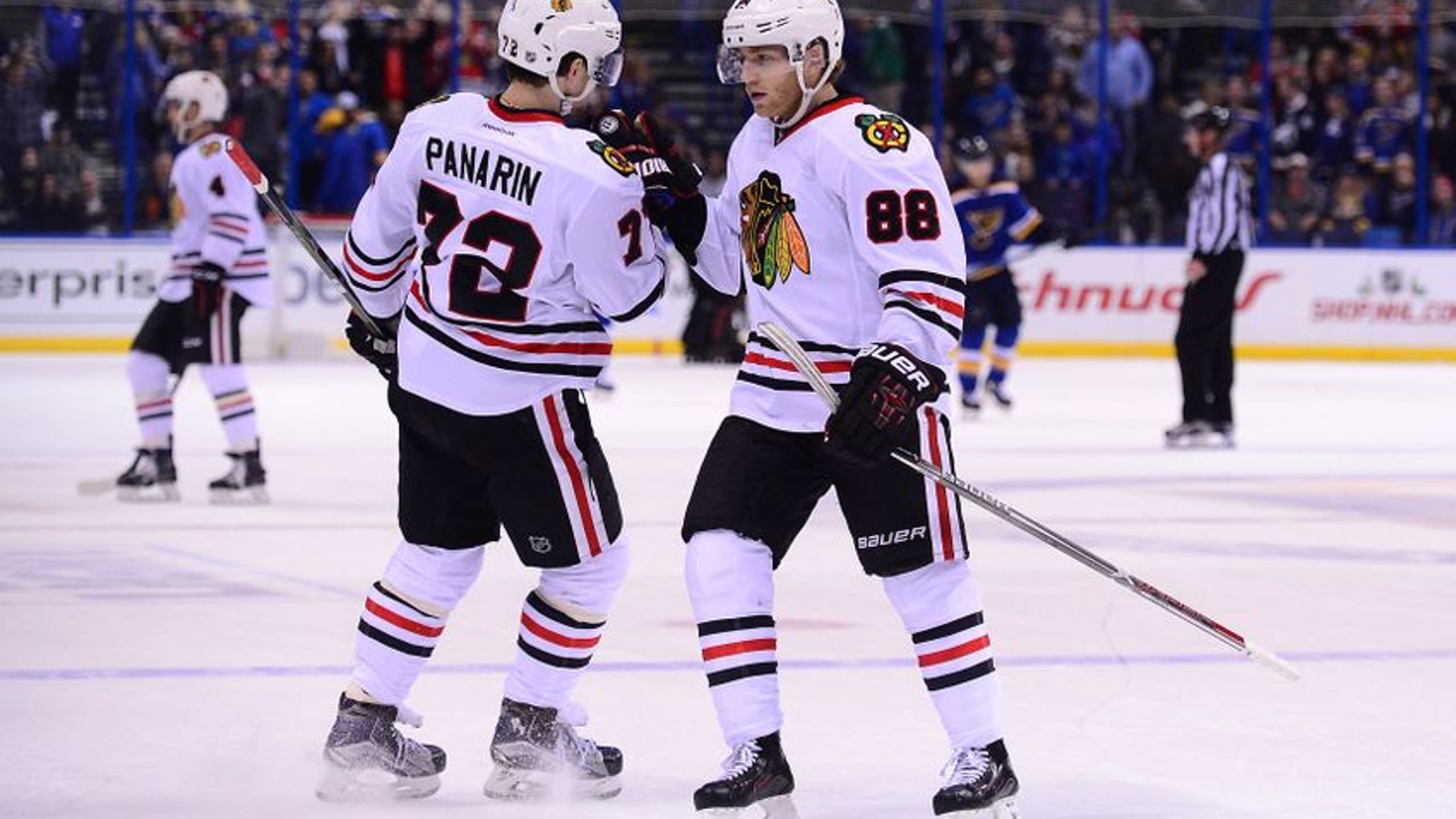 Chicago Blackhawks' 10 Best Moments Of 2016 Calendar Year
BY Fansided and Colin Likas/FanSided via Blackhawk Up • December 28, 2016
Dec 17, 2016; St. Louis, MO, USA; Chicago Blackhawks left wing Artemi Panarin (72) is congratulated by right wing Patrick Kane (88) after scoring a empty net goal against the St. Louis Blues during the third period at Scottrade Center. The Blackhawks won 6-4. Mandatory Credit: Jeff Curry-USA TODAY Sports
Now that we've got the sad stuff out of the way, it's time to look back at the Chicago Blackhawks' finest moments of 2016
Yesterday, I presented to you the top 10 worst moments of 2016 for the Chicago Blackhawks. It came complete with the 450th celebrity death of the year in Carrie Fisher (RIP), and was followed by the Blackhawks eating it against the Winnipeg Jets later that night.
So we got all the bad out in one fell swoop. Now it's time to look back at the 10 best moments for the Blackhawks from this calendar year.
Like with the worst moments, this is going to include on-ice and off-ice stuff. I do have to admit, it was a little easier to come up with the bad stuff versus the good stuff. I kind of hit a roadblock at one point when trying to come up with 10 positive items that weren't just "beat the Blues that one time."
But I think I have a quality little list here, so let's get to it.
Jan 31, 2016; Nashville, TN, USA; Atlantic Division forward John Scott (28) of the Montreal Canadiens drops the gloves with Central Division forward Patrick Kane (88) of the Chicago Blackhawks during the 2016 NHL All Star Game at Bridgestone Arena. Mandatory Credit: Aaron Doster-USA TODAY Sports
No. 10: Patrick Kane And John Scott Have A Go
This one was more goofy than anything. But it was a nice moment of levity during an All-Star Game that was surrounded with silly controversy.
While opinions are mixed on former Blackhawk John Scott's inclusion in the game, as a captain no less, some of what he actually did during the exhibition was entertaining. That included this moment with current Blackhawk Patrick Kane.
At the end of the first period, Scott sent Kane to the deck in neutral ice and rushed down the ice on a breakaway. Pekka Rinne stoned the shot, then sent a laser to Jamie Benn for a 2-on-1 with Kane. The Chicago star converted, but he "wasn't happy" with Scott's hit earlier.
The two proceeded to drop their gloves and lock up in a fake tussle, both smiling the whole way. The crowd at Bridgestone Arena was wild — a crowd that no doubt was filled with Nashville Predators fans.
It was a nice moment in a game that got way too much negative attention before it even started.
Mar 22, 2016; Chicago, IL, USA; Chicago Blackhawks goalie Michael Leighton (49) during the third period against the Dallas Stars at the United Center. Dallas won 6-2. Mandatory Credit: Dennis Wierzbicki-USA TODAY Sports
No. 9: Michael Leighton Sets A Record
Chicago's minor league affiliate in the AHL, the Rockford IceHogs, is often overlooked unless someone on the Blackhawks' roster is injured. But we should give these guys a fair shake when they do something good. After all, the AHL is the last step before the NHL. It's high-quality hockey.
Now-former IceHogs goaltender Michael Leighton achieved a nice personal milestone on March 5 of this year, recording his 46th regular-season shutout in the AHL. That made him the sole holder of the league's all-time shutouts record.
Leighton almost won a Stanley Cup with the Philadelphia Flyers (against the Chicago Blackhawks) in 2010 and has spent time in and out of the NHL since the 2002-03 season, but the now-Carolina Hurricanes netminder certainly had to be proud of etching his name in pro hockey history, and Blackhawks fans should be proud of him for it.
Dec 15, 2016; Brooklyn, NY, USA; Chicago Blackhawks right wing Richard Panik (14) celebrates his game winning goal against the New York Islanders with Chicago Blackhawks defenseman Brian Campbell (51) and Chicago Blackhawks left wing Dennis Rasmussen (70) during the third period at Barclays Center. Mandatory Credit: Brad Penner-USA TODAY Sports
No. 8: Acquiring Richard Panik
In the 10 worst things from 2016 post, I noted how general manager Stan Bowman had a rough time with his trade-deadline acquisitions this year. I did point out, however, that I didn't consider the addition of Richard Panik to fall in that category, mostly because he was acquired in early January.
But also, Panik has been a solid role player for Chicago since arriving from Toronto. He was toiling away in the AHL when the Blackhawks took him off the Leafs' hands in exchange for Jeremy Morin. I'd say the Blackhawks got the good end of that deal.
Panik had a nice little burst in the Blackhawks' lone playoff series this year, following up eight points in 30 regular-season games with Chicago with three points in six postseason tilts. That fire pushed right into the 2016-17 season, which saw Panik rapidly scoring goals to open the campaign.
Panik has since cooled off but still has 15 points in 37 games this season while making himself a serviceable third-liner with Dennis Rasmussen and Marcus Kruger. Morin, meanwhile, isn't even with the Leafs organization anymore, playing for Tampa Bay's AHL affiliate in Syracuse. Nice dealing here, Stan.
Sep 30, 2016; Pittsburgh, PA, USA; Chicago Blackhawks right wing Alexander DeBrincat (23) and Pittsburgh Penguins right wing Tom Kuhnhackl (34) battle for the puck during the second period in a preseason hockey game at the CONSOL Energy Center. Mandatory Credit: Charles LeClaire-USA TODAY Sports
No. 7: Drafting Alex DeBrincat
The NHL draft hasn't been met with a large reaction from a portion of the Blackhawks fan base in recent years, mostly because the Blackhawks are always picking toward the end of rounds and not picking often because they move their choices in trade-deadline deals.
That will certainly be different in 2017, with the draft in Chicago. But Blackhawks fans should also be excited about what happened in the 2016 draft, particularly in the second round.
blackhawks
Blackhawk Up 13wChicago Blackhawks' Hockey Is Back, In Multiple Forms
More headlines around FanSided:
14w - Chicago Blackhawks Morning Links: Go Team North America14w - Chicago Blackhawks Ex-Forward Brandon Saad Has "No Regrets"14w - World Cup Of Hockey Early Reactions: Team USA In Trouble14w - Chicago Blackhawks' Early World Cup Experiences Mixed14w - World Cup Of Hockey Predictions: Winners, Crawford And MoreMore News at Blackhawk Up

The Blackhawks used the first of a trio of second-round picks, acquired in the offseason deals that sent Andrew Shaw, Teuvo Teravainen and Bryan Bickell out of town, to select forward Alex DeBrincat (39th overall).
He is lighting up the Ontario Hockey League again this season after consecutive 100-point campaigns in 2014-15 and 2015-16. He had those two seasons while playing with Connor McDavid and Dylan Strome. You may have heard of them.
Well, neither one is lining up with DeBrincat this year, and he's still scoring like a mad man. He has an outrageous 60 points in 28 games so far this OHL season, easily among the league leaders (Erie Otters teammate Taylor Raddysh tops the list with 61 points).
DeBrincat was passed over earlier in the draft because of his size (5-foot-7, 170 pounds). The Blackhawks have never had a problem taking undersized forwards, and it looks like they might've found a diamond in the rough here. And now he's even more motivated, as he was strangely passed over for making the United States' IIHF World Juniors roster earlier this month.
Wait, a U.S. international team organization committee screwed up its roster? Color me shocked.
Dec 18, 2016; Chicago, IL, USA; Chicago Blackhawks right wing Ryan Hartman (38) celebrates his goal against the San Jose Sharks during the third period at the United Center. The Hawks won 4-1. Mandatory Credit: David Banks-USA TODAY Sports
No. 6: Youngsters Get A Chance
Blackhawks coach Joel Quenneville sometimes has a reputation of not giving younger players a fair shake. Some fans were upset when guys like Jeremy Morin, Brandon Pirri and Teuvo Teravainen (and even Brandon Saad for a time) were stapled to the bench in favor of established-but-meh veterans or "grinders."
Well, there's nothing we can say about Q not giving the youngsters he has at his disposal a shot early in the 2016-17 season. Tyler Motte, Nick Schmaltz, Ryan Hartman, Vincent Hinostroza, Gustav Forsling and Tanner Kero have all seen action with the Blackhawks, with varying results.
The good has been guys like Hartman and Hinostroza taking over second-/third-/fourth-line roles and helping on the scoresheet. Motte has had strong moments as well, while guys like Schmaltz and Forsling have seen their struggles.
But it's the fact they're getting a shot, and it's not just one game and shipped out (paging Mark McNeill). And it's the fact the Blackhawks are still putting up points while these guys are getting a shot. It bodes really well for the present and the future.
Nov 15, 2016; Winnipeg, Manitoba, CAN; Chicago Blackhawks goalie Corey Crawford (50) watches the puck during the second period against the Winnipeg Jets at MTS Centre. Mandatory Credit: Bruce Fedyck-USA TODAY Sports
No. 5: Corey Crawford Continues To Be Crawsome
You knew I'd find a way to get Crow on this list. If you read any of my stuff, it's pretty easy to tell he's my favorite current Blackhawk, and I'll defend him until my face turns blue.
Though Crow was snubbed in All-Star Game voting this year and largely ignored in Vezina Trophy voting, that shouldn't downplay the fact the Blackhawks' No. 1 netminder had an incredible calendar year.
His 28 wins between Jan. 1 and today rank him 12th among all goaltenders for that timeframe. Of those 12, Crow has a better save percentage over that timeframe (.926) than all but one — Minnesota's Devan Dubnyk, who's on an insane tear right now to boost his to .930 in that range.
His 2.37 goals-allowed average is sixth-best in that group, too, just behind the 2.36 marks of Tuukka Rask and Ben Bishop. His four shutouts in that timespan tie for third most.
And, as I said multiple times in yesterday's post, he did this while going through two separate injury bouts: a one-month upper-body issue in the later stages of the 2015-16 season, and an appendectomy earlier this month.
The guy has just dragged the Blackhawks to so many wins in 2016, it'd be impossible not to put him on a list of great things to happen to the team this year.
Dec 13, 2016; New York, NY, USA; Chicago Blackhawks right wing Marian Hossa (81) controls the puck between New York Rangers right wing Michael Grabner (40) and Rangers defenseman Brady Skjei (76) during the first period at Madison Square Garden. Mandatory Credit: Adam Hunger-USA TODAY Sports
No. 4: Marian Hossa Hits 500 Goals, Has A Resurgence
After the Blackhawks' first-round playoff loss to the St. Louis Blues earlier this year, talk was heavy about Marian Hossa's best years being behind him. He had gotten a little kick playing third-line minutes late in that series, but his 2015-16 season largely saw him go invisible on the offensive end.
Well, nothing a little extra offseason rest can't fix, apparently. The 37-year-old Hossa is back to his old ways, tallying a team-best 16 goals through 34 games as part of his 23 points. He's only 10 points from tying the total of points he put up last season.
And one of those 16 goals was a huge one, the 500th of Hossa's NHL career. He netted that in an Oct. 18 win against Philadelphia.
Hossa just seems revitalized and not at all like he's close to retirement anymore. Sure, another long postseason run (no guarantee) could cause those previous problems to pop up again moving forward, but we can only worry about the now with Hossa. Once he's healthy again, we should expect him to get back to slaying bums.
Oct 8, 2011; Chicago, IL, USA; Chicago Blackhawks Hall of Famer Denis Savard is greeted by fans before the game between the Chicago Blackhawks and the Dallas Stars at the United Center. Mandatory Credit: Rob Grabowski-USA TODAY Sports
No. 3: One More Shift Promotion
This one is still fleshing itself out, but it currently is one of the better things the Blackhawks have going that doesn't involve the on-ice product.
In November, the Blackhawks announced the "One More Shift" promotion, an opportunity for former Blackhawks greats to hit the ice in full gear during the signing of the national anthem(s) and announcement of the starting lineups.
It's been a hit so far, with Denis Savard and Steve Larmer getting first cracks at returning to the ice one more time. Those two guys seemed to really enjoy being back on the ice, and the fans and current players love the process.
The Blackhawks already do some good things with Blackhawks alumni, like making a few of them ambassadors to the team. This was another cool way to keep alive the Blackhawks' rich history and heritage.
Dec 20, 2016; Chicago, IL, USA; Chicago Blackhawks right wing Patrick Kane (88) reacts after a play against the Ottawa Senators during the first period at the United Center. Mandatory Credit: Mike DiNovo-USA TODAY Sports
No. 2: Patrick Kane Wins League MVP Honors
I'm sure I'll get flack for not having Kane's Hart Trophy-winning season at No. 1 on this list, but I think I have a fair explanation for that when we do get to No. 1.
Let's start first with Kane, who has had an incredible 2016 on the ice. While his American-record point streak started and ended in 2015, Kane did plenty in this calendar year to cement himself as one of the better players going today in the NHL.
Kane tallied 50 of his league-best 106 points during the months of January, February, March and April. He had 33 points in 29 games after the All-Star Game. He ran roughshod over pretty much everyone, often accounting for all of the Blackhawks' scoring along with Artemi Panarin and Artem Anisimov.
This led to Kane becoming the first American-born Hart Trophy winner for league MVP. He was also the Art Ross Trophy winner as the league's top scorer, the Ted Lindsay Award winner as most outstanding player voted by the NHL Players Association, and an All-Star Game captain.
As much as Corey Crawford carried the Blackhawks in net this calendar year, Kane carried them quite often in the offensive end. Even though his 2016-17 season hasn't been nearly as incredible so far, 35 points in 37 games is nothing to sneeze at, and he and his linemates again are leading the Blackhawks' offense.
Incredible calendar year on the ice for Kane, but at least it was something we could kind of expect out of him. On the other hand …
Dec 15, 2016; Brooklyn, NY, USA; Chicago Blackhawks left wing Artemi Panarin (72) celebrates his goal against the New York Islanders with Chicago Blackhawks right wing Patrick Kane (88) during the first period at Barclays Center. Mandatory Credit: Brad Penner-USA TODAY Sports
No. 1: Artemi Panarin Takes NHL By Storm
This guy is something, isn't he? Stan Bowman signed little-known (in America) Artemi Panarin to a two-year, low-cost deal prior to the 2015-16 season. It was seen as one of many possible ways to replace the departed Brandon Saad.
And replace Panarin has. Actually, he's done even more than that. The guy is set to earn Saad-like money after just two seasons in the NHL.
Panarin and Patrick Kane had instant on-ice chemistry despite a language barrier, and Panarin's on-ice vision, quick hands and laser-like shot made and continue to make him a constant offensive threat.
Between January and April of the 2015-16 regular season, Panarin piled up 43 points in 41 games. He proved absolutely electric on the ice, and also came with a bit of fire. Teams had very little idea how to stop him.
That led to the 25-year-old, with a bit of controversy, being named the Calder Trophy winner for the league's rookie of the year. Panarin has followed that up by leading the Blackhawks in points so far this season, boasting 37 through as many games while dazzling with his left-circle one-timer and a bevy of other moves.
While many fans are currently wringing their hands over Panarin's contract status in Chicago, we also have to enjoy what the young Russian brought to the table this year. He just seems to love playing hockey, and Blackhawks fans love to watch him.
This is why the stunningly incredible success Panarin had in 2016 is my No. 1 moment among the Blackhawks' best of 2016.
More from Blackhawk Up
This article originally appeared on
---
---