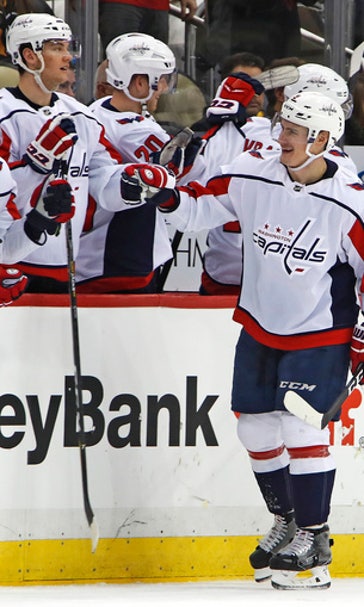 Capitals top Penguins to clinch Metropolitan Division title
April 1, 2018
PITTSBURGH (AP) There was no dogpile in the dressing room. No champagne celebration. Not even a beer. Nothing.
The Washington Capitals have been here before. Many times, actually. It's not that they don't appreciate winning Metropolitan Division title after Metropolitan Division title like the one they wrapped up with a 3-1 victory over rival Pittsburgh on Sunday night.
It's just that they're tired of division banners being the only ones raised to the rafters.
Still, star Alex Ovechkin knows not all playoff runs are created equal. The group that skated off the ice at PPG Paints Arena after keeping the two-time defending Stanley Cup champions in check for three taut and occasionally chippy periods is not the juggernaut that rolled into postseason in 2016 and 2017 only to be sent home in the second round by Pittsburgh.
''We lost lots of players,'' Ovechkin said after playing in his 1,000th career regular season game. ''Guys in the locker room, experience guys. But different guys step up and they play different. ... We play as a team.''
One that hopes following a familiar script will lead - at last - to an unfamiliar ending.
Philipp Grubauer made 36 saves to continue his push to supplant Braden Holtby as Washington's top goaltender as the Capitals won for the 10th time in 12 games to assure themselves of home-ice advantage through the first two rounds of the playoffs.
''We had a challenge there from the beginning (of the season) on,'' Grubauer said. ''We lost a couple experienced guys. We learned from our mistakes and we're still learning. It's nice to wrap that up, for sure.''
T.J. Oshie, Dmitry Orlov and Tom Wilson scored for Washington and Grubauer did the rest, including a spectacular glove save on Penguins star Sidney Crosby in the third period that served as an exclamation point on the kind of performance that would fit right in over the next two months.
''Last couple games we played in here weren't too good, so it's a momentum builder for us,'' Grubauer said. ''We have to make sure we play the right way next couple games. It's going to be huge.''
The Penguins have the top power play in the league but went 0 for 5 with the man advantage. Patric Hornqvist picked up his 27th of the season late in the third period to avoid a shutout. Matt Murray stopped 31 shots but couldn't quite match Grubauer.
''I thought that's probably as good as our power play has looked the last month, we just didn't score,'' Pittsburgh coach Mike Sullivan said.
A night after earning a playoff berth for a franchise-record 12th straight year, the Penguins lost at home in regulation for just the second time since Jan. 4 to end a late push for a division crown. Not that it matters much to Pittsburgh. The Penguins have ended each of the last two regular seasons as the division runner-up to Washington. And each time the Penguins have used a second-round playoff series victory over the Capitals as a springboard to the Stanley Cup.
''We never win division,'' Pittsburgh center Evgeni Malkin said. ''It's not first time. It's not surprise. We're fine.''
Ovechkin called becoming just the 57th player in NHL history to play at least 1,000 games for one team ''a milestone'' but didn't exactly get caught up in the moment. The 32-year-old knows his career has been equally defined by his 603 goals and his team's inability to make a deep playoff run.
Despite seven division titles and nine playoff appearances since he made his debut in 2005, Ovechkin has never played on a team that reached the Eastern Conference finals. Postseason success is the only thing that's eluded him, but Washington appears to be peaking behind Grubauer.
Washington coach Barry Trotz opted to give Grubauer his first career start against Pittsburgh and Grubauer responded brilliantly. He was at his best in the second period, when the Penguins' lethal power play had four chances to draw even and came up empty each time, including an extended two-man advantage in which Grubauer received a little help from the crossbar when a shot from Malkin clanged off the crossbar.
The lucky bounce preserved a 1-0 lead. Orlov pumped in his career-high 10th just after a Pittsburgh power-play expired later in the period, firing a shot from the slot that went between the legs of Penguins defenseman Olli Maatta and over Murray's right arm.
When Tom Wilson redirected Matt Niskanen's shot from the point by Murray 23 seconds into the third period the Capitals had another division title wrapped up but not bragging rights. That will have to come later.
NOTES: Washington went 0 for 4 on the power play. ... Malkin was given a 10-minute misconduct with 1:01 left in regulation after mixing it up with Oshie. ... Penguins C Derick Brassard missed his third consecutive game with a lower-body injury. ... Pittsburgh is 9-7-2 on the second night of back-to-backs this season.
UP NEXT
Capitals: Visit St. Louis on Monday. Washington beat the Blues 4-3 on Jan. 7.
Penguins: Get three days off before finishing regular season with a back-to-back starting on Thursday in Columbus.
---
More AP NHL: https://apnews.com/tag/NHLhockey
---
---